Big Eyes Price Prediction 2023-2030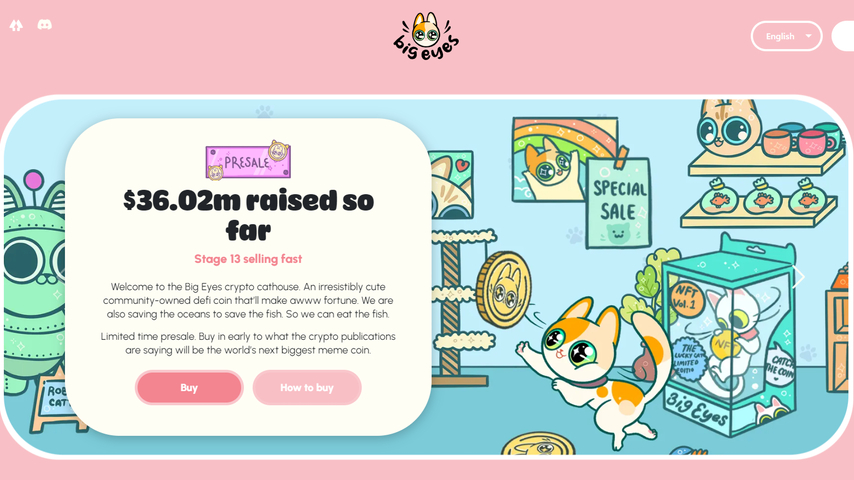 Disclaimer: The Industry Talk section features insights by crypto industry players and is not a part of the editorial content of Cryptonews.com.
Big Eyes is a new presale meme coin that has raised $35 million after piquing the interest of investors and the media.
This Big Eyes price prediction breaks down our price estimates for the $BIG crypto. We consider its short and long-term price potential based on its fundamentals, roadmap, safety and level of interest from the community.
Big Eyes Price Prediction 2023-2030
End of 2023: With its presale set to end in June, investors who miss out on the presale will look to purchase $BIG on exchanges. Moreover, its IEO will bring new hype from the media; if successful, we could see a post-IEO price of $0.0009 by the end of 2023.
End of 2024: Providing the Big Eyes team executes on their roadmap, the token will rise with the rest of the market in 2024 following the Bitcoin halving. Therefore, our Big Eyes price prediction estimates a price of $0.0015 by the end of 2024.
End of 2025: Having already amassed a huge online community, Big Eyes has the foundations to become a successful long-term meme coin. Based on its fast-growing community, our Big Eyes price prediction forecasts a price of $0.0022 by the end of 2025.
End of 2030: Long-term price predictions are difficult, particularly for volatile meme coins. Nonetheless, if our Big Eyes price prediction bull case plays out, the $BIG price could hit $0.00375 by the end of 2030.
Big Eyes Price History
The Big Eyes presale officially launched in August 2022 and quickly gained a reputation as one of the best presales as the community took an interest.
The presale got off to a quick start since stage one, where its price was $0.0001. Currently, the Big Eyes presale is in round 13, with a price of $0.00052. The project has raised over $35 million so far, making it one of the most significant presale raises of the year.
The crypto community has shown a massive interest in Big Eyes, with the project gaining 35K Twitter followers and over 2000 Discord members since its launch.
Tokenomics
There are 200,000,000,000 $BIG tokens available altogether. During the Big Eyes presale, 80% of the coins will be sold. This puts the coins in the hands of the community rather than the project's team, leading to more organic and sustainable price action.
Another 5% of tokens are allocated to a charity wallet, and the rest will be split between exchange liquidity and the team's marketing budget. Additionally, the exchange liquidity is locked for two years, and Big Eyes has had its smart contract audited by Solidity Finance to confirm this.
The coin features no buy or sell transaction fees, making it free to trade except for gas fees.
Similarly to some of the top meme coins like Dogecoin, the $BIG token will not offer much utility. Instead, the team aims to increase the token's price by growing its community and popularity among investors.
While this strategy is risky, it works for other coins like Dogecoin, Shiba Inu, and newer cryptos like Pepe. The question is, will it work for Big Eyes?
Presale
The Big Eyes presale is set to end on June 3rd, 2023, following which it will have its IEO. There are 15 presale rounds, with the IEO price at $0.0006. The launch price signifies a 600% price increase for round one investors and a 15% increase for investors who buy today.
The presale hard cap is $51.2 million. While it is unclear whether this will be reached, the team have already stated they have hit their soft cap, so they have the funds to roll out its roadmap.
Big Eyes Price History - Key Points
Big Eyes presale started in August 2022 at an initial price of $0.0001.
There are 200,000,000,000 $BIG tokens.
The Big Eyes team have allocated 80% of $BIG to presale.
There will be 15 presale rounds, with an IEO price of $0.0006.
Having raised $35 million, the project has reached its soft cap.
The presale hard cap is set at $51.2 million.
Big Eyes Price Prediction 2023
While Big Eyes have experienced an immensely successful presale, it is still being determined whether it could become one of the best altcoins.
One of the most critical factors in our short-term Big Eyes price forecast is understanding how tokenomics and demand could affect the coin's price.
As mentioned earlier, 80% of all coins will be available at presale, and stage one investors will net a 600% gain based on the Big Eyes IEO price.
This signifies a massive profit for early investors and could lead to some high sell pressure following the launch.
High sell pressure post-launch could potentially hold the price down. Nonetheless, exchange launches often generate a lot of hype and new demand, as we saw during the Tamadoge presale. The Tamadoge coin was one of the best crypto launches, where the price surged once it went live on exchanges, pocketing an 18X return for early investors.
Moreover, based on the potential for meme coins to climb to unprecedented levels quickly, many investors will be happy to hold the coin in hopes of greater long-term profits.
Therefore, we expect the demand to outpace the supply. With this in mind, our Big Eyes price prediction forecasts a $BIG token price of $0.0009 by the end of 2023. This will equate to a 73% gain for investors who purchase the token at its current price.
Big Eyes Price Prediction 2024
With the Bitcoin halving in 2024, Standard Charted expects Bitcoin to reach $100,000. Historically, as the Bitcoin price rises, the rest of the crypto market does too. Therefore, provided the team executes on its roadmap; we could continue to see the Big Eyes price grow in 2024.
Another factor affecting the Big Eyes crypto price in 2024 is its tokenomics. As mentioned, 80% of the tokens are available at presale, with the rest allocated to exchanges, charity and just 5% to marketing. This means the community holds the lion's share of the tokens, all of which will be circulating immediately after the IEO.
In contrast, many presale projects distribute far fewer tokens to the presale, with the rest allocated to the team on an 18-month vesting schedule. Since Big Eyes tokens will be mostly unlocked from the get-go, this could lead to reduced sell pressure in 2024.
With the Big Eyes project already gaining a substantial following on social media, the team is evidently doing a fantastic job of marketing. Therefore, it is probable that this growth will continue into 2024.
Considering the growing community and that the broader market will be in a bull market, we expect demand to far outweigh supply for Big Eyes coin in 2024.
However, some experts like Jacob Bury have highlighted that there is a chance Big Eyes could be a rug pull. Although the project has already addressed these concerns through smart contract audits, KYC and locked exchange liquidity, it is still important to remain aware of the potential risks.
What is a rug pull?

A rug pull refers to when a crypto project raises hype and funds for a crypto coin, then abruptly exits without executing on its roadmap, taking the funds with them.
Since these concerns have been addressed, and the factors affecting supply and demand looking promising, our Big Eyes price prediction estimates $BIG to reach $0.0015 by the end of 2024. This would result in a 188% increase from its current presale price.
Big Eyes Price Forecast 2025
Looking ahead to 2025, so long as the team executes on its roadmap, the main consideration for our Big Eyes coin price prediction is how it differentiates itself from other meme coins.
Over 100 new cryptocurrencies are created daily, so beyond solid tokenomics and fundamentals, new projects need a unique selling point to succeed long-term.
In a Big Eyes analysis, crypto analyst Jacob Bury states that the project features eye-catching and unique artwork. Big Eyes plans to release an NFT collection, where its well-designed artwork could give it a significant advantage.
Another factor to consider is the Big Eyes roadmap. Two main trends on the roadmap are the project's focus on marketing and rewarding the community.
Being a meme coin project, Big Eyes must remain in the media's eye to generate demand. This is because, unlike other cryptos, meme coins do not provide any inherent value. The main purpose is for holders to be a part of a community.
With this in mind, the Big Eyes team's focus on marketing, community, and engaging artwork gives us high hopes that Big Eyes could throughout in 2025.
Nonetheless, this does not come without risk. Despite having a successful presale and a promising roadmap, all meme coins are highly speculative and volatile. This can be seen with Dogecoin, currently down 89% from its all-time high, compared to Bitcoin, down just 58%.
However, although meme coins are a highly volatile category, they also provide higher upside returns if they are successful. Considering the factors mentioned above, our Big Eyes price prediction expects Big Eyes to hit $0.0022 by 2025. This would result in a 323% price increase from its current presale price.
Big Eyes Price Prediction 2025-2030
Predicting a long-term price estimate for presale coins can be difficult, especially for meme coins. That said, Dogecoin is an example of how a meme coin can perform well long-term.
Recently, Elon Musk changed the Twitter logo to the Dogecoin dog; this caught the media's attention and could be part of why the PEPE coin has rallied recently.
That said, Dogecoin has been around since 2014, and it was only in 2021 that things really took off for the coin. This shows that meme coins still have long-term potential, despite lacking real utility.
When it comes to Big Eyes, the project's roadmap has set a target of $1 per $BIG token. However, since there are 200 billion $BIG tokens, this would put their market cap near Ethereum's. We suspect this could be their long-term target, but we also believe this is highly unrealistic and should be taken light-heartedly.
Considering there are no plans for utility or growing the ecosystem beyond being a meme coin, a $200 billion market cap is difficult to imagine.
However, its incorporation of NFTs, its fast-growing community, and solid tokenomics tell us that a market cap closer to $750 million is likely by 2030.
Looking at the meme coin rankings by market cap, we can see that this would put Big Eyes below the current Baby Doge Coin market cap. Considering that BABYDOGE is less than two years old, Big Eyes could easily reach a similar market cap in seven years.
On the other hand, if the project did rug pull or failed to execute on its roadmap, we could see the price fall as low as its IEO price.
If our bull case for Big Eyes proves correct, our Big Eyes price prediction estimates a price of $0.00375 by the end of 2030. This would result in a 621% increase from its current presale price.
It is worth noting that considering the explosive and unpredictable nature of meme coins, the project also has the potential to climb much higher. However, we aim to remain objective and avoid over speculation in our price predictions.
Possible Highs & Lows of Big Eyes Coin Price
Below is a table comparing our potential highs and lows between 2023 and 2030.
| | | |
| --- | --- | --- |
| Year | Possible High | Possible Low |
| 2023 | $0.0009 | $0.0005 |
| 2024 | $0.0015 | $0.0007 |
| 2025 | $0.0022 | $0.001 |
| 2030 | $0.00375 | $0.0014 |
What is Big Eyes Token Used For?
While meme coins traditionally do not provide utility, they can often still offer holders additional benefits like exclusive access to events and digital badges.
Big Eyes E-Stickers
The project will reward $BIG holders with e-stickers. While it is unclear what this may pertain to, we expect it to be a verifiable and displayable digital asset as a way for holders to prove they own $BIG tokens.
This is a fantastic way to build community bonds and allow holders to recognize each other on different social media platforms.
Community Events
Community events are one of the best ways to build a long-term community. They enable holders to connect and are a fantastic way for communities to learn and innovate by sharing ideas and experiences.
Big Eyes have stated that they will run community events. Therefore, the token will likely grant users access to the meet-ups. As of yet, it is unclear whether these events will be in-person or online.
What Factors Drive the Big Eyes Coin Price?
Whether Big Eyes can be one of the best cryptos to buy remains to be seen. However, understanding the factors affecting its price can help to predict its short and long-term potential more accurately.
Exchange Listings
What is an exchange listing?

An exchange listing is where a cryptocurrency exchange enables the trading of a new coin on its platform.
Currently, the only confirmed exchange listing for Big Eyes crypto is Uniswap. While this is a huge platform with lots of liquidity, centralized exchange listings such as OKX often have a bigger impact on newly listed coin prices.
Exchange listings often build hype and increased speculation, and also provide access to the coin for investors who do not use self-custody wallets. Therefore, the more exchanges Big Eyes is listed on, the higher the price could go.
Marketing and Media Spotlight
Meme coins mainly focus on increasing their community's size. Doing so can increase their token price and raise awareness around the project. Therefore, Big Eyes must concentrate on marketing and remain in the media spotlight to attract new members to its community.
Meme Coin Narrative
Have you ever noticed how many meme coins use the names of trending coins like "doge" or "inu" within their names? The reason for this is to gain traction when the original coin is performing well.
When the top meme coins explode, investors who take profits often look to purchase lesser-known meme coins with high upside potential. Therefore, the meme coin narrative remaining popular could dramatically increases the chances of Big Eyes reaching its potential.
Broader Cryptocurrency Market
The broader market's performance is crucial to the Big Eyes coin's success. If the markets are performing well, most coins will increase in price. On the other hand, poorly performing markets make it difficult for individual coins to grow.
Despite the Bitcoin halving, two factors are looming over the crypto industry which could halt its growth in the short term: global macroeconomics and the growing crypto regulation.
That said, we remain long-term bullish on crypto, and historically speaking, crypto has always entered a bull market following the Bitcoin halving.
What do Other Analysts Forecast for Big Eyes?
While we have based our Big Eyes price prediction on fundamentals, tokenomics and comparing the project to similar ones, it can also be helpful to take note of other analysts' predictions too.
According to Techopedia, the Big Eyes coin could reach as high as $0.0015 by the end of 2023, with potential lows of $0.0001.

Techopedia
OvenAdd expects the Big Eyes crypto to reach a maximum price of $0.0008, with a minimum expected price of $0.0006 by the end of 2023.

OvenAdd
According to Cryptomode, Big Eyes could reach $1 in the coming months.

Cryptomode
Newswatchtv claims that the Big Eyes price could be 10X in current months. This would equate to a token price of $0.0052 by the end of 2023.

Newswatchtv
Codecodex claims Big Eyes could do a 50X from its presale stage one price by the end of 2023. This would result in a price of $0.005.

Codecodex
Although the exact price predictions vary greatly, all the analysts above agree that the Big Eyes coin has plenty of room for growth. That said, is it the best ICO to buy for 2023?
Is Big Eyes the Best Crypto to Buy in 2023?
Big Eyes is one of the best high-risk coins in 2023. However, many pundits have displayed concern about the project, stating that it could be a rug pull or lack of utility.
Although the Big Eyes team have addressed these concerns, there are two other presale cryptos with 10X potential that analysts regard as safer than Big Eyes.
1. AiDoge - Innovative Meme Generation Platform Harnessing AI & Crypto
One of these presales is AiDoge. With AI at the heart of technological innovation over the past 12 months, projects leveraging the technology have seen unprecedented growth. AiDoge is a meme-generation platform that aims to capitalize on this trend.
The platform allows users can generate relevant and engaging memes with text-based prompts. The AiDoge AI algorithm is trained on a massive dataset of memes and current crypto news, so users can always create fresh and up-to-date content on the app.
Since the crypto community has deep roots in meme culture, the $AI token has already been making headlines, despite still being early in its presale.
One of the main reasons for this is that AiDoge provides real utility while still capitalizing on the meme coin trend. Therefore, it can still benefit from the short-term explosive price action of meme coins while also attaining long-term potential through its real-world utility.
The $AI token plays a key role in the AiDoge ecosystem, with users' needing it to purchase credits to use the platform and to stake for daily rewards.
These factors mean there will be continued demand for $AI from users looking to generate memes and who want to earn passive rewards. As a result, the AiDoge price could hold up better in the long term than Big Eyes.
2. Launchpad XYZ - Unique Web3 Platform Offering Analytics and Market Insights
Another presale coin that has already piqued the interest of analysts and investors is Launchpad XYZ.
Similar to AiDoge, Launchpad XYZ provides real utility and is widely touted as a coin that could provide 100X returns in the future.
While no one knows for sure how far Launchpad XYZ could go, it is the only all-in-one crypto platform, which gives it a first-mover advantage and long-term potential.
From the Launchpad XPZ platform, users can receive market insight and signals, trade on its built-in DEX, browse NFTs from every marketplace in crypto and much more. The project even has plans to offer a fractionalised asset exchange in the future; this would enable investors to purchase shares of assets such as digital artwork and potentially even real-world assets such as property or physical art.
One of the main issues that we discussed in our Launchpad XYZ price prediction was that usability is a big barrier to mass adoption in crypto.
The Launchpad XYZ app creates a seamless user experience by aggregating a wide range of services to one dashboard in hopes of tackling the usability issue.
Overall, Launchpad XYZ and AiDoge both offer solid fundamentals and likely present a better risk-to-reward ratio than a highly speculative coin like Big Eyes.
Closing Thoughts
Although meme coins are currently performing well, they come with a lot more risk than utility coins. However, AiDoge is the perfect crossover, leveraging the virality of meme coins while also providing utility.
Since the token is in its stage 8 presale, investors can purchase $AI at a discounted price, but they must act fast as the price is set to increase in four days.
FAQs
What is the Big Eyes coin?
Big Eyes is a new presale meme coin that features high-quality artwork, a large community and a lengthy roadmap that includes NFTs and building its community further. While the Big Eyes coin does not present any immediate utility to holders, the roadmap indicates they will issue Big Eyes e-stickers and run community events. We expect holders to get exclusive access to these roadmap developments.
What is the future of Big Eyes?
Many analysts have disputing opinions on the future of Big Eyes. Some expect the coin to reach $1 by the end of 2023, whereas others see potential lows of $0.0001. Our Big Eyes price prediction lies somewhere in between, estimating a price between $0.0009 and $0.0005 by the end of 2023.
What will the Big Eyes price be in 2025?
Our Big Eyes coin price prediction estimates a potential price between $0.0022 and $0.001 by the end of 2025. The Big Eyes team is focused on marketing and rewarding their community. These are the two key ingredients for a meme coin to succeed long-term, which is why we are bullish on the Big Eyes price in 2025.
---