11 Best Trending Dextools Cryptos to Invest in Today
Disclosure: Crypto is a high-risk asset class. This article is provided for informational purposes and does not constitute investment advice. By using this website, you agree to our terms and conditions. We may utilise affiliate links within our content, and receive commission.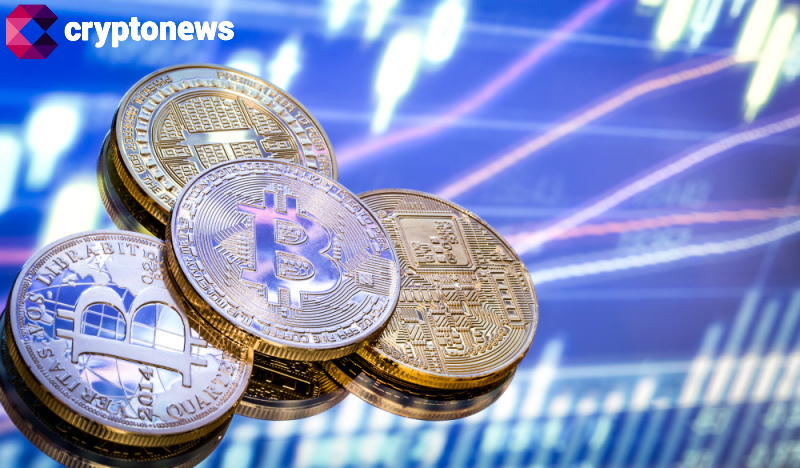 Disclaimer: The Industry Talk section features insights by crypto industry players and is not a part of the editorial content of Cryptonews.com.
Dextools can be a highly valuable source in finding top-trending coins that are outperforming the market. This is especially the case right now, considering the broader crypto industry was bearish throughout 2022 and could continue in 2023.
In this guide, we explore the best trending Dextools cryptos to invest in today. 
List of Top Trending Dextools Cryptos
Right now, the best trending Dextools cryptos are those listed below:
Bitcoin ETF Token – The best crypto to buy with a staking APY of 2,000% and burn mechanics around Bitcoin spot ETF approval events. Within a few days of the token presale, over $100,000 were raised, showing high interest in the token.
Bitcoin Minetrix – Provides a unique stake-to-mine model for Bitcoin Mining, moving away from traditional cash contracts. Users can stake their $BTCMTX to gain BTC mining power. 
Wall Street Memes – A community-driven meme coin offering staking rewards, backed by a strong social media following of over a million and a presale investment of over $25 million. it has captured the attention of figures like Elon Musk.
Tamadoge (TAMA) – Trending New Dextools Coin With P2E Rewards
DeFi Coin (DEFC) – Growing Interest on Dextools for the DeFi Innovator 
Lucky Block (LBLOCK) – Undervalued NFT Competition Project That Continues to Trend
SushiSwap (SUSHI) – Trending Crypto Asset Backing the SushiSwap Ecosystem
ACC Token (ACC) – One of the Top-Performing Tokens on Dextools This Week 
HEX (HEX) – Large-Cap Trending Coin With High-Yield Staking  
ApeCoin (APE) – Metaverse and NFT Collection Project With Multiple Tier-One Listings
X2Y2 (X2Y2) – Newly Launched NFT Marketplace With its own Native Coin
We offer a full analysis of the above trending cryptos, so read on to find a suitable project.
Full Analysis of the Best Trending Dextools Coins
In this section, we discuss in great detail the 11 best trending Dextools cryptos that we have identified. 
This marketplace moves quickly, so do bear in mind that valuations and prices may be different at the time of reading. 
Therefore, investors should do their own research prior to buying any trending Dextools coins. 
1. Bitcoin ETF Token – Latest Crypto Presale With Over 2,000% Staking APY And Up To 25% Token Burn Mechanics
Bitcoin ETF Token is an ERC20 token designed around the spot Bitcoin ETF approval by the Securities and Exchange Commission (SEC). With every milestone reached around the Bitcoin ETF, the team will burn up to 25% of the total token supply, which is a deflationary measure. On top of it, you can earn a massive APY by staking your tokens in the meantime.
Buy $BTCETF tokens on the Bitcoin ETF Token website by connecting your MetaMask wallet, or any other Ethereum wallet. You need ETH, USDT or card to complete the transaction. You can also use MATIC and BNB coins, but purchasing $BTCETF tokens with these two cryptos will prevent you from using the staking mechanics.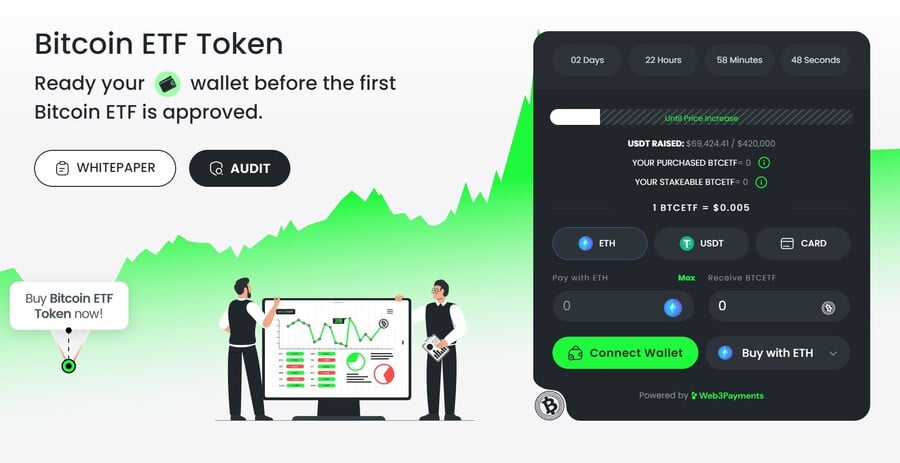 Similar to many other presales, the $BTCETF presale runs in 10 stages. During each stage, the token price will slowly increase, starting from $0.0050 in the first stage and up to $0.0068 in the last stage. Because of that, buying as early as possible may offer the best reward outcome.
Regardless in which stage you buy, though, using the staking mechanism, you can earn more tokens than you bought. In the early stages of the presale, the APY stands at 2,000%. This will drop as more tokens get staked, which makes it prudent to stake as early as possible to take advantage of the APY.

To lower the token supply, the team plans to burn up to 25% of the total token supply. The way it will work is first a 5% burn tax on all transactions will be implemented, which will drop to 0% as milestones around the ETF approval are reached. Each milestone will permanently remove 5% of the supply. These milestones are:
$BTCETF token reaches $100 million trading volume.
The first Bitcoin ETF is approved.
The first Bitcoin ETF is launched.
The total assets under management for all Bitcoin ETFs reaches $1 billion in value.
Bitcoin reaches a price of over $100,000.
Follow Bitcoin ETF Token on X and join the Bitcoin ETF Token Telegram channel for the latest information regarding the project and the Bitcoin spot ETF approval. Also, read the Whitepaper to learn more about the project. 
| | |
| --- | --- |
| Presale Started | 6 Noe 2023 |
| Purchase Methods  | ETH, USDT, BNB, MATIC and Card |
| Chain | Ethereum |
| Min Investment | None |
| Max Investment | None |
2. Bitcoin Minetrix (BTCMTX) – Trending Crypto Making Bitcoin Mining Accessible, Offers Passive Income With High Staking Rewards
Bitcoin Minetrix ($BTCMTX) is a trending new token that makes Bitcoin mining accessible for beginners. Within 10 days post-launch, it raised over $500,000, showing high investor support and trust.
The ongoing presale has set the $BTCMTX token price at $0.011, projected to rise to $0.0119 by its end. 
From its 4 billion token pool, 42.5% is reserved for mining, while 7.5% is dedicated to staking. These allocations reflect the project's broader ambition, targeting a $32 million hard cap. 
This amount is predominantly allocated for platform development, staking rewards, and marketing plans.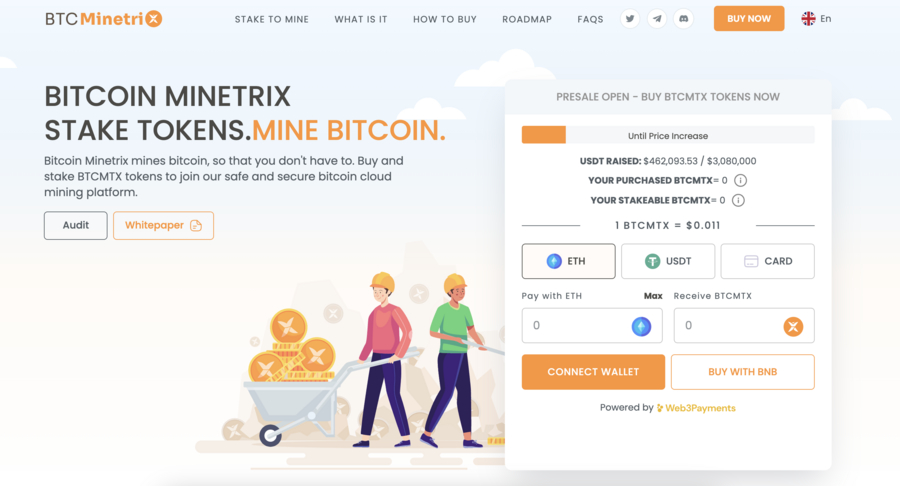 The project's innovative "Stake-to-Mine" model is central to its ecosystem, a new solution deviating from traditional Bitcoin mining practices. 
Traditional methods have been financially and environmentally challenging, often characterized by hefty hardware setups and massive energy consumption. 
Users simply stake the platform's native ERC-20 token, $BTCMTX, to earn non-tradeable mining credits. Upon burning these credits, they are rewarded with BTC. This simplifies the entire mining process and presents a sustainable and cost-effective alternative.
Bitcoin Minetrix offers a streamlined experience through its user-centric dashboard for users, especially newcomers to the mining domain. 
This integrated feature provides a holistic overview, ranging from projected BTC returns on a daily, weekly, or monthly basis to intricate metrics like hashing power and accumulated mining credits. 
This ensures that users can effortlessly manage and monitor their mining activities, regardless of their expertise level, from desktops or mobile devices.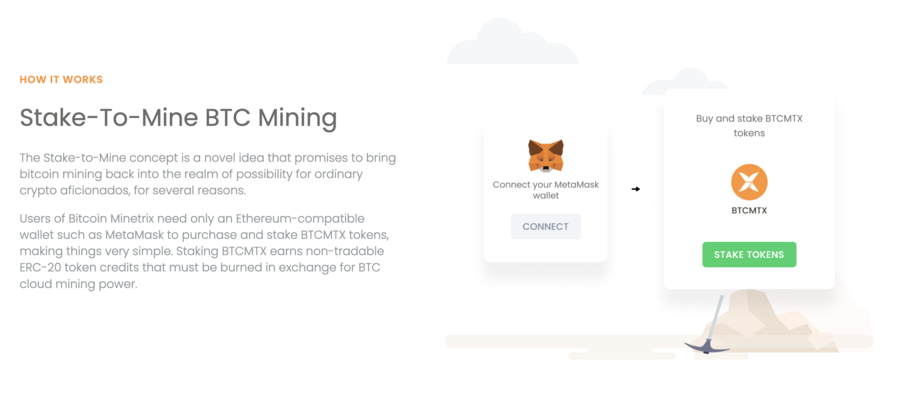 Additionally, Bitcoin Minetrix has secured a third-party smart contract audit from Coinsult. With a strong focus on user autonomy, the platform stands out, especially compared to its peers. 
It doesn't restrict users with locked investments. Instead, it allows them to unstake and trade their $BTCMTX tokens based on current market dynamics.
You can enter the Bitcoin Minetrix Telegram channel or follow it on X (Twitter) for the latest updates.
| | |
| --- | --- |
| Presale Started | 26 Sept 2023 |
| Purchase Methods  | ETH, USDT, BNB |
| Chain | Ethereum |
| Min Investment | $10 |
| Max Investment | None |
3. Wall Street Memes (WSM) – A Community-Driven Meme Coin with Staking Rewards That Raised Over $25 Million
Wall St Bulls ($WSM) is a new meme crypto, Wall Street Memes (WSM), following the success of its NFT collection that sold out in half an hour.
The project, led by a team that previously launched popular Bitcoin Ordinals NFTs, marks its entry into the meme coin sector, one of the best-performing crypto asset types in recent times.
Also, with a social media reach of over a million followers across various platforms, Wall Street Memes enjoys significant name recognition and community support. 
This support is reflected in its presale success, with $300K raised on the first presale day and over $25 million secured since the launch.

Recently, the platform was listed on OKX on 26 September. it jumped by over 275% within just 4 days of listing, showing strong community interest.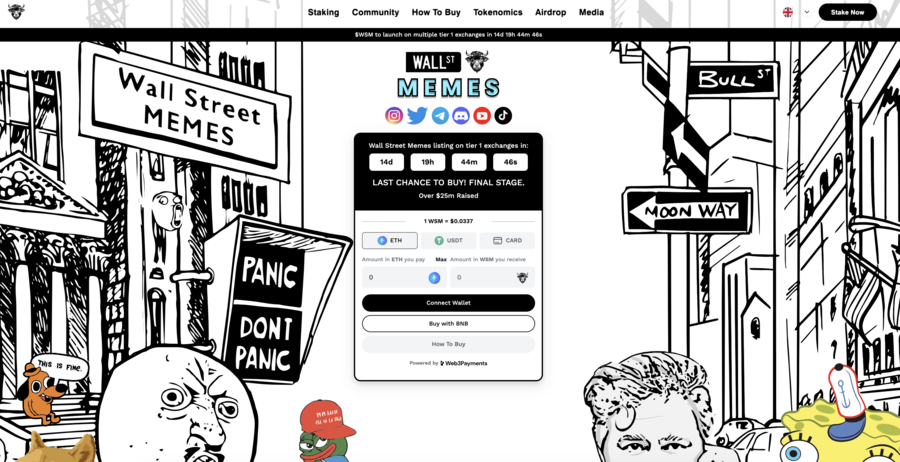 Wall Street Memes has even caught the attention of celebrities like Elon Musk, who has interacted with the platform on X (Previously Twitter).
Per the WSM whitepaper, the $WSM token has a total supply of 2 billion, designed to benefit its community. The presale allocation consists of 50% of the total supply. 
The remainder is set aside for community rewards (30%) and exchange liquidity (20%), with no allocation for the team, mitigating the risk of a rug pull. 
The project also offers staking rewards with APY exceeding 50%, improving its attractiveness for long-term investors.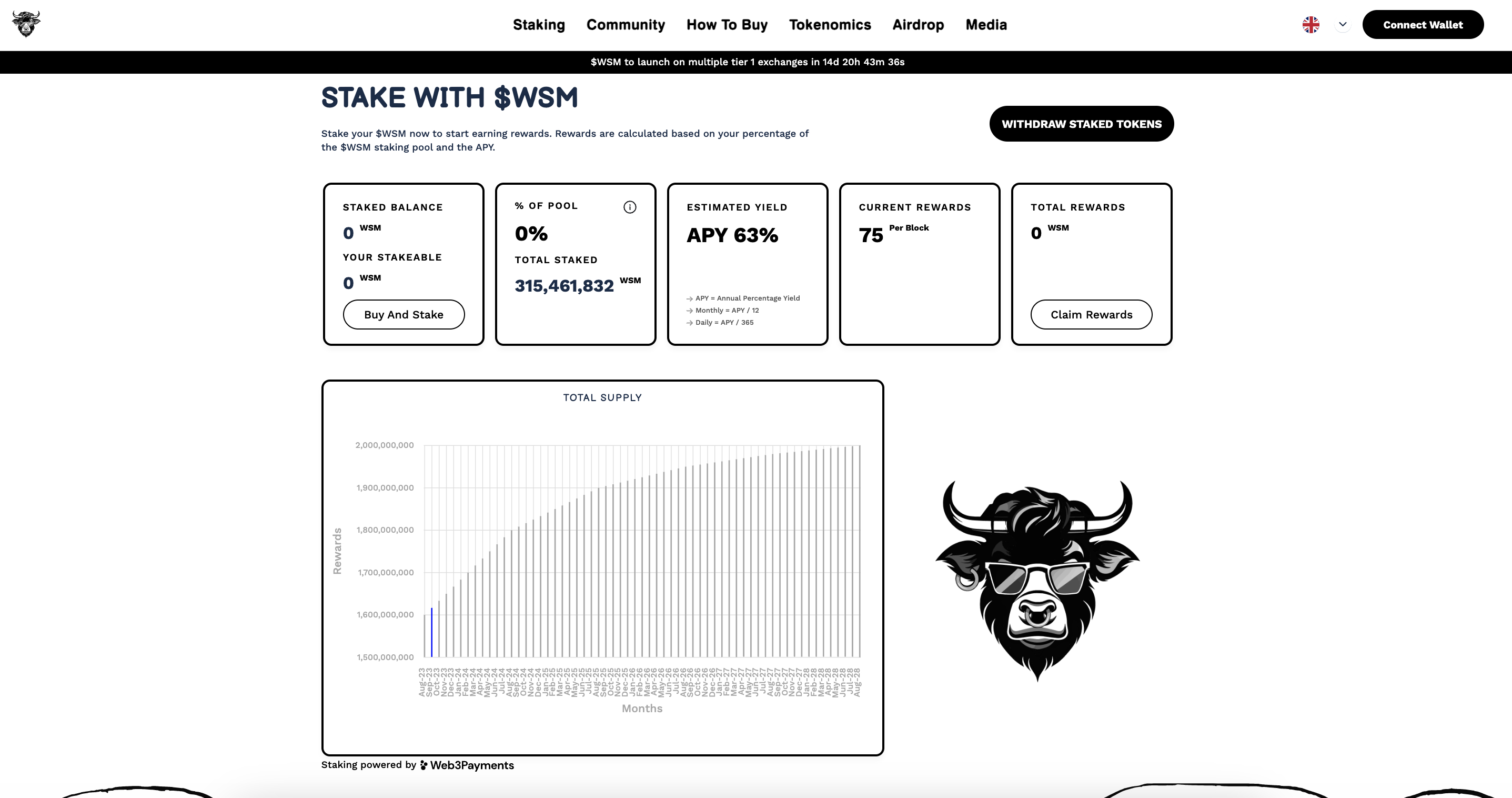 Given its strong backing and community engagement, $WSM is poised for listings on top-tier exchanges, potentially as high-profile as Binance. 
Also, a celebratory $50K airdrop is planned, accessible via participating in their social media channels. Enter the Wall Street Memes Telegram channel to learn more about the project.
| | |
| --- | --- |
| Presale Started | 26 May 2023 |
| Purchase Methods  | ETH, USDT, Credit Card |
| Chain | Ethereum |
| Min Investment | 100 $WSM |
| Max Investment | None |
4. Tamadoge (TAMA) – Trending New Dextools Coin With P2E Rewards
Since completing its crypto presale campaign – where Tamadoge raised over $19 million, this project continues to trend off Dextools. In fact, Tamadoge is one of the most searched cryptos in the market right now – which isn't surprising considering how much growth it is currently generating. Before we get to that, let's explore what the Tamadoge project represents. 
In a nutshell, Tamadoge is in the early stages of building a play-to-earn game. Players will be able to mint their own NFT – which will generate a unique virtual pet. The pet can be personalized to align with the player through additional NFT additions. The ultimate objective in this game is to win real-world rewards by entering virtual pets into battle.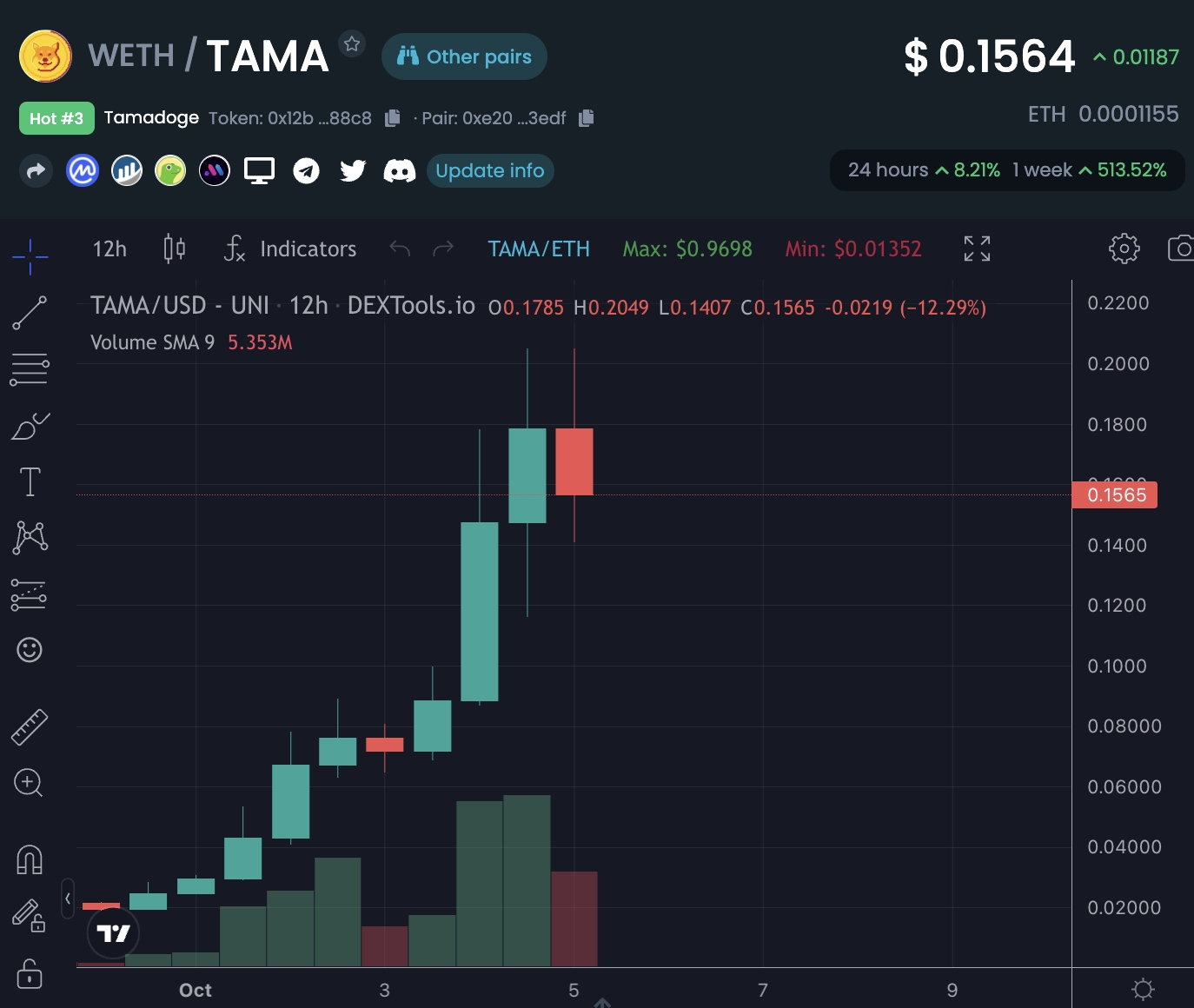 In a similar nature to Axie Infinity, those winning battles with their Tamadoge pet will generate crypto asset rewards – paid in TAMA. The developers behind Tamadoge are working on a variety of notable additions to the game, such as building an iOS/Android app that offers augmented reality experiences. Players will also be able to breed their Tamadoge pets, creating a new NFT entirely. 
At the time of writing, TAMA is the best trending Dextools cryptos – with the project ranking number one as the 'hottest pair'. This is for good reason – TAMA tokens have since gone on to witness gains of 1,000% in just over a week of post-ICO trading. During the same period, the broader crypto market has barely moved.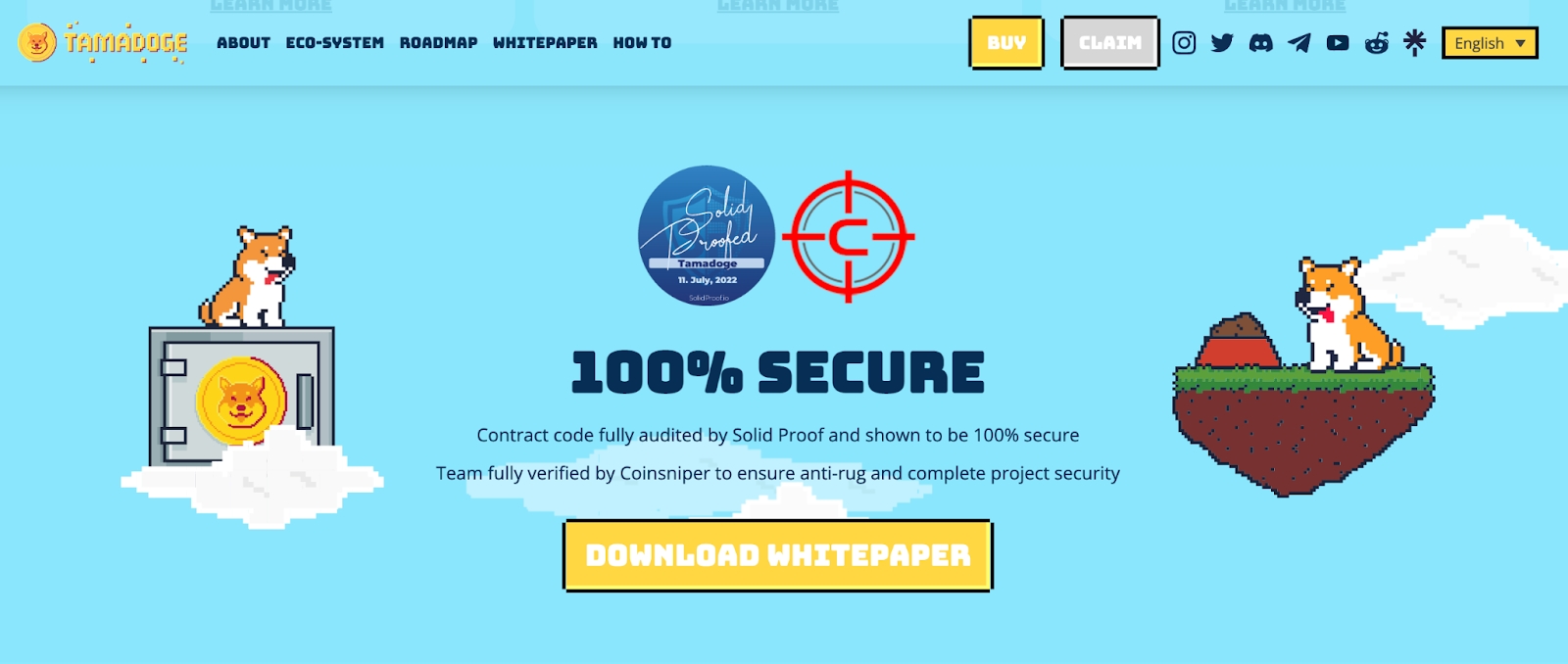 This highlights that even during an extended bearish cycle, there are plenty of ways to make money in the cryptocurrency space. At this moment in time, investors can buy TAMA tokens on OKX, Bitmart, and Uniswap. Further exchange listings are in the pipeline, with growing rumors that Binance could be next. This is, however, yet to be confirmed. 
Nonetheless, considering that Tamadoge is still valued at under $200 million, this could be one of the best future cryptocurrency projects to invest in. Another point to note is that Tamadoge is also launching one of the best NFT collections in the market – with just 21,100 non-fungible tokens being minted. 
5. DeFi Coin (DEFC) – Growing Interest on Dextools for the DeFi Innovator  
Dextools is one of the best independent platforms to discover the next cryptocurrency to explode. Unlike CoinMarketCap, Dextools focuses on token prices from decentralized exchanges, so investors have access to real-time data on projects that are attracting high levels of interest behind the scenes. In this regard, DeFi Coin is one best trending Dextools cryptos to watch. 
The project was founded in 2021 and aims to become the go-to decentralized exchange for DeFi services. After more than a year in development, DeFi Swap – the project's native exchange, will launch to the public in the coming weeks. DeFi Swap will not only offer yield farming, staking tools, and token swaps, but a fully-fledged educational hub.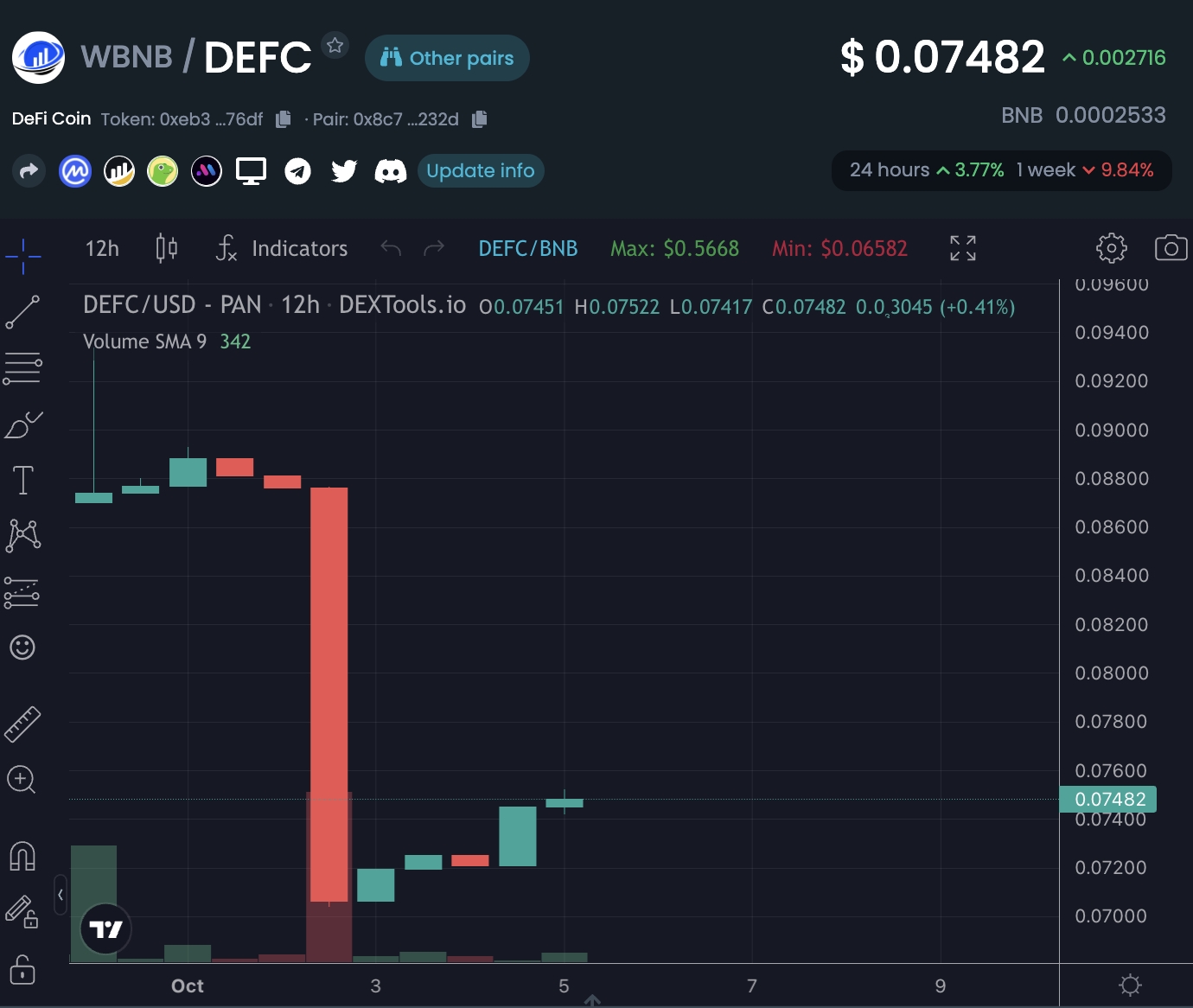 And most importantly, DeFi Coin could become the fastest-growing cryptocurrency over the next few months, especially considering that it carries a minute market capitalization of under $1 million. This offers an upside potential that even the best trending Dextools cryptos cannot rival. After all, conservative stakes can be risked on DeFi Coin while still targeting a sizable upside. 
Those that wish to build a position on DeFi Coin can do so right now via the PancakeSwap exchange. With that said, after the launch of DeFi Swap, a wave of new coin listings is expected. All in all, while the team at DeFi Coin has opted to perfect their decentralized exchange product over the course of a year, patient investors will be pleased to know that its launch is imminent.
6. Lucky Block (LBLOCK) – Undervalued NFT Competition Project That Continues to Trend 
Lucky Block is another sleeping giant that continues to trend on Dextools. Back in January 2022, Lucky Block was made available to the public via a hugely successful crypto ICO. After raising more than $5 million, Lucky Block listed its LBLOCK token on PancakeSwap. 
What was to follow was an unprecedented amount of buying pressure, where the LBLOCK token increased by more than 6,000% in under one month of trading. This was the case even though Lucky Block was yet to finalize the launch of its competition platform.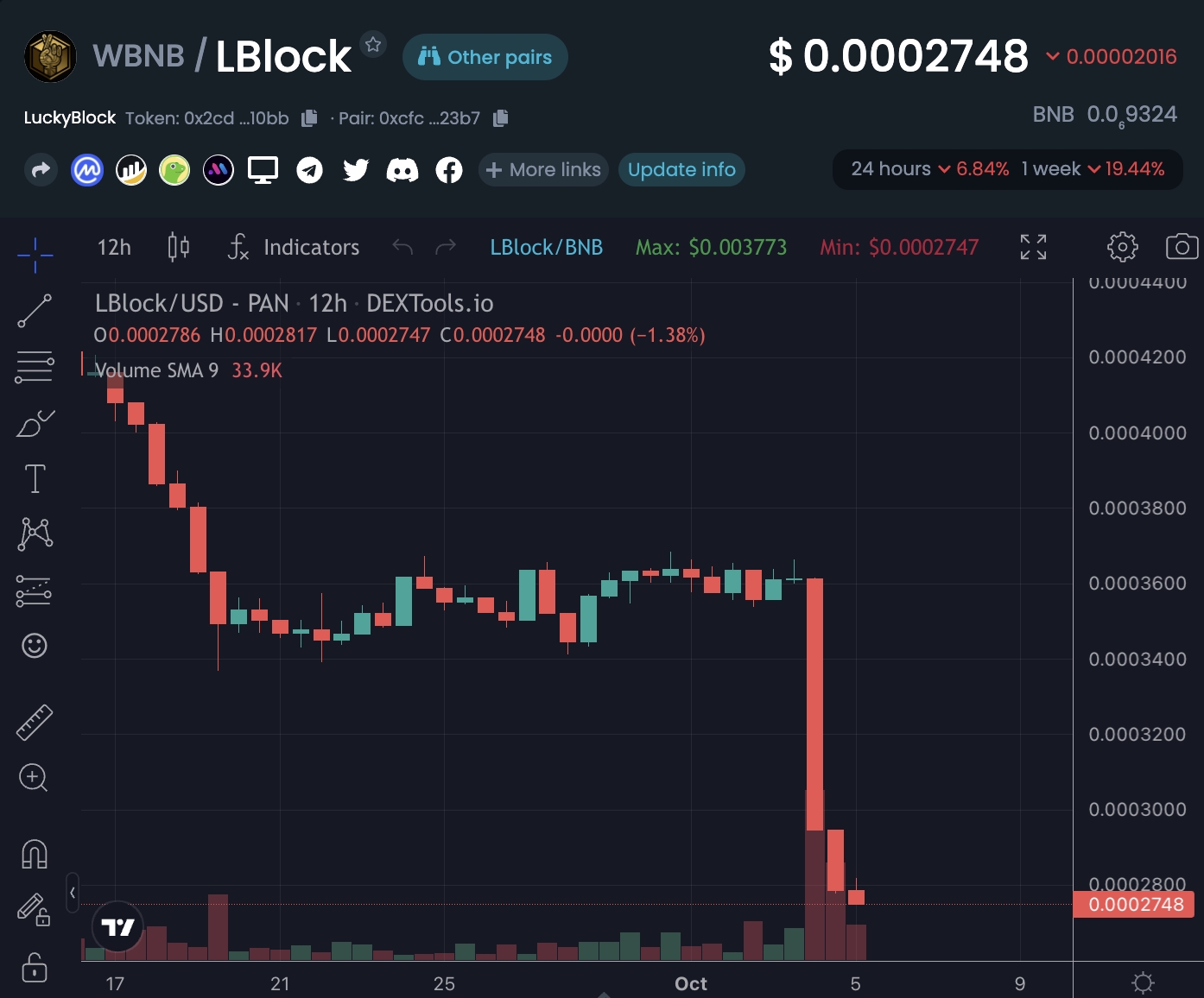 The Lucky Block platform is now fully live, with participants able to enter competitions by purchasing a specialist NFT. The popular Lucky Block competition as of writing offers the chance to win $1 million worth of Bitcoin. Based on current prices, this amounts to just under 50 BTC. 
Additional prizes include a $1 million property, a Lamborghini, and various 5-star holidays. Crucially, those electing to buy LBLOCK tokens today will be doing so at a 95% price reduction, from the project's former all-time high. This makes LBLOCK one of the best altcoins to buy.
7. SushiSwap (SUSHI) – Trending Crypto Asset Backing the SushiSwap Ecosystem
SushiSwap is a popular decentralized exchange that offers token swaps in addition to several yield-earning services. At this moment in this, the project's native token – SUSHI, is one of the top trending Dextools cryptos.
Over the prior 24 hours of trading, SUSHI has increased in value by over 4%, with the token paired against Fantom.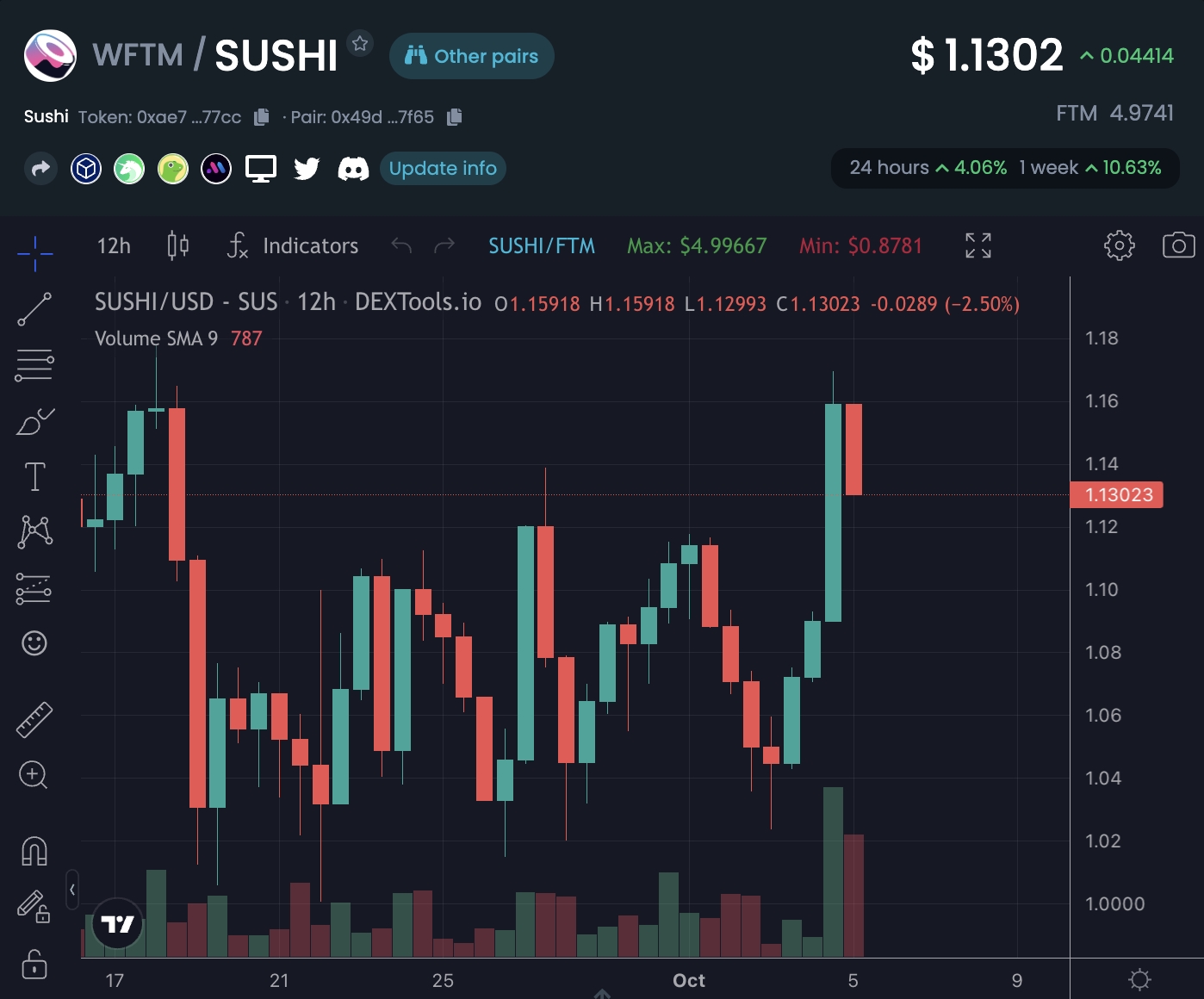 The same pair has increased by over 10% in the prior week, as per Dextools. This illustrates that there are many trading opportunities on crypto-cross pairs – especially during bearish cycles. 
Crypto assets are highly volatile and unregulated. No consumer protection. Tax on profits may apply.
8. ACC Token (ACC) – One of the Top-Performing Tokens on Dextools This Week 
ACC Token is a brand new project that aims to offer a decentralized payments gateway specifically for utility games that serve players in the Philippines. The project has created a buzz in recent days, with ACC Token now one of the best trending cryptos on Dextools. 
According to the data aggregation website, ACC Token – which trades against USDT, has generated gains of over 440% in just 24 hours of trading activity. Over a one-week period, ACC Token has increased by more than 710%.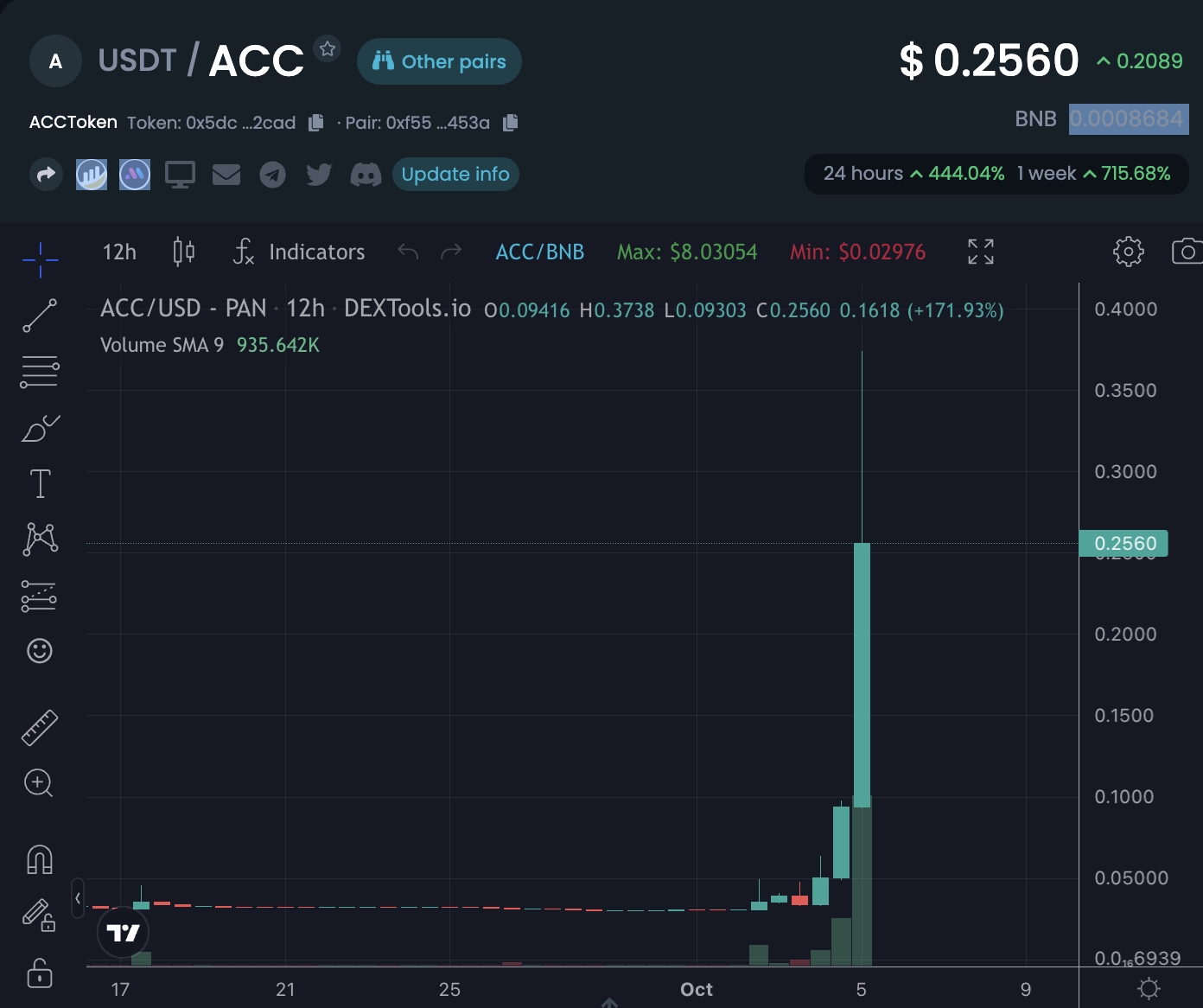 However, do note that ACC Token is yet to be accepted by CoinMarketCap, nor is it trading on any centralized exchanges. Therefore, this is a prime example of a project that could just as easily lose all of its gains in one fell swoop. As such, investors should tread with caution. 
9. HEX (HEX) – Large-Cap Trending Coin With High-Yield Staking   
Although the best trending Dextools cryptos are often low-cap coins, this isn't always the case. On the contrary, HEX – which is valued at over $6 billion dollars, is ranked third on the list of trending Dextools markets as of writing. 
This project offers This project claims to already have more than 500,000 wallet holders – many of which utilize the HEX staking tool for high yields. HEX itself can generate an APY of up to 38% simply by depositing the tokens into its platform.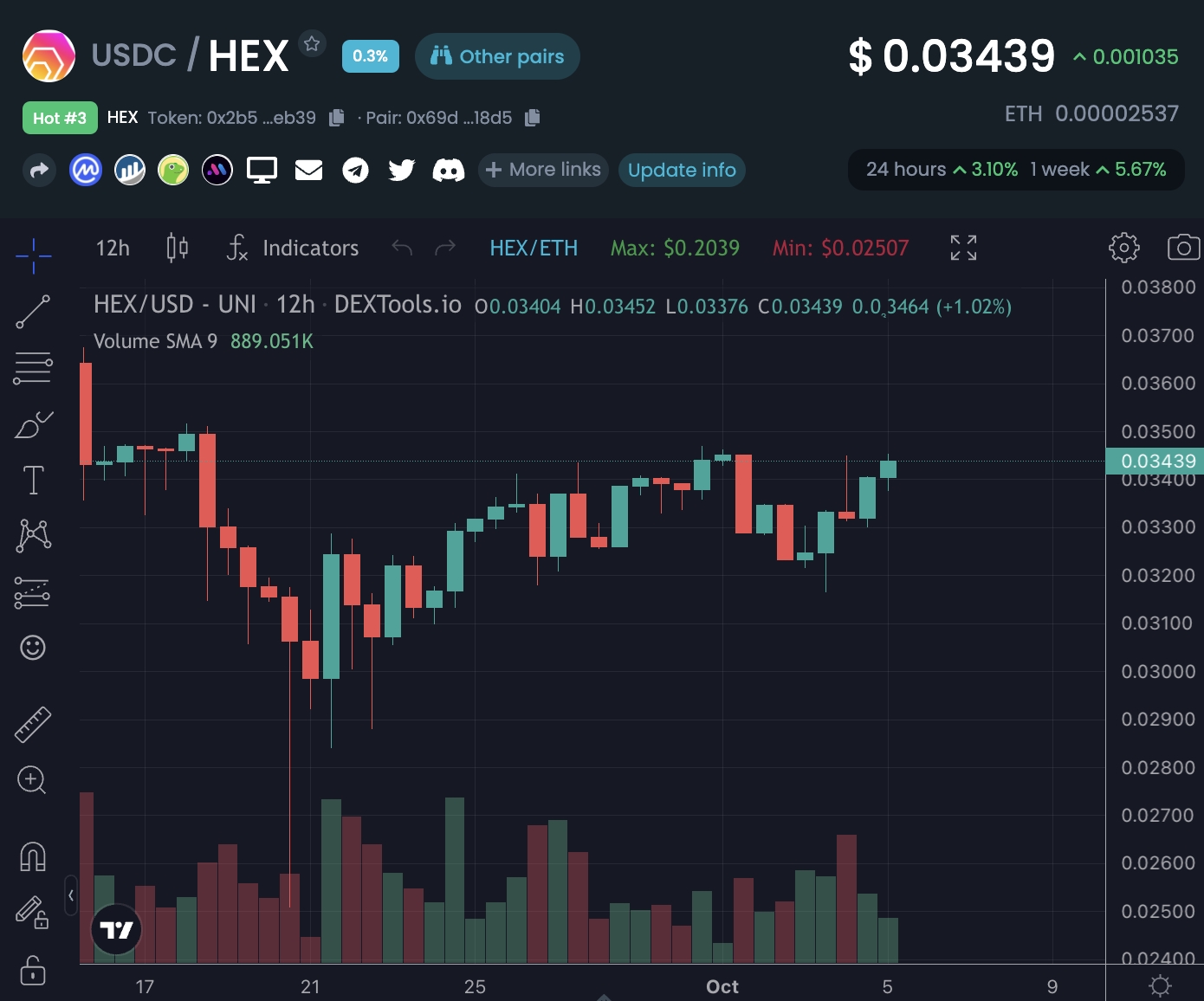 In terms of its recent performance, Dextools notes that HEX has witnessed an increase of 3.1% in the prior 24 hours and 5.6% over the past week.  HEX is, however, trading at a huge discount of 93% when compared to its 52-week high of $0.55. 
10. ApeCoin (APE) – Metaverse and NFT Collection Project With Multiple Tier-One Listings 
ApeCoin is another trending coin on Dextools, with the project ranking at number eight as of writing. This digital currency was launched by the team behind Bored Ape Yacht Club NFTs. For those unaware, this is perhaps the most successful NFT collection of all time. 
Although prices have since declined considerably, during the prior bull market, NFTs from this collection were selling for 7-figure sums. ApeCoin is the extension of this NFT collection and it functions as the native token of the Otherside metaverse.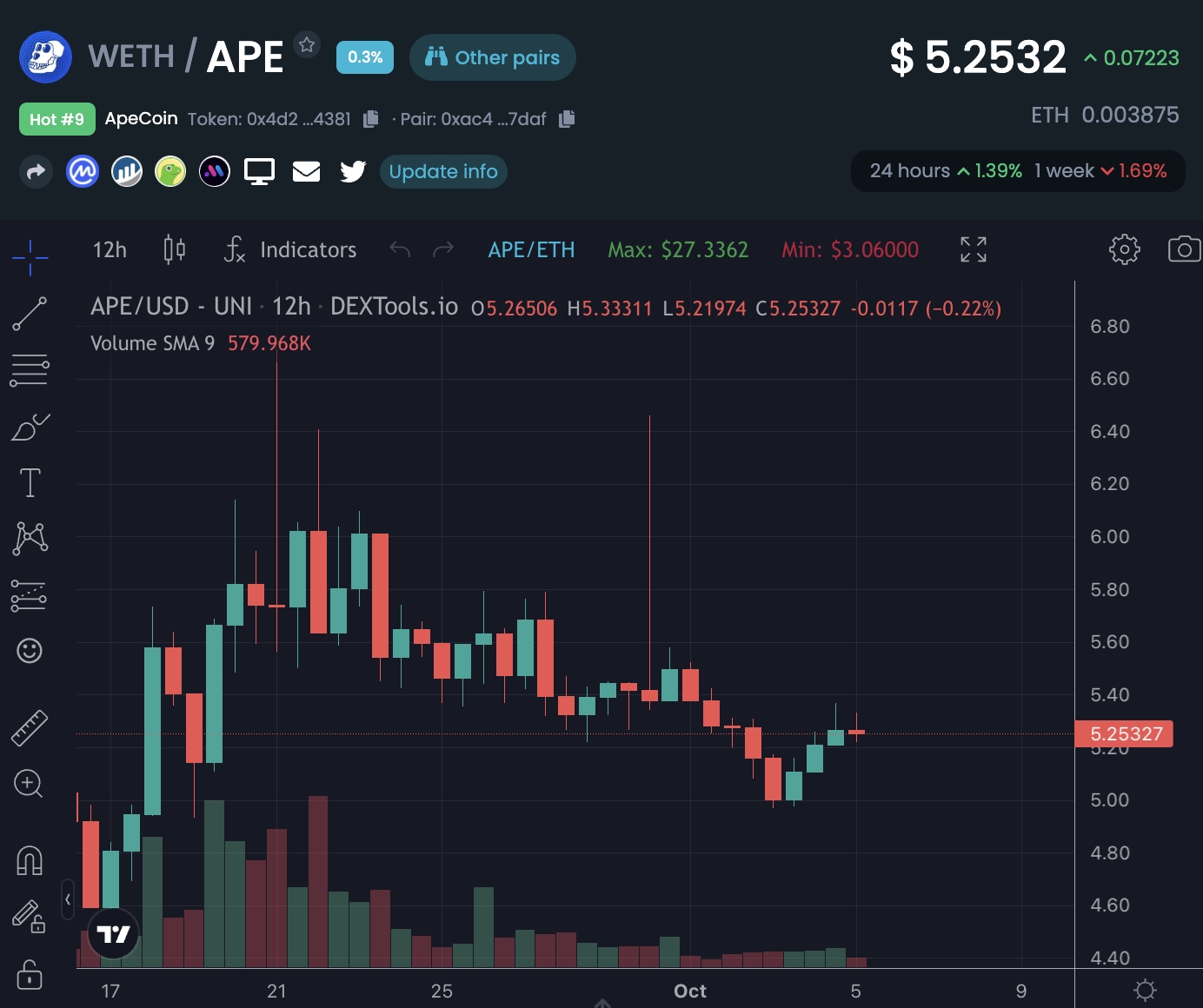 Many A-list celebrities already own a Bored Ape Yacht Club NFT, so the Otherside Metaverse has every chance to become the de-facto metaverse in the coming years. According to the Dextools chart, ApeCoin has increased by just 1.39% over the prior 24 hours of writing. On a 7-day period, the token is down just 1.69%. 
Crypto assets are highly volatile and unregulated. No consumer protection. Tax on profits may apply.
11. X2Y2 (X2Y2) – Newly Launched NFT Marketplace With its own Native Coin 
The final project that we will discuss from our list of trending coins on Dextools is X2Y2. This project has built a user-friendly NFT marketplace that connects buyers and sellers. The platform is backed by smart contacts that have been independently developed. 
Although the X2Y2 platform is still up-and-coming, it claims to have attracted more than 9,317 ETH worth of trading volume in the past day – which amounts to over $12 million.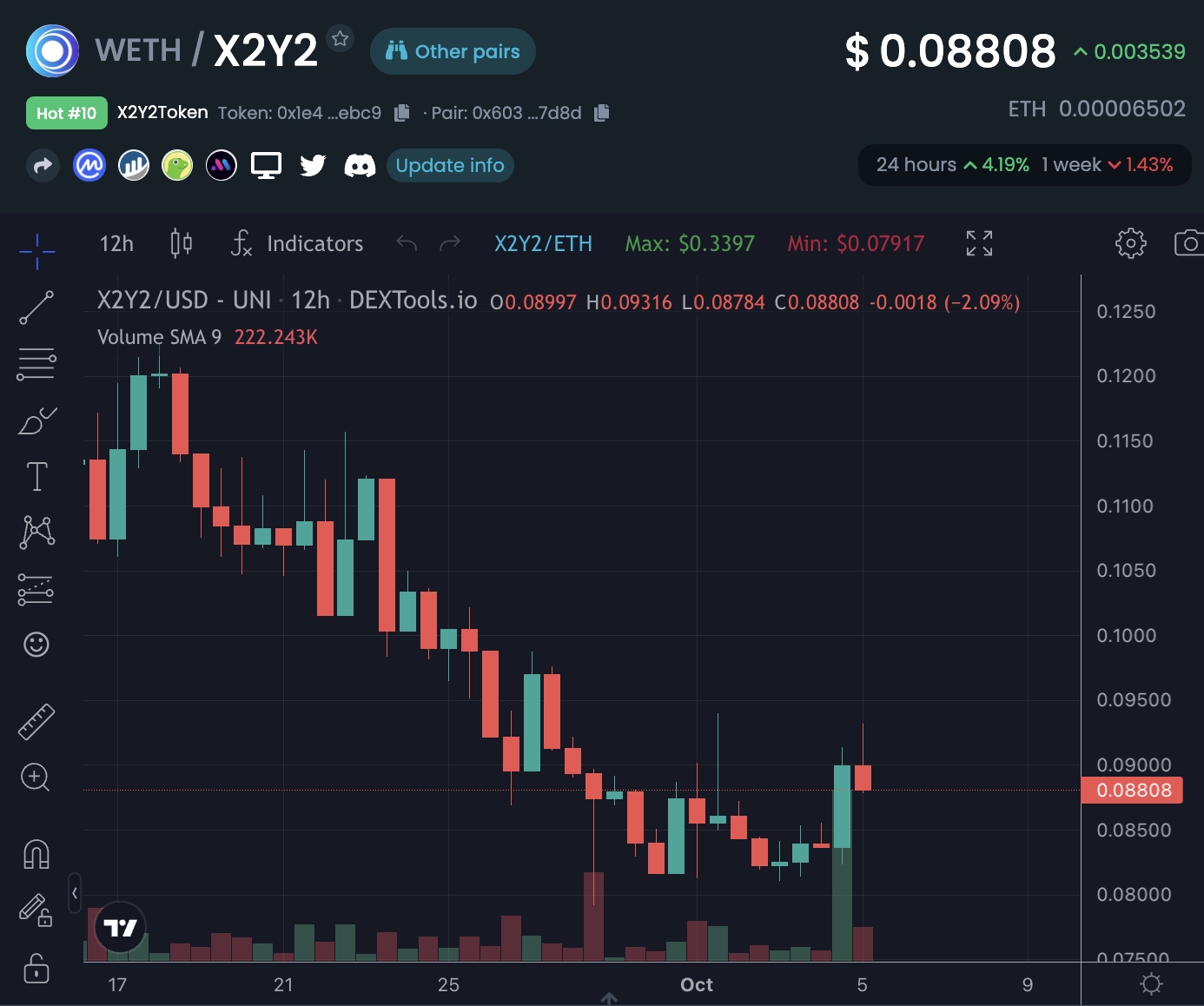 X2Y2 is a small-cap token, with a market capitalization of just $15.7 million as of writing.  According to Dextools, this trending crypto has witnessed a modest increase of 4.1% over the prior 24 hours. 
What is Dextools?
Dextool is a popular data aggregation website that provides real-time pricing information on cryptocurrencies listed on decentralized exchanges. Considering just how many tokens and exchanges operating in this space, Dextools makes the analysis process seamless. 
In fact, Dextools is often the go-to platform to find top trending cryptos that are outperforming the market. Visitors of Dextools can find various tools to aid the research process, such as listing the most traded pairs of the prior 24 hours. 
It also displays the best and worst cryptocurrencies of the prior day, in addition to listing the hottest markets. Investors can then click on their preferred data point to learn more about the crypto asset in question.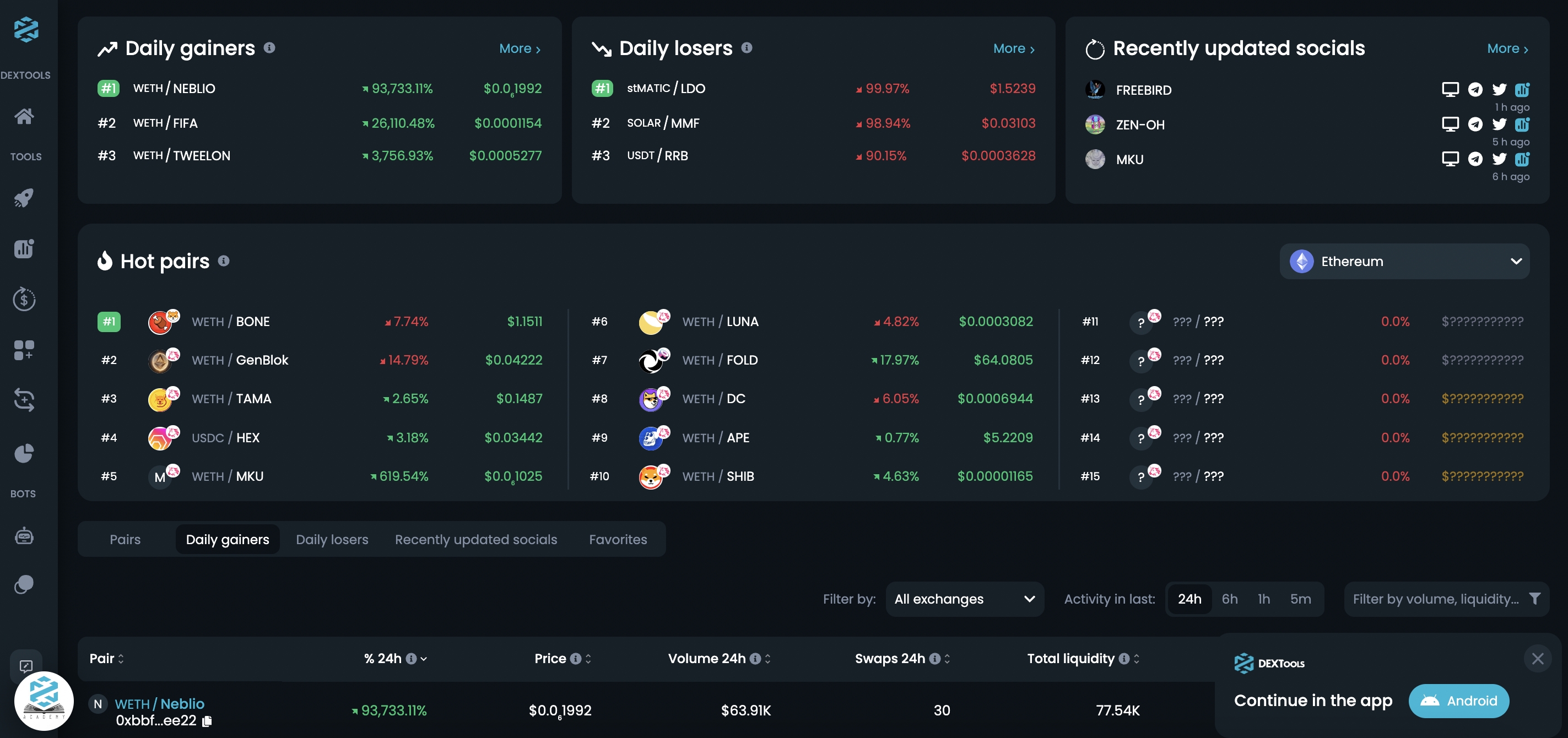 Finding this information without Dextools would have been a lot more complex, considering that CoinMarketCap has its own system in place when ranking trending tokens. Dextools offers a wide variety of other tools on its platform to ensure that investors are kept abreast with key market movements. 
For example, the Dextools crypto price chart on each pair offers access to a wide variety of analysis tools and technical indicators. Underneath the Dextools price chart, investors can view real-time data on any buy and sell orders associated with the coin. 
There is also a Dextools app that can be downloaded free of charge. Not only does this enable investors to track market prices while on the move, but set real-time alerts. Crucially, Dextools even enables investors to buy or sell their chosen coin simply by connecting a compatible wallet. 
What to Consider When Trading Trending Dextools Coins
There can be a variety of reasons why a coin trends on Dextools. In some cases, this is because it has generated sizable gains in the prior 24 hours. Alternatively, this could be because the coin has witnessed a huge decline. 
Dextools will also class a coin as trending when it attracts widespread interest on its platform. This might simply be a case of investors searching for the respective pair or adding it to their watchlist. 
The key point here is that just because a coin is trending on Dextools, this doesn't mean that it represents a strong buy. With that said, the real-time data offered by Dextools is often the most effective information available to value investors. 

Many of the best trending Dextools cryptos are super-low-cap projects. in some cases, the market capitalization of the token could be under $1 million. While this does present an investment opportunity in terms of an attractive upside, the risks also need to be considered. 
This is why seasoned investors will often scan Dextools for trending coins and diversify across dozens of different projects to mitigate the risk exposure. 
Conclusion
Dextools is one of the most sought-after data aggregation platforms for those that prefer investing in trending cryptocurrencies. 
The platform offers a wealth of real-time pricing information in addition to displaying the most popular coins over the prior 24 hours of trading. 
Bitcoin ETF Token remains the best potential trending Dextools coin – with the newly launched coin that has raised over $100,000 in a few days. It is designed to reward holders based on real market events like the Bitcoin spot ETF approval by the SEC. Users can grab the $BTCETF tokens for only $0.005 in the first stage of the presale.
FAQs
Which tokens are trending on Dextools right now?
The top trending Dextools coins right now include Bitcoin ETF Token, Bitcoin Minetrix, Wall Street Memes, and Tamadoge. Lucky Block is another popular coin on Dextools, as are HEX and ApeCoin. Investors are advised to regularly check Dextools, as its trending data changes on almost a second-by-second basis. 
Can you buy coins on Dextools?
Yes, Dextools has integrated with a variety of third-party decentralized exchanges, such as PancakeSwap. This means that investors can link their wallet to the Dextools platform to buy their chosen coin. 
 
---