13 Best Telegram Bots to Use in 2023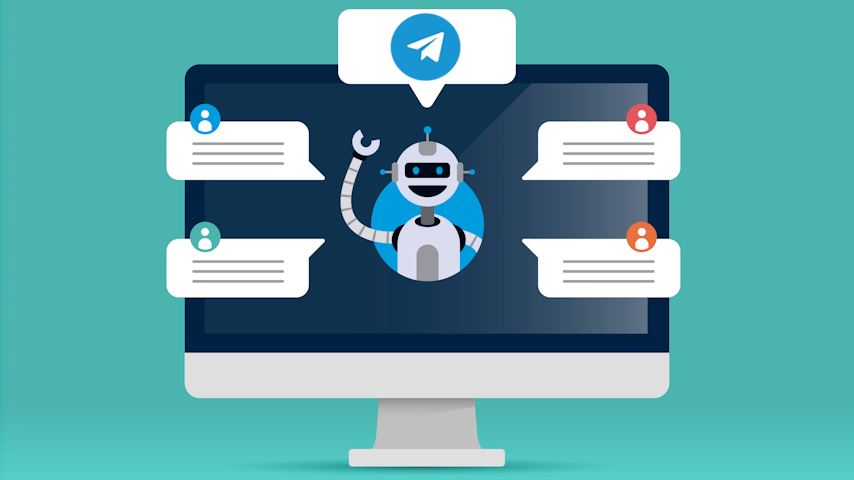 Telegram allows developers to create and launch automated bots. This streamlines a range of tasks for Telegram's 700+ million users. Examples include everything from casino and card games to recipe generators and travel suggestions.
Read on to discover the 13 best Telegram bots to try in 2023.
13 Best Telegram Bots: Our Top Picks for 2023
Here are our top picks for the 13 best Telegram bots for 2023:
TG.Casino - Exciting new Telegram-only casino offering thousands of live casino and sports betting markets. With the $TGC token, TG.Casino will offer high staking rewards and free NFTs. $TGC is priced at $0.125 during the ongoing presale.
Mega Dice Casino: The world's first regulated Telegram casino, Mega Dice, allows players to gamble on slots, plinko, roulette, blackjack, and more. It offers an anonymous and secure gambling experience, not to mention instant cryptocurrency payments. The Mega Dice Telegram bot offers first-time players a 200% deposit bonus and 50 free spins. 24/7 customer support is available, directly on the Telegram app.
WeathersBot: This Telegram bot allows users to stay up-to-date with localized weather conditions. Available in English and Russian, WeathersBot allows users to set their default city and activate real-time notifications. Users can also choose their default metrics, such as wind speed, temperature, and precipitation.
File Converter: This Telegram bot allows users to instantly convert file types. For example, JPEG to PNG or PDF to OCR. Everything is conducted directly within the Telegram app, so the files should be stored on the user's smartphone device.
Hangbot: One of the best bots for playing games on Telegram is Hangbot. The bot will generate a secret word and players need to guess which letters it contains. An incorrect guess will cost the user a life. Players need to complete as many words as possible before their lives are depleted.
EspressoBot: This bot will appeal to users who want to create their own cryptocurrency - but don't have any coding or blockchain knowledge. By answering a few simple text prompts on Telegram, EspressoBot will create a new Ethereum-based token in minutes. This includes a fully-fledged smart contract and a unique wallet address.
AirTrack: AirTrack is one of the best travel-related Telegram bots. It allows users to find cheap flights directly in the Telegram app. Users simply need to provide their departure and arrival airports, alongside their preferred dates. AirTrack will then find the best deals and send a unique link for users to complete their ticket purchase.
Poker Bot: This is the best Telegram bot for playing live poker. Texas Hold 'em games can be played with friends or random players. This isn't a real-money poker bot, as players use virtual chips. There is plenty of traffic around the clock, with Poker Bot used by over 670,000 people.
Babelgram: This popular Telegram bot allows users to instantly translate messages in real-time. This can be useful when joining a Telegram group that uses another language. After typing their message in their native tongue, the Babelgram bot will post it in the user's preferred language.
Taskobot: Taskobot removes the need for diaries or calendars. Instead, users can now set tasks and reminders via the Telegram app. After typing in the task, users can enter the time and date - and whether it's a recurring event. Taskobot will send a Telegram notification in real-time when the event time is approaching.
CryptoBot: This Telegram bot is aimed at cryptocurrency investors. It comes packed with insights and tools, including the ability to buy and sell tokens directly on Telegram. CryptoBot sources the best rates from leading exchanges.
Chess Exercises: This Telegram bot is popular with chess players. It's a puzzle-style game that tests the player's ability to make smart in-game moves. An image is displayed with a chess board and users need to choose which move the player should make. Points are awarded when choosing the best move on the first attempt.
Quizarium: Quizarium is a popular Telegram quiz game that can be played with friends. It allows users to choose the quiz topic (e.g. music) and Quizarium will generate a series of questions. Players accumulate points as they answer questions correctly. Those with the most points at the end of the round win the game.
The Telegram bots list above covers many different niches and tasks. Read on to find out more about each bot.
A Closer Look at the 13 Best Telegram Bots
In the sections below, we explain how the best Telegram bots work and where users will find them.
1. TG.Casino - Fully Licensed and KYC-Free Telegram Casino Offering 150% Matched Deposit Bonuses
The first Telegram bot on our list is TG.Casino ($TGC), which is a fully licensed Telegram casino. By leveraging the Telegram app, TG.Casino will allow customers to directly access the online crypto casino in just a few minutes.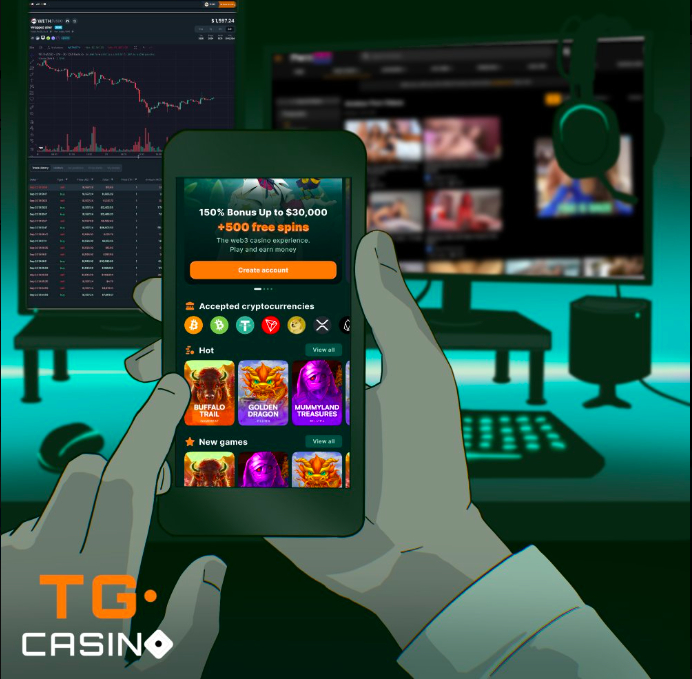 Since more than 800 million people use Telegram, TG.Casino is reducing the barrier of entry for online casinos. Due to the high-quality security infrastructure that Telegram provides, TG.Casino will also be able to support seamless deposits and withdrawals.
On the TG.Casino, users can get a 150% matched deposit bonus of up to $30,000 + 500 free spins. One of the supported cryptos on TG.Casino is $TGC, the native cryptocurrency. The $TGC token can currently be purchased on presale for just $0.125 per token. Once you buy TG.Casino token, you can stake the holdings on a staking contract.
At the time of writing, TG.Casino is offering a staking APY (Annual Percentage Yield) of 2,141%. More than 1.8 million tokens have already been staked on the contract. With $TGC, token holders can get exclusive access to certain games. $TGC can also be earned as rewards on the ecosystem.

The $TGC token has a total supply of 100 million, which will reduce over time. TG.Casino will use a portion of its profits to buy back tokens, and burn 40% of these tokens. The rest will be divided to token holders through a staking pool. 40 million tokens have been allocated for the presale.
TG.Casino has raised more than $216K in under a week. Read the TG.Casino whitepaper and join the Telegram channel to stay updated with this new Telegram casino.
| | |
| --- | --- |
| Presale Started | 21 September 2023 |
| Purchase Methods | ETH, USDT, BNB |
| Chain | Ethereum |
| Min Investment | None |
| Max Investment | None |
2. Mega Dice Casino - Telegram-Regulated Casino With Instant Payouts
Mega Dice holds a fully-fledged Curaçao eGaming license and has an excellent reputation for safety and swift payments. Best of all, its casino suite can be accessed directly from the Telegram app.
This means that users are not required to open an account, provide any personal information, or go through a KYC process. On the contrary, players can get started instantly - as Mega Dice gambling accounts are connected to the player's unique Telegram username. In terms of payments, Mega Dice accepts cryptocurrencies.
This includes Bitcoin and some of the best altcoins. For instance, Ethereum, Dogecoin, XRP, BNB, and Cardano. There is a small minimum deposit of 0.0001 BTC, or the altcoin equivalent. This amounts to about $3 based on BTC/USD prices today. After one blockchain confirmation, the cryptocurrency deposit will appear in the player's Mega Dice balance. slot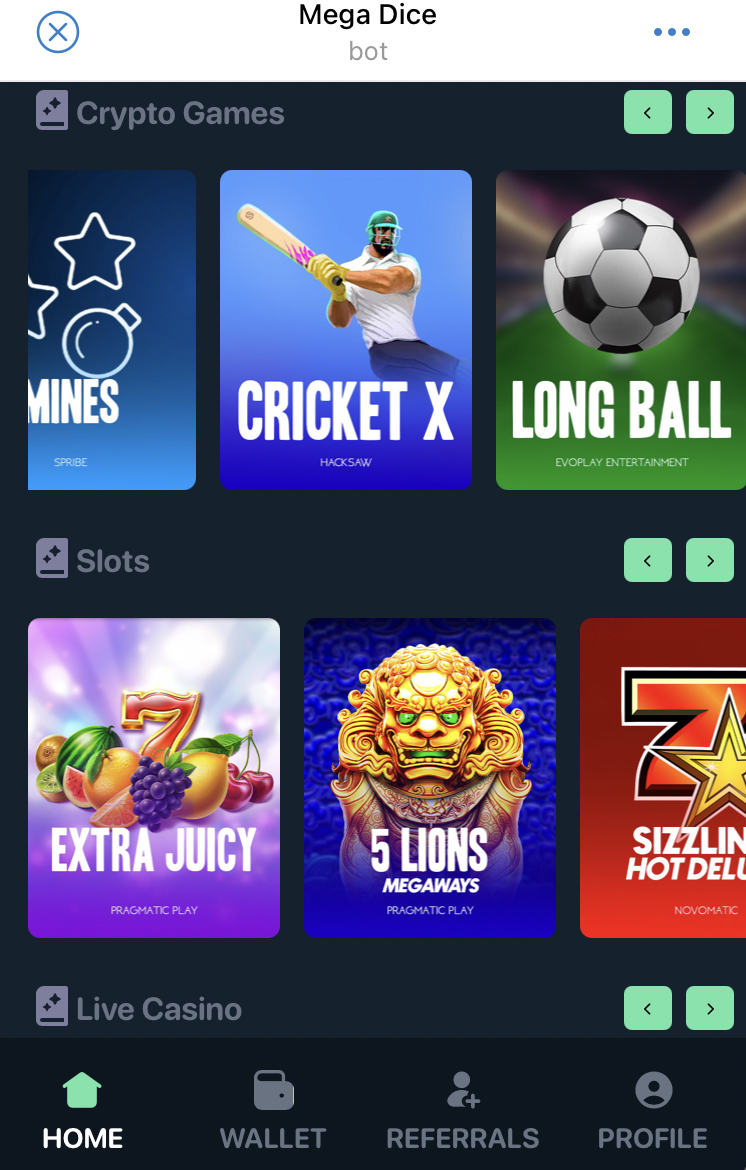 They can then choose their preferred casino games and begin gambling. So what games does the Mega Dice Telegram casino support? Well, it's considered one of the best Bitcoin slots sites, with top-rated games like Gates of Olympus and Wanted Dead or a Wild available. Other popular slot games include Book of Ra Deluxe and Sweet Bonanza.
These slot games are provided by licensed casino developers, so safety and legitimacy is assured. Moreover, unlike other Telegram gambling games, users get to enjoy a fully immersive experience. This is because Telegram has integrated a live video feed into its Telegram bot. So it's like being at a real casino but via the Telegram app.
The Mega Dice Telegram casino also supports classic table games. This includes blackjack, roulette, and other casino staples. What's more, live dealer tables can also be accessed. This means that the roulette wheel will be spun by a real human, and beamed to the Telegram app in real-time. This is also the case for live game shows like Monopoly and Deal or No Deal.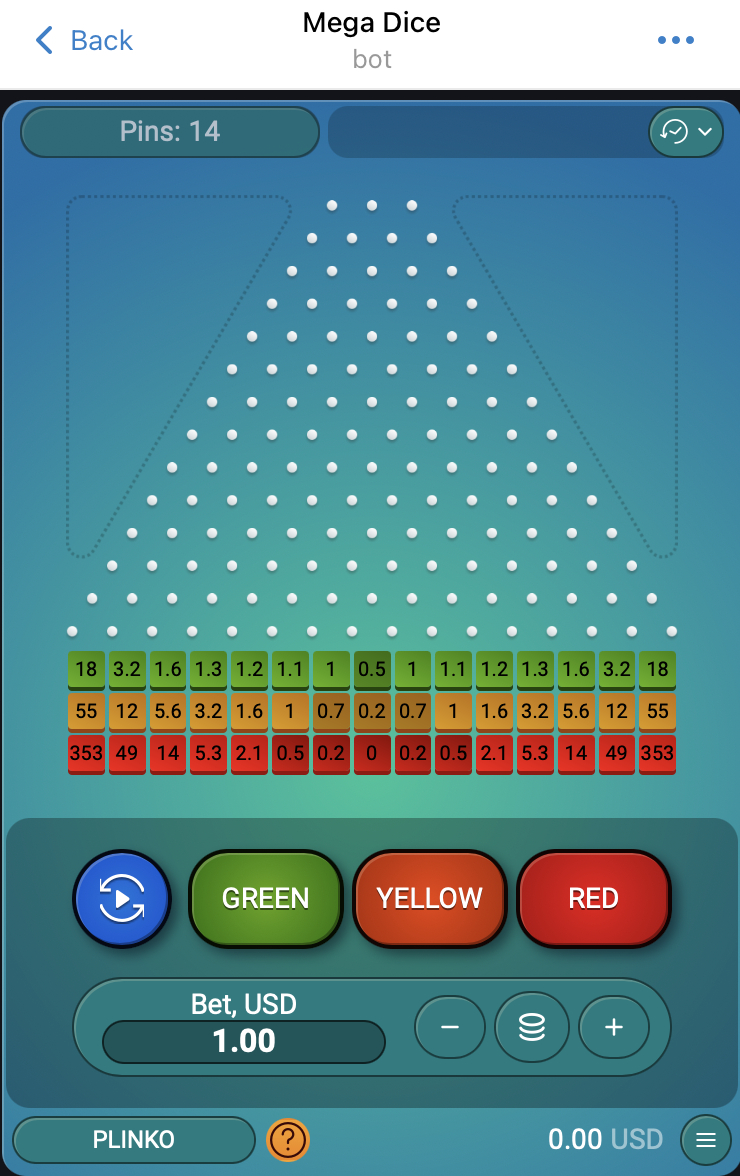 Provably fair games are also supported by the Mega Dice Telegram app. This includes mines, plinko, dice, and crash. Although the minimum deposit on Mega Dice is about $3 - players depositing at least $20 will receive 50 free slot spins. This is in addition to a 200% deposit match up to 1 BTC.
Mega Dice is also one of the best Bitcoin gambling sites for fast payouts. When requesting a withdrawal from its Telegram bot, it is approved immediately. And hence, players will receive their withdrawal in minutes. Payments are made on a wallet-to-wallet basis for enhanced speed and security. Should players witness any issues, the Mega Dice Telegram bot offers 24/7 live chat.
3. WeathersBot - Get Localized Weather Updates in any City 24/7
One of the best Telegram bots for weather updates is WeathersBot. This completely free-to-use bot offers a user-friendly and reliable service around the clock. After joining the WeathersBot Telegram chat, the user will be asked to type in their location. This can be the city, town, postcode, etc.
Each weather update will cover various metrics, such as the temperature, wind speed, and precipitation estimate. This is in addition to a general overview of local weather conditions. Best of all, WeathersBot allows users to set up custom notifications. This will come through as a Telegram alert.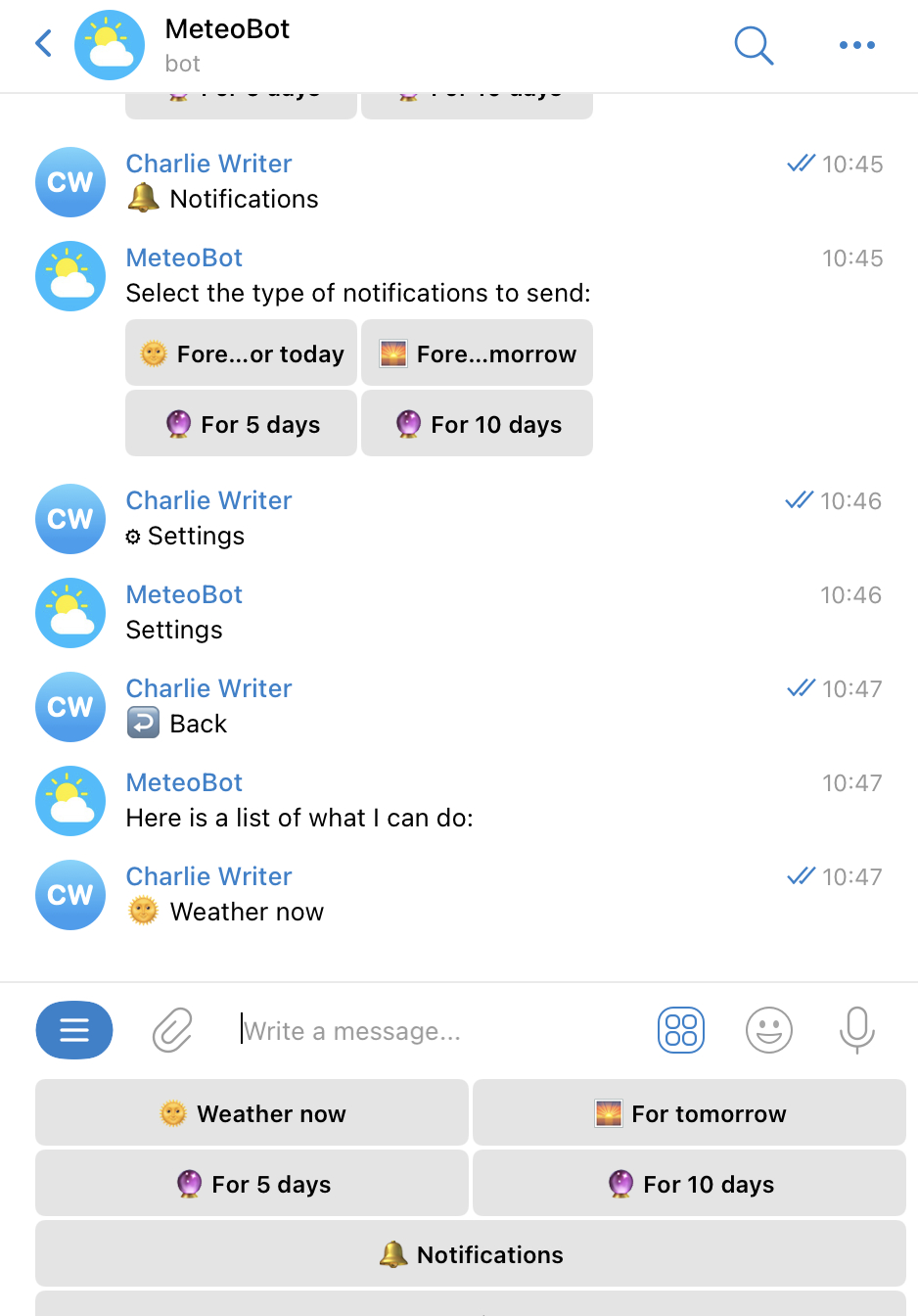 Notifications can be set daily, or over a 5/10-day period. Moreover, we like that WeathersBot can be added to another Telegram group. For example, friends planning a trip can add the bot to a custom group, showing daily weather updates for their destination.
4. File Converter - Convert Various File Types Directly in the Telegram App
Another use case for Telegram bots is file conversions. Rather than needing to use a desktop device, files can now be converted directly in the Telegram app. One of the best Telegram bots for this purpose is File Converter. Not only does File Converter support images but videos and audio too. We like that users are not required to specify the type of file that they want to convert.
On the contrary, users can click on the attach button and upload the file to the chat box. File Convert will automatically detect the file type. Users will then be given a range of options for the output file. For example, after uploading a JPG image to File Converter, we can convert it to a JPEG, PNG, WEBP, BMP, TIF, TIFF, GIF, ICO, PDF, or OCR.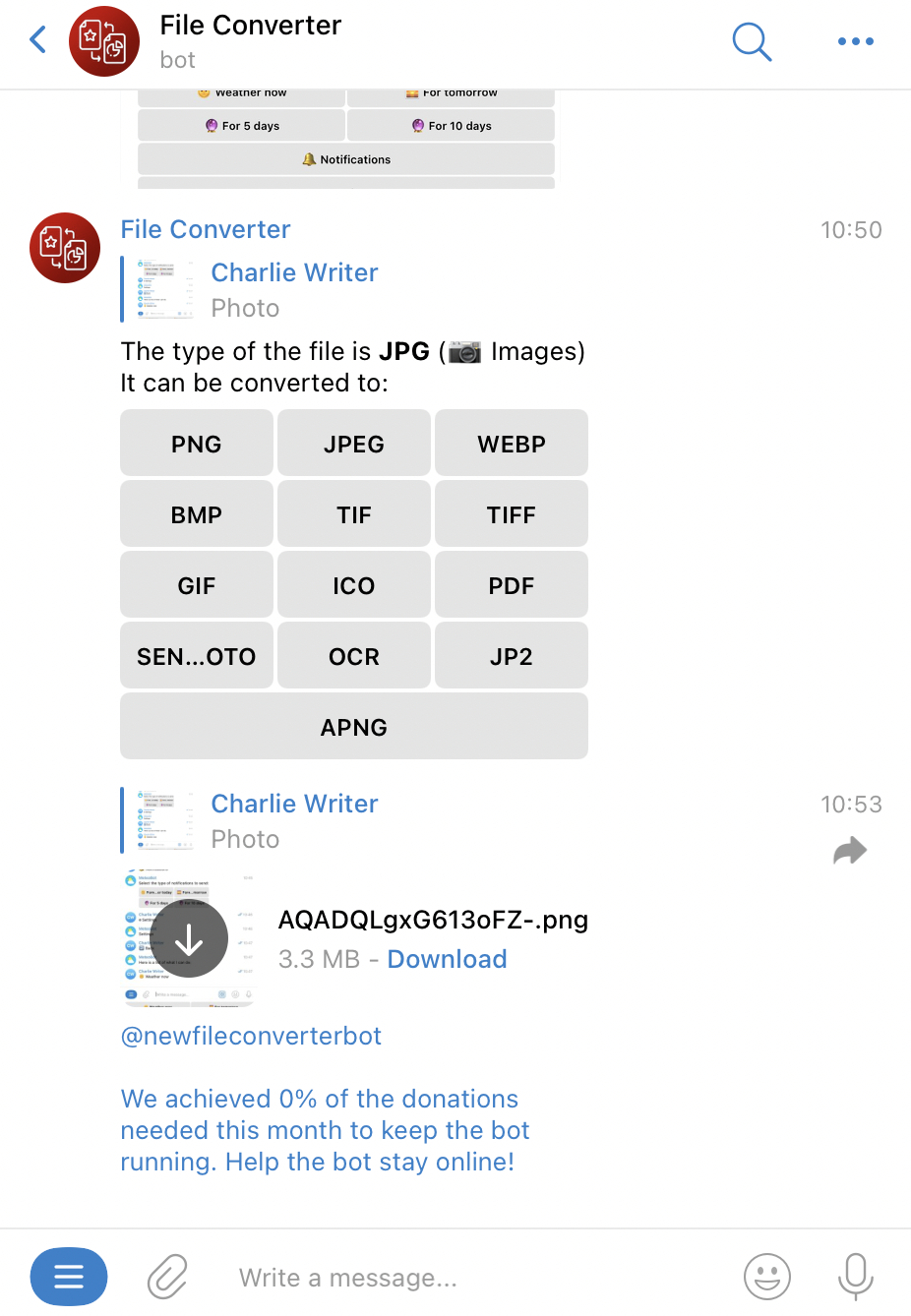 Users can set their preferred file type by clicking on the respective button. After clicking on 'PNG', the Telegram bot got to work. In fact, it took less than five seconds for the file conversion to complete. We can then click on the 'Download' button to download the new file directly to our smartphone device.
Although File Converter is free to use, it does come with usage limitations. For instance, all users start with 30 credits. 1 credit is required to convert a file. File Converter relies on donations to keep its bot operational.
5. Hangbot - Play Hangman Games With Friends on Telegram
Looking to play games with a bunch of friends on the Telegram app? If so, Hangbot is one of the best Telegram bots for groups. This Telegram bot replicates the popular Hangman game. Two or more players are required and the bot is completely free to use.
Here's how it works; After joining the Hangbot Telegram chat and starting a new game, it will generate a secret word. For instance, suppose the word is 'Enterprise'. Players will only see the word displayed like this; '----------'. In other words, 10 blank spaces.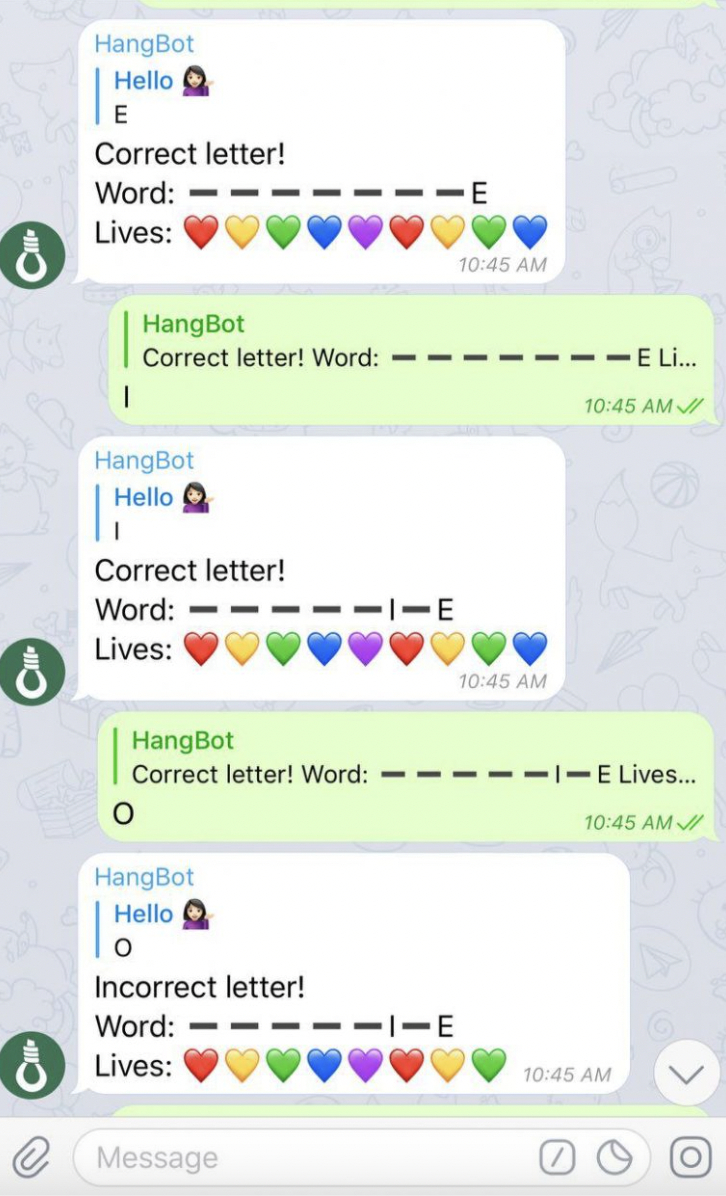 Player 1 will then need to guess one letter from the secret word. We'll say they opt for 'E'. As the secret word contains the letter E, it will now look like this; 'E--e-----e'. The player will then be given the opportunity to guess the complete word.
On Hangbot, players can type their guess and send it as a message. If correct, the player wins the game. If not, they lose a life. Lives are also lost if the player guesses a letter incorrectly. Hangbot is a free Telegram bot but it requires at least two players.
6. EspressoBot - Create a New Cryptocurrency in Minutes via Text Prompts
One of the most innovative Telegram bot tokens in the market is EspressoBot. This bot allows complete novices to create their own cryptocurrency. Zero knowledge of coding or programming is needed. Instead, EspressoBot creates a new cryptocurrency based on text prompts.
For instance, the user will initially be asked for the name of their custom cryptocurrency. Additional questions will follow, such as the cryptocurrency's ticker symbol, supply, burning mechanism, and tax structure.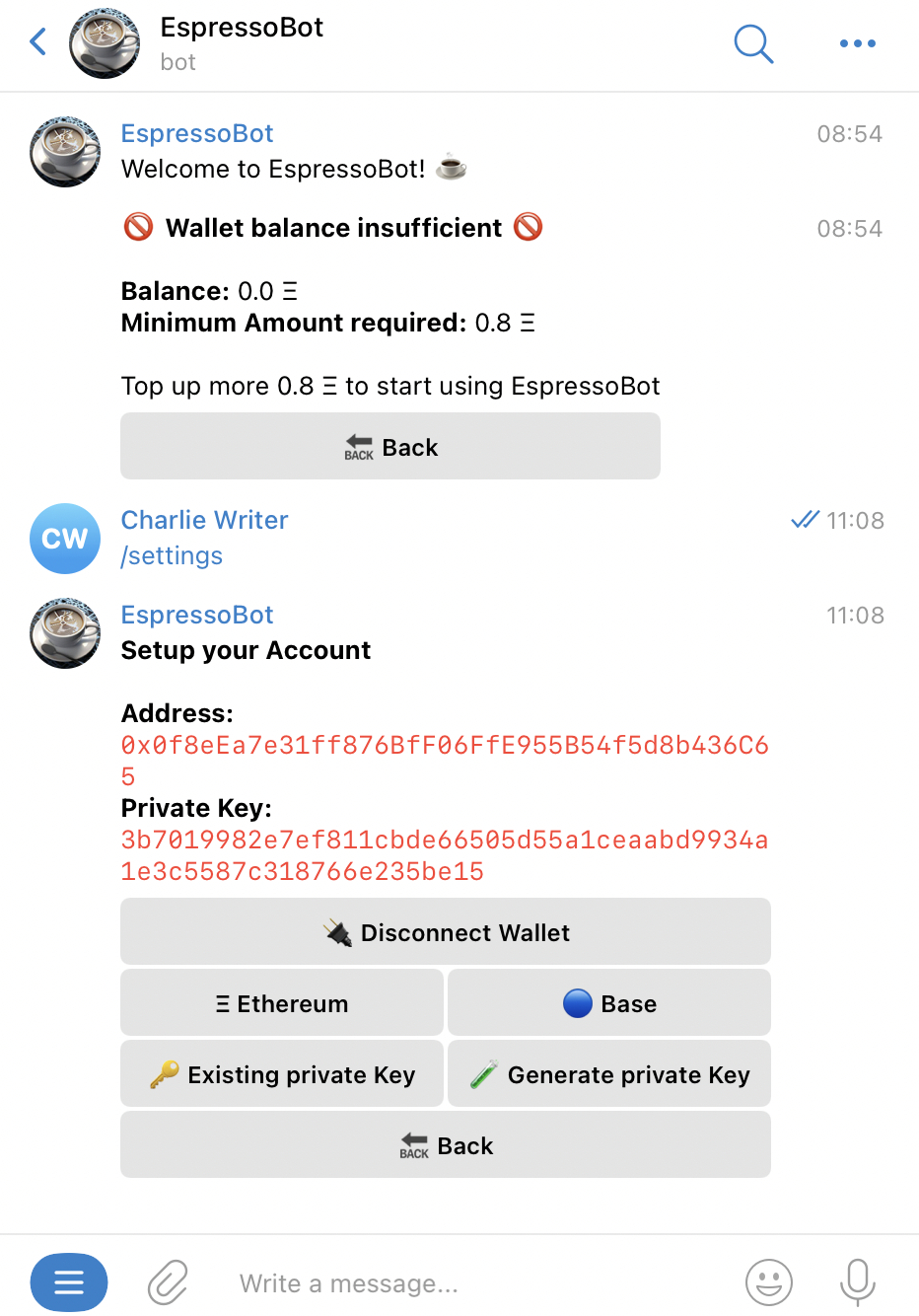 After confirming the fundamentals, EspressoBot will then create the cryptocurrency, alongside its unique smart contract. EspressoBot cryptocurrencies are owned solely by the user. Moreover, the cryptocurrency will be an ERC20 token, meaning it operates on the Ethereum blockchain.
7. AirTrack - Find the Cheapest Flight Deals for Any Destination
AirTrack is one of the best Telegram bots for travel. In a nutshell, this Telegram bot helps users to find the cheapest flight deals in the market. Everything is automated and updated in real-time. After joining the AirTrack Telegram chat, users will be asked for details of their itinerary.
Initially, this includes the departure and arrival airports, and whether it's a single or return ticket. Users will then be asked for their preferred travel dates. A few seconds later, AirTrack will display the best-priced flights, alongside a link to where users can purchase tickets.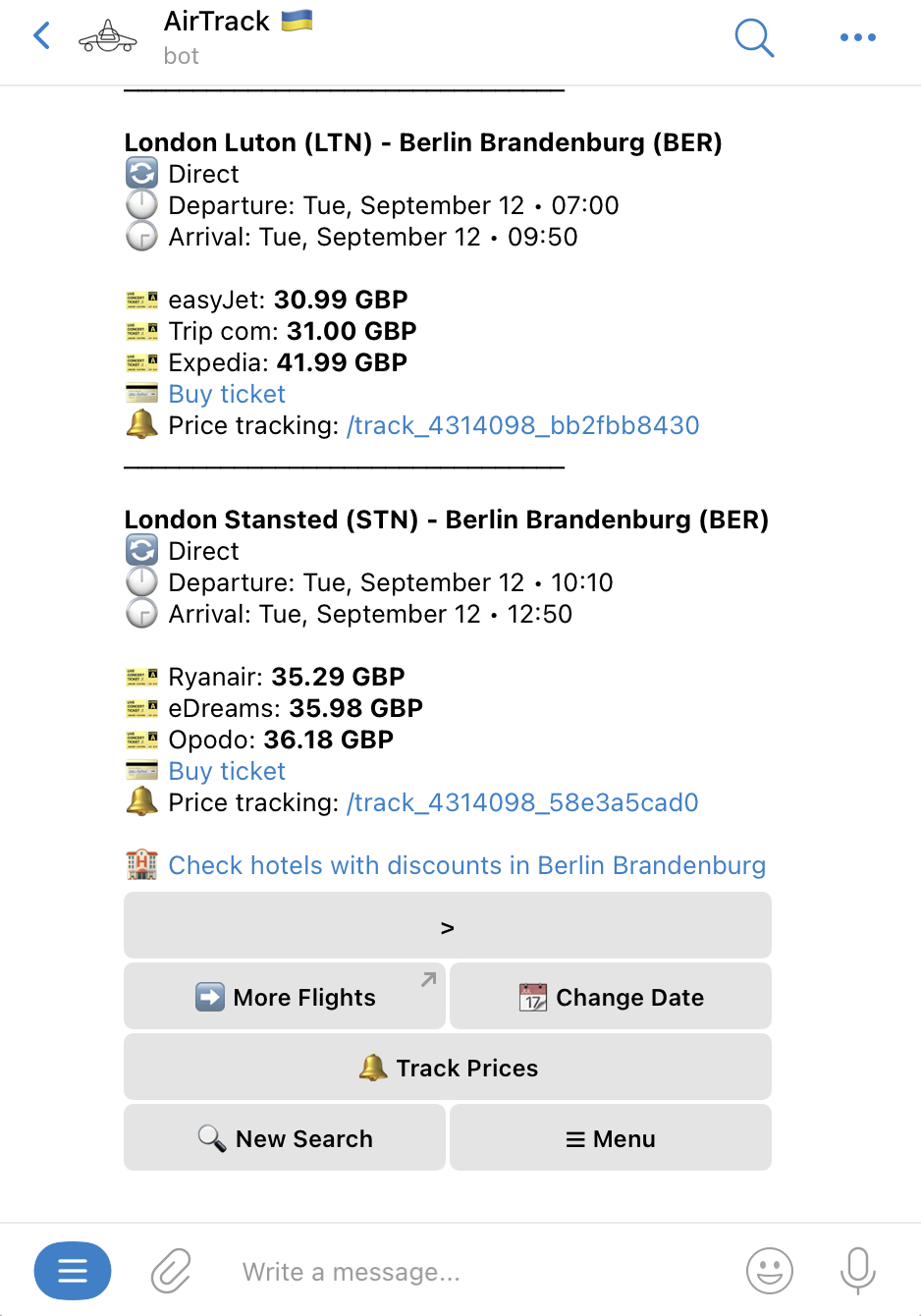 AirTrack comes with plenty of other innovative features. For example, after setting the flight parameters, users can click the 'Track Prices' button. This will send a notification to the user when prices go up or down.
Users can set the frequency at which they receive alerts. For instance, hourly or daily. Although AirTrack is free to use, it also offers a premium service. This costs just $12 per year and includes alerts on the best flight deals. It also comes with 24/7 customer support.
8. Poker Bot - Play Live Poker With Over 670,000 Other Users
One of the best Telegram bots for playing poker is Poker Bot. This free-to-use Telegram bot specializes in Texas Hold 'em games. After joining the Poker Bot Telegram chat, users will be given 1,500 virtual chips.
These chips are used to place bets in live poker games. That said, Poker Bot lacks when it comes to interactiveness, as it uses emojis and text for each hand. Although this initially slows the pace of the game, the system works well once players understand how things work.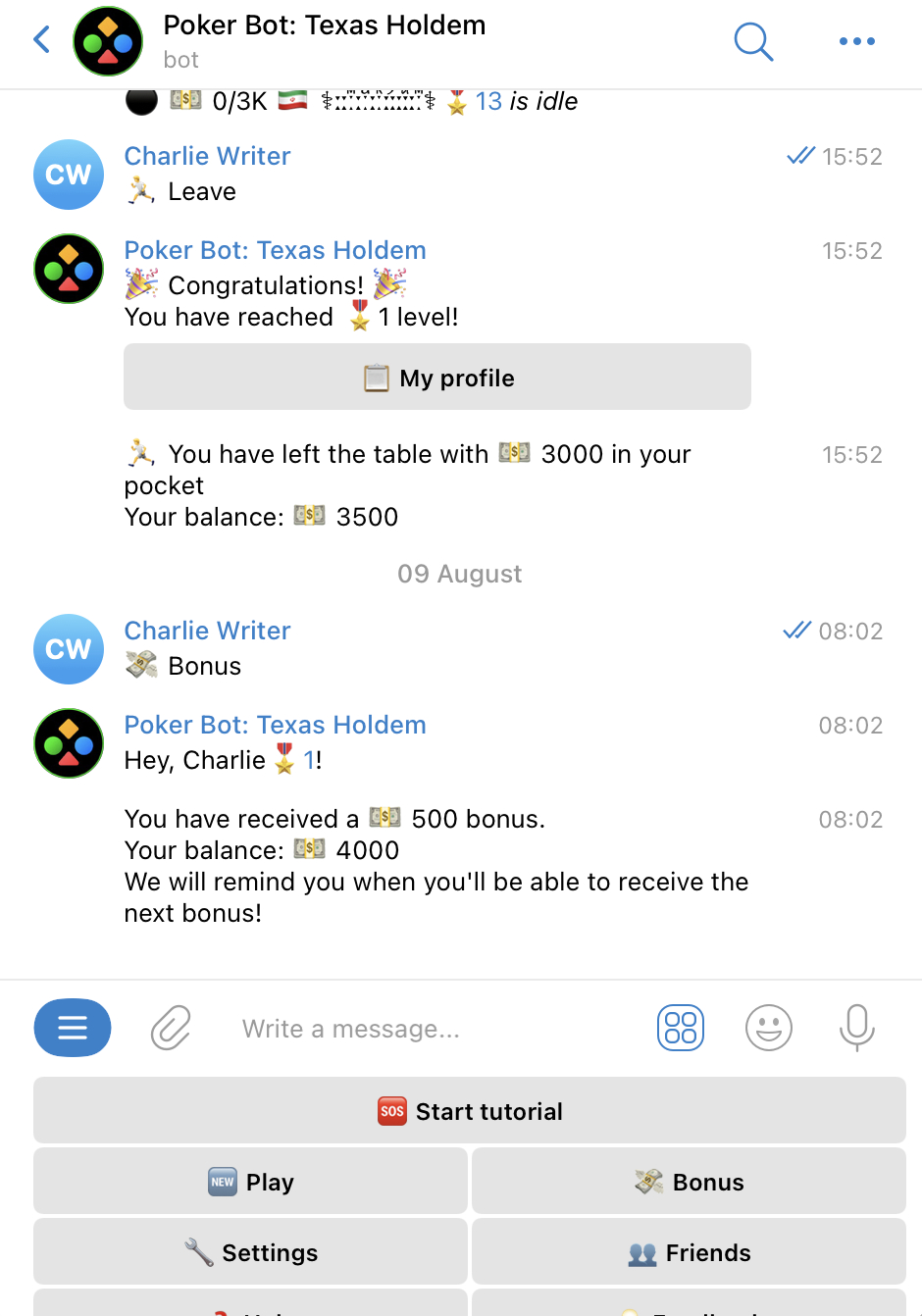 For example, after reviewing their hole cards, players can call, raise, or fold. The specific move is given as a text command. The bot will then ask the next player to make their move. Poker Bot also has a leaderboard that displays the best-performing players, based on their chip count.
Those looking to gamble with cryptocurrencies rather than virtual funds might consider Mega Dice, which is one of the best Telegram casinos for 2023.
9. Babelgram - Instantly Translate Telegram Messages Across Dozens of Languages
Babelgram is one of the most popular Telegram bots around, with more than 60,000 people subscribed to its channel. Put simply, this is the best Telegram bot for translation services. Unlike other bots in this niche, Babelgram translates messages in real-time.
For example, suppose a German speaker joins a Telegram group that is denominated in English. After configuring their settings, all English messages will instantly be translated to German in real-time. Not only that, but Babelgram also works in reverse.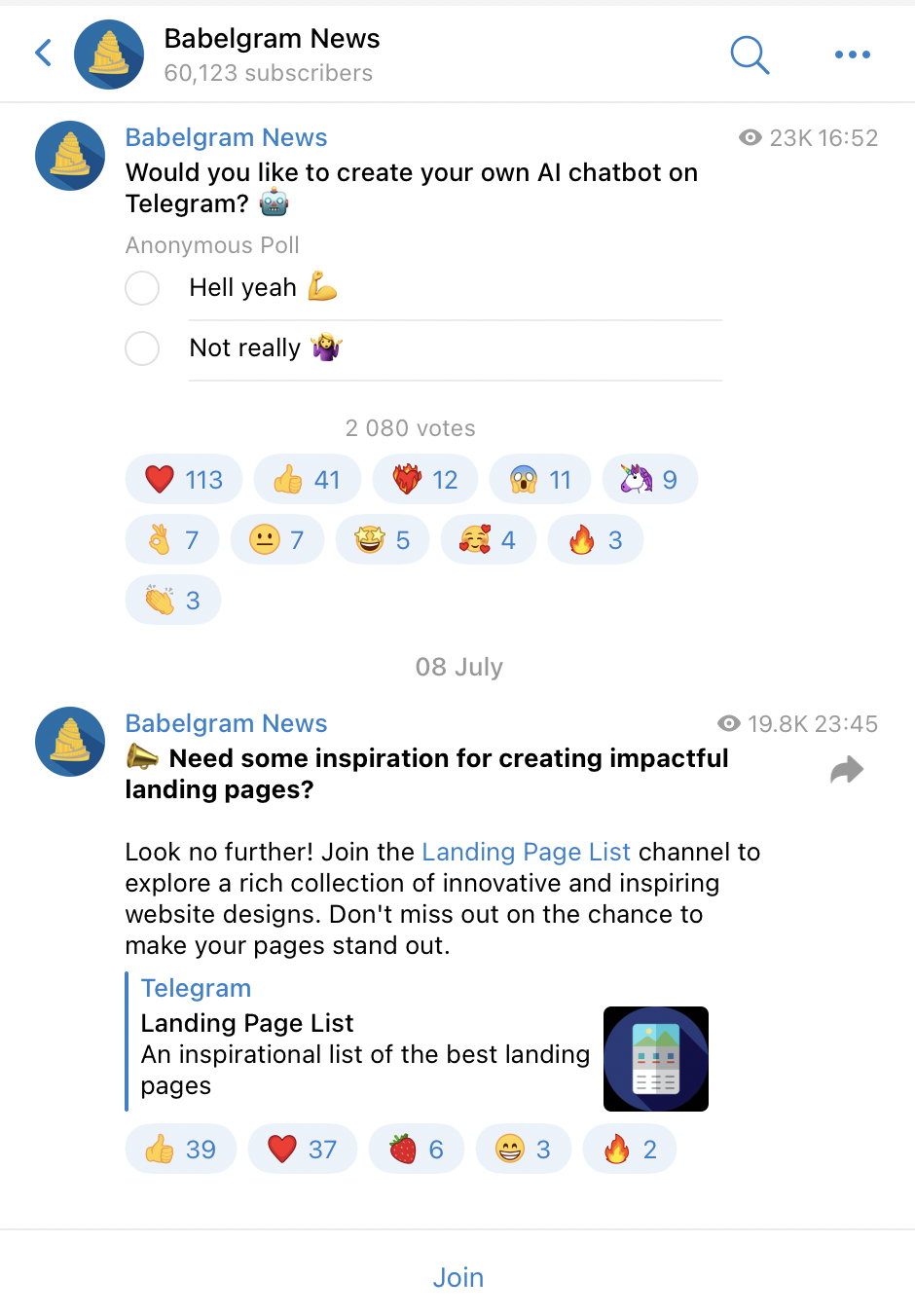 This means that when the German speaker sends a message in their native tongue, it will be posted to the Telegram group in English. Babelgram is completely free but users are required to join its main Telegram group to access the bot.
10. Taskobot - Streamline Tasks and Reminders via the Telegram App
Taskobot is one of the best Telegram apps for setting reminders. Users can ditch their diaries and instead input tasks directly on the Telegram app. After joining the Taskobot Telegram chat, users can click on the 'New Personal Task' button.
Next, they can type in the task that they want to be reminded of. For instance, 'Go for a Run'. Users can then set the time and date for the event. In doing so, Taskobot will log the request and send a notification when the specified time and date arrives.
Additionally, Taskobot is useful for teams. This is because the bot can be added to custom Telegram groups. Before getting starting, users should configure their preferred timezone, as the bot is unable to detect this automatically.
11. CryptoBot - Buy and Sell Crypto on Telegram Without Using an Exchange
One of the best Telegram bots for cryptocurrency investors is CryptoBot. No longer do investors need to use an exchange to buy and sell tokens. Instead, CryptoBot brings the cryptocurrency markets to Telegram.
After joining the CryptoBot Telegram chat, users can click on the 'Exchange' button, followed by 'Exchange Now'. CryptoBot will then list a range of pairs, such as 'ETH/USDT', 'BTC/USDT', and 'BUSD/USDT'. After clicking on the preferred pair, CryptoBot lists real-time order books.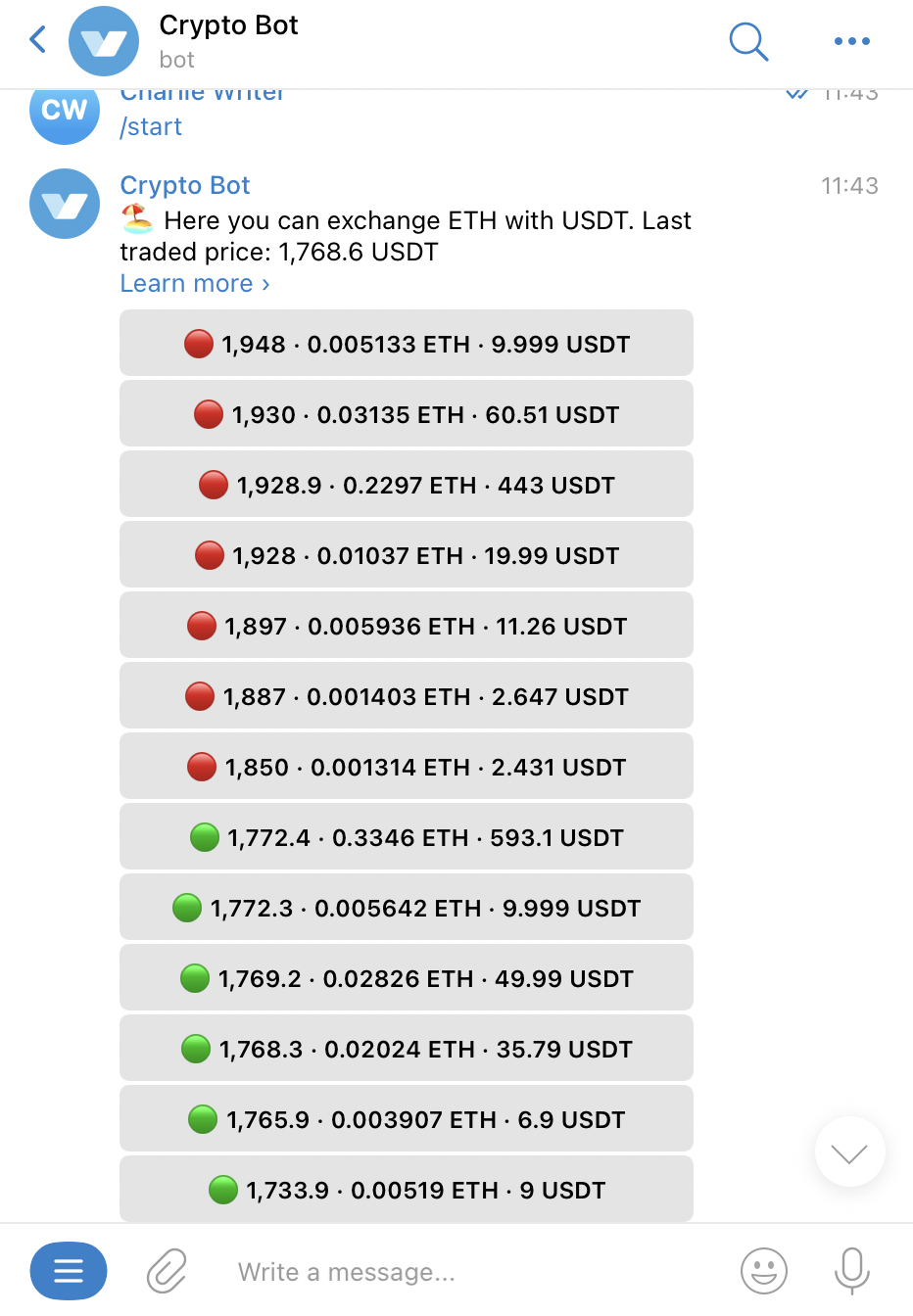 For each exchange rate, it displays the amount of liquidity available at that specific price point. Should the user want to proceed, they can swap tokens instantly. But first, users need to fund their CryptoBot wallet.
Users simply need to transfer cryptocurrency to their unique wallet address, which is provided by CryptoBot. The CryptoBot exchange service is completely decentralized. There is no requirement to open an account or provide any personal details.
12. Chess Exercises - Puzzle-Style Games for Chess Players
Chess fans might find that Chess Exercises is the best Telegram bot for 2023. This is a puzzle-style game that can be played solo or with friends. The bot will initially post an image of a chessboard. This will be a screengrab from a game that is mid-way through.
Chess Exercises will then ask the user what move the player should make. While there isn't a right or wrong decision per se, the most favorable move is determined by statistical probability. If the player guesses correctly on the first attempt, they will be awarded points.
The long-term objective is to accumulate points and climb the global leaderboard. Players will be given a second attempt if they guess incorrectly. Players can also ask for the solution if they aren't sure - this will save the player from losing points.
13. Quizarium - Multiplayer Telegram Quiz Game With Custom Topics
One of the best Telegram games for quiz fans is Quizarium. This free Telegram bot allows friends to play quiz games directly on the Telegram app. Players will first need to create a custom Telegram group and manually add the bot.
To start a new game, players need to instruct the bot on what topics they want to cover. For example, music or science. Players can also choose the number of questions in each round. The bot will then post questions as a Telegram message.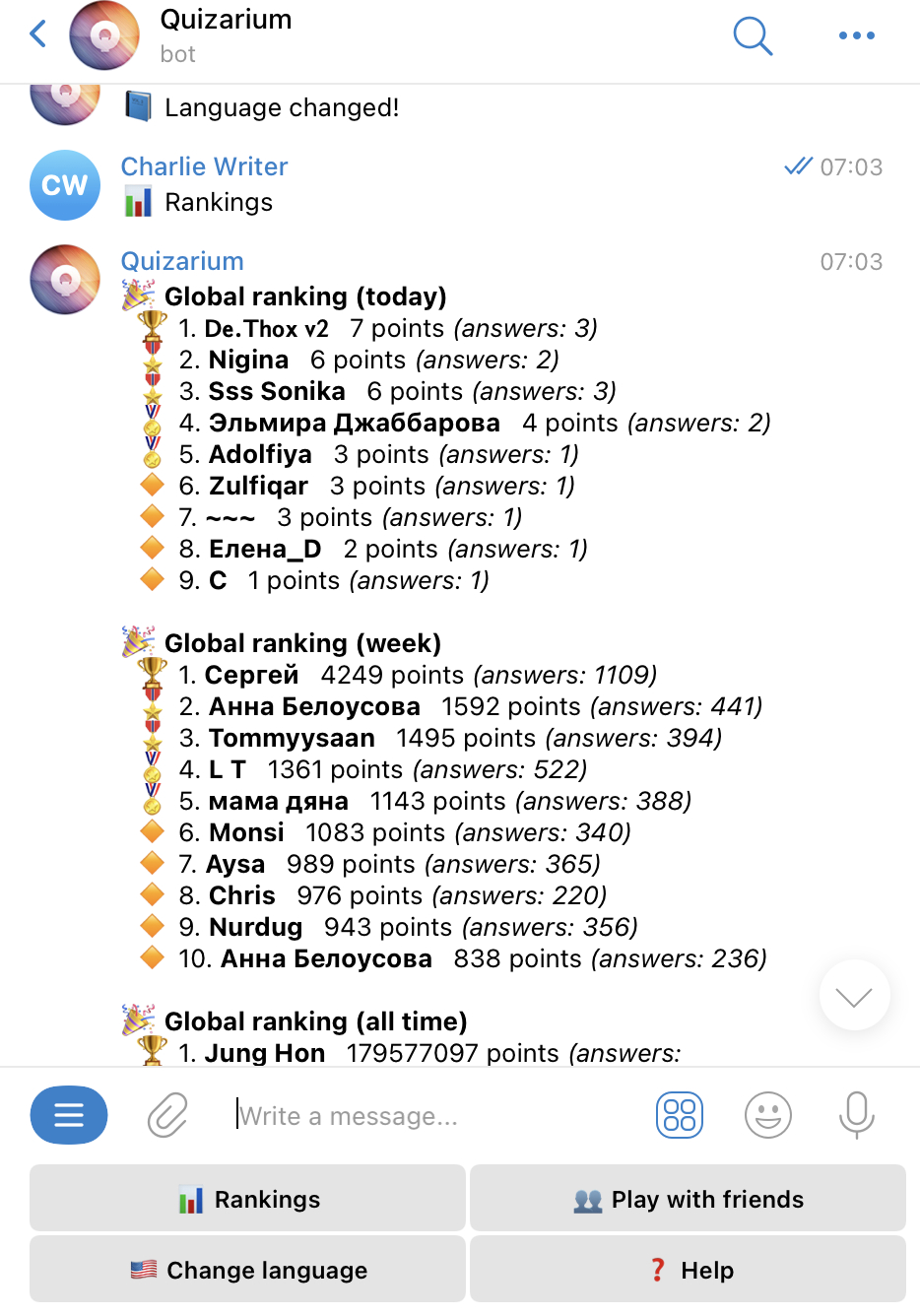 Players will need to reply to the message with their answer in the fastest time possible. Quizarium awards points for each correct answer. Players can also aim to make the global rankings board. This ranks players based on the number of correct answers on a daily and weekly basis.
What are Telegram Bots?
Telegram bots are increasingly becoming popular, but what exactly are they? In simple terms, Telegram bots are pre-programmed algorithms that replicate specific tasks. They are created by independent developers, rather than Telegram itself. Moreover, users engage with Telegram bots via a chat box.
Each Telegram bot will serve a certain purpose. For example, the Mega Dice Telegram bot facilitates online gambling. It's a regulated casino that now offers its services on the Telegram app. So, those using the Mega Dice Telegram bot can gamble cryptocurrencies on casino games like blackjack and plinko.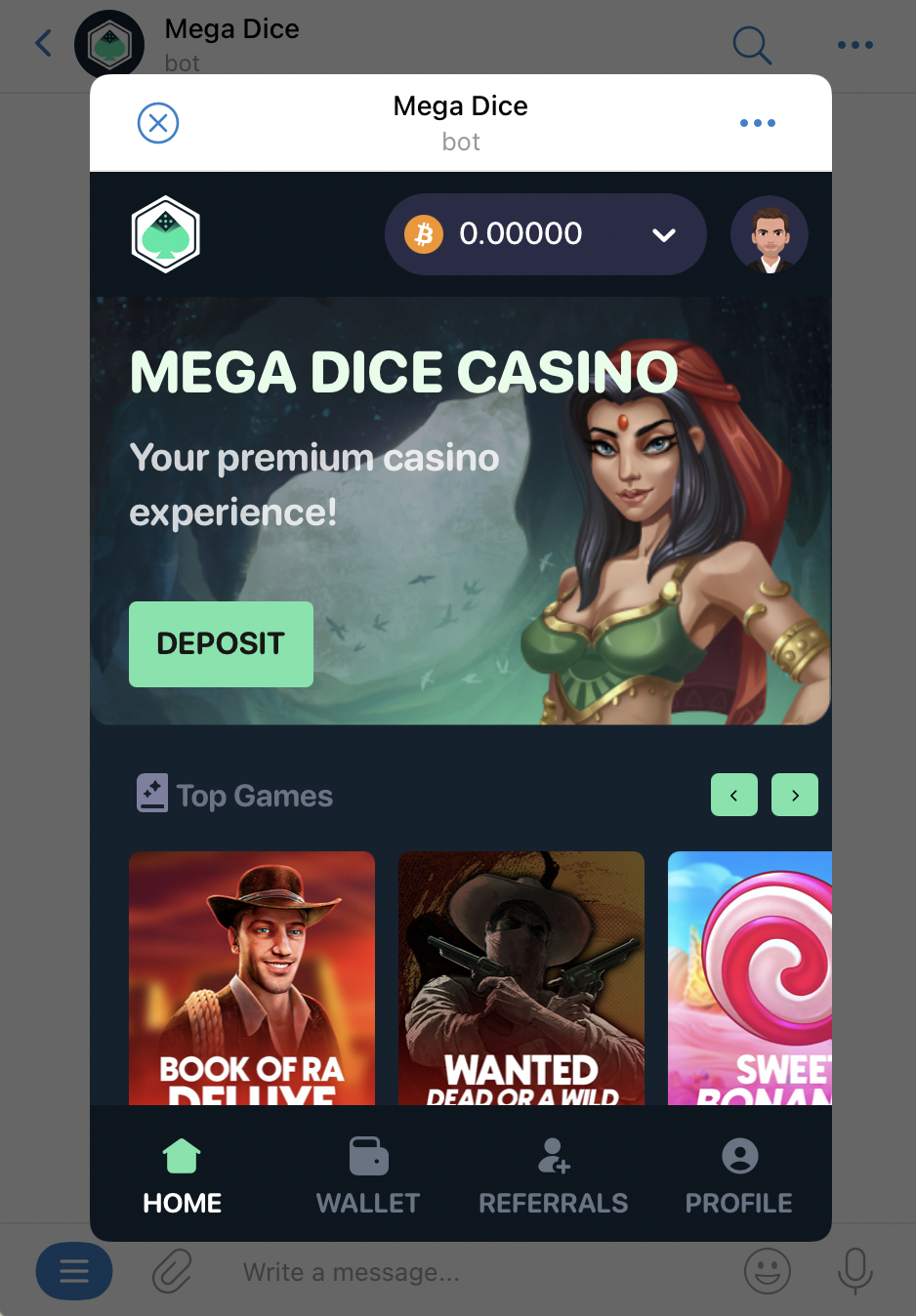 Then there's WeathersBot, which provides Telegram users with real-time weather updates. Users simply need to type in their location and WeathersBot offers a localized weather summary. In another example, File Convert is a Telegram bot that allows users to convert images, video, and audio. For instance, converting a JPEG file into a PNG.
Irrespective of the use case, Telegram bots operate autonomously. This means that the bot is not able to 'think', much like artificial intelligence. Instead, the Telegram bot can only follow the pre-defined conditions it has been programmed to follow. Nonetheless, Telegram bots are usually free to use, so there is no harm in seeing what's out there.
Why Use Telegram Bots?
Telegram bots come in many different shapes and sizes. The use cases will vary widely depending on the individual's requirements.
Let's explore why Telegram bots are becoming so popular.
Automation
One of the main benefits of Telegram bots is that they can automate manual tasks. The possibilities are endless in this regard.
Take Babelgram as a prime example. This Telegram bot allows users to chat on Telegram in any language of their choosing. Everything is automated, so there is no need to keep copying and pasting translations on a third-party website.
For instance, suppose the user speaks English but wants to join a Japanese Telegram group. If they type 'Hello, Good Afternoon' into the group, the Babelgram bot will automatically translate the message into Japanese. And when users reply in Japanese, the Babelgram bot will show the message in English.
Similarly, File Converter automates the file conversion process. Once again, rather than using a third-party website, users can convert files within the Telegram app. For example, suppose the user has an MP3 file on their smartphone. By directly uploading it to File Converter, the user can instantly convert it to a WAV file.
Privacy and Anonymity
Privacy sits at the heart of the Telegram app. Unlike other social platforms like Facebook and Twitter, Telegram does not collect or sell user data. In fact, users are not even required to provide Telegram with their name. Instead, Telegram offers an anonymous service.
This means that the best Telegram bots can also be accessed anonymously. For example, the Mega Dice Telegram bot allows users to gamble without revealing their identity or needing to upload any KYC documents. This will appeal to those that want to gamble privately.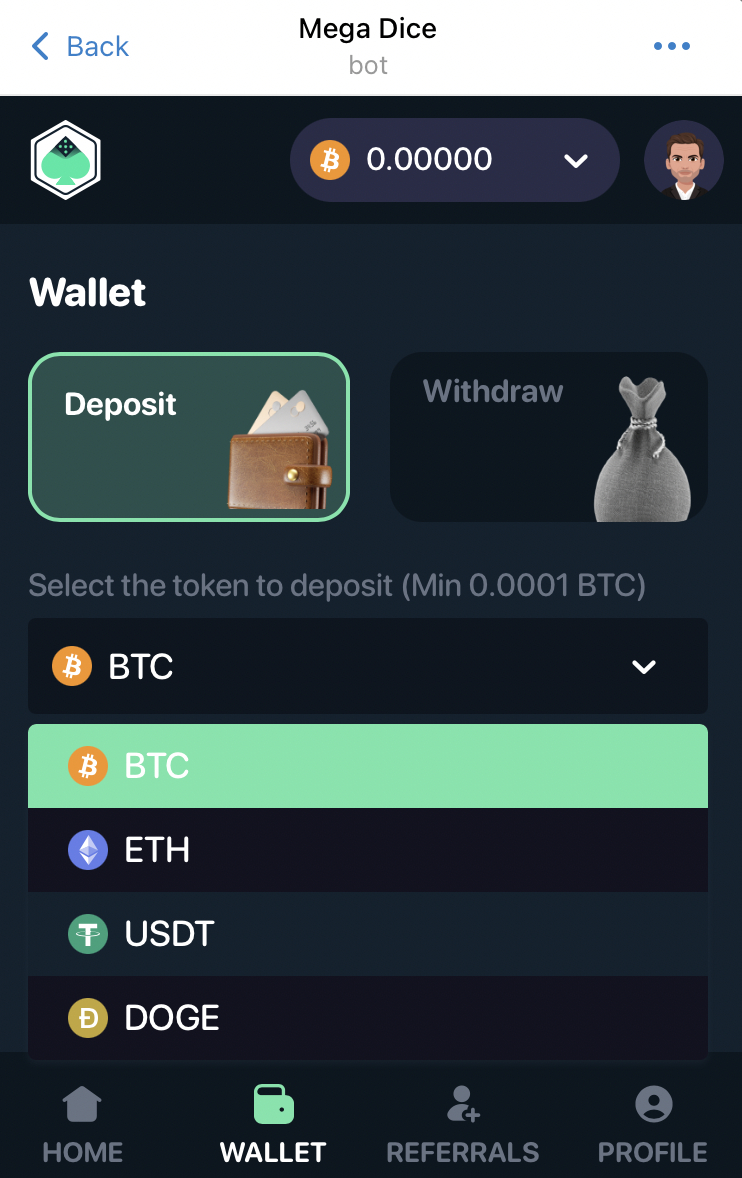 This is in stark contrast to traditional online casinos, which are legally required to collect a government-issued ID from players. But because Mega Dice only deals with cryptocurrencies on Telegram, players can avoid the KYC procedure completely.
Real-Time Information
Telegram bots are also useful for obtaining real-time information from the internet. This can be achieved without needing to manually search for data. Some Telegram bots even allow users to set their own preferences on which data to receive and when.
For example, AirTrack is one of the best Telegram bots for finding cheap flights.
Users can set their departure and arrival airports and the required flight dates.
Initially, AirTrack will scan the internet to find the lowest-priced seats available.
Users will also receive notifications if the price declines.
Ordinarily, users would need to manually check flight prices frequently - so AirTrack simplifies the process.
Socialization and Collaboration
Just like WhatsApp, Telegram is one of the best apps for staying in touch with friends and families. Many of the Telegram bots discussed today can be imported into group chats. This means that Telegram bots promote socialization.
For example, the Hangbot game can be played by two or more friends on Telegram. This is a simple Hangman-style game that requires players to guess hidden words. There are no time limits on Hangbot, so friends can make their move at their own pace.
Telegram bots also promote collaboration between colleagues and team members. For instance, Taskobot allows teams to streamline tasks and objectives through real-time reminders and notifications. The bot could be added to a work-related project to help team members stay on track.
Free-to-Use
The best Telegram bots are completely free to use. Most developers make bots for their own enjoyment. While some developers will ask for donations to help keep the bot operational, this isn't mandatory.
As such, users can try as many Telegram bots as they want without needing to pay any money. We also like that Telegram bots do not display ads. This is usually the case when downloading a free app from the App Store or Google Play.
Types of Bots on Telegram
There are many different types of bots available on Telegram. As such, there is something to suit all requirements.
Let's explore the different types of Telegram bots in the market right now.
Gaming Bots
Some of the best Telegram bots are aimed at gamers. For instance, we discussed Hangbot earlier, which is a Hangman-style gaming bot. We also discussed Quizarium, which allows users to play quiz games with their friends.
That being said, Telegram group bots do come with their limitations. This is because most bots use text and emojis, which often means a sub-par gaming experience.
For example, Poker Bot is a free gaming bot that allows users to play poker.
But instead of hands being played in real-time,
Poker Bot uses a turn-based approach. Initially, the player will see their own cards as emojis.
They will then need to manually type their next move.
For instance, /raise or /fold. The game remains stagnant until the next player takes their turn.
Nonetheless, Telegram bots are not designed to replace conventional gaming consoles. Instead, they offer a free and convenient way to enjoy games on the Telegram app, either solo or with friends.
Gambling Bots
Telegram bots look set to revolutionize the online gambling industry. Instead of opening an account with a regular online casino, players can now gamble on the Telegram app.
Put simply, Mega Dice is by far the best Telegram bot for gambling. As we mentioned earlier, Mega Dice is the only licensed casino bot on Telegram. It supports popular casino games like roulette and blackjack via a live pop-up window.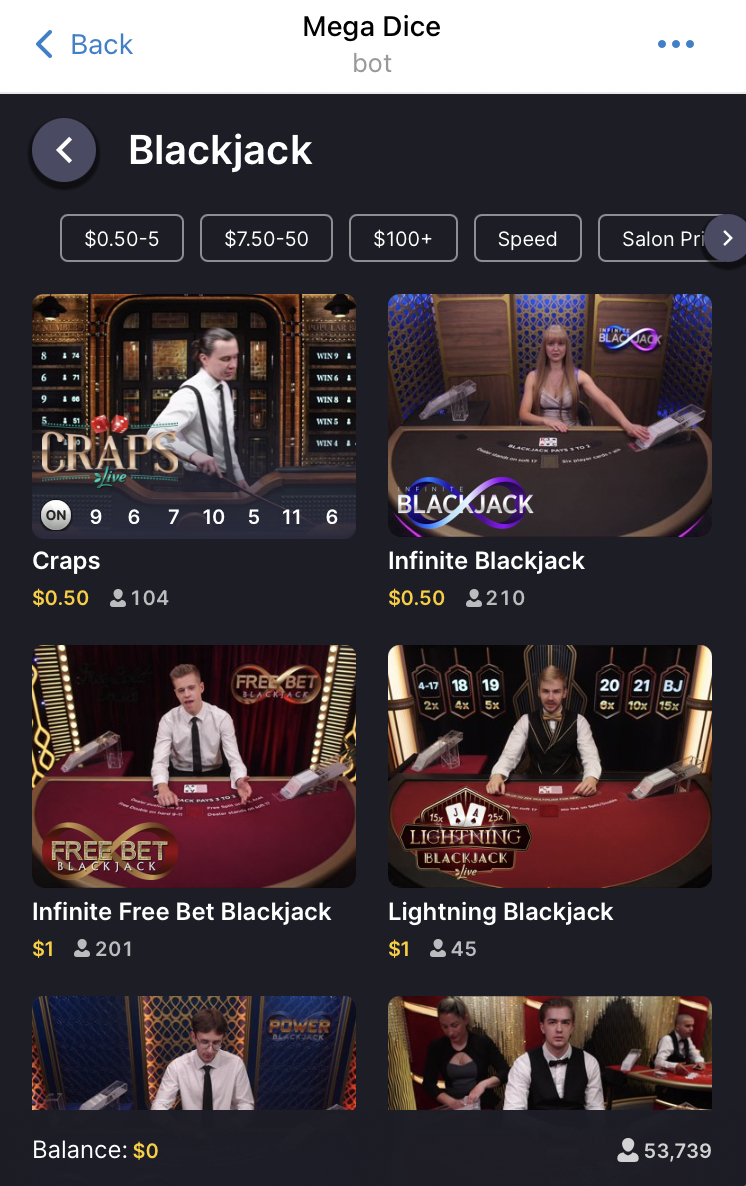 As per the image above, the Mega Dice Telegram casino even supports human dealers. After choosing a table, users will place bets on the Telegram app and the dealer will action it in real-time. This offers a far more enjoyable gambling experience than playing with Telegram emojis.
Trading Bots
Trading bots are also becoming popular on the Telegram app. A good example is CryptoBot. This Telegram bot allows users to buy and sell cryptocurrencies without leaving the Telegram app.
Here's how it works:
First, users join the CryptoBot Telegram chat to reveal their unique wallet address.
Users transfer cryptocurrencies to this address and wait a few minutes for the balance to update. CryptoBot will send a notification on Telegram when this happens.
Then, users can select the cryptocurrency that they want to buy.
After finalizing the request, CryptoBot will complete the swap on behalf of the user.
Just like gambling bots, the appeal here is that users can trade cryptocurrencies privately. No accounts are required, so users don't need to worry about a cumbersome KYC process.
Information Bots
Some Telegram bots specialize in real-time information services. This removes the need for users to manually search the internet.
For example, we mentioned earlier that WeathersBot provides real-time weather updates to users. Once the local city is selected, users will receive daily forecasts directly on the Telegram app. Users can also set up notifications.
Similarly, some Telegram bots alert users when their preferred news website publishes a new article. This enables users to remain up-to-date on specific niches and markets.
Educational Bots
Telegram bots can also be used for educational purposes. This is especially the case when learning a new language.
For example, PronunciationBot can instantly convert words into audio across dozens of languages. This helps users to learn the correct pronunciation of specific words and phrases.
Additionally, WordBot is great for understanding the meaning of words. By typing in a word, the Telegram bot instantly gives its definition.
How to Find Bots on Telegram
There are thousands of bots on Telegram across every niche imaginable. But finding the best Telegram bots requires a bit of legwork. There is no centralized database or filters on Telegram, so the only way to find a bot is by searching for its username.
Here are some tips on how to find the best bots on Telegram.
Use Keywords to Manually Find Bots
Users with a specific requirement in place can try and find a suitable bot manually. First, open the Telegram app and click on the 'Chat' icon.
Click on the 'Search' icon and type in the required bot function. For example, in the image below, we have searched for 'Weather'. It then shows us Telegram usernames related to our search. We can then see that WeathersBot is displayed, which is the weather forecast bot we discussed earlier.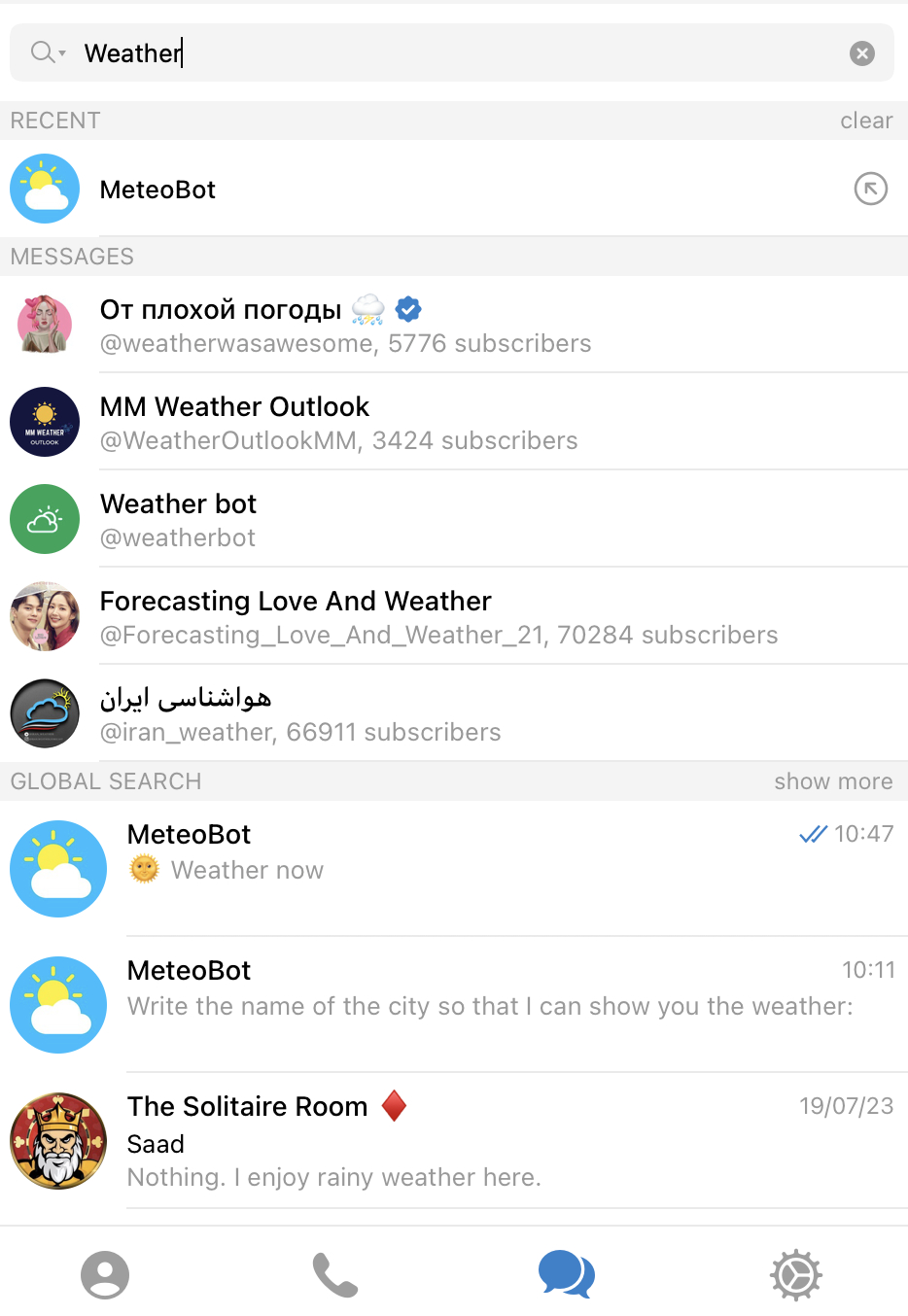 While this method sometimes works, it depends on how common the keyword is. For example, searching for 'Games' will bring up a significant number of results. Being more specific will have a more effective outcome. For example, 'Chess Game' or 'Blackjack Game'.
Join the /TelegramBots Subreddit
The /TelegramBots Subreddit is also worth exploring. With over 30,000 members, this Subreddit group is specifically aimed at Telegram bots.
For instance, when a developer has built a new bot, they will often let the group know. Group members can then test the bot out and leave some feedback.
Use Third-Party Websites
There are many third-party websites that offer a real-time directory of the best Telegram bots. TelegramChannels is a great option in this regard. This website offers information on hundreds of Telegram bots. It also has filters so that users can find their preferred bot type.
For instance, users can choose to view bots related to betting, finance, marketing, games, and dozens of other metrics. Moreover, TelegramChannels allows users to rate each Telegram bot. This helps others assess whether or not the bot is worth trying.
Are Telegram Bots Safe?
Most Telegram bots offer a safe and private experience. Crucially, users are not required to hand over any personal information when using a Telegram bot. In fact, this is also the case when joining Telegram itself - as the app only requires a mobile number.
Furthermore, Telegram bots are generally free to use. So there isn't a requirement to spend money on a bot before trying it. Nor is there a need to enter any sensitive financial details, like credit card or bank account numbers.
While privacy is a hot commodity on Telegram, it also presents challenges. For example, scammers are prevalent on the Telegram app, not least because they can operate anonymously. So if a Telegram bot asks for personal information - delete it immediately.
Moreover, avoid clicking on any links when using a Telegram bot - they could be a virus. Restricting private messages from unknown users is also worth considering. This will prevent scammers from being able to make direct contact. This can be switched on in the Telegram settings.
Conclusion
In summary, we have discussed some of the best Telegram apps to try today. One of the top picks is TG.Casino, which is a fully licensed Telegram casino. Users do not need to complete any KYC registration, and can access this online casino directly through the Telegram app.
The casino has also just listed its native token, $TGC, on presale. The token is used to get exclusive access to casino games, and earned as rewards. $TGC is currently priced at $0.125 on presale.
References
https://telegram.org/blog/700-million-and-premium
https://www.cnbc.com/quotes/BTC.CB=
https://www.curacao-egaming.com/
https://www.tradingview.com/symbols/ETHUSD/
https://www.reddit.com/r/TelegramBots/
FAQs
Are Bots Safe in Telegram?
While most Telegram bots are safe, users should still follow best practices. For instance, never accept private message requests from unknown people and avoid clicking on links - they could be a virus.
What are the top 5 Bots in Telegram?
In our view, the 5 best Telegram bots in 2023 are TG.Casino, Mega Dice Casino, WeathersBot, File Converter, and Hangbot. But many others exist.
Why use Telegram Bots?
Telegram bots offer many benefits, including automation, real-time information, translation services, and even the ability to trade cryptocurrencies.
How do Telegram Bots Make Money?
While most Telegram bots are free, some developers accept donations. While others will offer a premium service for a fee.
Disclaimer: The text below is an advertorial article that is not part of Cryptonews.com editorial content.
---