9 Best Metaverse Casinos in 2023
Disclosure: Crypto is a high-risk asset class. This article is provided for informational purposes and does not constitute investment advice. By using this website, you agree to our terms and conditions. We may utilise affiliate links within our content, and receive commission.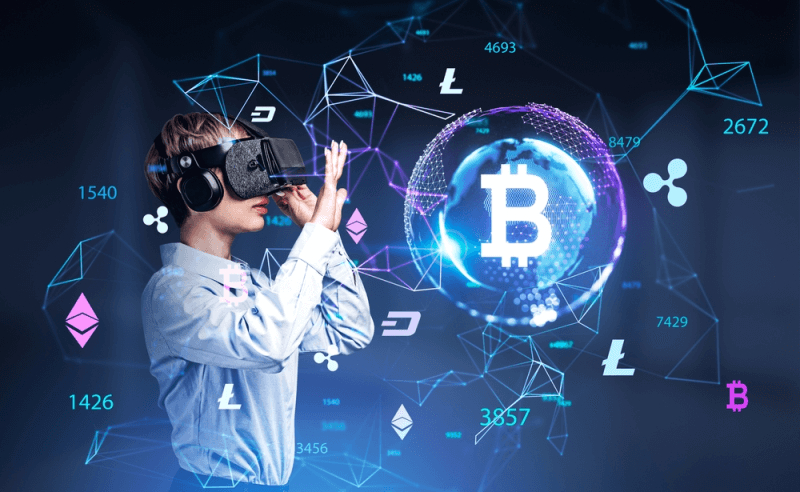 Disclaimer: The text below is an advertorial article that is not part of Cryptonews.com editorial content.
Metaverse gambling provides players with a fully immersive virtual-casino experience without needing to leave the comfort of home. 
In this guide, we take a closer look at what metaverse casinos are and how they work. We take a deep dive into the best metaverse casinos of 2023 based on the player experience, bonuses, game selection, and features. 
The 9 Best Metaverse Casinos for 2023
Here is a list of leading providers that offer metaverse casino games in 2023.
Mega Dice – Overall Best Metaverse Casino for 2023 with Telegram Integration
Lucky Block – Access Over 2,700 Games with this Top Casino
BC.Game – Popular Crypto Casino Set to Enter the Metaverse 
ICE Poker – Play Online Poker in the Metaverse
Atari – Upcoming Las Vegas-Style Casino In The Metaverse
Chateau Satoshi – Top Metaverse Casino in Decentraland
BetU Verse – Metaverse Resort and Casino With Play-to-Earn Games
Serenity Island – Luxurious Metaverse Casino for Blackjack and Roulette Players
Tominoya Casino – Japanese-Themed Casino Metaverse
Some players might prefer to wager bets at conventional online crypto gambling sites rather than via the metaverse. 
If this is the case, refer to our guide on the best Bitcoin betting sites to pick the right provider. 
A Closer Look at the Best Metaverse Casinos
The concept of metaverse gambling is still relatively nascent. Therefore, as of writing, there is only a limited number of metaverse casinos available in the virtual world. 
Nevertheless, some of the best Bitcoin casinos are looking to integrate with the metaverse to make immersive gambling more accessible to players. 
With this in mind, we have rounded up some of the best metaverse casinos that are available in today's market. 
1. Mega Dice – Overall Best Metaverse Casino for 2023 with Telegram Integration
Mega Dice presents an exceptional choice for those seeking an immersive and captivating casino experience. Functioning as a metaverse casino, the platform has swiftly gained traction among users since its launch earlier in 2023. Operated by MIBS N.V., Mega Dice offers an array of captivating features.
It's also the world's first licensed crypto casino to incorporate Telegram. This means that users can play Mega Dice games through an existing Telegram application. Telegram is very popular among crypto users, and has a 700 million strong userbase.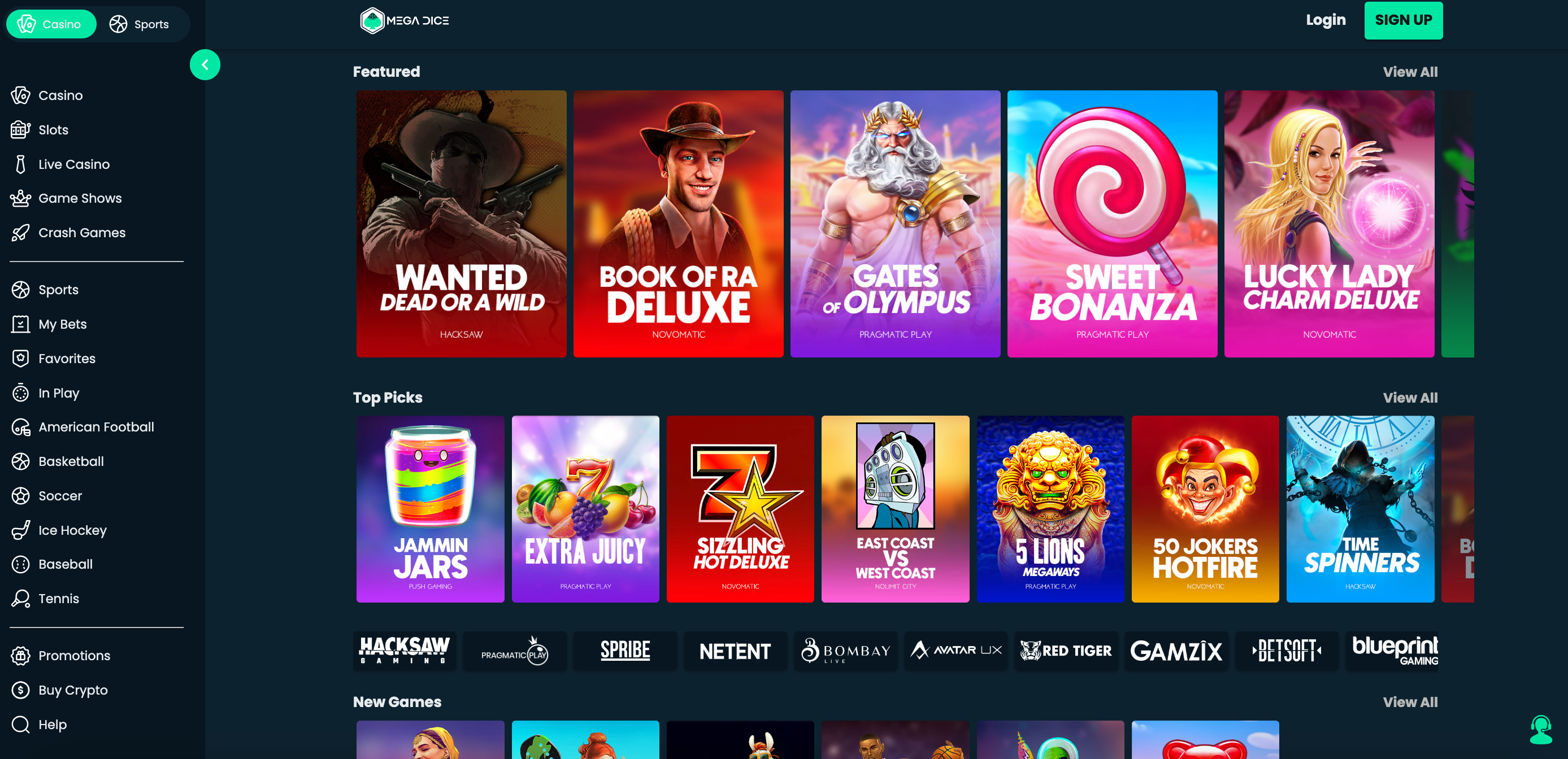 The Mega Dice Casino Telegram bot can operate on the users behalf, following commands. The Telegram/Mega Dice onboarding process is KYC free and customers still benefit from a 200% signup bonus as well as a seamless onboarding experience. 
The metaverse casino boasts a diverse and extensive game library, providing players with a wide selection of gambling options. These games are sourced from renowned and popular game providers, ensuring high-quality gameplay and entertainment. 
Moreover, Mega Dice stands out by offering an extensive sportsbook and supporting esports betting, which is still relatively uncommon among the majority of crypto casinos.

Currently, Mega Dice features a single but enticing bonus for players, presenting them with a generous 200% bonus of up to 1 BTC, accompanied by 50 free spins. 
It is important to highlight that while this is the current offering, the platform may introduce additional promotions and incentives in the future. By doing so, Mega Dice aims to further elevate its attractiveness as an exceptional destination for gambling enthusiasts.
With its support for multiple cryptocurrencies, Mega Dice caters to a broad range of users and their preferred digital assets. The platform also prides itself on providing excellent customer support, further enhancing the overall user experience. It is highly likely that any gambling enthusiast would quickly develop a fondness for Mega Dice once they start exploring and becoming familiar with its features and offerings. 
2. Lucky Block – Access Over 2,700 Games with this Top Casino
The Lucky Block casino is the flagship product of the Lucky Block (LBLOCK) gaming platform, offering enticing bonuses, a wide range of games and sportsbook.
Exploring new network applications and use cases for the future, Lucky Block's casino site launch will take it one step closer to entering the metaverse. 
On the Lucky Block casino site, players can access more than 2,700 games such as slots, live casino games, table games, along with a sportsbook.
The platform supports payments in multiple cryptocurrencies, such as Bitcoin and Ethereum, with fast payout times, no withdrawal limits or fees and a small deposit of just $1 needed.
Reaching a market cap of nearly $1 billion after launch in early 2022 native token LBLOCK will also be integrated in the future and has surged in price since the casino went live.
Lucky Block also works with some of the top gaming developers like Evolution – which offer various Baccarat tables where players have control over the game and can play in first person with high-speed graphics, making it seem as if you are sitting in the casino for real – dealers can even call you by your name.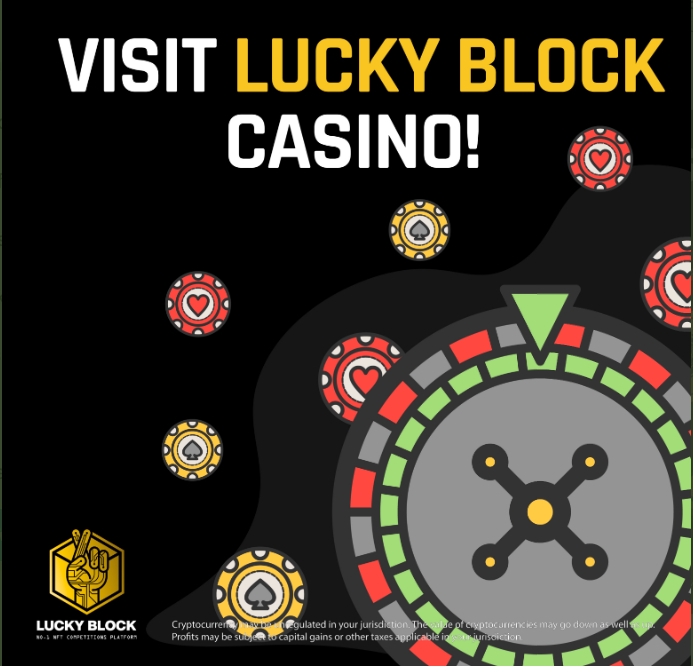 Lucky Block also offers some of the best bonuses to users through cashback – new customers can get 15% cashback on all losses incurred during the first week of betting, while there are reloaded bonuses for high rollers.
This is beneficial over other matched deposit bonuses which are hard to redeem due to the high wagering requirements. 
Lucky Block has more than 2,700 games, catering for every player's needs, from new games to traditional games and live tables with real dealers.
Players can also access a sportsbook where pre-match and in-play betting is available on 35 sports such as Soccer, Basketball, Golf, Cricket and Formula 1 – eSports betting markets, including League of Legends, FIFA and Rocket League, are also available. 
| | | | |
| --- | --- | --- | --- |
| Crypto Bonus | Wagering Requirement  | Minimum Deposit | Payout Time  |
| 15% cashback for 7 days | None | $1 | 5-60 Minutes  |
Lucky Block also offers fast registration with players able to access the casino after registering their emails and creating a password – there is no KYC process to undergo.
Players in the US are also able to play if accessing the site with a VPN.
3. BC.Game – Popular Crypto Casino Set to Enter the Metaverse 
Launched in 2018, BC.Game is one of the best Bitcoin gambling sites. This crypto casino packs exciting bonuses and offers more than 10,000 games. In 2022, the platform also launched a new BC.Game sportsbook that supports betting on esports and major leagues.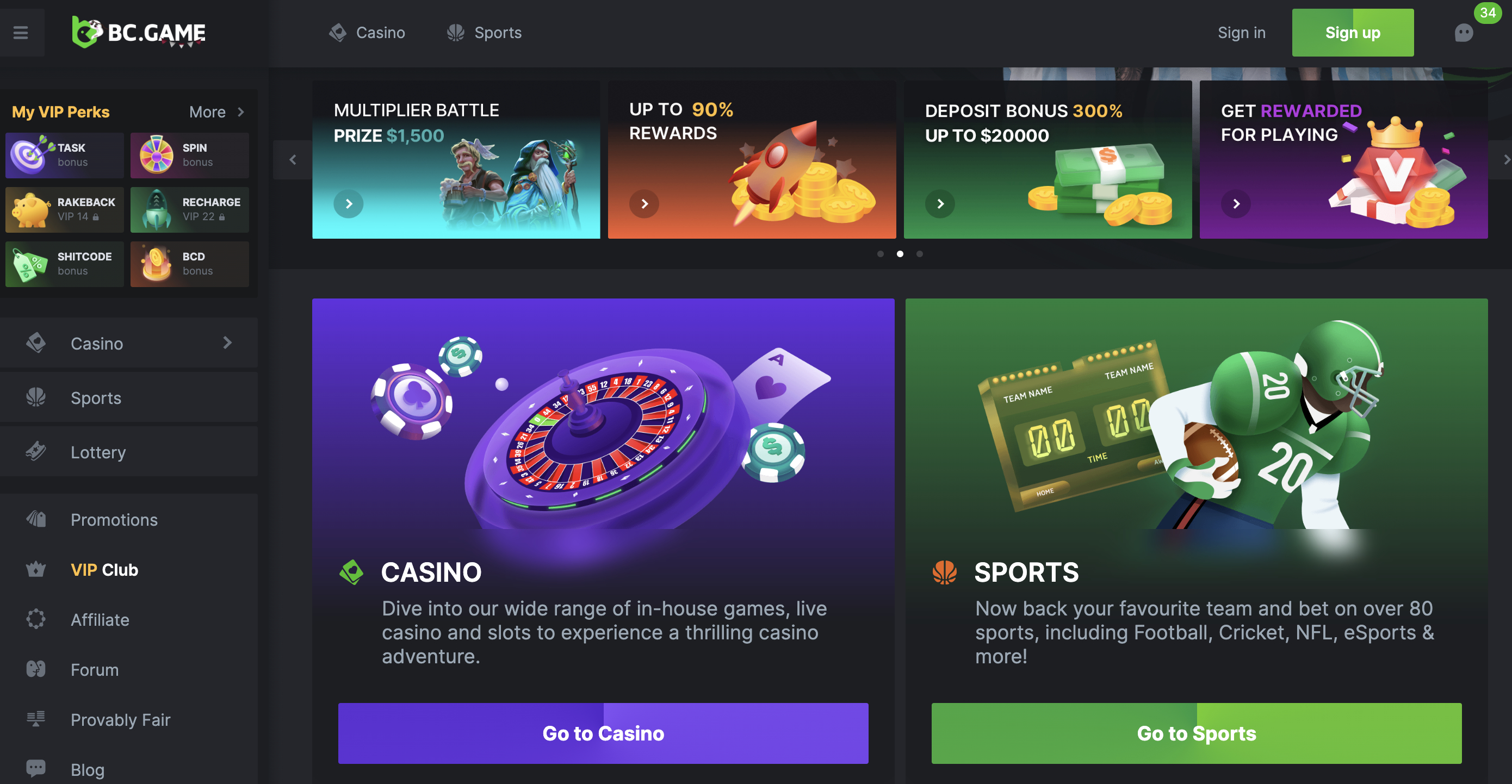 Interestingly, BC.Game is also investing heavily in the metaverse making it one of the best NFT betting sites. In 2021, BC.Game purchased a plot of 6×6 LAND NFTs in the Sandbox. For those unaware, the Sandbox is an NFT project that allows its users to buy virtual lands and monetize them – for example, by building casinos. 
The LAND NFTs acquired by BC.Game are located next to the virtual lands owned by popular game developers – such as the Blankos Block Party and Ataris.  This investment suggests that BC.Game is looking to establish a metaverse casino in the Sandbox. 
In addition to this, in November 2022, BC.Game invested 700 ETH in NFTs to support the web3 ecosystem. In other words, BC.Game is looking to position itself to venture into the metaverse. 
This strategy can work out well for BC.Game, considering that this crypto casino already has a solid reputation in the industry. Aside from its rich gaming portfolio, BC.Game also has superb bonuses for its players. For example, the casino offers one of the most generous welcome packages.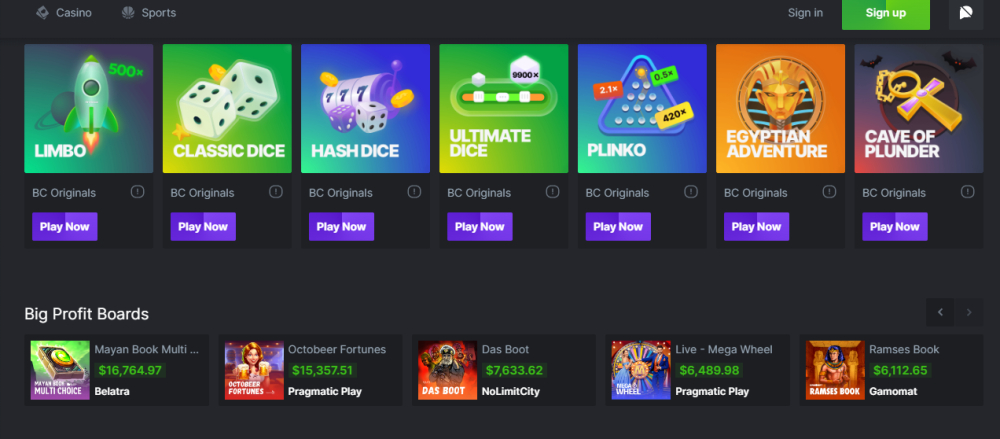 As of writing, BC.Game offers matched bonuses for the first four deposits made by new players. New users can get their deposits matched by 270%, 300%, 330%, and 360% for the first, second, third, and fourth payments, respectively. 
The rewards are offered in BCD, the native token of the BC.Game ecosystem. The value of BCD is the same as one USDT – which makes it easy for players to calculate stakes and rewards. Moreover, players can swap their BCD tokens for another cryptocurrency directly via BC.Game's in-built exchange. 
BC.Game accepts payments in over 150 cryptocurrencies. It also has a VIP club that offers exclusive bonuses for regular players. Overall, BC.Game is one of the best Bitcoin gambling sites available today. And when BC.Game launches its metaverse casino, this will only attract more players to its platform. 
4. ICE Poker – Play Online Poker in the Metaverse
ICE Poker is the world's first play-to-earn poker game set in the virtual world of the metaverse. However, let us clarify that ICE Poker isn't technically a metaverse casino. Instead, it is an online metaverse poker game designed by Decentral Games; a DAO focused on building NFT-based experiences. 
However, ICE Poker works like any other Bitcoin poker site. Players can get started by connecting their crypto wallet to the platform and making payments using ICE tokens. ICE is the in-game cryptocurrency of this metaverse poker game that allows players to buy in-game assets.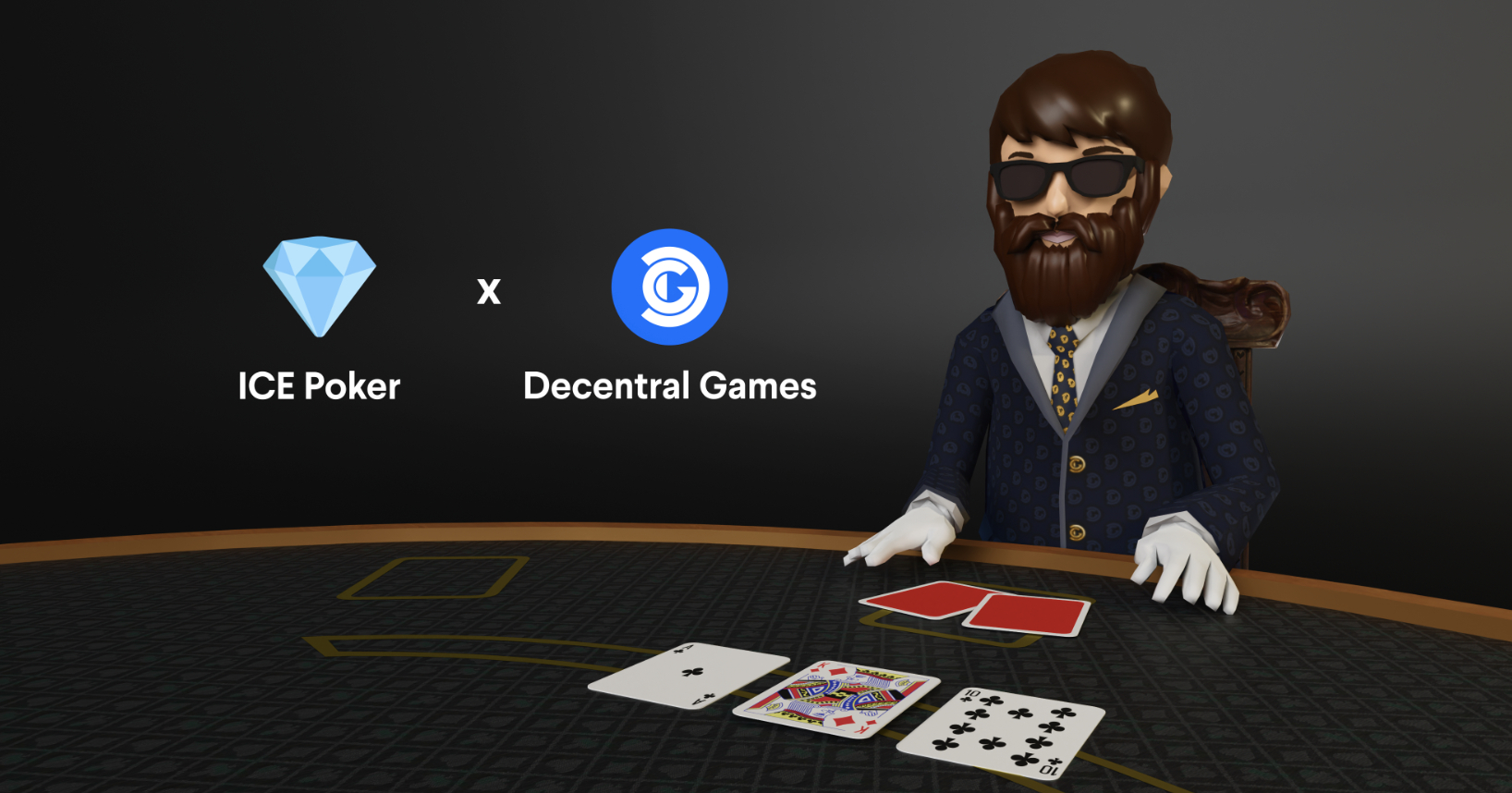 In addition to this, players will also need to have at least one ICE Wearable to start playing the game. ICE Wearables are accessories that are structured as NFTs. Meaning, players will also be able to trade their ICE Wearables in NFT marketplaces. 
To make things even more interesting, ICE Poker features daily challenges and tournaments, offering players more opportunities to boost their winnings. 
Needless to say, ICE is the first-of-its-kind poker game in the metaverse. Players can not only gamble with cryptocurrency, but they can also interact with others while engrossing themselves in the ambiance of a metaverse casino. 
5. Atari – Upcoming Las Vegas-Style Casino in the Metaverse
Atari is an iconic video game company that has been around since the 1970s. The company is building a metaverse casino in Decentraland, which is located in the Vegas City region. Atari has already hosted a virtual kick-off party announcing the launch of the casino and has even held an NFT auction to raise funds. 
The Atari metaverse casino project is being built in partnership with Decentral Games. The casino will be housed on a 20-parcel virtual land and will feature classic video games. There will also be several exclusive Atari-themed games, in addition to classics such as blackjack, roulette, and slots.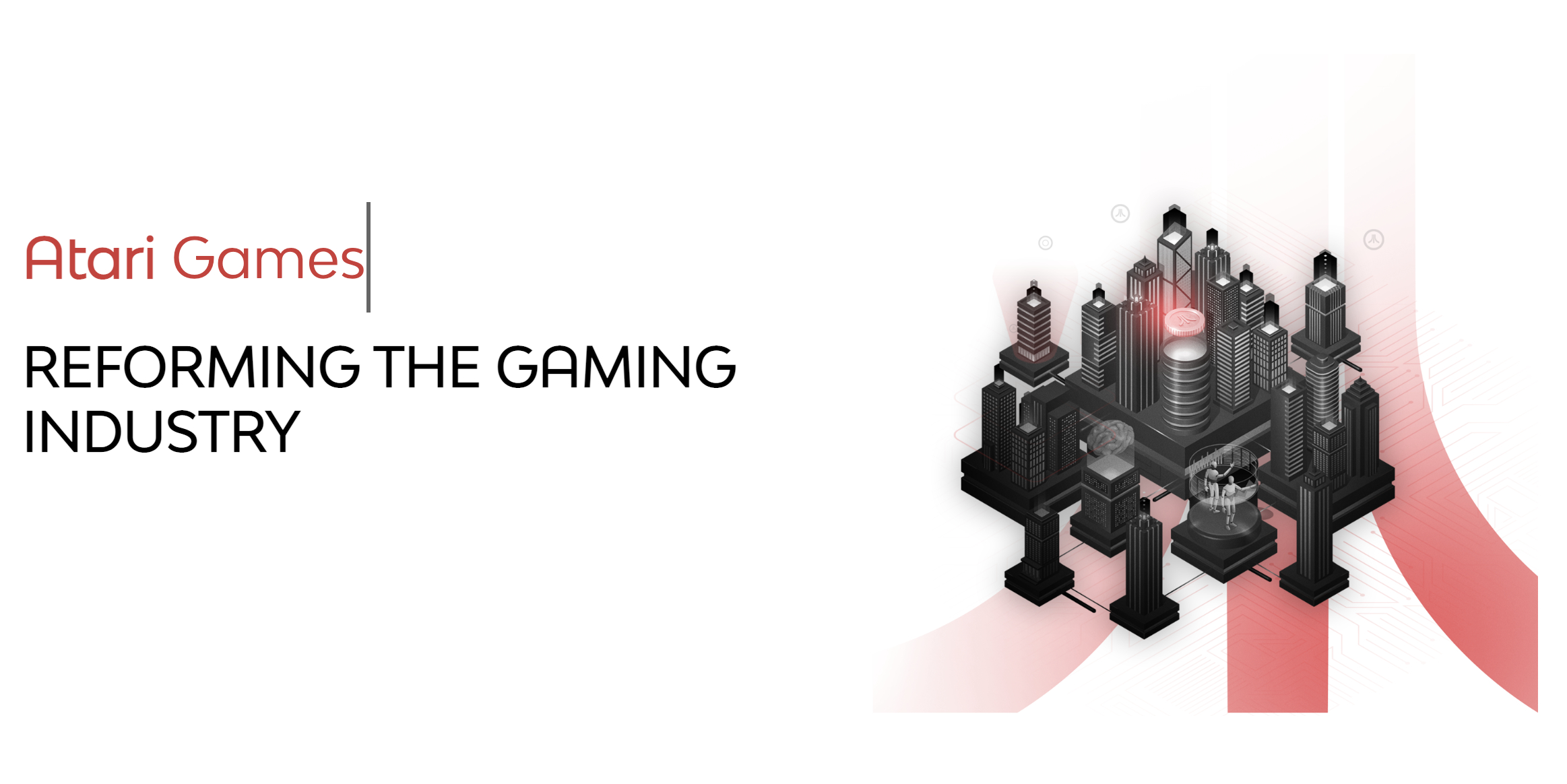 The Atari metaverse casino will be powered by the ATRI utility token. However, Atari casino games can also be played using Decentraland's MANA coins, the DAI stablecoin, and Decentral Games' own native DG token. 
6. Chateau Satoshi – Top Metaverse Casino in Decentraland
Chateau Satoshi is another metaverse casino located in Decentraland. Like ICE Poker, this metaverse gaming platform is also developed by Decentral games. Chateau Satoshi caters not only to casino players; instead, it also has other facilities such as a nightclub as well as a theatre. 
Its virtual building has stunning art-deco interiors, taking players back to the vintage golden era of casinos. Chateau Satoshi offers gamblers access to most traditional casino games, such as slots, table games, and more. In addition to this, at Chateau Satoshi, players can also find tables for ICE Poker, the popular metaverse game we discussed earlier.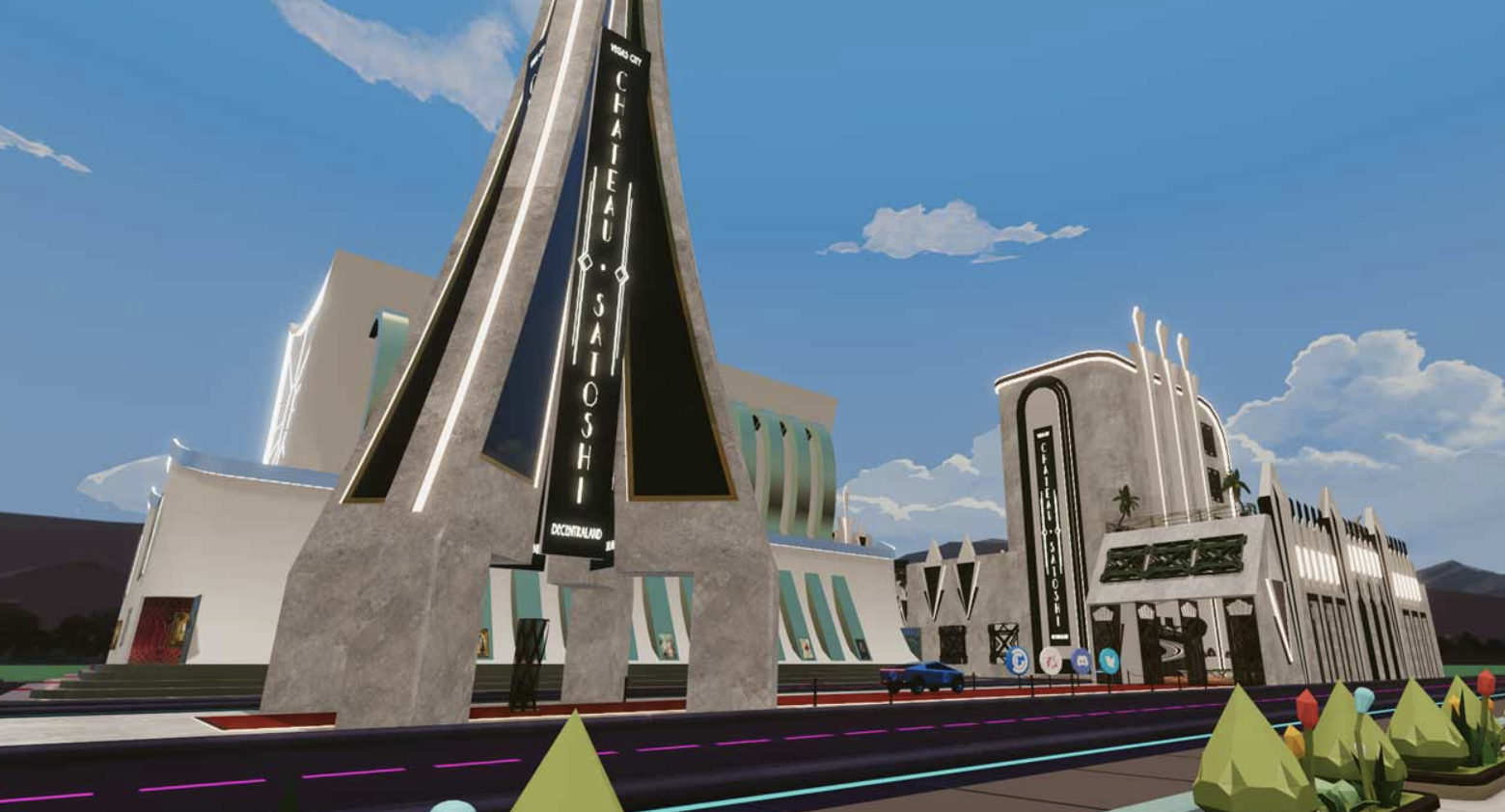 Players can use their MANA or ETH tokens to play casino games here. Furthermore, Chateau Satoshi is also known for its gambling tournaments, which offer players a chance to win additional rewards. 
Chateau Satoshi is also a great place for gambling enthusiasts to meet fellow players, as it regularly hosts virtual events. 
7. BetU Verse – Metaverse Resort and Casino With Play-to-Earn Games
BetU Verse is a new metaverse casino that is gaining popularity among online gamblers. It is set in the BetU Verse ecosystem and offers traditional bookmaker services, along with peer-to-peer betting. Apart from casino games, BetU also supports Bitcoin sports betting in the metaverse. 
That being said, BetU Verse aims to offer a variety of services to its users. Other than its casino, BetU also houses a sports lounge, bar, hotel, NFT museum, and entertainment complex.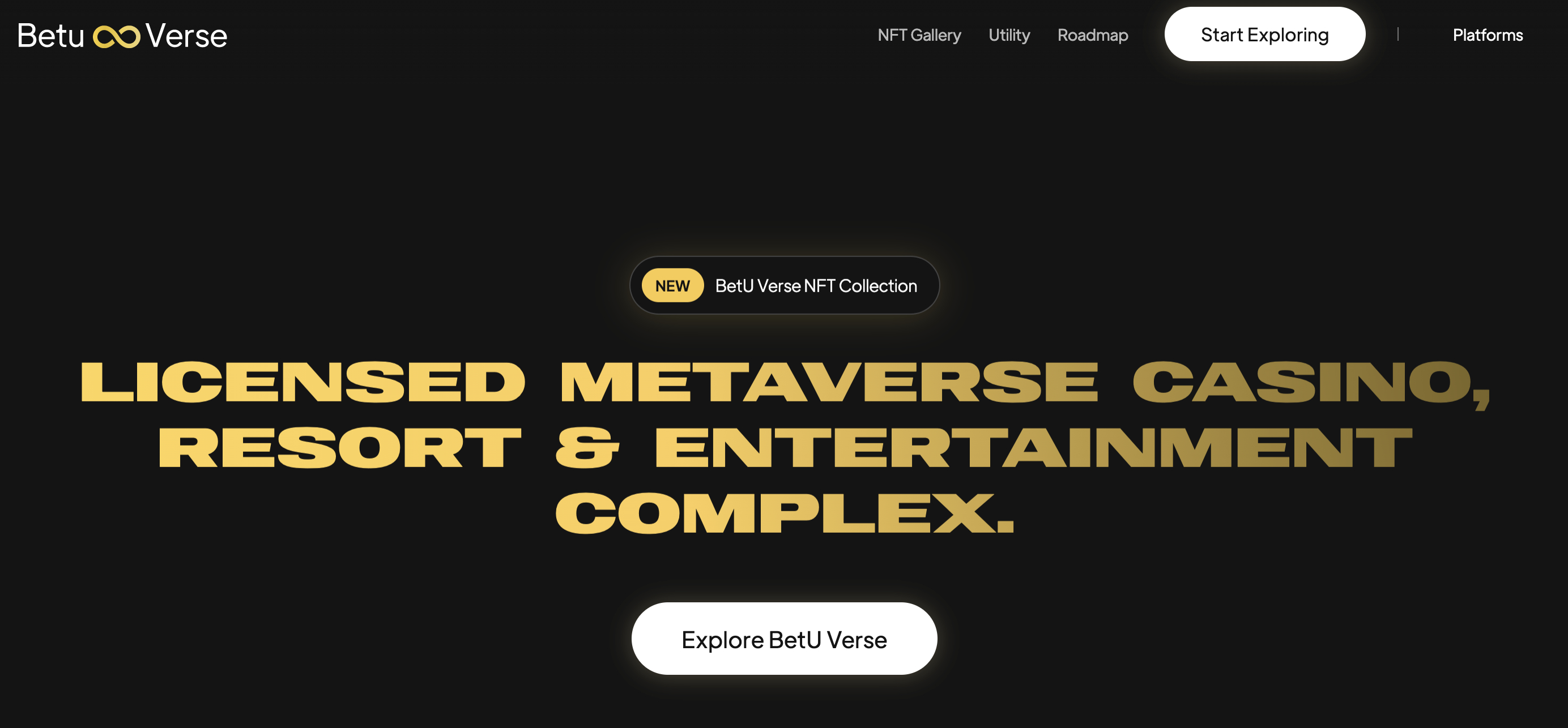 Its ecosystem even features luxury condominiums as well as branded casino tables and slot machines. The BetU Verse complex also has conference rooms that can be used to host metaverse events. Moreover, players can own part of the BetU metaverse by investing in its NFTs. 
The BetU ecosystem is powered by the platform's native metaverse casino coin, BETU. However, to place bets, not only can players use the BETU token but also other top trending cryptos such as Bitcoin, Ethereum, Binance Coin, USDT, and ApeCoin. 
All things considered, BetU Verse has all the necessary elements to become one of the best metaverse casinos.
8. Serenity Island – Luxurious Metaverse Casino for Blackjack and Roulette Players
Serenity Island is a casino metaverse that welcomes players with a Monte Carlo-inspired setting. This virtual casino sprawls across three floors, which includes amenities such as a nightclub and bar. 
However, unlike the majority of the metaverse casinos in Decentraland, Serenity Island is not located in the Vegas Plaza. Instead, players will find Serenity Island on an isolated stretch on the western border of Decentraland.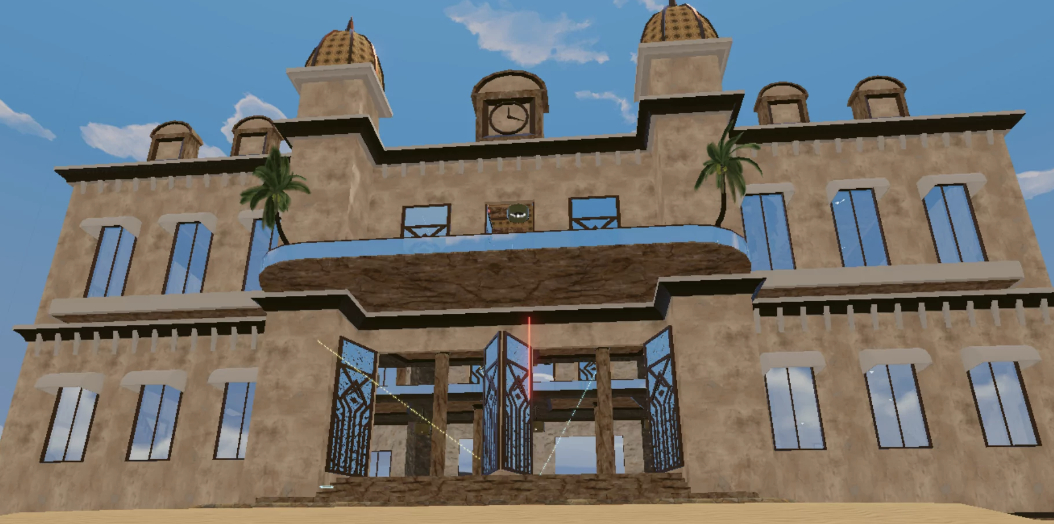 Decentral Games have chosen a small chateau for Serenity Island surrounded by sand and palm trees to offer an exclusive beach-club experience to players. Although Serenity Island entertains casino enthusiasts, the gaming options here are somewhat limited. 
The casino focuses on two classic table games – roulette and blackjack. The ground floor is dedicated to roulette, and the top floor is for blackjack. Players can gamble using MANA tokens, DG, and DAI. 
9. Tominoya Casino – Japanese-Themed Casino Metaverse
For gamblers looking for a getaway from the glamour of Vegas or Monte Carlo, Decentral Games has built another unique metaverse casino. The Tominoya Casino takes inspiration from Japanese-style gambling houses. 
At Tominoya, players will be greeted by real-life hosts, making the experience more authentic. The casino houses the most popular casino and table games, including blackjack, roulette, slots, and poker.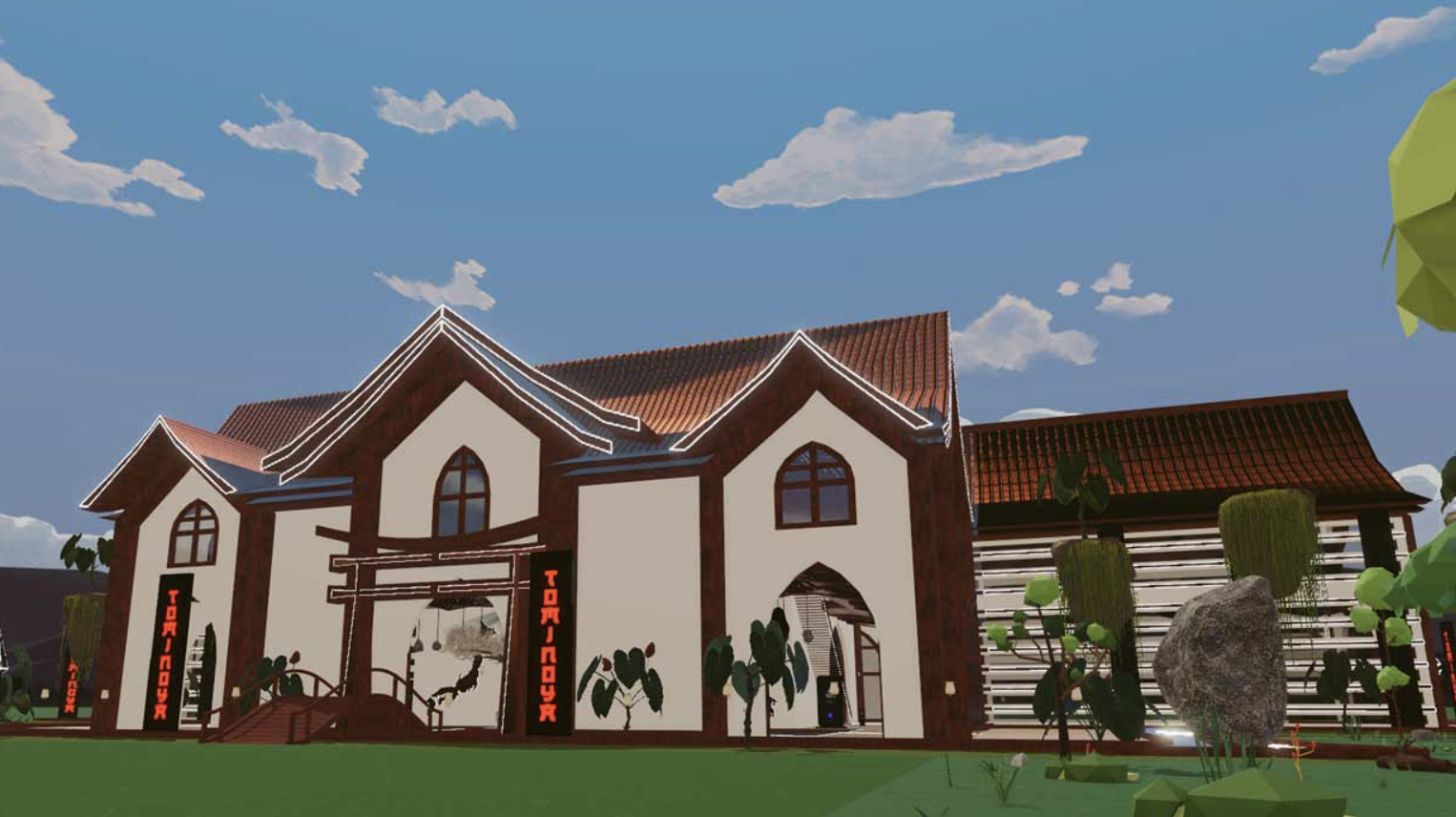 Interestingly, Tominoya Casino also allows crypto investors to own a part of the gambling house through NFTs. By purchasing Tominoya NFTs, players will collect a share of any proceeds made by the casino. 
Apart from the casino, Tominoya also has other amenities, such as conference halls and lounges. It also frequently hosts live-streaming events for its players. 
What is Metaverse Gambling?
The metaverse is a virtual world where users can interact socially with other players using an avatar version of themselves. In the metaverse, users can go to a concert, restaurants, stores, and even a casino. The possibilities are endless.  
In a nutshell, metaverse casinos are virtual spaces that offer players a fully-immersive gambling experience. Players can have their virtual avatars walk into a metaverse casino and try their luck by playing their favorite games – such as poker, blackjack, roulette, or baccarat.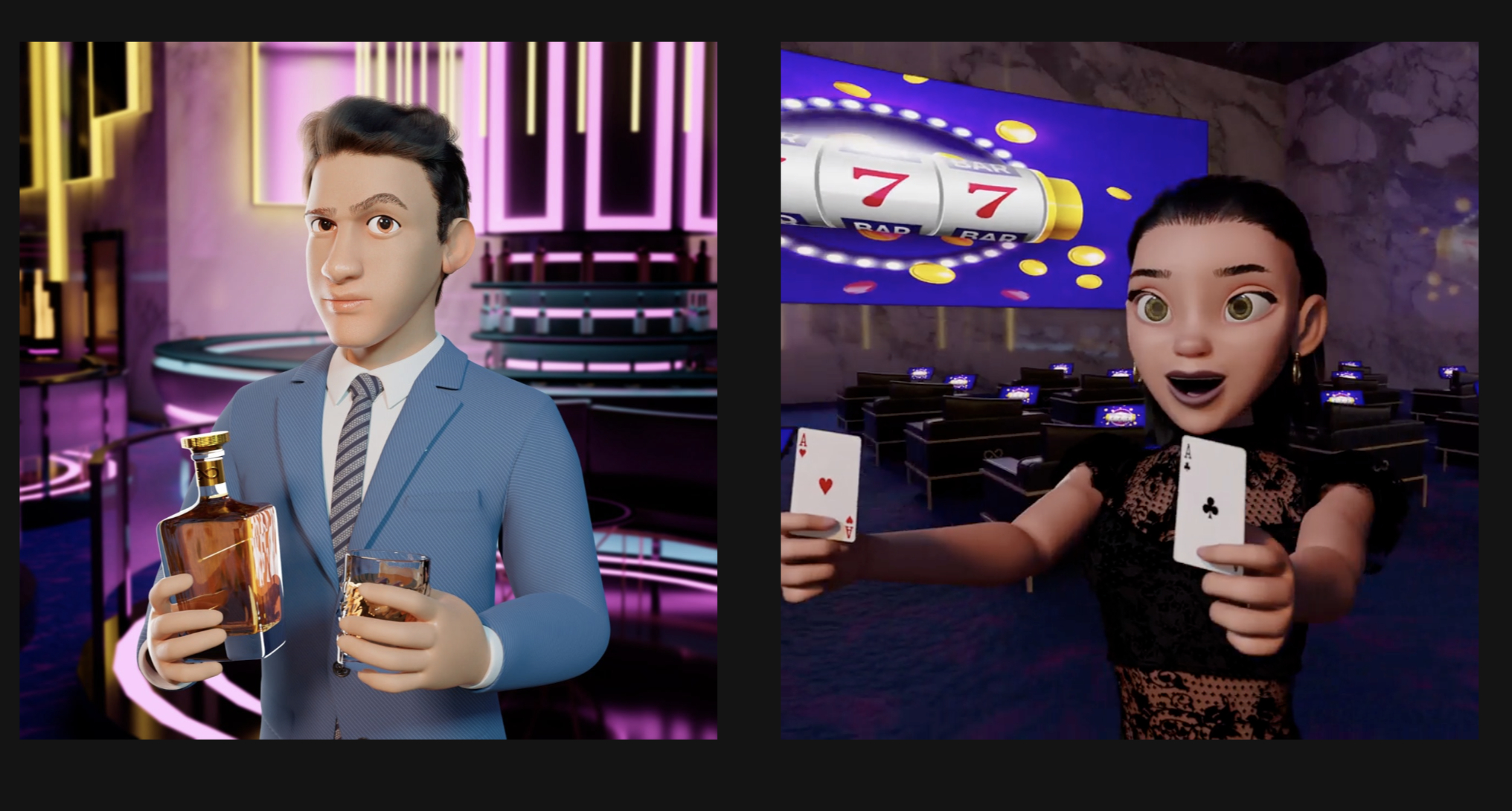 A majority of the metaverse casinos of today are built in ecosystems such as Decentraland and the Sandbox. Casino and gaming developers purchase virtual lands in these metaverses to build their casinos. Instead of gambling with fiat currencies, players will be placing bets using cryptocurrencies. 
As evident from our reviews, the best metaverse casinos come in all shapes and sizes. While some of them boast a wide selection of games, others offer a complete Vegas-style experience, complete with pools, bars, entertainment areas, clubs, and more. 
How do Metaverse Casinos Work?
A growing number of crypto gambling sites are now including metaverse elements in their online casinos so that players can profit from the thrill of live gaming without ever having to leave their homes. 
But how do they work?
Here is an overview of how players can get started with a metaverse casino:
Choose a crypto wallet – Metaverse casinos are built and run using blockchain technology. As a result, digital tokens are the main way to make and receive payments on these gambling platforms. This means that players need to have a secure crypto wallet that has tight security and is compatible with the chosen metaverse. 
Connect wallet to the metaverse – One of the most notable advantages of metaverse casinos is that there is no need for players to create an account or complete any KYC. Instead, players can simply head over to their chosen metaverse – such as Lucky Block – and connect their wallet. 
Design the avatar – Before commencing their journey, players will also need to choose their avatar. Usually, platforms will have an array of features readily available for players. Users will have to pick out facial features, outfits, and accessories to create their avatars. Users should also allocate a name for their avatar. 
Visit the metaverse casino – Next, players can enter the coordinates of the casino (address in the metaverse) to go to the respective location. Alternatively, take time to explore other parts of the metaverse and eventually head over to the casino. For instance, Decentraland has plenty of other entertaining spaces, such as parks, recreational facilities, cinemas, and more. 
Start playing – Now, all that is left is for players to choose their favorite game inside the casino and start placing bets. The casino will guide players through every step of the wagering process. 
In addition to this, many metaverse casino projects also feature NFTs. For instance, players can purchase an avatar, a virtual piece of land, or other in-game assets – which are backed by NFTs and subsequently stored on the blockchain.
However, as we mentioned above, full-fledged metaverse casinos are still very few in number. Instead, many gambling sites have taken inspiration from web3 to make their casino offerings more captivating. 
However, Lucky Block has metaverse elements with live tables, impressive graphics and real dealers who speak to you by name. Similarly, many of the best Bitcoin baccarat sites also allow players to interact with each other – making the online casino more engaging. 
Lucky Block also offers a wide range of games – 2,700 in total – and a sportsbook for pre-game and in-play betting, as well as offering enticing bonuses and quick and easy sign up.
Metaverse Casino Games
The best metaverse casinos feature a range of traditional gambling games. 
This includes:
Slots
Poker
Roulette
Blackjack
Craps
Dice 
In addition to this, a number of metaverse casinos, such as Lucky Block, BC.Game and BetU Verse also offer support for sports and eSports betting. This allows players to wager on the outcomes of matches and leagues – such as the NFL and NBA, Premier League and Champions League, tennis, boxing and even eSports.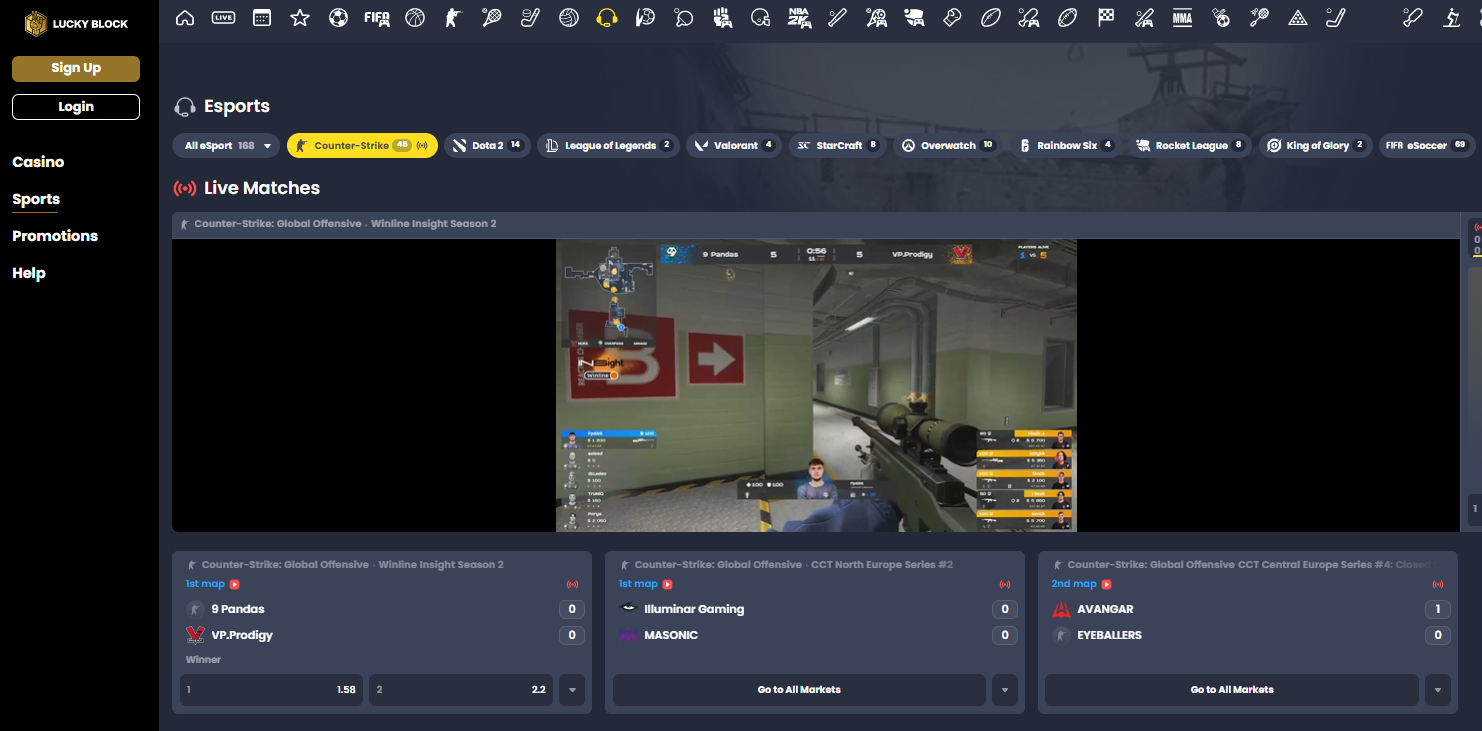 Moreover, it is also common for metaverse casinos to host slots tournaments, raffles, and giveaways – which further enhances the overall gaming experience and boosts the odds of players making gains. 
Types of Bonuses Available at Metaverse Casinos
Online gamblers are always on the lookout for the best Bitcoin casino bonuses. 
Here are some of the different bonuses that players can expect to find at the best metaverse casinos:
Free spins – Metaverse casinos that support slot machines often offer free spins as bonuses to their players. With free spins, there is no need to use cryptocurrencies to place bets. Instead, users can have fun playing slot games with free credits.
Free bets – Free bets are offered by casinos that support sports gambling. Once again, players can use the free bets to gamble without having to utilize funds from their crypto wallet. In some metaverse casino games, such as ICE Poker, players are given free chips as bonuses. 
Deposit bonuses – Deposit bonuses are perhaps the most common across metaverse casinos. Typically, these bonuses are offered to players whenever they fund their casino account with cryptocurrencies. 
For instance, at the time of writing, BC.Game offers a matched bonus of 270% on the first deposit. This means that if a new player makes a deposit of $100 in crypto, BC.Game will add an additional $270 to the user's account. 
Lucky Block is offering 15% cashback on losses to players in the first seven days of registering, reloaded bonuses to high rollers and a $10k giveaway.
While matched deposit bonuses are mainly offered for new players, some casinos also provide such rewards for returning account holders.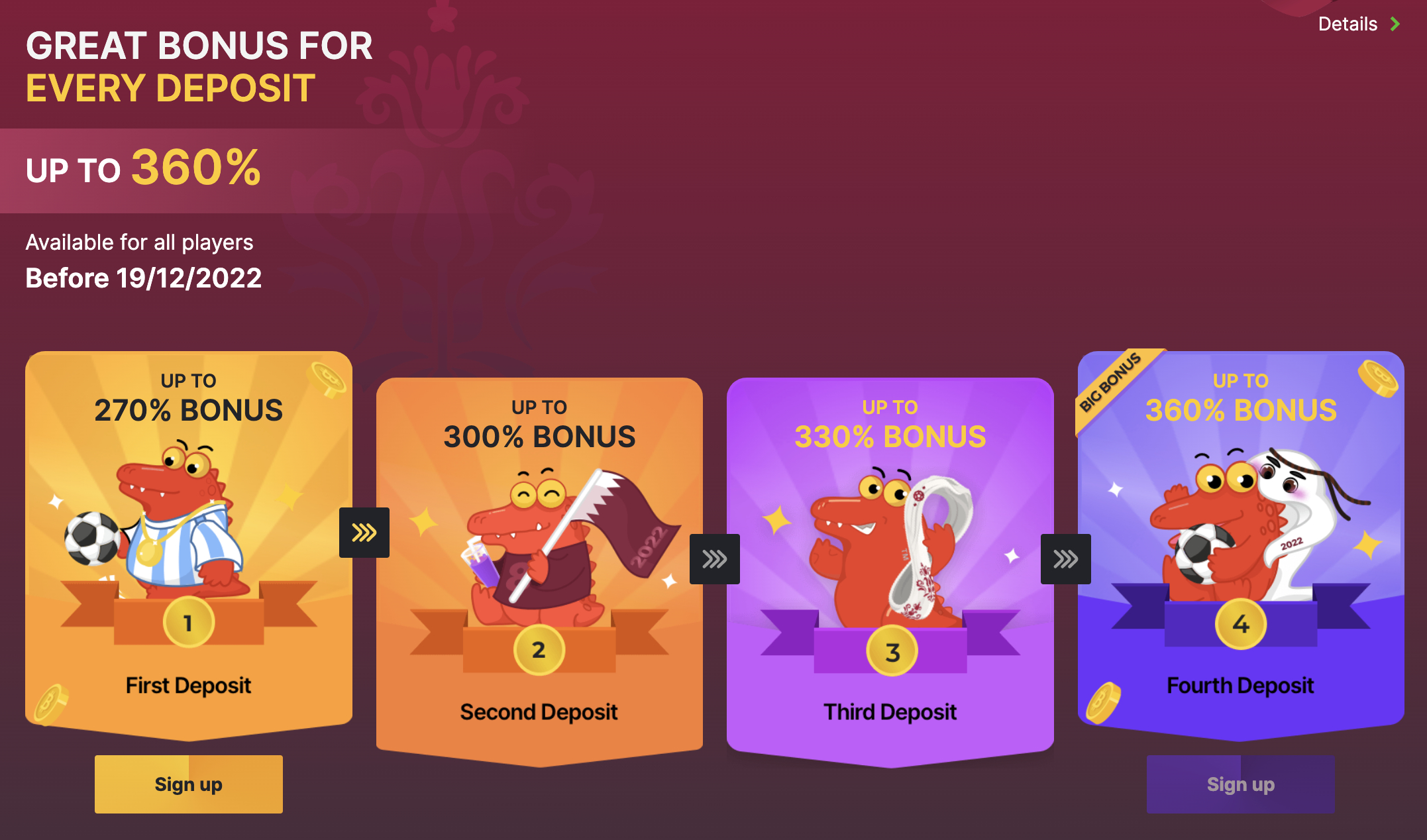 Some metaverse casinos also welcome new players with 'no deposit bonuses'. Essentially, players will receive a free bonus in their account that they can use to try out games in the metaverse casino. 
How to Pick the Best Metaverse Casino
Finding the best metaverse casino is not an easy task. However, it can be a fun prospect nonetheless. 
Instead of merely visiting websites and going through vast terms and conditions, players can actually venture out into the metaverse to get a first-hand experience. 
We suggest that players keep the following factors in mind when exploring casinos in the metaverse. 
Security Measures 
First and most importantly, it is essential for players to understand the security offered by metaverse casinos. 
Since metaverse casinos deploy blockchain technology, there is less room for error when it comes to security. Metaverse ecosystems such as Decentraland have incorporated all the necessary measures to ensure the security of player funds. 
Moreover, players only need to connect their wallet, meaning, there is no need to provide any personal information. Additionally, all transactions are recorded on the blockchain – so there is transparency. If needed, players can always go back and check the execution of the bet. 
Variety of Games 
Needless to say, players should also ensure that their chosen platform features their preferred metaverse casino games. 
Typically, metaverse casinos offer access to classic game varieties – such as blackjack, roulette, poker, dice games, and others.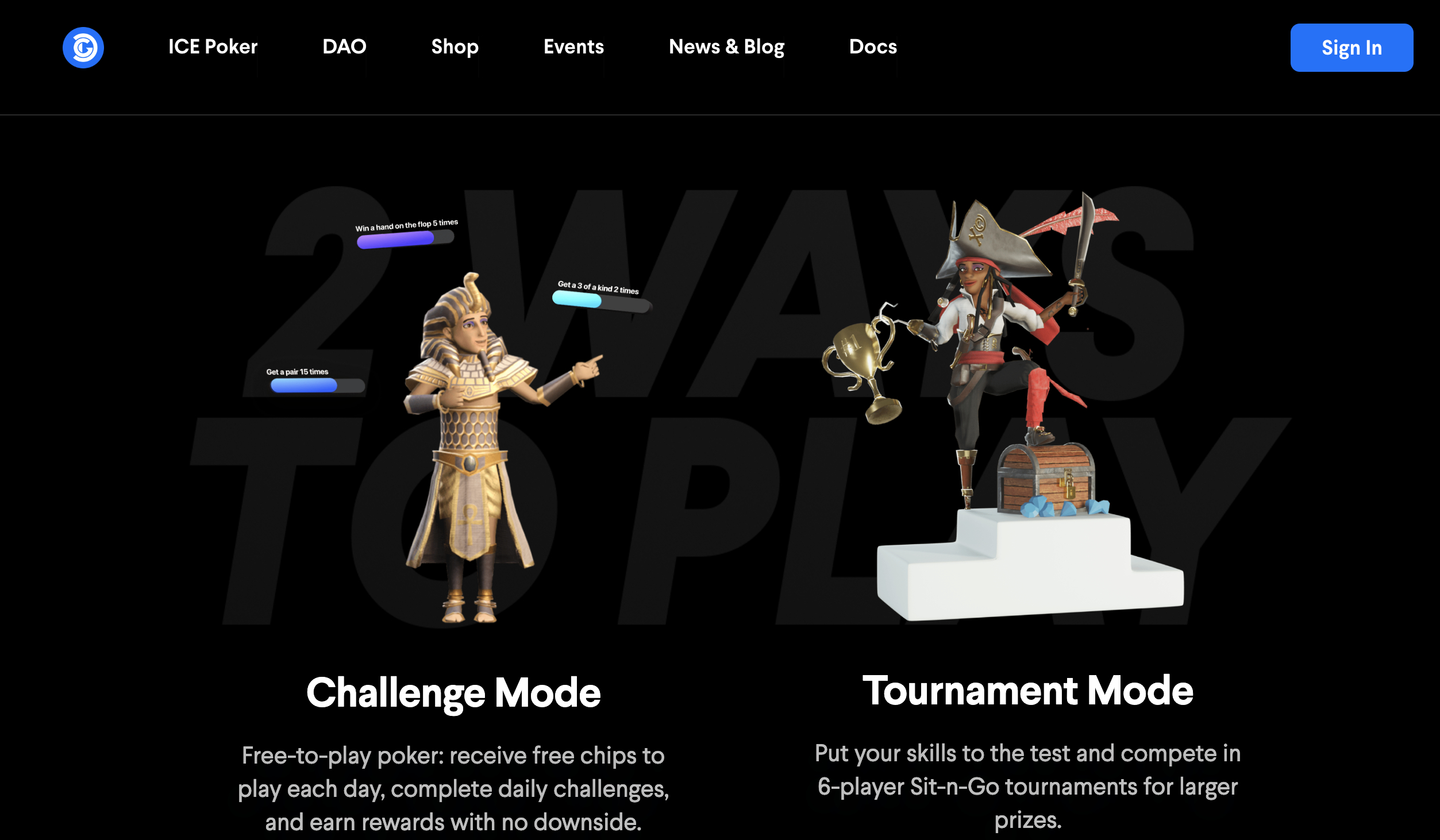 However, the selection of titles within each category might be limited – especially when compared to conventional crypto gambling sites. 
If players do not want to compromise on this aspect, it would be better to choose a platform such as Lucky Block – which offers the best of web3 elements and an extensive library of 2,700 games from some of the top developers in the space.
Payments and Withdrawals 
Metaverse casinos run on the blockchain, which means that players will be depositing and withdrawing funds via their crypto wallet. 
Those who use conventional online casinos will often have to wait for a few days for their bank transfers to be processed. 
With metaverse casinos, that is not an issue. Unlike fiat transactions, cryptocurrency payments are processed near instantly. 
However, players should ensure that their digital wallet has sufficient cryptocurrencies that are compatible with the metaverse casino. 
For instance, casinos in the Decentraland metaverse require players to hold MANA or tokens such as DAI, DG, ETH, or MATIC. 
There are only a handful of crypto casinos that offer players flexibility when it comes to funding. BC.Game is a prime example of this – as the crypto gambling site accepts 150 cryptocurrencies, which includes almost all the best altcoins available today. 
Lucky Block, meanwhile, has no limits or fees on withdrawals, while payouts are rapid – DOGE is paid in less than a minute, ETH five minutes and Bitcoin in one hour.
NFT Offerings 
The best metaverse casinos also have a long list of digital assets that are offered in the form of NFTs. These NFTs might represent avatars, accessories, wearables, or other in-game assets. 
In some casinos, such as Chateau Satoshi or BetU Verse, players can even own slot machines or a piece of casino land via NFTs.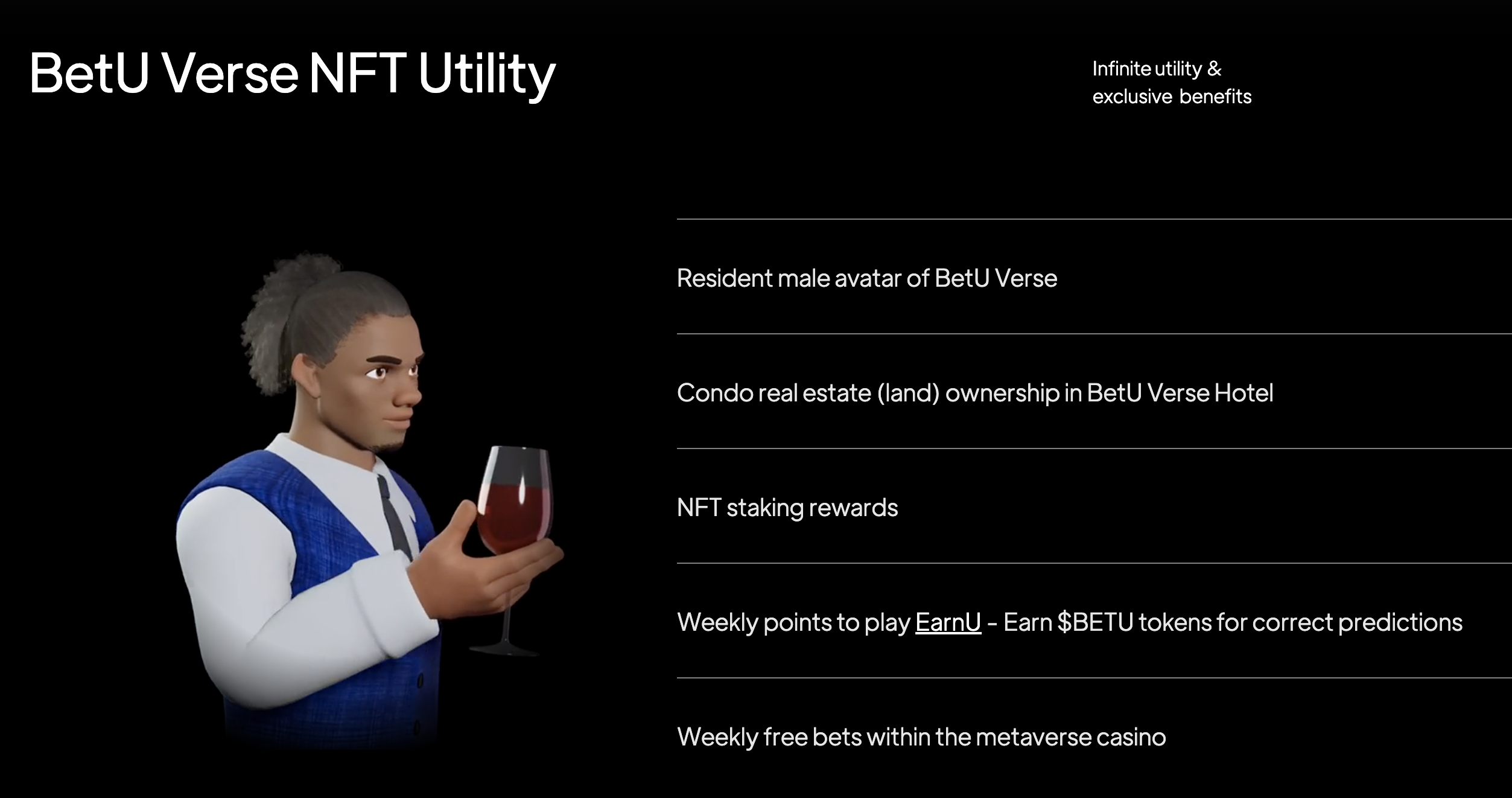 These NFTs can also be sold to other collectors, which presents more opportunities for players to make money via metaverse casinos. 
Therefore, investors might also want to evaluate what kind of NFTs are offered by their chosen metaverse casino and how they can use such digital assets to boost their winnings.
Events, Tournaments, and Promotions 
Players might also want to opt for a casino that puts effort into creating a loyal community. 
As we discussed above, the best metaverse casinos offer generous welcome packages. This could be in the form of deposit bonuses, free bets, or chips.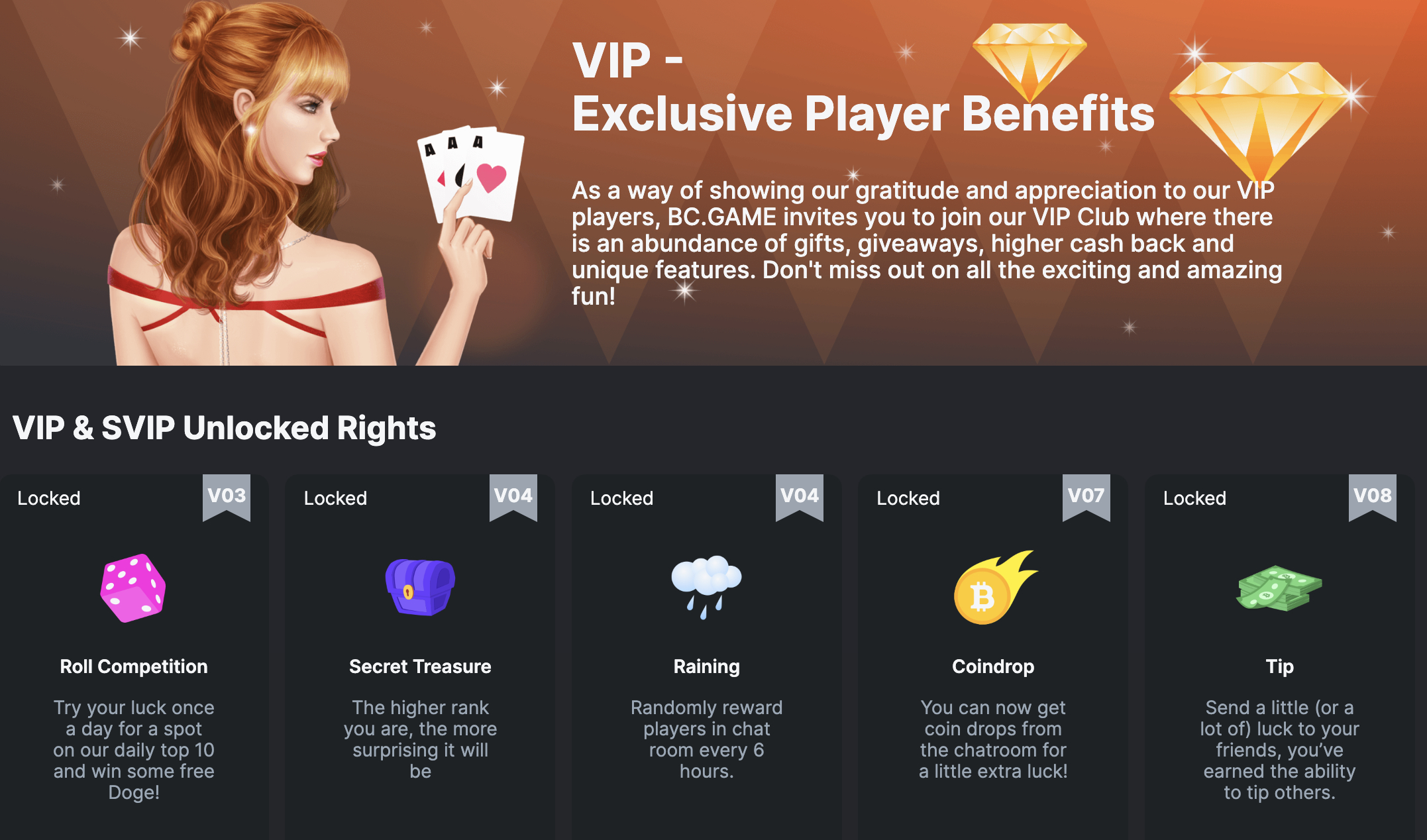 There are also casinos such as BC.Game that has set up loyalty programs with plenty of benefits and rewards. 
Additionally, some metaverse casinos, such as BetU Verse and Tominoya, even have dedicated conference rooms to host events that feature crypto giveaways and airdrops.
Conclusion
Metaverse casinos are potential game changers in the online crypto-gambling space. They allow players to immerse themselves in virtual casinos, interact with other players and make the most of their gambling experience. 
That being said, this market is still developing – and a bit lacking when it comes to their game selection and bonuses. 
We recommend Mega Dice as the best metaverse casino option. This platform gives users access to some of the most popular casino games offered by top software providers. One can also get a 200% matched deposit bonus of up to 1 BTC on their first deposit. 
FAQs
What are metaverse casinos?
Metaverse casinos are virtual gambling platforms that allow users to play games using cryptocurrencies. Top metaverse casinos such. Mega Dice offers traditional games such as slots, roulette, blackjack, poker, and even sports betting. To get started, players can head over to their chosen metaverse casino and deposit funds using a crypto wallet. 
How to find the best metaverse casino?
To find the best metaverse casino, players can look for factors such as the games supported, security, bonuses available, and customer support. Some metaverse ecosystems, such as Decentraland, also support free-play mode. This enables players to experience metaverse casinos without connecting their digital wallet. We would recommend Mega Dice as the top metaverse casino.
---