Best Crypto to Buy Now With Airdrop - L The Meme Coin, Wall Street Memes, zkSync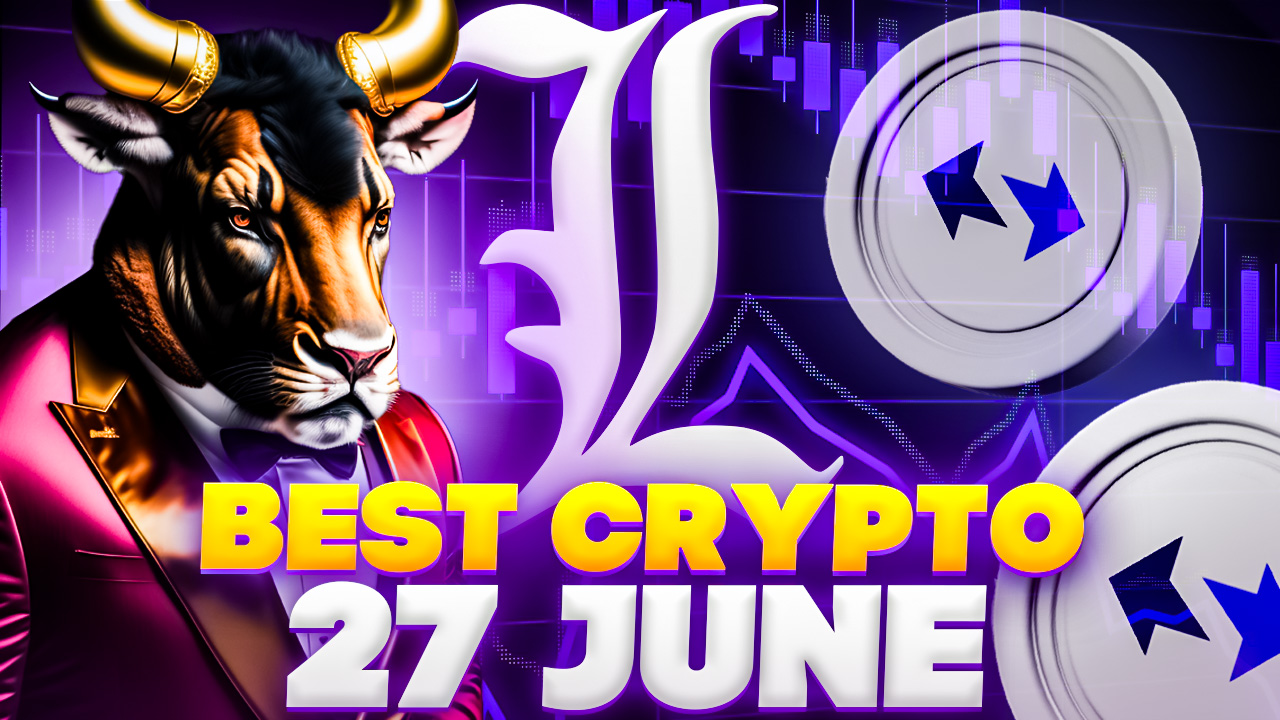 As the cryptocurrency market experiences a surge in activity, investment titan Fidelity, which manages an astounding $4.2 trillion in assets, appears to be gearing up for a spot Bitcoin exchange-traded fund (ETF) application.
The move follows closely on the heels of industry leader BlackRock, whose own Bitcoin ETF application spurred a flurry of submissions from various financial service providers and investment firms.
Given the increased interest from major financial institutions, what are the best cryptos to buy now?
Recent reports have indicated that Fidelity is on the verge of filing for a spot ETF, as revealed by inside sources in conversation with crypto publication The Block. According to these insiders, the filing could take place as early as today, June 27.
BlackRock's application on June 15 had a significant impact on the crypto market, causing a shift toward an overwhelmingly positive sentiment.
The preceding negativity due to the SEC's lawsuits against Binance and Coinbase was swiftly overshadowed as Bitcoin's price skyrocketed to an annual high above $31,000.
As other firms such as Invesco, WisdomTree, and Bitwise joined the rush, Bitcoin's price remained confidently above the $30,000 mark.
The recent news about Fidelity's potential filing has even caused the cryptocurrency's price to retest this level.
If Fidelity decides to move forward with its spot ETF application, it will be the second time the company has made such an attempt.
Fidelity's application for the Wise Origin Bitcoin Trust in 2021 was previously denied by the SEC, with the dismissal taking place on January 27, 2022.
Cryptocurrencies are gaining wider acceptance, and prominent finance firms are taking notice.
In line with the improving cryptocurrency market sentiment, crypto airdrops offer an appealing way to generate returns and boost crypto holdings.
L the Meme Coin, Wall Street Memes, and zkSync are some of the best cryptos to buy now with airdrops.
L The Meme Coin: Turning Twitter Clout into Crypto Rewards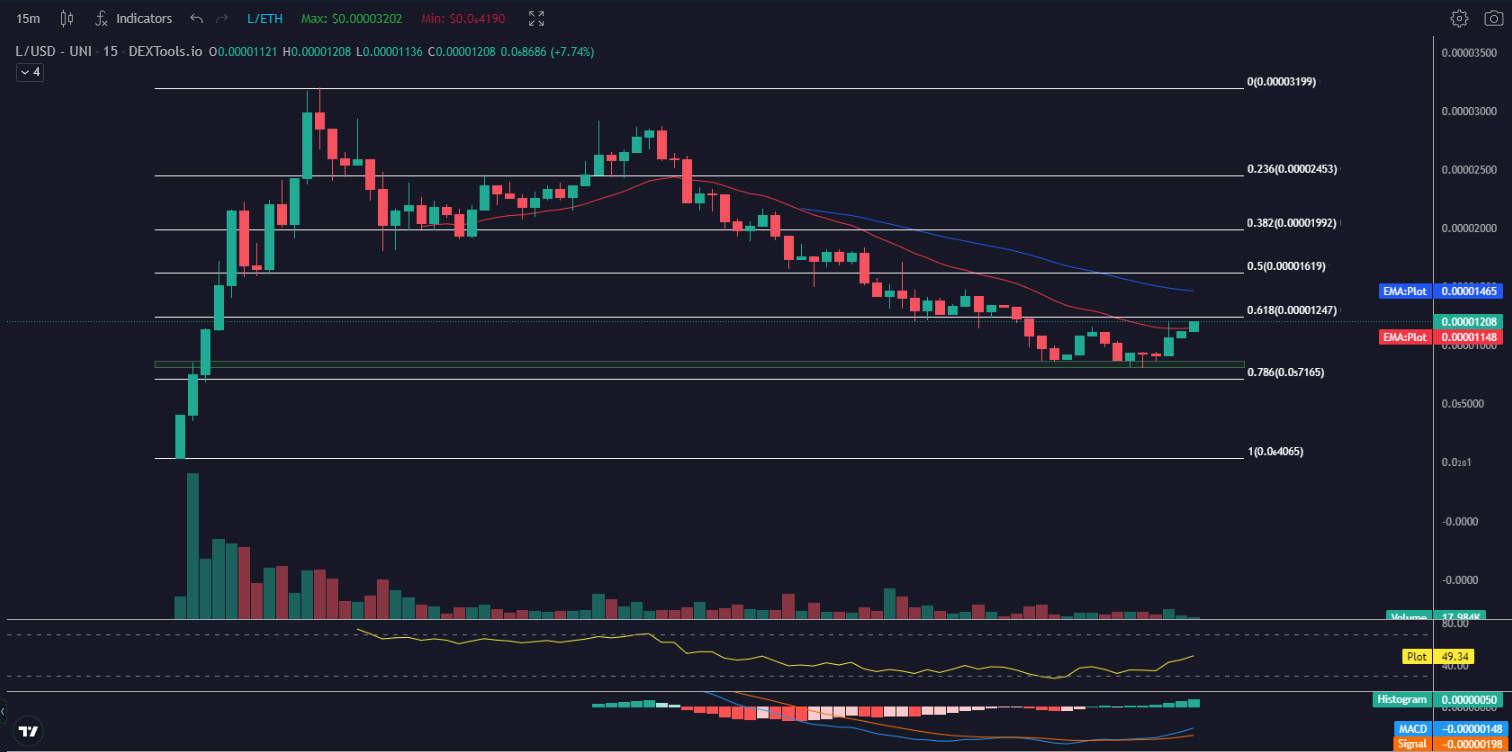 L the meme coin is designed to promote a community among verified Elon Musk supporters on Twitter, is experiencing increased volatility of price movements since its recent listing.
The $L price saw a massive surge of 7,542% in the first three hours of listing, but it has since fallen and currently sits at 2,365% of its listing price as of writing.
Examining the 15-minute chart, the 20 EMA is currently at $0.00001148, while the 50 EMA stands at $0.00001465.
The price currently hovers at $0.00001208, which is above the 20 EMA but below the 50 EMA.
This indicates a mixed sentiment in the short term, as the price has managed to stay above the 20 EMA support level but is struggling to surpass the 50 EMA resistance level.
The 15-minute RSI reads 49.34, suggesting a neutral momentum. With the RSI neither in the overbought nor oversold territory, traders should remain cautious and monitor further price movements before making any decisions.
The 15-minute MACD histogram measures 0.00000050, which indicates a potential shift in momentum.
As the MACD approaches the zero line, traders should keep an eye on this indicator for the possibility of a bullish crossover.
In terms of volume and market capitalization, $L has attracted considerable interest, with a 24-hour trading volume of $26.68 million and a market cap of $9.72 million, according to DEXTools.
Regarding price levels, $L faces immediate resistance at the Fib 0.618 level of $0.00001247, followed by the 15-minute 50 EMA at $0.00001465.
On the flip side, the token finds support at the 15-minute 20-EMA level of $0.00001148, followed by the current swing low support range between $0.000008045 and $0.000008701.
$L's technical indicators reflect a mix of bearish and neutral sentiment in the short term.
Traders are advised to closely monitor the price action and key indicators for potential trend reversals or continuations.
The project's origins can be traced back to a tweet by Elon Musk in 2021, where he expressed his fondness for the character L from Death Note.
To incentivize subscriptions to Twitter Blue, $L has developed a proprietary algorithm that measures the value of an individual's Twitter account in $L tokens.
The recent airdrop reservation period ran from June 12 to June 26, and participants can now claim their airdrops from the website from June 26 to July 3.
Dethroning Doge? Wall Street Memes Presale Gives Meme Coin Lovers a Chance
Wall Street Memes, a rapidly growing retail investing community, recently reached a significant milestone in its $WSM meme coin presale, raising over $10.9 million so far in just over a month.
With an engaged community of over 1 million members across multiple social media platforms, Wall Street Memes is quickly becoming the king of meme coins, attracting attention from influential figures like Elon Musk and Gary Vee.
With a strong history of selling out cryptocurrency asset launches like the Wall Street Bulls NFT collection, Wall Street Memes shows great potential as an investment opportunity.
Analysts predict that the $WSM token will soon be listed on major cryptocurrency exchanges, like Binance, due to the vast size of the Wall Street Memes community.
The project's team has initiated discussions with several top 10 exchanges, and a major listing could help $WSM achieve a market cap of over $1 billion.
Prior to listing on centralized exchanges, $WSM will be available on decentralized exchanges, offering everyone the chance to participate.
Originating from the 2021 movement of retail investors challenging Wall Street, Wall Street Memes is now tokenizing that rebellion with its $WSM token and Ordinal NFTs on the Bitcoin blockchain.
The project seeks to empower the little guy, with 100% of the token supply dedicated to the community – no private sales or team allocations.
The total supply of 2 billion $WSM tokens will be distributed between the presale, marketing efforts, community rewards, and liquidity for both centralized and decentralized exchanges.
With a substantial portion of the supply allocated to community rewards, airdrops are expected to be a significant part of the ecosystem.
One has already been announced - a $50k giveaway shared between five winners for following its social media channels.
Investors looking to secure $WSM tokens at the best possible price should consider joining the ongoing crypto presale, as demand for the token is expected to increase once it lists on exchanges, potentially driving up its price.
Unlock Potential Gains with zkSync's Incoming Airdrop
zkSync is a Layer 2 blockchain scaling solution that focuses on addressing the challenges of high transaction fees and network congestion on the Ethereum network.
By utilizing rollups and zero-knowledge technology, zkSync significantly improves scalability, enabling faster and more affordable transactions for users.
As Ethereum's popularity continues to rise, zkSync offers a promising solution to enhance the network's performance and efficiency.
zkSync allows users to transfer their assets from the main Ethereum network to the zkSync Layer 2 network through a process called "bridging."
Once assets are on the zkSync network, users can enjoy reduced gas fees and faster transactions, improving their overall experience with decentralized applications (dApps) and other blockchain projects.
zkSync's use of zero-knowledge proofs (ZKPs) enables the platform to process and validate a large number of transactions within a single proof, reducing the computational load on the Ethereum network.
This technology maintains the security and decentralization of the Ethereum blockchain while substantially increasing transaction throughput.
Some notable projects integrated with zkSync include Mute, a decentralized privacy-focused messaging app, and Mint Square, an NFT marketplace for creators and collectors.
Speculation surrounding a potential zkSync token launch and airdrop for early adopters has circulated within the community.
Although the zkSync team has not confirmed these rumors, users who actively engage with the ecosystem may increase their chances of being eligible for a possible airdrop.
zkSync's technology and growing ecosystem make it an important development to watch within the Ethereum blockchain.
Disclaimer: The Industry Talk section features insights by crypto industry players and is not a part of the editorial content of Cryptonews.com.
---