Best Crypto to Buy Now October 30 – Gala, Rollbit Coin, Solana
Disclosure: Crypto is a high-risk asset class. This article is provided for informational purposes and does not constitute investment advice. By using this website, you agree to our terms and conditions. We may utilise affiliate links within our content, and receive commission.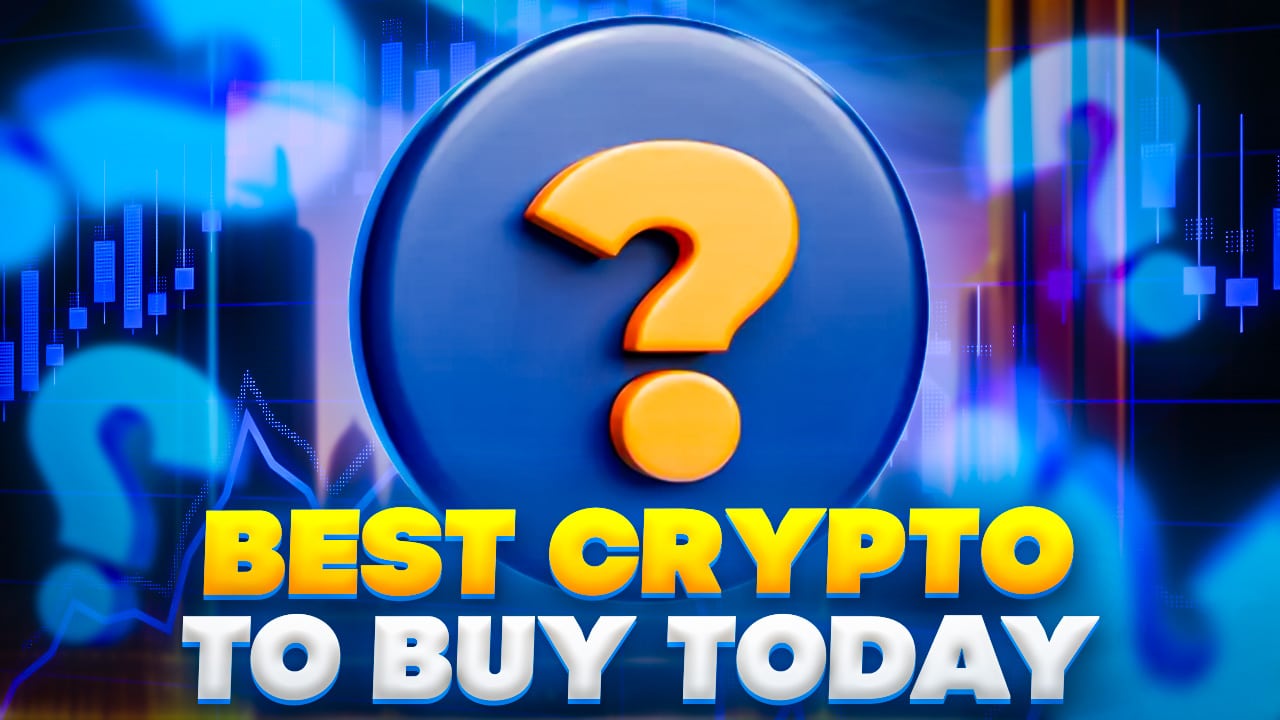 Bitcoin's consistent gains over the weekend hint that a retest of $35,000 could happen sometime this week. Investors in search of Bitcoin alternatives may want to take a look at Gala, Rollbit Coin, Solana, Bitcoin Minetrix, and Meme Kombat as strong contenders for the best crypto to buy now.
GALA is exhibiting a noteworthy price increase of more than 40% for the past week. It currently ranks 70 by market capitalization, according to CoinMarketCap.
Alongside other gaming and metaverse coins, GALA exhibited a strong performance over the weekend, surging by over 18%.
Meanwhile, Rollbit Coin (RLB) warrants attention given recent operational highlights. RLB is currently trading at $0.191270 up by more than 72% from its recent lows.
Operationally, Rollbit's crypto casino and trading platform generated $38 million in revenue for September. With strong operations and revenue growth, RLB shows potential in search of the best crypto to buy now.
Despite broader uncertainty, the price of Solana (SOL) has also seen a substantial 7.31% increase recently, now standing at $34.75.
This rise comes as Solana gains popularity among altcoins, seeing $15.5 million in inflows last week and $74 million this year. Solana's Total Value Locked also hit new YTD highs in October.
And just like that, Solana has arrived in Amsterdam for #Breakpoint2023 ☀️ pic.twitter.com/gZ49jNHQVA

— Solana Breakpoint ☀️ AMSTERDAM Oct. 30-Nov.3 (@SolanaConf) October 30, 2023
Looking ahead, Solana's upcoming annual Breakpoint conference from October 30-November 3 seeks to bring together the project's community and ecosystem partners.
This upcoming conference could offer the next spark to ignite Solana's next major price surge.
For investors attracted to emerging cryptocurrency projects, the presales of Bitcoin Minetrix and Meme Kombat offer compelling early participation opportunities.
Bitcoin Minetrix's presale will provide access to its one-of-a-kind stake-to-mine model while Meme Kombat's presale enables entry into the platform's AI-driven meme battle arena.
Read on as we discuss the technicals supporting Gala, Rollbit Coin, and Solana, as well as the robust fundamentals that position Bitcoin Minetrix and Meme Kombat among the best crypto to buy now.
GALA Price Prediction: Will the Upward Momentum Persist?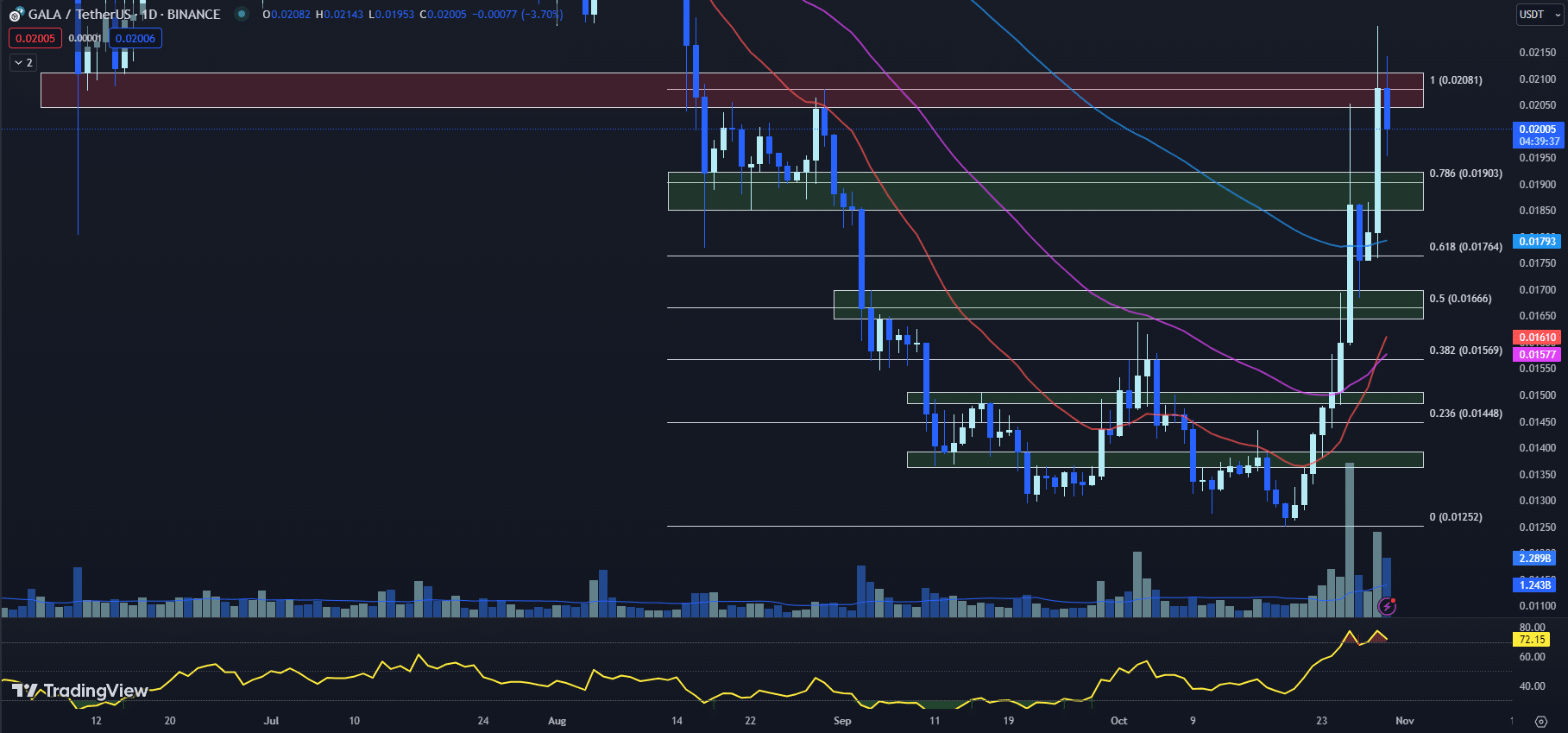 Despite a strong performance over the past 10 days, Gala (GALA) is currently witnessing a temporary pause in its rally, with prices pulling back by nearly 4% due to profit-taking and potentially declining momentum.
With GALA hovering just below key resistance, traders are debating if this is a pause before the next leg higher or the start of a deeper correction.
The 20-day EMA for the GALA price currently stands at $0.01610, crossing above the 50-day EMA of $0.01577 in a bullish sign.
However, GALA's inability to firmly hold above the $0.020 level suggests caution is still warranted.
The RSI has pulled back from yesterday's 77.84 reading to 72.15, moving away from overbought territory. This indicates the rally may be losing steam.
Meanwhile, the unchanged MACD histogram of 0.00076 highlights how upward momentum has stalled. This pause needs to be monitored closely.
With GALA stabilizing but unable to break resistance, technical indicators remain conflicted. The bullish EMA crossover hints at continued upside potential, but fading RSI and flatlining MACD signal waning conviction.
The resistance zone between $0.02046 to $0.02112 remains a key obstacle for GALA. Overcoming this area is needed to open the door to further gains.
On the downside, GALA has initial support at $0.01851 to $0.01924, which aligns with the Fib 0.786 level of $0.01903. Further support rests at the rising 100-day EMA of $0.02005.
A decisive break below the 100-day EMA of $0.02005 would negate the bullish EMA crossover and could trigger an accelerated decline. Traders should watch this level closely.
After its blistering run higher, GALA is taking a breather below stiff resistance. While key moving averages remain constructive, fading momentum underscores building headwinds.
Patiently awaiting a directional catalyst while honoring stops appears prudent. A break past the $0.021 resistance or slide under the 100-day EMA at $0.020 could set the near-term trend.
Rollbit Coin RLB Price Climbs with Strengthening Bullish Sentiment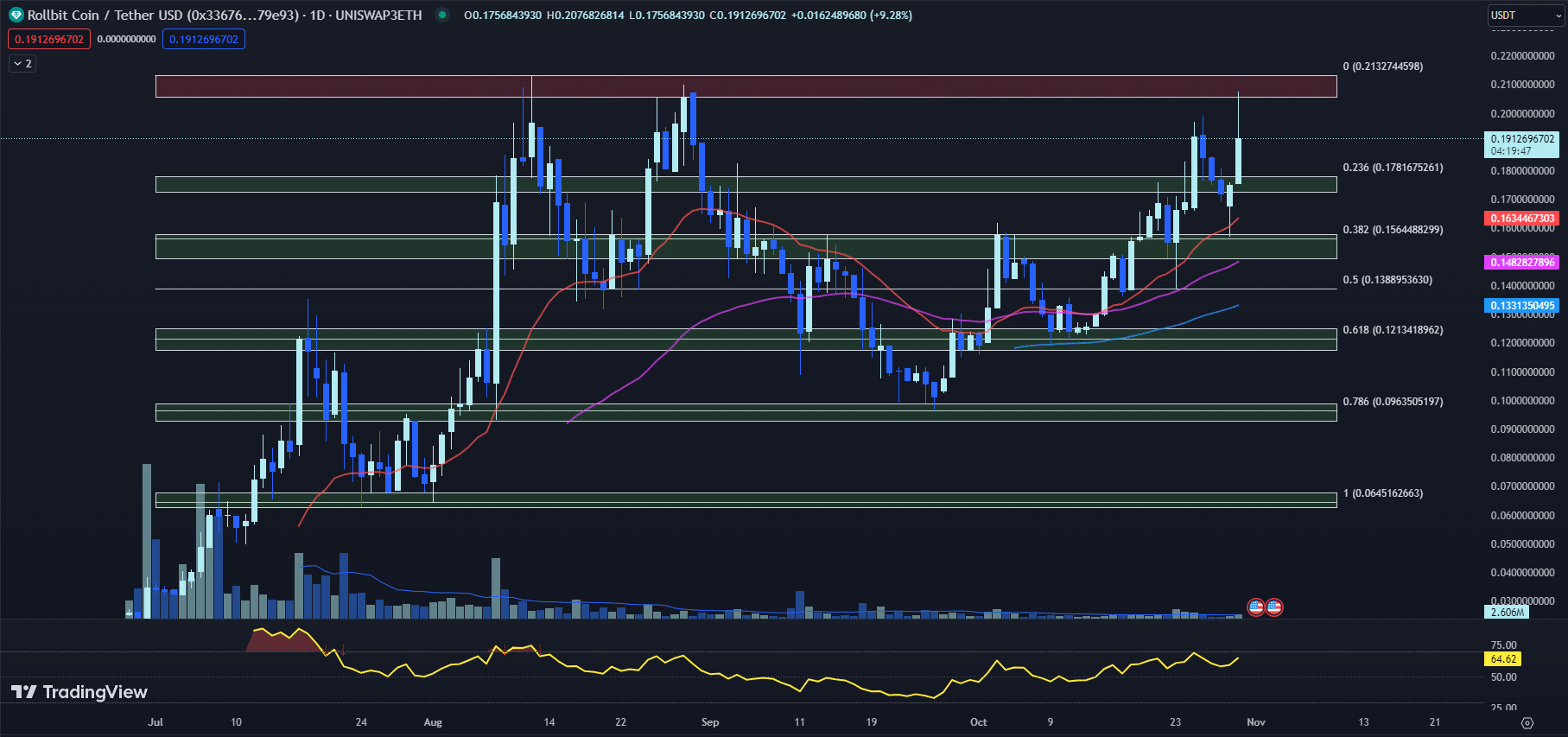 The price of Rollbit Coin (RLB) is currently undergoing a significant turnaround, surging by over 11% in the past two days.
Following a retracement to approximately $0.17 towards the end of last week, RLB has successfully surpassed the short-term resistance levels.
With technical indicators pointing to further upside potential, traders are closely eyeing the RLB price action.
The 20-day exponential moving average (EMA) for the RLB price stands at $0.163447, crossing above the 50-day EMA at $0.148283.
Typically, this golden cross pattern between the short and long-term moving averages signals a bullish shift in momentum. The widening gap between the EMAs shows building positive traction for the RLB price.
At 64.62, the RSI for RLB is climbing steadily from yesterday's 59.14 reading. This uptick moves the RSI out of neutral territory, reflecting a strengthening bullish sentiment.
As long as the RSI can hold above 50, the path of least resistance for the RLB price remains to the upside.
The MACD histogram has trended higher to 0.0022109318, up from 0.0018031788 yesterday.
The positive readings and inclining histogram suggest bullish energy is accelerating and could fuel further upswings for the RLB price.
With the RLB price consolidating around $0.19 currently, it faces immediate resistance between $0.205884 and $0.213274.
Bulls will need to conquer this zone decisively before RLB can embark on a sustained uptrend. The key $0.20 psychological level remains a pivotal point to watch.
On the downside, initial support lies between $0.172735 and $0.178108, aligning with the Fibonacci 0.235 level at $0.178168.
As long as the RLB price holds above this area on pullbacks, the short-term outlook remains constructive.
Looking ahead, the RLB price appears positioned to retest overhead resistance around $0.21. Both momentum oscillators are signaling bullish momentum with room to push higher.
A daily close above $0.21 would likely set the stage for an advance toward $0.24 and beyond.
On the flip side, failure to overcome immediate resistance could lead to a move back toward the 20-day EMA of around $0.16. RLB remains susceptible to selloffs amid broader market volatility.
Traders should watch for a break below the $0.17 support zone to signal growing downside risk.
The recent RLB price action reflects improving technicals and upside potential. Sustained moves above the upper $0.20 area would validate the bullish momentum.
However, prudent risk management remains key with cryptocurrencies. Setting stop-losses on long positions is advised to protect against sudden reversals.
Solana SOL Price Retests Immediate Resistance, Will Bulls Remain in Control?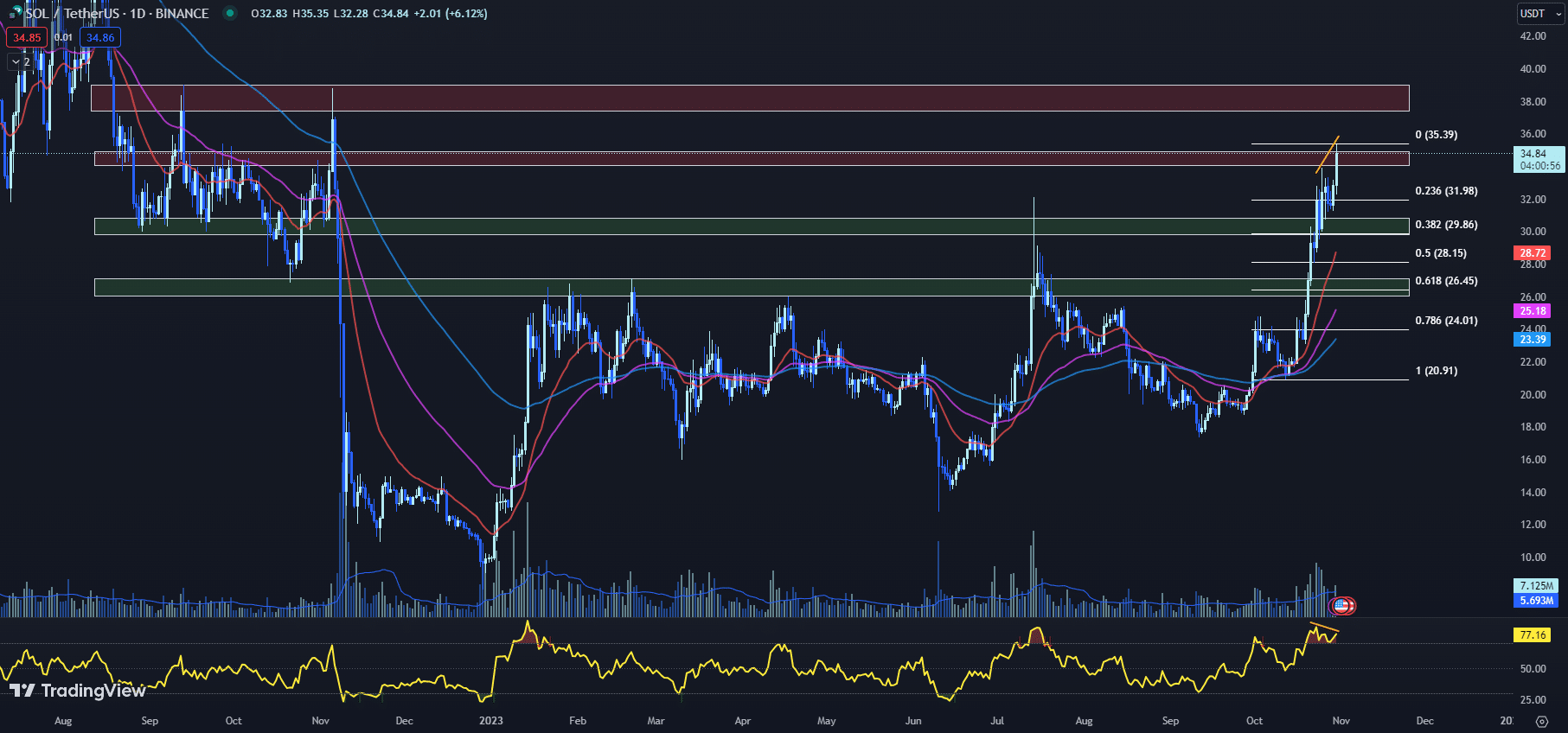 The SOL price has seen a strong uptrend over the past week, with the token gaining nearly 20% and attempting to break out past key resistance levels not seen since September 2022.
However, some caution may be warranted given emerging signs of bearish volume and RSI price divergence.
The 20-day EMA for SOL stands at $28.72, crossing above the 50-day EMA of $25.18. Typically, this golden cross is seen as a bullish indicator, signaling growing momentum.
However, the RSI currently sits at 77.16, down slightly from 73.51 yesterday, approaching overbought territory. This bearish divergence between price and RSI suggests caution may be prudent at current levels.
The MACD histogram sits at 0.57, up from 0.53 yesterday. While still positive, the slowed ascent hints bullish sentiment may be moderating after the recent parabolic surge. As such, traders should be wary of overtly bullish signals.
With SOL up 6.12% so far today to $34.84, it faces immediate resistance at the $34.06 horizontal level, after topping out at $34.90 yesterday.
Near-term support lies at the Fib 0.236 level of $31.98, followed by the more established zone between $29.85 and $30.84, near the Fib 0.382 level of $29.86.
While the SOL price remains in a clear uptrend, signs of bullish exhaustion suggest a pullback could be forthcoming.
As such, traders may look to trade with defined risk limits, while waiting for a decisive breakout past the $34 resistance or breakdown under $30 support to set the next major trend.
While established tokens like GALA, RLB, and SOL present viable options for crypto investors, budding crypto projects launching presales also warrant consideration when evaluating the best crypto to buy now.
Looking Beyond Bitcoin: Investing in Other Cryptocurrencies

Bitcoin has dominated the cryptocurrency market since its inception, but it's not the only option for crypto investors. Considering Bitcoin alternatives can help diversify your portfolio.
One approach is participating in presales for new cryptocurrencies before they launch. Presales provide early entry at discount prices compared to post-launch exchange listings.
This allows speculation on Bitcoin alternative projects with upside potential.
Intriguing presales to watch in 2023 are Bitcoin Minetrix and Meme Kombat.
Bitcoin Minetrix Is Unleashing Bitcoin Mining Profits for All, Best Crypto to Buy Now?
Bitcoin Minetrix is rapidly gaining momentum for the project's initiative to open the doors to Bitcoin mining profits for the masses.
Early excitement is reflected in over $2.75 million generated in the presale so far.
#BitcoinMinetrix envisions a rejuvenated cloud mining environment that aligns stakeholding and cloud mining.

With transparency, autonomy, and security, #BitcoinMinetrix aims to pioneer tokenized cloud mining, offering a dependable $BTC mining avenue for all. 🪙⛏️ pic.twitter.com/4Vh03aonId

— Bitcoinminetrix (@bitcoinminetrix) October 30, 2023
Bitcoin Minetrix seeks to open Bitcoin mining profits to more people through its stake-to-mine model.
Users will stake the native $BTCMTX token to earn non-transferable mining credits. These credits provide access to cloud mining hash rate based on the amount staked.
This combines aspects of Proof-of-Work and Proof-of-Stake. Bitcoin mining usually requires expensive specialized equipment and high electricity costs. B
itcoin Minetrix removes these obstacles through tokenization, allowing more participation.
Stakers currently receive 213% APY on their $BTCMTX holdings, with all mining payouts managed transparently through smart contracts. This return surpasses typical staking rewards.
With 70% of the total 4 billion supply available during the presale, Bitcoin Minetrix gives early adopters considerable influence. The project seeks to capture a share of the Bitcoin mining market, forecast to reach $7 billion by 2032.
Presale prices are currently discounted, enabling investors to gain exposure to Bitcoin mining profits for less than $1 per token. The minimum buy-in is $10.
YouTuber Jacob Crypto Bury recently covered Bitcoin Minetrix, driving more interest in the accessible mining solution.
By pioneering its stake-to-mine solution, Bitcoin Minetrix intends to reshape and democratize participation in the multi-billion dollar crypto mining sector.
For investors enticed by crypto mining rewards but deterred by complexity, Bitcoin Minetrix provides a welcomed turnkey option to capitalize on Bitcoin's next bull cycle.
Meme Kombat is the Best Crypto to Buy Now for Crypto Gaming Enthusiasts
With less than 3 days remaining before the price of Meme Kombat tokens increases, the presale event is attracting significant interest from cryptocurrency investors.
Meme Kombat seeks to reimagine the meme coin concept by incorporating gaming elements and tournaments.
The project is set to allow users to bet on gladiator-style meme battles and earn rewards through both active betting and passive staking.
Meme Kombat tokens can currently be purchased for $1.667, but the price will soon increase as the presale progresses through stages. Over $890,000 has already been raised in ETH and USDT contributions.
It's never too late frens.

Reply with an emoji that perfectly describes your feeling about crypto right now👇 pic.twitter.com/X4RyMWgDx8

— Meme Kombat (@Meme_Kombat) October 29, 2023
Meme Kombat appeals to a wide audience beyond just crypto and meme enthusiasts. The platform combines the excitement of esports betting with the familiarity of internet memes.
The first season will feature 11 different memes battling for supremacy. Additional seasons, planned for 2023 and 2024, promise new features and rewards.
Half of the MK token total supply is allocated to presale participants, securing their significant share. Early adopters will also benefit further from generous incentives, as 30% of the token supply is dedicated to staking and battle rewards.
Meme Kombat's staking mechanism also offers an impressive yield of up to 112% APY, allowing token holders to earn passive income even before the launch of the platform's battle feature.
With major investor interest driving purchases, access to the discounted presale price is quickly vanishing.  Those seeking the best crypto to buy now would be wise to delve into thorough research on Meme Kombat.
By participating in the presale at an early stage, one can maximize their potential returns in this one-of-a-kind crypto-gaming venture.
Disclaimer: Crypto is a high-risk asset class. This article is provided for informational purposes and does not constitute investment advice. You could lose all of your capital.
---