Best Crypto to Buy Now September 27 – Maker, Curve DAO, Injective
Disclosure: Crypto is a high-risk asset class. This article is provided for informational purposes and does not constitute investment advice. By using this website, you agree to our terms and conditions. We may utilise affiliate links within our content, and receive commission.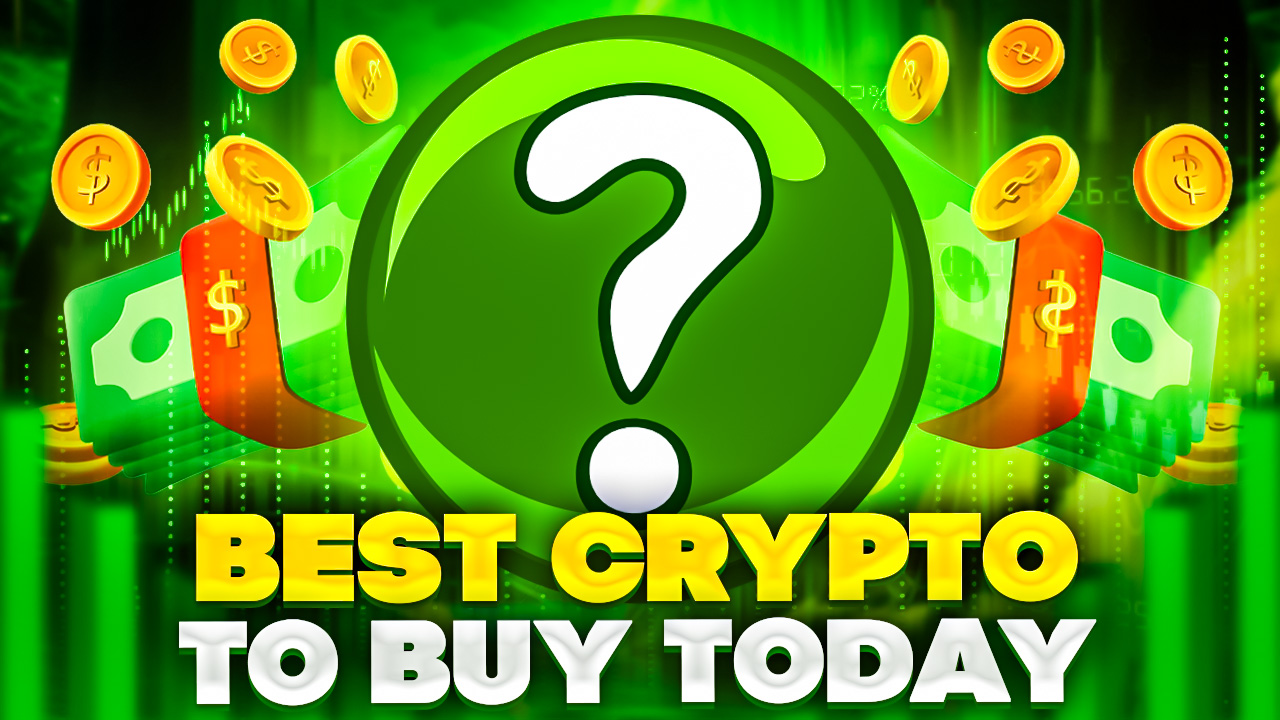 In the world of cryptocurrencies, some altcoins are showing significant price movements. As of September 27, Maker has ascended by over 10%, Curve DAO surged by 18%, and Injective declined by nearly 4% in the past week.
Crypto enthusiasts and analysts are interested in the varied trajectories of Maker, Curve DAO, and Injective. We'll explore what's driving these price actions and highlight why they're worth considering as investments.
Maker (MKR) Price – Symmetrical Triangle Breakout Indicates Potential for a Bullish Move
The MKR/USD pair is currently showcasing a compelling bullish stance, as the Maker price stands robustly at $1,474, complemented by an impressive 24-hour trading volume of $120 million.
This surge, which translates to a 4% increase within the last 24 hours, has bolstered Maker's position, now ranking 31st on CoinMarketCap with a commendable live market cap of $1.4 billion.
The circulating supply stands at 977,631 MKR coins out of its maximum supply of 1,005,577 MKR coins. Notably, MKR has breached the symmetrical triangle on the upside, indicating a surge in buying interest.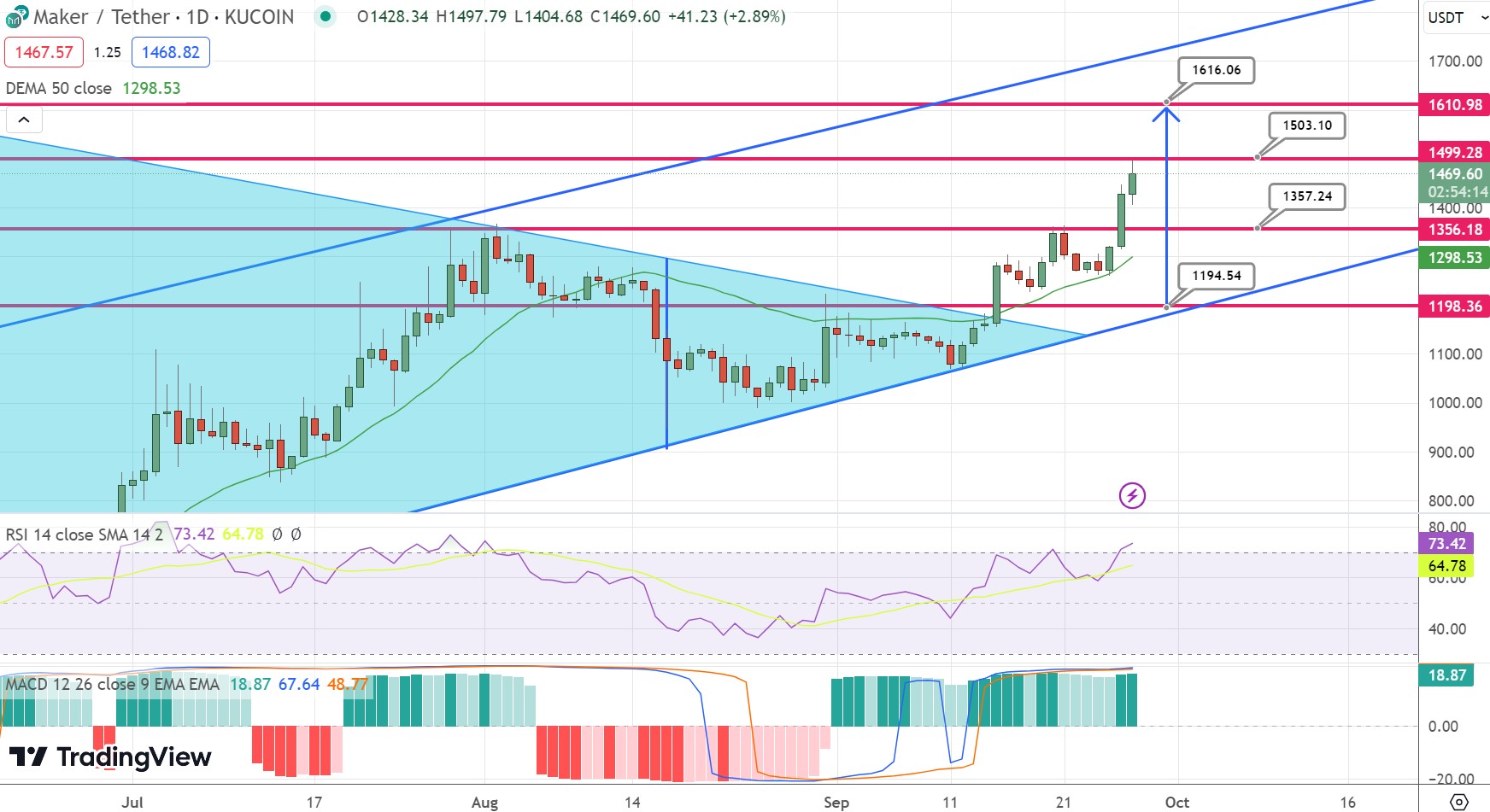 Further cementing this sentiment is forming the "three white soldiers" pattern above the $1,300 benchmark. The RSI and MACD technical indicators echo this bullish sentiment, firmly planted in the buying zone.
The 50 EMA, steadfast around the $1,298 level, further suggests a strong buying momentum. Going forward, investors should keenly watch the resistance levels at $1,500 and $1,616, while also being wary of potential support at $1,350 and $1,200.
Bitcoin Minetrix (BTCMTX) – Best Crypto to Buy Now
A new cryptocurrency presale contender, Bitcoin Minetrix ($BTCMTX), has emerged as a unique stake-to-mine offering. Despite being in its early stages, the presale has already raised over $100,000.
Investors can stake tokens for significant annual percentage yields (APY) and participate in cloud mining to earn BTC rewards. Bitcoin Minetrix stands out from other cloud mining initiatives with its low entry point of just $10 and advanced security features.
Bitcoin Minetrix offers a stake-to-mine program where BTCMTX token holders can earn mining credits. This democratizes the mining process and allows individuals to earn Bitcoin rewards without traditional mining operations' high costs and energy requirements.
The presale of Bitcoin Minetrix is currently underway and the token is being sold at $0.011 in its initial phase. The price of the token is expected to increase by 8% to $0.0119 by the end of the presale.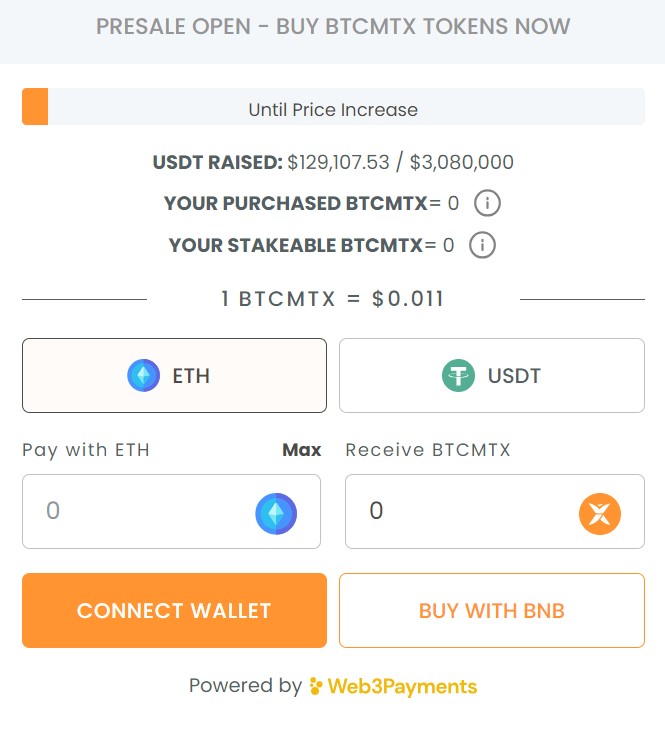 The presale will account for a whopping 70% (2.8 billion) of the total token supply, which is capped at 4 billion. The amount of tokens available during the presale is dependent on its performance.
To reach certain investment milestones, there is a soft cap of $15.6 million for 1.4 billion tokens, and an ambitious hard cap of $32 million if the presale sells out completely.
For a detailed guide on buying Bitcoin Minetrix and securing your stake in this revolutionary project, refer to our comprehensive guide.
Curve DAO Price Up Nearly 20%
Over the recent trading days, Curve DAO (CRV) has displayed a noteworthy bullish momentum, soaring close to 20%. On September 27, the crypto asset registered a price of $0.51, a 0.50% increment in the last 24 hours, with a trading volume reaching approximately $33.6 million.
This surge positions CRV at the 71st spot on the CoinMarketCap rankings, boasting a live market cap of $453,062,353. This upsurge can be attributed to a combination of technical and potential fundamental catalysts.
When diving deeper into the technical analysis, it's evident that Curve DAO has been tracing an upward channel pattern, a generally bullish indication.
The current price is operating just below the 50 EMA value of $0.52. If it surpasses this level, it will be a further bullish sign. The RSI, at 54, suggests a neutral-to-bullish sentiment in the market. Meanwhile, the MACD value of -0.002 is negative and indicates caution.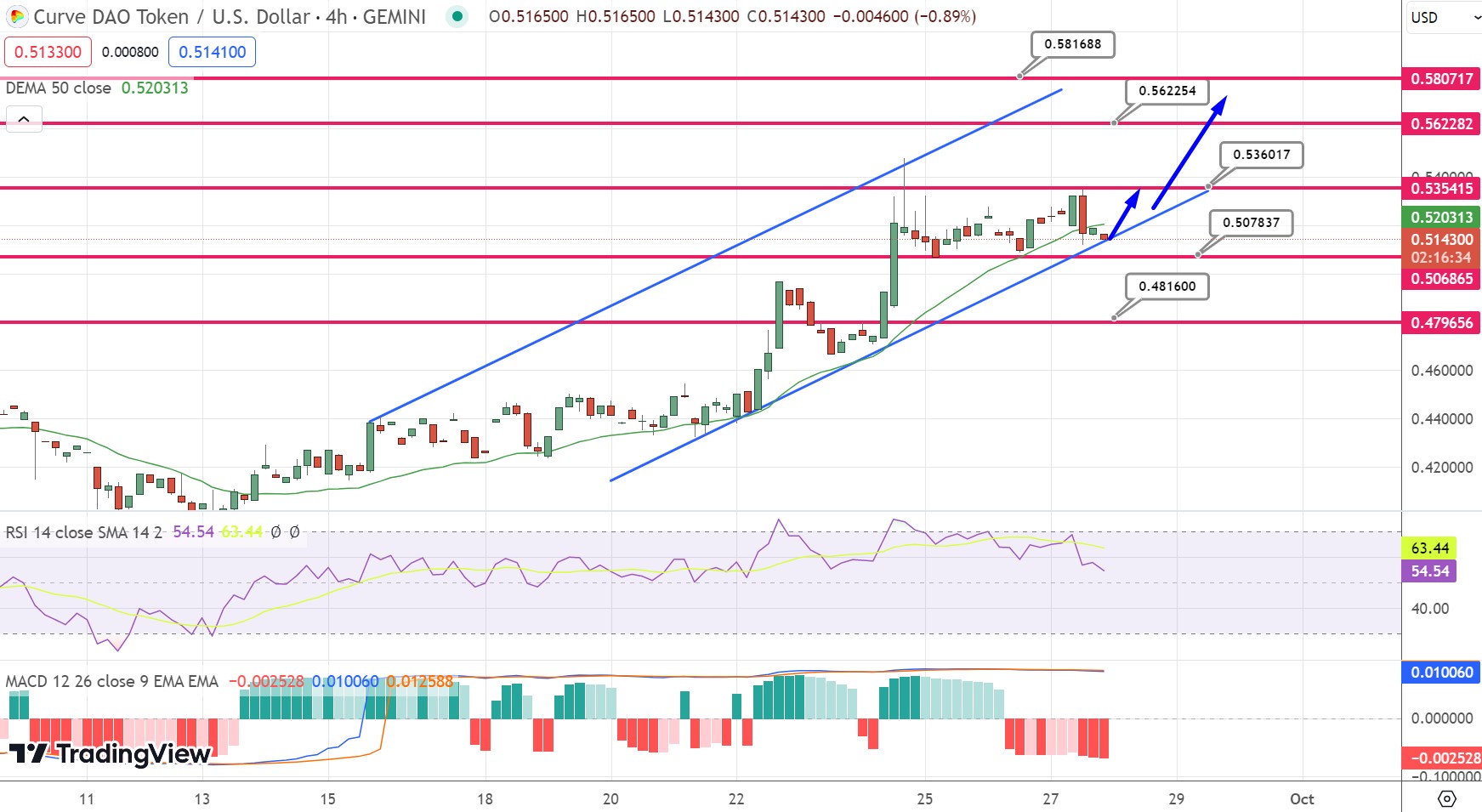 CRV supply data reveals a circulating supply of approximately 878.8 million tokens out of a maximum of roughly 3.3 billion.
Regarding price levels to watch, the immediate resistance lies at $0.536017, with the subsequent one at $0.562254. Conversely, supports are found at $0.507837 and $0.4816.
In conclusion, the overall trend for Curve DAO appears to be bullish as long as it remains above the $0.5075 mark.
Given the prevailing momentum and technical indicators, it wouldn't be surprising to see CRV testing the resistance levels in the coming days. As always, traders should watch for fundamental news that might influence the market.
Meme Kombat: Bridging Memes and Combat Gaming
Recently launched, Meme Kombat combines meme themes with combat gaming and promises its participants dual income avenues—active and passive. The token currently offers a staking APY of 112%.
The Meme Kombat Token ($MK) is highlighted in the project's whitepaper as the primary asset of its financial structure.
Staking in Meme Kombat Explained
A primary aspect of the Meme Kombat system is staking, which offers crypto enthusiasts a passive income stream via APY. Users can safely connect their cryptocurrency wallets to the platform to stake their $MK tokens.
For staking and in-game incentives, 30% of the entire token supply is reserved. This distribution strategy aims to motivate users to retain their tokens, ensuring some level of consistency.
After an initial 14-day staking commitment, participants can choose to either unstake their tokens or keep them in to persistently benefit from the given APY.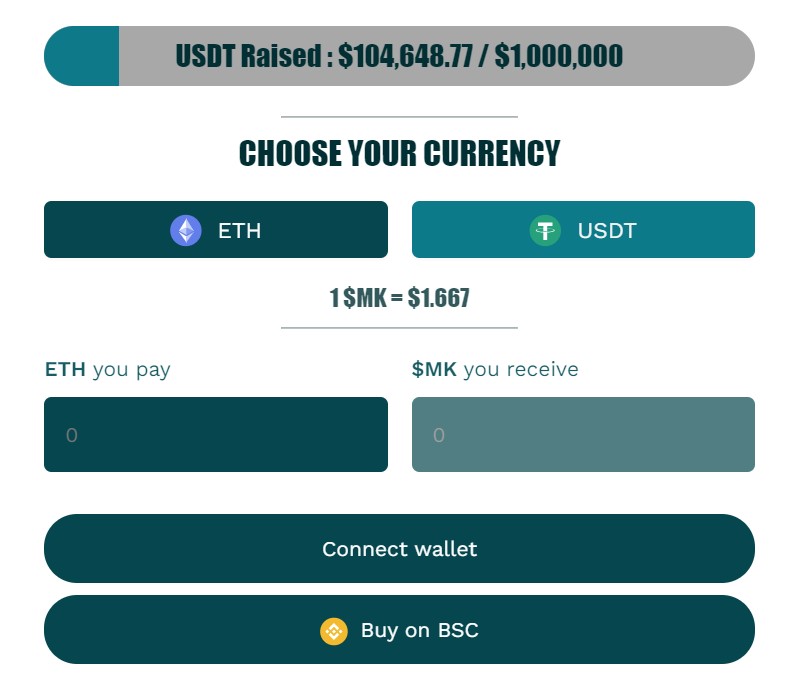 ---