Best Crypto to Buy Now 8 May – Render, Stacks, Solana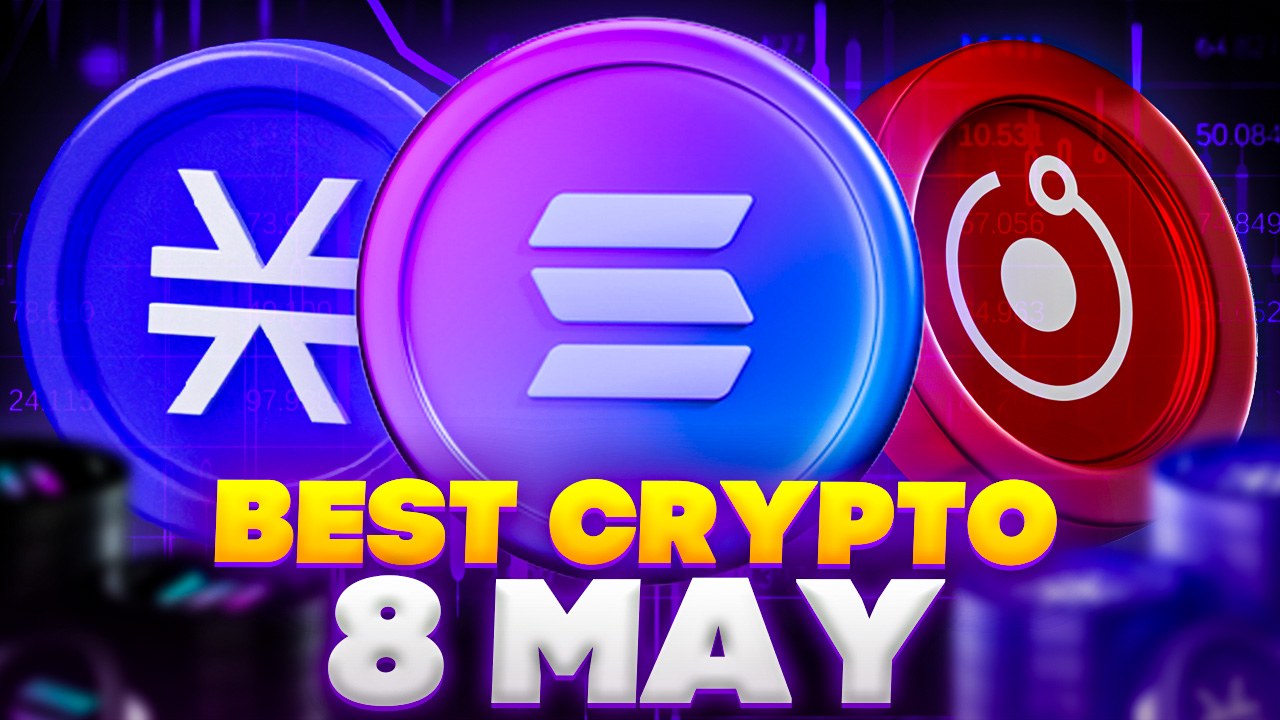 Bitcoin's value has once again dipped under $28,000, influenced by various factors such as the dwindling interest in the PEPE meme cryptocurrency, Binance issues, and Bitcoin congestion problems.
The well-known exchange temporarily halted Bitcoin withdrawals over the weekend due to what they claimed was Bitcoin congestion problems, and despite resuming service on Sunday evening, concerns about the impact of high withdrawal volumes continue.
In light of the ongoing market correction, what are the best cryptos to buy now?
Following a similar trajectory, Ether (ETH) slipped below the $1,900 threshold it had maintained for the better part of the past week.
With a current value of roughly $1,854, ETH is experiencing a drop of 1.477% so far today.
Despite this decline, Ether's deflationary story has been reinforced following the Ethereum Shapella upgrade.
Joe DiPasquale, CEO of BitBull Capital, a cryptocurrency fund manager, highlighted that neither BTC nor ETH has tested near-term support levels since the mid-March rally.
DiPasquale suggested that BTC may test support between $25,000 and $27,000 before bouncing back.
He believes that current economic conditions bode well for the broader cryptocurrency market and recommends accumulating BTC and ETH during dips as a sensible approach.
In other news, enthusiasm for PEPE has seemingly subsided, with its market cap dropping to around $800 million after surpassing $1 billion earlier.
The meme coin has dropped by 33.65% so far today, according to CoinMarketCap.
Meanwhile, with the April CPI numbers scheduled for release on Wednesday, market observers are anticipating the next potential move in the cryptocurrency market.
Despite today's ongoing market retracement, certain cryptocurrencies are still worth considering based on fundamentals and/or technical analysis.
AI, RNDR, SPONGE, STX, ECOTERRA, SOL, and YPRED are some of the best cryptos to buy now.
AiDoge: A New Era of Meme Coins and AI Integration
Meme coin AiDoge has recently amassed a whopping $1 million in a single day during its presale.
This brings the total raised by the project, which merges generative AI technology with a meme-centric social media platform, to an impressive $3.98 million.
This rapid accumulation of funds has propelled the presale from its fourth to the sixth stage in a day, a process that typically spans a week.
As meme coins such as SPONGE, PEPE, and FLOKI gain traction, investors are on the lookout for the next breakout meme coin.
The escalating sales of $AI tokens suggest that AiDoge might be the next meme coin to watch.
Investors still have an opportunity to acquire $AI at a significantly reduced price of $0.000028 per token.
AiDoge, which has a total token supply of 1 trillion and a fully diluted market capitalization of $33.6 million, is slated for release on leading cryptocurrency exchanges next quarter with a listing price of $0.0000336.
However, some analysts predict that this figure could rise significantly as AiDoge capitalizes on the growing interest in AI technology and meme coins.
AiDoge is pioneering a unique concept known as "meme-to-earn" (M2E), where users can monetize their meme-creation skills.
The platform's advanced AI technology will enable users to generate memes based on text prompts, which can then be shared and voted on by the community. The most popular memes earn their creators $AI tokens.
Unlike many of its meme coin counterparts, AiDoge's $AI token has a practical use within its ecosystem.
It can be used to purchase credits for meme generation, stake for daily rewards and other benefits, and compensate community members who cast votes on memes and produce widely-liked content.
As the presale continues, investors are encouraged to secure their $AI tokens promptly.
The price is set to rise to $0.0000284 either in just over four days or when the presale total reaches $4.05 million. Given the current pace of $AI token sales, the next price increase is imminent.
Render Token (RNDR)
Render Token (RNDR) has experienced a sharp decline in the past 24 hours, dropping 13.59% so far today at its current price of $1.838.
This downturn comes after a period of upward momentum that has recently lost steam.
The 20-day EMA sits at $2.039, the 50-day EMA at $1.76, and the 100-day EMA at $1.54.
RNDR has recently slipped below the key Fib 0.5 support level at $1.927, and is now resting near the 20-day EMA in confluence with the Fib 0.382 level at $1.767.
This level may serve as immediate support for the cryptocurrency.
Meanwhile, the RSI has decreased from 55.63 to 45.19, indicating a shift in momentum from bullish to bearish.
The MACD histogram also reveals a negative trend, moving from -0.030 to -0.053.
RNDR has faced a setback after a rejection from the Fib 0.786 level on May 4th, which has led to the current downtrend.
The coin is now approximately 30% down from its year-to-date high, reached on April 28th.
Considering these technical indicators, it appears that Render Token is facing short-term bearish pressure.
The immediate support at the Fib 0.382 level at $1.767 could be tested if the selling pressure continues.
Conversely, if the digital asset manages to regain strength, it may encounter resistance at the Fib 0.5 level, currently at $1.927.
The Rapid Rise of SPONGE Against Other Meme Coins Positions It as One of the Best Cryptos to Buy Now
$SPONGE has recently been listed on four centralized exchanges (CEXs), including Poloniex and LBank, with more listings anticipated in the near future.
$SPONGE's market capitalization currently stands at $31 million with a trading volume of over $100 million over the past 24 hours.
The token's success is further highlighted by its trading volume on Uniswap V3, the largest decentralized exchange, where it has become the most traded coin.
In fact, $SPONGE's locked liquidity on Uniswap is twice as high as that of Pepe, despite Pepe's significantly larger market cap.
The $SPONGE community is also growing rapidly, with over 8,500 holders and a highly active Telegram group of 17,000 members.
Its Twitter following has exceeded 32,000, including influential figures like Matt Wallace, a close associate of Elon Musk.
Rumors of a connection between the $SPONGE team and the Shiba Inu team have further fueled interest in the token.
$SPONGE is showing significant potential in the crypto space, with its strong performance, growing community, and increasing presence on major exchanges.
As it continues to gain traction, $SPONGE is one of the best cryptos to buy now.
Stacks (STX)
Stacks (STX) has been moving sideways in recent trading sessions, with the cryptocurrency attempting to approach the Fib 0.382 level at $0.8251 after reaching an intraday high of $0.8205.
However, amidst a broader downtrend in the crypto market, STX has dipped to its current level of $0.7399, recording a modest gain of 1.19% so far today.
Technical indicators reveal mixed signals, suggesting that investors should proceed with caution in the immediate future.
The 20-day EMA for STX stands at $0.7526, below the 50-day EMA of $0.7772, indicating that the cryptocurrency has been experiencing short-term bearish momentum.
Nonetheless, the 100-day EMA at $0.7099 suggests that the longer-term trend may still be in the bullish territory.
The RSI has increased slightly to 46.79 from yesterday's 45.75, signaling a minor increase in buying pressure.
However, the RSI remains below the key 50 level, reflecting the ongoing indecision in the market.
The MACD histogram has also increased marginally to 0.0054 from yesterday's 0.0044, providing a weak bullish signal.
Furthermore, the trading volume has spiked to 96.592 million from yesterday's 30.028 million, significantly above the average volume of 19.225 million.
This increase in volume, coupled with the Fib 0.382 rejection, suggests a potential strong rejection at the resistance level, which could lead to a price breakdown.
STX is currently trading at $0.7399 with a slight gain of 1.19% on the day.
The immediate resistance is the Fib 0.382 level at $0.8251, while the immediate support can be found at the Fib 0.236 level at $0.7097.
Traders are advised to wait for a more definitive signal before taking any positions in STX.
ecoterra's Drive to Address Climate Change Makes It One of the Best Cryptos to Buy Now
ecoterra is a blockchain-based green crypto that is looking to encourage both individuals and corporations to take action against climate change.
The platform will reward participants with its native token, $ECOTERRA, for their environmental efforts.
As the world continues to wrestle with the impacts of global warming, solutions like ecoterra are becoming increasingly important.
ecoterra's ecosystem will include an industrial marketplace and a supportive hub designed to aid people in their fight against climate change.
The platform's potential to address environmental concerns while simultaneously driving demand for its token is attracting attention.
At the heart of ecoterra's mission is the promotion of recycling through educational initiatives.
ecoterra's app, powered by the R2E model, aims to provide a transparent record of each user's recycling activities.
Companies will have the opportunity to purchase packages of various material types from members to offset the environmental impact of their production activities, demonstrating their commitment to sustainability.
ecoterra will also offer a carbon offset hub, allowing users and production companies to offset their carbon emissions with $ECOTERRA.
This feature aims to enable stakeholders to support eco-friendly projects worldwide, furthering their commitment to a sustainable environment.
ecoterra is pioneering a new approach in the crypto industry, demonstrating how decentralized technology can be used to incentivize environmental stewardship.
With its focus on sustainability, the project is likely to inspire others to follow suit, potentially driving the value of its token, $ECOTERRA, upwards.
As the cryptocurrency community progresses into the second quarter of 2023, there is a heightened interest on $ECOTERRA.
Market watchers and crypto enthusiasts are speculating that it may rise to prominence and establish itself as one of the standout tokens of the year.
Solana (SOL)
After trading sideways for the past week, SOL has broken down from the Fib 0.5 support level of $21.56, marking a 4.66% decline so far today.
The cryptocurrency has retested the Fib 0.382 level at $20.25, registering an intra-day low of $20.
However, buyers have stepped in, and SOL is currently holding just above this level. Will this level hold, or is SOL heading lower?
The 20-day EMA for SOL stands at $22.08, above the current price of $20.69. This suggests a bearish sentiment in the short term.
Similarly, the 50-day EMA at $21.95 and the 100-day EMA at $21.72 are both above the current price, indicating that the medium to long-term trend is also bearish.
The RSI is at 41.15, down from yesterday's 46.55. This downward movement in RSI indicates increasing selling pressure.
The MACD histogram stands at -0.18, down from yesterday's -0.10. This negative divergence in the MACD histogram suggests that the bearish momentum is increasing.
Looking at the immediate support and resistance levels, SOL has an immediate resistance at the Fib 0.5 level at $21.56, which is in confluence with the 100-day EMA. This could be a challenging level for SOL to overcome in the short term.
On the downside, the immediate support is at the Fib 0.382 level at $20.25. If SOL breaks this level, it may head lower to the Fib0.236 level at $18.63, which would represent a 9% drop from the current levels.
yPredict and ShubPy: A Strategic Partnership in AI Trading Analytics
yPredict, an innovative trading analytics platform powered by artificial intelligence, is gaining traction as its ongoing cryptocurrency presale has successfully raised $738,000 so far.
The platform has recently unveiled an AI Ambassador Program and a strategic partnership, both aimed at enhancing its market presence and user engagement.
The AI Ambassador Program is designed to acknowledge and reward early investors who actively promote yPredict across various social media platforms.
This initiative is expected to foster a strong community of supporters and investors, further propelling yPredict's growth.
In addition to the ambassador program, yPredict has also entered into a partnership with ShubPy, a reputable development partner known for its expertise in scalable solutions.
This collaboration is set to bolster yPredict's technological prowess and facilitate the delivery of innovative AI solutions to its clientele.
The presale of yPredict's $YPRED crypto token has been met with considerable enthusiasm.
The token is currently priced at a discounted rate of $0.05 and will rise to $0.07 in the next presale stage.
The AI Ambassador Program offers numerous benefits to ambassadors, including admin privileges in the project's telegram group, surprise token bonuses, and early access to products and insights.
yPredict's partnership with ShubPy is set to enhance its AI capabilities, with the full version of its Analytics, Repository, and Marketplace platform scheduled for launch by the end of 2023.
With its innovative AI tools and 'free-forever' freemium pricing model, yPredict is one of the best cryptos to buy now.
---