Best Crypto to Buy Now 27 March – LTC, CFX, MASK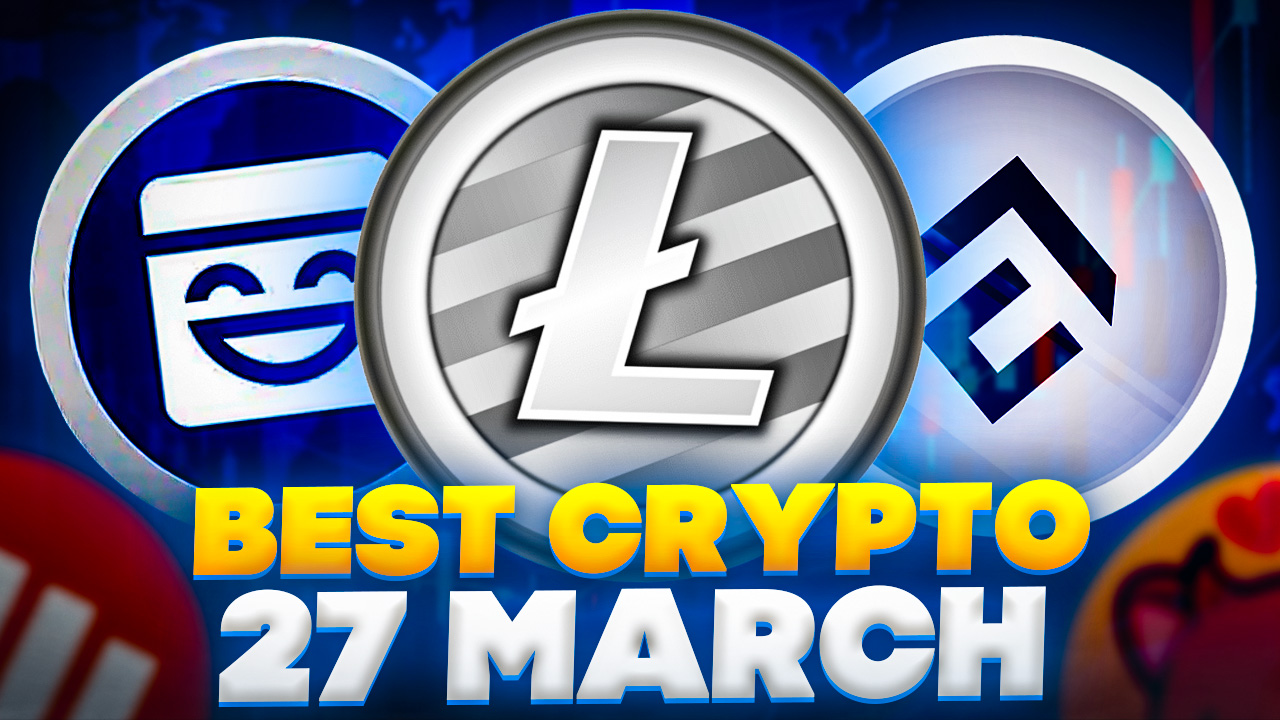 The cryptocurrency market was caught off guard today as news broke of a CFTC lawsuit targeting leading crypto exchange Binance and its CEO, Changpeng Zhao.
How might the recent developments in the ongoing conflict between regulatory authorities and the cryptocurrency industry affect the best cryptos to buy now?
The Commodity Futures Trading Commission (CFTC) initiated the legal proceedings, alleging that both Binance and Zhao have breached regulatory norms.
The lawsuit, filed in a federal court in Chicago on Monday, focuses on alleged transgressions related to trading and derivatives regulations.
The CFTC's legal filing states that Binance has, from July 2019 onward, actively sought and processed orders involving spot and derivative transactions from U.S. clients without the requisite registration with the regulatory authority.
Additionally, the CFTC argues that Binance has deliberately hidden the locations of its central offices.
Zhao has been quoted as saying that the primary location of Binance is wherever he happens to be at in any given moment.
The legal action further claims that Binance and its leadership have intentionally facilitated breaches of U.S. legislation.
Among other accusations, the exchange is said to have advised U.S. clients to utilize virtual private networks (VPNs) to circumvent compliance measures and to have permitted clients to trade on the platform without providing verification of identity or residence.
The lawsuit also alleges that Binance encouraged VIP clients with assets based in the U.S. to set up accounts using fictitious business entities to avoid compliance protocols.
The objectives of the CFTC in filing the lawsuit include terminating Binance's allegedly illicit activities and compelling the exchange to comply with legal requirements.
In addition to financial penalties, the regulatory authority is pursuing various legal measures, such as prohibitions on trading activities and registration, recovery of unlawfully obtained gains, and the accumulation of interest both prior to and subsequent to the court's ruling.
The announcement of the legal action has had a discernible effect on the cryptocurrency market, with Bitcoin's price falling to an intraday low of $26,527—the lowest level in 10 days.
Bitcoin has made a slight recovery and is currently trading at $27,070 with a loss of 3.32% so far today.
Binance Coin (BNB), the native cryptocurrency of the exchange, has also seen a decline, with its value dropping by 6.12% today as of writing.
This development is only one among a series of regulatory challenges that Binance has faced recently.
The exchange has previously been under the scrutiny of other regulatory agencies, including in the U.S. and the U.K.
The legal dispute underscores the growing emphasis on regulatory compliance for cryptocurrency exchanges and highlights the need for more comprehensive regulatory guidelines in the dynamic and ever-changing domain of cryptocurrencies.
Amid the evolving regulatory environment and the potential impact of legal proceedings on the cryptocurrency industry, investors are urged to exercise due diligence when selecting digital assets for their portfolios.
Upon careful examination of both fundamental and technical indicators, several cryptocurrencies have emerged as the best cryptos to buy now in the current context.
Among these, LTC, LHINU, CFX, FGHT, MASK, CCHG, and TARO stand out.
Litecoin (LTC)
In the past few days, LTC has made a remarkable recovery as investors reposition themselves ahead of the upcoming halving event.
Since June of the prior year, Litecoin has stood out as one of the top-performing cryptocurrencies, achieving a growth of over 115%.
However, Litecoin (LTC) is showing some weakness in its short-term trend based on technical indicators.
The pullback from $93 to under $89 in the past 24 hours has taken LTC close to its 20-day and 50-day EMAs. A break from these levels would indicate a bearish short to medium-term bias for LTC.
After failing to break RSI 60 for the past week, the RSI has retreated to around 51.55, suggesting the pullback may continue.
The MACD histogram is also decreasing and below both the signal line and zero line, which are bearish signals.
However, the declining volume on the pullback is a slight positive.
Volume rose to 662,132 from 588,285 the previous day but is still below the 1.179 million volume moving average.
This suggests the pullback may be a short-term blip rather than the start of a sustained downtrend and could set the crypto up for a good entry.
Support may potentially be found at the $85 level. A break below $85 could open the door to further losses toward $82 or lower.
Immediate resistance is at $90 in confluence with the resistance range of $90.18 to $91.57.
Love Hate Inu Gains Momentum: Raises $1.63 Million in Token Presale
The internet is abuzz with excitement over Love Hate Inu, a web3 social media startup that is gaining traction for its innovative approach to online polling.
Inspired by memes and powered by cryptocurrency, Love Hate Inu aims to provide a platform where users can engage in discussions and cast votes on some of the most hotly debated topics around the globe.
Love Hate Inu is currently developing the first-of-its-kind "vote-to-earn" (V2E) social media hub, which is expected to further boost interest in the platform and its token.
Utilizing blockchain technology as its foundation, the platform's voting mechanism upholds principles of equity, openness, and protection.
Participants who actively engage in the voting process will be granted token-based incentives, which will be provided by the creators of each survey.
To finance the development of its platform, Love Hate Inu has initiated a presale of LHINU tokens. The presale has been a resounding success, raising over $2 million in just over a few weeks.
As the second stage of the presale nears its conclusion, investors have the opportunity to acquire LHINU tokens at a discounted rate of $0.000095. However, this price is set to increase to $0.000105 in less than 6 days.
The presale is scheduled to conclude in a few weeks at a price of $0.000145 per token.
LHINU tokens can be purchased using cryptocurrency or credit cards.
As Love Hate Inu continues to make headlines and attract attention from the crypto community, all eyes are on this innovative startup as it seeks to redefine the online survey market and provide a platform for meaningful engagement on pressing issues.
With its unique value proposition and strong community support, Love Hate Inu is emerging as one of the best cryptos to buy now.
Conflux (CFX)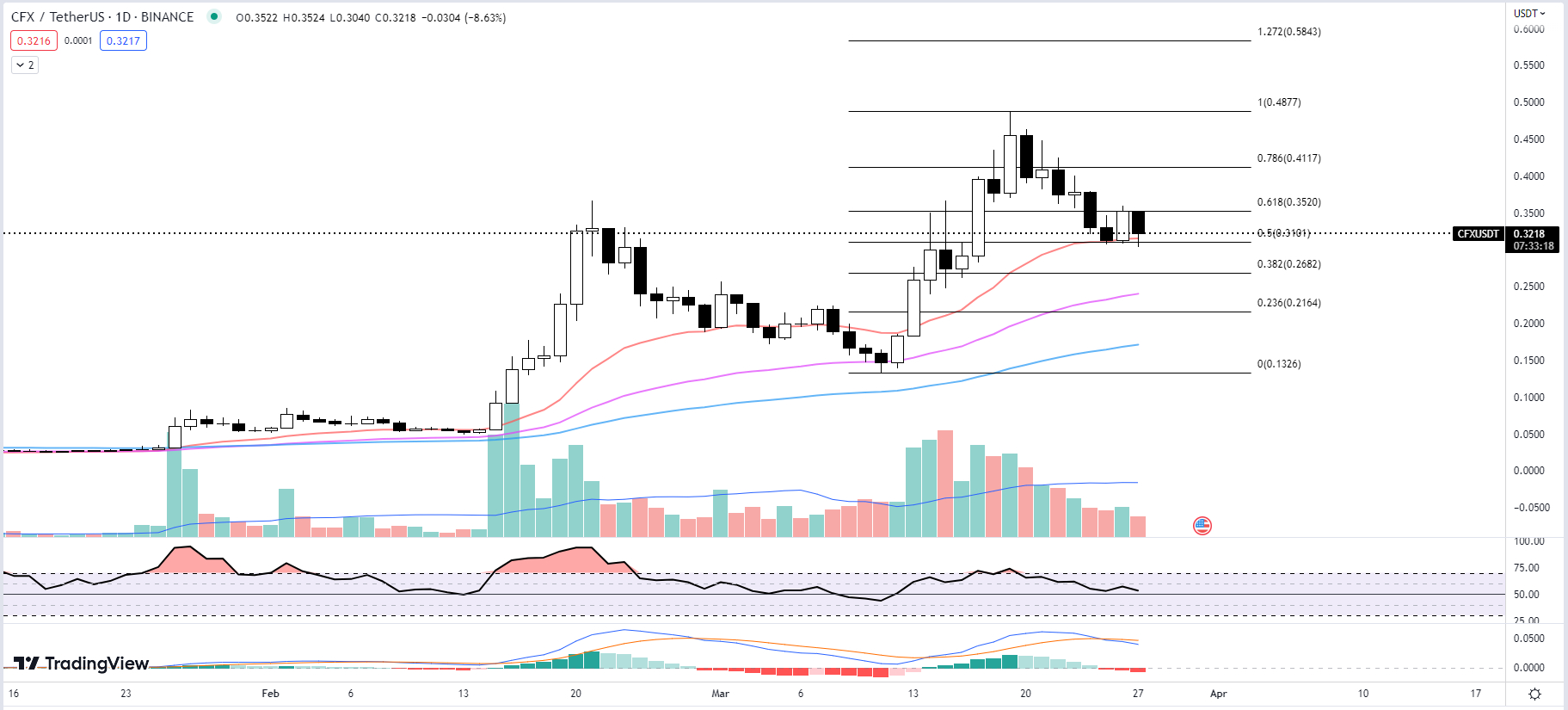 Conflux (CFX) is demonstrating a promising price trajectory as it remains above key exponential moving averages (EMA), despite facing headwinds from a broader market downturn.
At present, CFX is trading at $0.3217, registering a decline of 8.66% so far today.
Nevertheless, the cryptocurrency is maintaining its position above the 20-day EMA, signaling a bullish short-term outlook.
Over the past three days, CFX has been navigating a specific trading range, bounded by the Fibonacci retracement levels of 50% (Fib 0.5) and 61.8% (Fib 0.618).
The sustainability of this positive trend hinges on the asset's ability to uphold its standing above both the Fib 0.5 level and the 20-day EMA.
Examining the MACD indicator, CFX is displaying bearish inclinations, as evidenced by a recently formed bearish crossover and a growing negative histogram.
This suggests that traders and investors should exercise caution and closely monitor the asset's performance, and wait for a confirmed breakout (or breakdown) before entering any positions.
As CFX continues to oscillate within this range, the immediate resistance is situated at the range's upper limit of Fib 0.618, corresponding to $0.3520.
Conversely, potential support may be encountered at the range's lower boundary of Fib 0.5, which aligns with $0.3101 and coincides with the 20-day EMA.
Transforming Workouts with Fight Out's Gamified Fitness Ecosystem
Fight Out has successfully amassed more than $5.87 million in funding from backers as it nears the concluding phase of its presale, with less than four days left for interested parties to participate.
The platform has garnered significant attention from both the cryptocurrency and fitness communities, thanks to its distinctive combination of fitness gamification and metaverse features.
This has led to a rapid uptake of the platform's native token, $FGHT, which is currently available at a discounted rate during the presale.
In recent years, the digital landscape has seen a shift as various real-world activities have migrated online, leading to increased efficiency and cost savings.
This trend has been observed in areas such as education, media, entertainment, retail, and healthcare.
The fitness industry has also embraced digitalization, with online fitness applications offering personalized workout routines and diet tracking.
However, both traditional gyms and fitness apps often struggle with low retention rates due to a lack of motivation and engagement.
Fight Out aims to address these challenges by integrating play-to-earn and train-to-earn models into its platform.
Utilizing non-fungible token (NFT) avatars, a virtual metaverse, and cryptocurrency rewards, Fight Out offers a unique approach to fitness in the Web3 era.
The platform leverages blockchain technology to reward a wide array of workout routines and strength training exercises within its virtual world.
It features an in-app currency called $REPS, which is used to reward users for completing workouts, participating in competitions, and making successful wagers on match outcomes.
As the presale draws to a close, Fight Out has generated an impressive $5.9 million in investments.
The current presale price for 1 $FGHT is $0.03330 USDT, but investors have less than 4 days to take advantage of this discounted rate before it rises to $0.333 USDT on March 31.
The token will be listed on various centralized crypto exchanges, including Uniswap, Lbank, XT.com, BitForex, DigiFinex, Transak, and BKEX, on April 5.
With its innovative approach to fitness and gamification, Fight Out is poised to make a significant impact on both the cryptocurrency and fitness industries, making it one of the best cryptos to buy now.
Mask Network (MASK)
The Mask Network's MASK cryptocurrency has experienced a resurgence in value recently, with its price rising by over 13% on Sunday, making it one of the crypto market's top gainers.
However, the asset is pulling back on the day and is down 6.48% to $5.718 at the time of writing.
Technical analysis of MASK's price shows that the asset may consolidate or see a minor pullback after its recent rally.
According to indicators, MASK remains in a short-term uptrend as the price is trading above the 20-day EMA at $4.97 and the RSI is at 59.32, suggesting the asset is not overbought.
However, the MACD histogram has declined from 0.150 to 0.110, indicating an easing bullish momentum.
Daily volume has also dropped from 11.312 million to 8.888 million, suggesting the rally may be losing steam.
As a result, MASK could consolidate or see a minor retreat before attempting to move higher again.
If MASK declines further, the 20-day EMA at $4.97 and the support range of $4.85 to $5 could act as support.
On the upside, the resistance range of $6.187 to $6.516 could cap gains in the short term.
Overall, technicals show that while MASK is in a short-term uptrend, the asset may consolidate or see a pullback after its recent rally before potentially resuming its upward move.
Traders could consider buying dips towards identified support levels and taking profits near resistance.
Amp up Your Assets: C+Charge Is One of the Best Cryptos to Buy Now
C+Charge (CCHG), an inventive electric vehicle (EV) charging network, has successfully garnered $3.43 million from backers so far, with only a 72-hour window remaining in its presale and $1.27 million in tokens still available.
C+Charge's app and native cryptocurrency, CCHG, will allow EV drivers to conveniently pay for charging. Traders have tipped it to be potentially the best crypto to buy now.
The eco-friendly platform also awards carbon credit rewards for payments made with the C+Charge app or for other purchases using the app.
Through a recently announced collaboration with Pixia technology, C+Charge EV drivers will have the opportunity to generate 3D NFT representations of their vehicles as well.
This strategic alliance paves the way for entry into the metaverse, as well as the introduction of gamified elements to EV charging payments and carbon credit incentives.
The recently forged collaboration provides added perks to individuals holding the C+Charge utility token, CCHG, further solidifying the project's dominant position in the realm of EV-related cryptocurrencies.
As the presale draws to a close, purchasing activity is intensifying, driven by concerns of missing the opportunity to invest at favorable rates in a sustainable, forward-looking initiative.
In the presale's concluding phase, the CCHG token is offered at $0.0235. The token is slated for listing on the BitMart cryptocurrency exchange on Friday, March 31.
Early investors who acquired tokens in the presale at the $0.013 price point will see an 80% premium on their holdings at the presale's conclusion, even before BitMart trading commences.
Investors will also benefit from a burn event scheduled to occur after the presale's conclusion.
Roughly 80 million tokens that remained unpurchased during phases 4 through 7, in addition to any leftover tokens from the concluding phase 8, are slated to be removed from market circulation.
The burn event is anticipated to appreciate the worth of tokens who participated in the presale. CCHG's total supply was 1 billion tokens at the presale's February launch.
Tokens can be purchased with BNB or ETH via a crypto wallet, or with traditional fiat currency using a card.
Metaverse Gem: Robotera's Appeal as One of the Best Cryptos to Buy Now
With its game creation, play-to-earn mechanics, and thoughtfully designed economy, RobotEra is establishing itself as the premier metaverse project.
By introducing inventive approaches to address current issues in the virtual space, it's redefining how people interact and benefit from this emerging digital space.
The RobotEra platform offers more than just gaming; it provides users with an extensive metaverse to traverse, engage with others, and conduct transactions involving assets such as land and real estate.
Setting itself apart from other play-to-earn platforms, RobotEra fosters an environment where gamers and developers can collaborate, leading to unparalleled gaming features and reward opportunities.
Newcomers to RobotEra may find it reminiscent of the Sandbox cryptocurrency project, where they have the option to purchase non-fungible tokens (NFTs) representing virtual land, structures, and an array of virtual assets.
TARO, the token that fuels the RobotEra ecosystem, is presently accessible through a rapidly progressing presale that has garnered $1.04 million so far.
As RobotEra continues to make strides in the metaverse, participants eagerly anticipate the platform's future developments and contributions to the metaverse world-building space.
---