Best Crypto to Buy Now 21 March – LHINU, XRP, FGHT, BNB, CCHG, TARO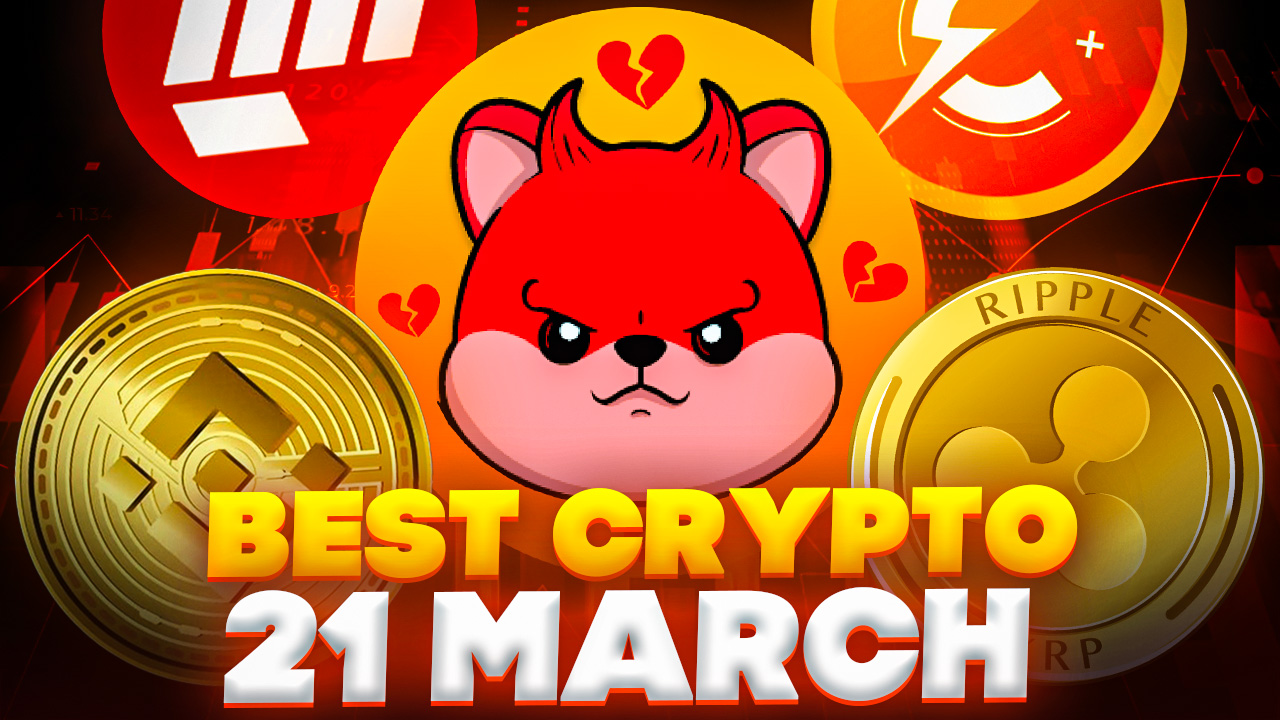 Yesterday, the cryptocurrency market saw a decline as the price of Bitcoin dropped 0.87% to $27,806. This came after the leading digital asset reached its highest point since June of the previous year.
The Federal Reserve's decision on Wednesday is considered a major event for the crypto world and could have a significant impact on the best cryptos to buy now. Here's how.
Analysts predict that the current pause in the market will offer an opportunity for Bitcoin to stabilize and possibly experience another upward trend. However, the possibility of a deeper correction still exists, with key support levels at $26,000 and $25,000.
The recent surge in cryptocurrencies has several contributing factors, including the panic in the global banking sector, which aligns with Bitcoin's principles of financial decentralization. The impact of increasing interest rates on banks over the past 12 months has also altered the outlook for monetary policy in the United States.
Traders anticipate the Federal Reserve to adopt a more accommodating stance, either maintaining rates or increasing rates by only 25 basis points. If rate hikes slow down or reverse, it could be beneficial for Bitcoin prices as a decrease in interest rates tends to raise demand for non-traditional assets such as cryptocurrencies.
The recent market surge has been mainly fueled by investors acquiring assets in the spot market, signifying that long-term investors are prevailing, as opposed to speculative traders. Despite trends pointing towards maturity and strength in the cryptocurrency market, market movements this week are expected to be driven by the Federal Reserve's decision.
In light of the recent market indecision in the cryptocurrency market and the Federal Reserve's upcoming decision, investors may be wondering what the best cryptos to buy now are amidst this unique market situation.
A combination of fundamental and technical analysis highlights that LHINU, XRP, FGHT, BNB, CCHG, and TARO are some of the best cryptos to buy now.
Cast Your Vote and Earn With Love Hate Inu's Unique Vote-To-Earn Platform
A new blockchain-based voting platform, Love Hate Inu (LHINU), is giving users the opportunity to have their say on various topics while preserving their anonymity. With its eye-catching character illustrations and use of innovative technology, LHINU has quickly gained a large social media following.
The platform's "Vote-to-Earn" feature allows users to earn digital tokens by casting their votes, which can then be purchased with either cryptocurrency or traditional currency. The LHINU token is currently in its presale stage, with the token price increasing each week.
The goal of the presale is to distribute 90% of the tokens to the LHINU community while the rest will be assigned to crypto exchange listings.
LHINU's presale has already exceeded $1.3 million in its second phase and is on track to reach its goal of $1,968,750.
The voting process on the platform is designed to prioritize impartiality, promoting open discussions on relevant issues. The application of blockchain technology guarantees the integrity and impartiality of the voting outcomes, making them unalterable.
LHINU has acted on user suggestions by simplifying the voting process and incorporating security features to boost the platform's dependability and credibility. These updates give users the assurance they need to express their opinions freely on a diverse range of topics.
Investors are taking notice of LHINU's one-of-a-kind voting system, which puts impartiality and transparency at the forefront. The platform's combination of exciting illustrations and cutting-edge technology make it one of the best cryptos to buy now.
Ripple (XRP)
XRP is seeing a significant increase in its price and trading activity, climbing by more than 21% so far today. This surge in price is accompanied by a return to $2 billion in trading volume, as well as bullish technical signals. The rise in XRP's value can be attributed to the ongoing SEC lawsuit against Ripple, the issuer of XRP.
The lawsuit, which claims that XRP should be regulated as a security, has traders confident that Ripple will be exonerated in court.
However, it is important to note that a potential victory in the SEC lawsuit may not necessarily be reflected in XRP's current price. The cryptocurrency has lagged behind the broader crypto market in recent times, which could suggest that there is more room for growth.
XRP is currently trading at $0.4524 and it is attempting to break the $0.4395 to $0.4480 resistance level after breaking past the resistance level of $0.4133 to $0.4205 earlier today.
The technical indicators, specifically the exponential moving averages, are also pointing toward a bullish trend for XRP with a current price of $0.4524 trading above all significant EMA levels.
If XRP manages to successfully mount on the resistance level of $0.4395 to $0.4480, the next potential target is the psychological level of $0.50. If a failed breakout occurs, support may potentially be found between $0.42 to $0.43.
Fight Out Launches Groundbreaking Train-To-Earn Model for Gamers and Fitness Enthusiasts
Fight Out, has announced a new and exciting train-to-earn model that is poised to make a big impact in the industry. Players can now earn in-game coins by participating in exercise routines and challenges, a feature that sets it apart from other similar platforms.
This platform offers a range of unique benefits, including the ability to trade rewards for workout gear, clothing, and even discounted gym memberships. Players can also upgrade their NFT avatars by participating in various challenges while exercising, which will earn them rewards.
Fight Out places a strong emphasis on security and authenticity, which is why it has partnered with CoinSniper for KYC verification and Certik for FGHT token contract authentication. The project has already received significant investment, with over $5.7 million raised, indicating its huge potential for growth.
Investors who purchase more than $50,000 worth of FGHT tokens will be eligible for bonuses of up to 67%, and long-term holders can receive 10% airdrops. The price of the FGHT token will increase by 28% on a weekly basis, reaching a maximum price of $0.0333.
Fight Out's group of athlete representatives is going to be instrumental in building a community of players who prioritize fitness and improving the platform's overall user experience. They will also add to the platform's user experience by generating captivating in-application content.
The gaming atmosphere at Fight Out is designed to seamlessly integrate fitness and gaming, promoting a healthy lifestyle for players while they enjoy fantasy sports and other games on the platform.
With its dynamic features and increasing investor interest, the FGHT token presale presents a fantastic chance to invest in one of the best cryptos to buy now.
Binance Coin (BNB)
Binance Coin (BNB) has experienced a significant increase in price over the past ten days, with a growth of 22%. The altcoin is currently trading at $337.6, which is at its horizontal resistance area of $333 to $337.8.
Over the past five days, BNB's price has remained relatively stable and has been moving sideways. If the price manages to break through this range, the next potential target for Binance Coin is the resistance range of $355.5 to $361.1. Reaching this price point would place BNB back at its November 2022 high.
Despite the positive outlook, market analysts are wary of a potential market slowdown, as the Relative Strength Index (RSI) is approaching the overbought zone above 70.0.
In case of a correction, Binance Coin may find support between $300 to $305.
The bullish sentiment among buyers remains strong and is expected to persist if the overall crypto market maintains its momentum. Binance Coin has been following the broader cryptocurrency market trends and has performed well despite the current macroeconomic conditions.
C+Charge Brings Convenient Charging Making It One of Best Cryptos to Buy Now
With the increasing popularity of electric vehicles as a sustainable mode of transportation, the demand for charging stations has skyrocketed.
C+Charge is committed to overcoming the lack of charging infrastructure with its payment and search platform for charging stations.
The use of blockchain technology simplifies payment transactions, allowing EV owners to easily locate charging stations within the area and make payments using the CCHG token. The platform also provides an additional incentive in the form of Goodness Nature Tokens (GNT) as a reward. These tokens symbolize certified carbon credits that can be traded within the application.
Leading venture capital companies have voiced their support for the Goodness Nature Tokens, enabling EV owners to reduce their carbon footprint.
C+Charge is also working in partnership with existing charging stations and constructing new ones to expand its charging station network rapidly.
The presale for the platform's token has already raised over $3.18 million, demonstrating the potential impact of C+Charge's solution.
RobotEra Brings a New Era to Metaverse Gaming
The metaverse crypto gaming industry is expanding, and a fresh face has joined the competition-- RobotEra. This new platform distinguishes itself by providing a one-of-a-kind play-to-earn experience that blends together elements of entertainment, and decentralized governance, virtual world creation, teamwork, and exploration.
One of the defining features of RobotEra is its utilization of cryptocurrency and digital assets. This enables players to generate income from their in-game actions, providing a fresh and exciting way to play.
In addition, RobotEra will feature both virtual and augmented reality experiences, as well as user-friendly building tools to encourage innovation and creativity.
The goal of the platform is to foster a lively community that encourages collaboration, commerce, and enthusiastic player engagement.
Investors have already shown their faith in RobotEra, with the TARO token raising over $1.030 million in its presale thus far, solidifying its status as one of the best cryptos to buy now.
---