Best Crypto to Buy Now 19 May – Bitget Token, Render, Injective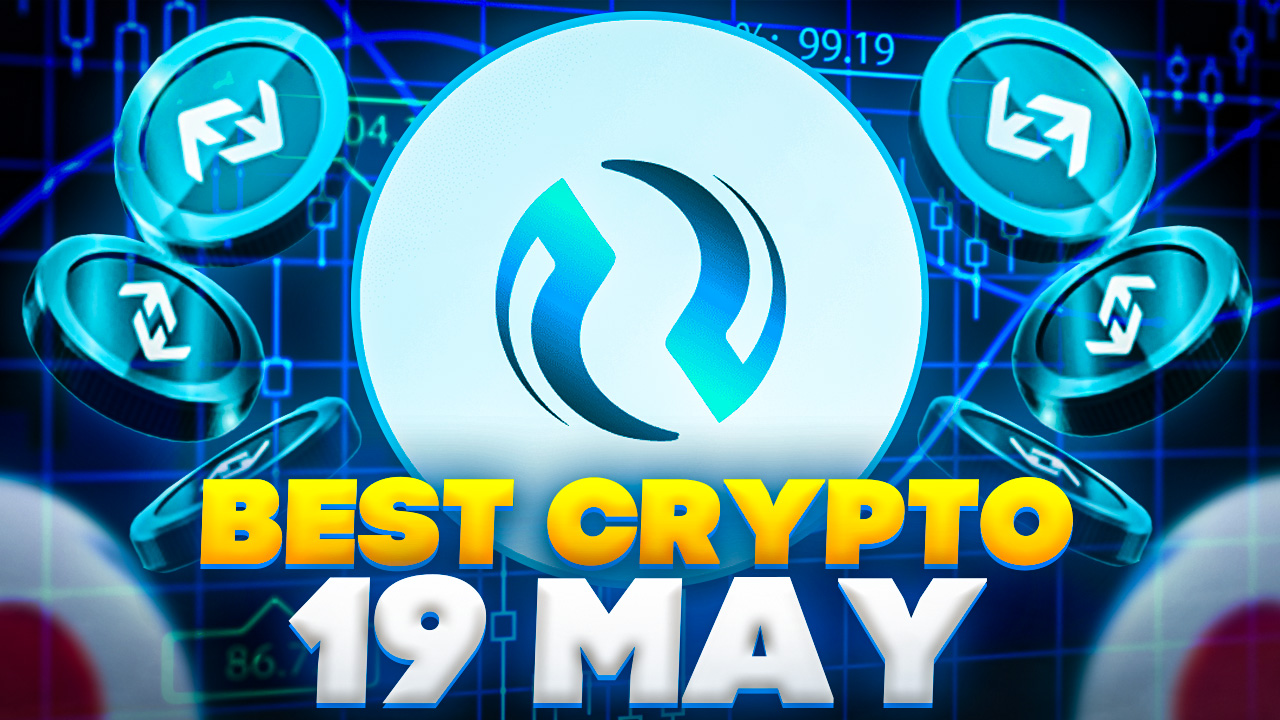 The battle between Bitcoin and the $27,000 mark continues, with the cryptocurrency struggling to make headway in the face of mounting economic challenges.
However, a ray of hope is beginning to break through the macroeconomic clouds as Federal Reserve Chair Jerome Powell suggests a possible abatement in rate increases.
In the face of mounting cryptocurrency market uncertainty, what are the best cryptos to buy now?
Powell, in a joint appearance with former Fed Chair Ben Bernanke at the Thomas Laubach Research Conference, suggested that financial strains might obviate the need for previously forecasted high interest rates.
He indicated that the "financial stability mechanisms have eased banking sector tensions."
However, he added that "their ongoing effects are tightening credit conditions and could potentially hamper economic expansion, employment, and inflation."
This, Powell elucidated, could lead to the central bank's policy rate not needing to climb as much as initially expected to reach its objectives.
As Powell stated, the forthcoming interest rate decisions will be a "continuous process."
This idea was initially presented during a press conference following May's Federal Open Market Committee (FOMC) meeting.
He stressed that "with the progress achieved so far, we have the luxury to examine the data and the evolving perspective and make prudent evaluations."
According to the CME FedWatch tool, about 78% of traders forecast the U.S. central bank will halt rate increases in its approaching policy gathering in mid-June.
A significant portion also speculates about a potential rate reduction later in the year.
Despite ongoing challenges, the cryptocurrency market continues to offer sound investment opportunities.
AI, BGB, COPIUM, RNDR, ECOTERRA, INJ, and YPRED are some of the best cryptos to buy now based on fundamentals and/or favorable technical analysis.
AiDoge: Unleashing the Power of Artificial Intelligence and Memes
AiDoge's presale has become a major talking point in the cryptocurrency market, with the AI-driven meme coin already raising over $10 million so far and setting its sights on a hard cap of $14.9 million.
The AiDoge platform will employ AI technology to offer users a meme-generation experience that adapts to rapidly evolving social media trends.
In addition to its AI-driven meme generation tool, AiDoge's platform offers an array of features to keep users engaged and active.
The platform's staking mechanism will allow users to lock their tokens in a contract and earn daily rewards while potentially gaining access to premium features.
The platform will also feature a public wall that showcases the latest community-created memes, and popular creators are rewarded with $AI tokens.
AiDoge's voting mechanism is another exciting feature of the platform. Users can vote on memes, determining their rank on the public wall.
This incentivizes high-quality content creation and encourages participation in the community.
The top memes are rewarded with $AI tokens, contributing to the growth and success of the platform.
AiDoge's commitment to security is also evident in the platform's use of secure and audited staking contracts to protect staked tokens and reduce risk.
The platform ensures the safety of its users' assets, giving them peace of mind when staking their tokens.
By harnessing the power of AI, crypto, and internet memes, AiDoge is leading the charge in a new era of digital content creation, one that is characterized by innovation, decentralization, and community participation.
Bitget Token (BGB)
Bitget Token (BGB) has been trading sideways, unable to break the resistance level of $0.49.
The cryptocurrency's struggle to gather momentum has left traders wondering about its next course of action.
The 20-day EMA is currently at $0.44502, followed by the 50-day EMA at $0.42011 and the 100-day EMA at $0.38411.
These EMAs are slowly catching up to the current price of $0.47337, which has risen by 0.97% so far today.
This convergence suggests that a decisive move might be due for BGB.
The RSI is currently standing at 63.37, up from yesterday's 62.17; it shows that the buying pressure is slowly increasing.
The MACD histogram is at 0.00248, down from yesterday's 0.00289. This slight decrease implies that the bullish momentum may be losing steam and that traders should look out for a potential trend reversal on the horizon.
BGB is currently facing significant resistance in the $0.49 to $0.50 range. On the flip side, immediate support can be found at the Fib 0.236 level of $0.46526.
Traders should keep a close eye on the technical indicators and the significant resistance and support levels.
A decisive move could be imminent for Bitget Token (BGB), and being prepared to react accordingly is important for capitalizing on potential opportunities.
Breaking the Mold: How $COPIUM Challenges Established Meme Coins
$COPIUM has recently made its big debut in the meme coin market, drawing the attention of crypto enthusiasts across social media platforms.
Backed by popular influencers like Faze Banks, DeeZe, and Cozomo de' Medici, amongst others, this NFT rewards coin made its debut on the decentralized exchange Uniswap.
The impressive momentum of $COPIUM has put it on the radar of investors and enthusiasts alike, presenting itself as a potential rival to established meme coins like Pepe coin.
$COPIUM might present an opportunity for those who missed out on other booming meme coins like Wojak or Milady, as analysts are optimistic about its potential returns.
In its first 30 minutes of trading, the coin's price spiked by an impressive 400%.
Other noteworthy metrics include its liquidity of $3.99 million and a rapidly expanding holder count that reached 17.8 million within 30 minutes of launch.
With the promise of exclusive NFT rewards, a robust community, and support from a roster of prominent crypto personalities, $COPIUM is laying a strong foundation in the crypto space.
The token's unique name appears to be a blend of the words "cope" and "opium," a playful nod to the way crypto traders handle losses.
By leveraging a strategically planned NFT airdrop and other exclusive benefits, $COPIUM has drawn in early holders who champion the project even before its launch on DEX.
To discourage sudden sell-offs, only 10% of the tokens bought during the presale will be unlocked initially, with the remaining to be released over a three-week period.
The top 200 token holders will be eligible for $COPIUM's NFT and token airdrop, providing an incentive for supporters to hold onto their tokens.
$COPIUM's emergence on the scene is yet another example of how crypto dynamics constantly evolve and present new narratives.
Render Token (RNDR)
Render Token (RNDR) may be trading in the red, but bullish sentiment towards the digital asset remains high.
Despite experiencing a slight loss of 2.22% so far today, RNDR continues to hold strong at a current price of $2.34.
The 20-day, 50-day, and 100-day EMAs are positioned at $2.030, $1.863, and $1.625, respectively.
EMAs, renowned for their heightened responsiveness to price changes, are currently indicating that RNDR is in an uptrend.
The fact that the current price is above these EMAs is a good signal and confirms a strong bullish trend.
The RSI is currently 62.37, down from yesterday's 64.49. RNDR's RSI signals that the token is nearing an overbought condition, but still has room for potential upside movement.
The MACD histogram, often used to identify potential buy and sell signals, is currently at 0.033, up from yesterday's 0.021.
This upward movement is generally considered a bullish sign, indicating increased upward momentum for RNDR.
In terms of key price levels, RNDR is currently retesting support at the Fib 0.786 level, which stands at $2.312.
This is a moment that requires traders to exercise caution and patience, as they should wait for further confirmation of support by waiting for a green candle above this level.
If this level holds, the token may see upward price movement toward the year-to-date high of $2.6.
Despite experiencing a short-term loss, RNDR's overall technical outlook remains bullish.
Traders should be prepared for potential volatility, but with solid support at the Fib 0.786 level and robust bullish signals from other technical indicators, RNDR appears to be challenging its year-to-date high soon.
Investing in a Greener Future: ecoterra; One of the Best Cryptos to Buy Now
ecoterra, the creators of the first-ever Recycle2Earn smartphone app, has surpassed $4 million in its ongoing token presale, marking a significant milestone in its quest to fundraise a total of $6.7 million.
This achievement comes just seven weeks after the release of the $ECOTERRA token, reflecting the growing global interest in eco-conscious investments that promise high returns while countering environmental degradation and climate change.
With ecoterra progressing to stage 7 of its nine-stage process, investors can look forward to a price increase of the $ECOTERRA token from $0.00850 to $0.009250 in Stage 8.
Prospective investors are urged to act swiftly to secure their tokens at the lowest possible price amidst the rising FOMO (Fear Of Missing Out) for the $ECOTERRA token.
To participate, investors will require ETH or Tether (USDT) in their wallets, with the provision for newbies to purchase fiat money via card transactions.
ecoterra goal is to incentivize recycling and impact actions that contribute positively to our environment.
The Recycle2Earn app, set for a beta release by year's end, will allow users to earn rewards for recycling, trade in carbon offsets, and track their ecological impact.
The app also features a liquidity pool to manage token liquidity, ensuring a balanced ecosystem.
CEO Mihai Ciutureanu has led the ecoterra team in building an ecosystem that aligns economic growth with environmental sustainability.
At the heart of this ecosystem lies the recycled materials marketplace, which will connect companies with recycling businesses.
The marketplace will utilize $ECOTERRA tokens for payments, encouraging transparent and eco-friendly business practices.
In a bid to bolster corporate adoption, ecoterra has begun integrating global brands, including Vittel, Heineken, Pepsi, and others into its scannable database of recyclables.
This strategic move ensures users earn rewards for recycling these recognized brands' products.
Meanwhile, strategic partnerships with companies like supermarket chain Delhaize will facilitate the ecosystem's wider goal of promoting a circular economy.
With growing awareness of humanity's ecological footprint, ecoterra offers investors a chance to support an environmentally-committed project focused on sustainability and growth.
Injective (INJ)
Injective (INJ) is currently trading at $7.050, experiencing a 6.27% gain today, contrary to the prevailing low volatility in the crypto market.
The cryptocurrency appears to be on the verge of breaking out from the Fib 0.5 level and the 20-day EMA, potentially continuing its rally to the upside.
The 20-day EMA, 50-day EMA, and 100-day EMA for INJ are $6.776, $6.547, and $5.604 respectively.
This indicates a bullish trend, with INJ trading above all three EMAs, suggesting a strong upward momentum.
The RSI for INJ has risen to 52.81 from yesterday's 48.15. This indicates that the buying pressure is increasing and the market sentiment is shifting towards a bullish stance.
The MACD histogram also shows a positive trend, with a value of -0.008, up from yesterday's -0.69.
This could signal the start of a bullish crossover, further supporting the potential for an upward price movement.
Injective's 24-hour volume has surged to $98,061,805, an impressive increase of 88.48% according to CoinMarketCap.
This rise in trading volume suggests heightened interest in INJ, which could contribute to further price appreciation.
If INJ successfully closes above the Fib 0.5 level at $6.809 and the 20-day EMA, the immediate resistance stands at the Fib 0.382 level at $7.557.
On the other hand, if the price fails to break out and faces a pullback, support can be found at the Fib 0.5 level at $6.809.
The technical indicators outlined in this analysis point to a bullish outlook for Injective (INJ) in the immediate future.
With the price trading above key EMAs, a rising RSI, and a potential bullish MACD crossover, traders should consider closely monitoring INJ for an opportunity to capitalize on this potential breakout.
yPredict Positions AI-Traders for Success; One of the Best Crypto to Buy Now
The fundraising efforts for yPredict, an AI-driven market intelligence platform, are gaining significant traction in the cryptocurrency market.
With the presale of its native token $YPRED moving to stage 5, the project has already collected more than $1.3 million so far.
The yPredict platform, characterized by a sophisticated AI-enabled cryptocurrency price prediction system, is receiving a significant boost from investors and traders alike.
Once the fundraising effort hits the $1.632 million milestone, the presale of the $YPRED token will advance into stage 6, and its price is projected to increase from $0.07 per token to $0.09.
Keeping up with the fundraising momentum, the platform might exhaust stage 5 within the next couple of days.
The task of predicting price volatility in the cryptocurrency market is challenging, even for those seasoned in macro, crypto fundamentals, and technical analysis.
Here, AI technology comes into play, providing a different angle with its ability to analyze a significant amount of price data and identify trends that could be otherwise overlooked by a trader.
yPpredicts's platform will offer users a decisive market advantage using predictive models and data insights crafted by top AI developers and quants.
These plans extend to building a platform that offers traders and investors access to a myriad of AI-powered signals, breakouts, pattern recognition, and sentiment features.
As an added benefit, experts can potentially generate passive income by having the chance to offer their model predictions or data research as trading signals in the platform, which traders and investors can subscribe to.
yPredict's $YPRED crypto token, minted on the Polygon blockchain, will function as the native token of yPredict's AI-backed trading platform.
To use yPredict's premium features, users will need to pay a subscription fee denominated in $YPRED.
10% of these fees will be dispersed to existing $YPRED token holders, providing them with a passive income stream and mitigating sell pressure in the market.
The distribution of yPredict's tokens has received positive reviews from market analysts for its fairness.
The majority of the tokens, 80% out of the total 100 million, will be available during the public pre-sale.
The remaining tokens are distributed among liquidity (10%), treasury (5%), and development (5%), minimizing the chance of a sudden market upset caused by large token supply drops from insiders.
As the use of AI in trading intensifies and crypto markets show signs of resurgence, 2023 could prove to be pivotal for yPredict's platform and its $YPRED tokens.
---