Best Crypto to Buy Now 13 March – LHINU, CFX, FGHT, OP, METRO, CCHG
Disclosure: Crypto is a high-risk asset class. This article is provided for informational purposes and does not constitute investment advice. By using this website, you agree to our terms and conditions. We may utilise affiliate links within our content, and receive commission.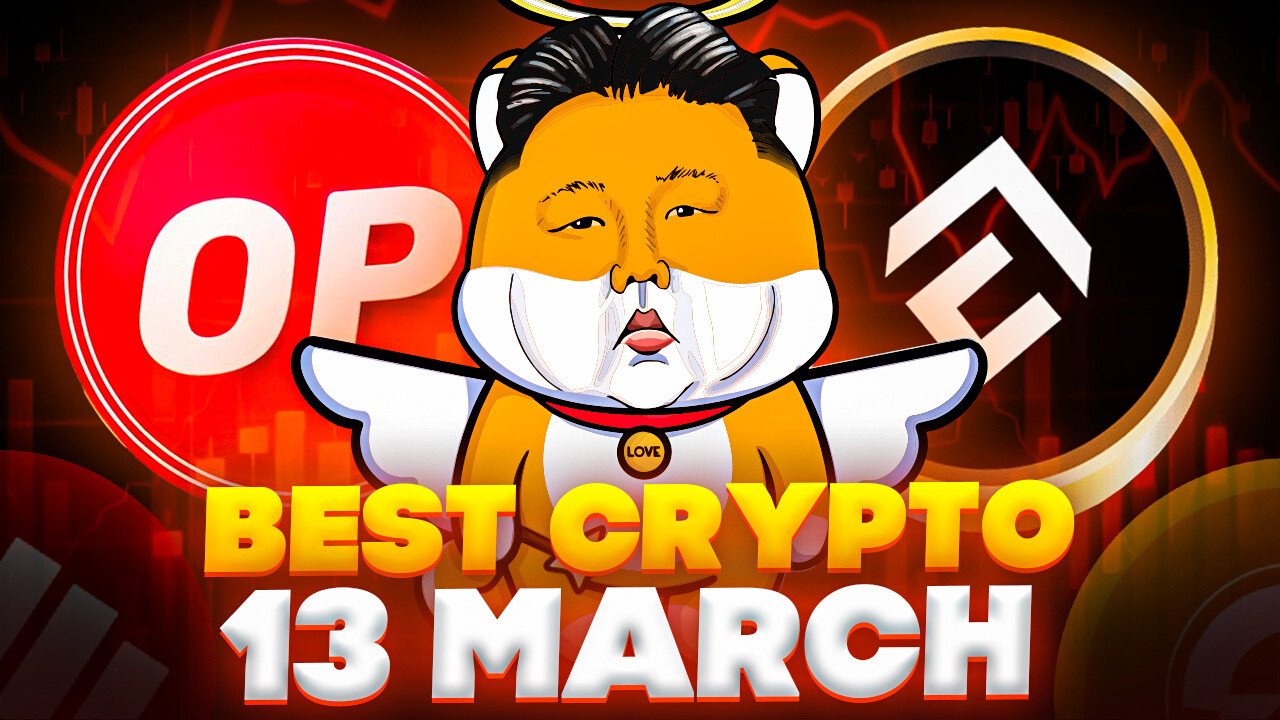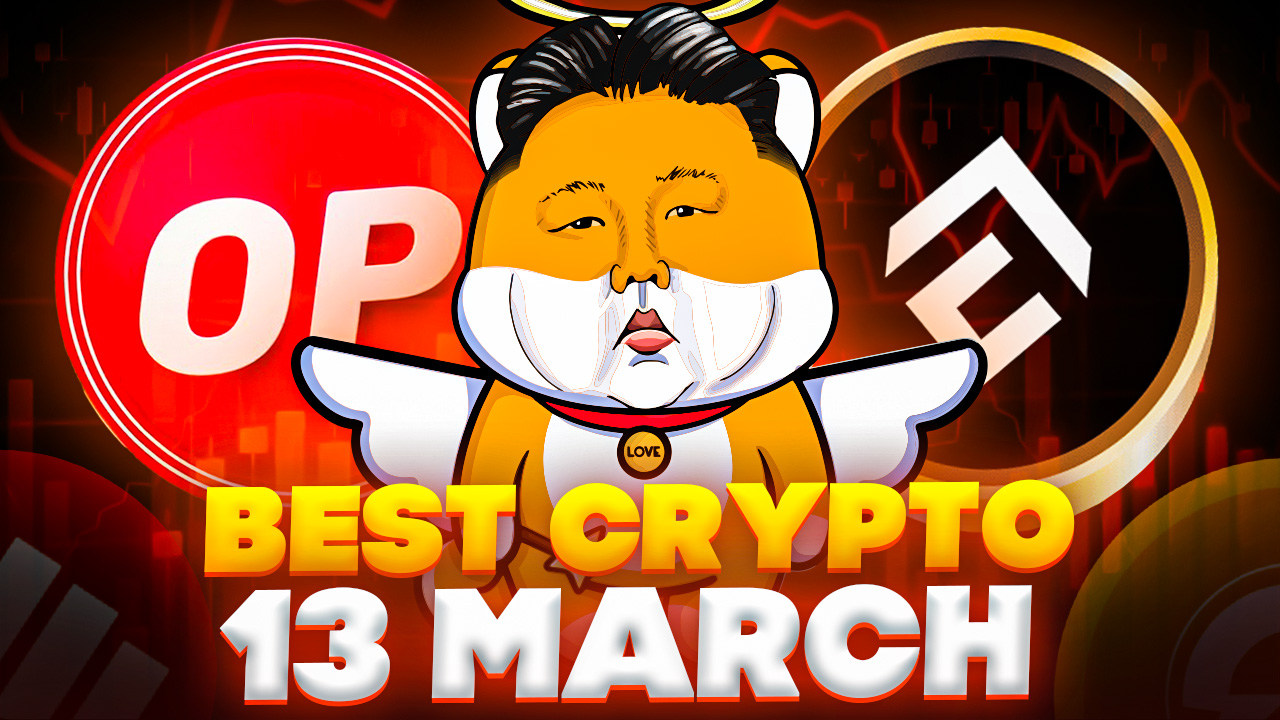 The prospect of financial support from the US government for depositors, of new liquidity injections and of easier policy ahead from the US Federal Reserve in response to recent US bank implosions has sent crypto prices lurching higher in tandem with sharp declines in US yields and the US dollar.
Bitcoin (BTC) was last trading around $24,000 and Ether (ETH) in the upper $1,600s, with traders now betting on far fewer interest rate hikes for the remainder of 2023. Helping the upside is the fact that USDC has managed to regain its 1:1 peg to the US dollar (thanks to the US government's pledge to make all depositors whole, including USDC's issuer Circle), and Binance's recent investment of $1 billion BUSD into Bitcoin and Ether.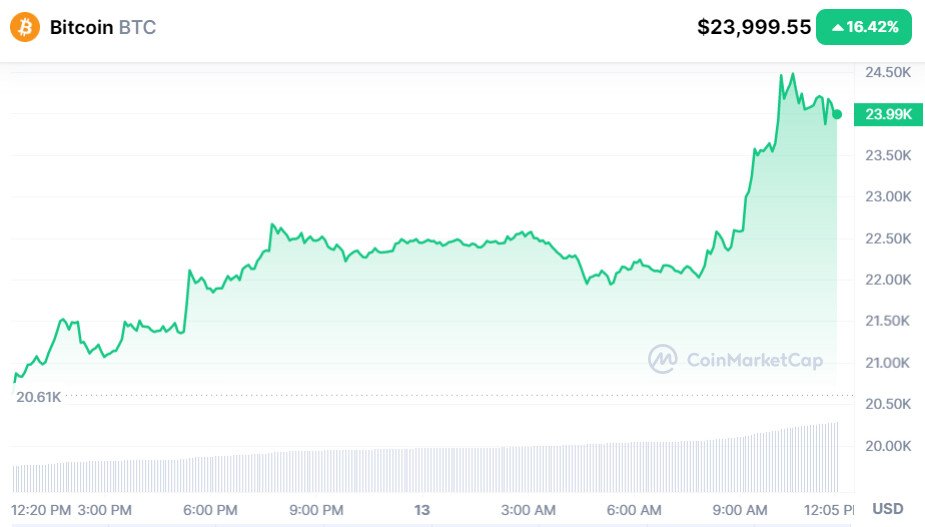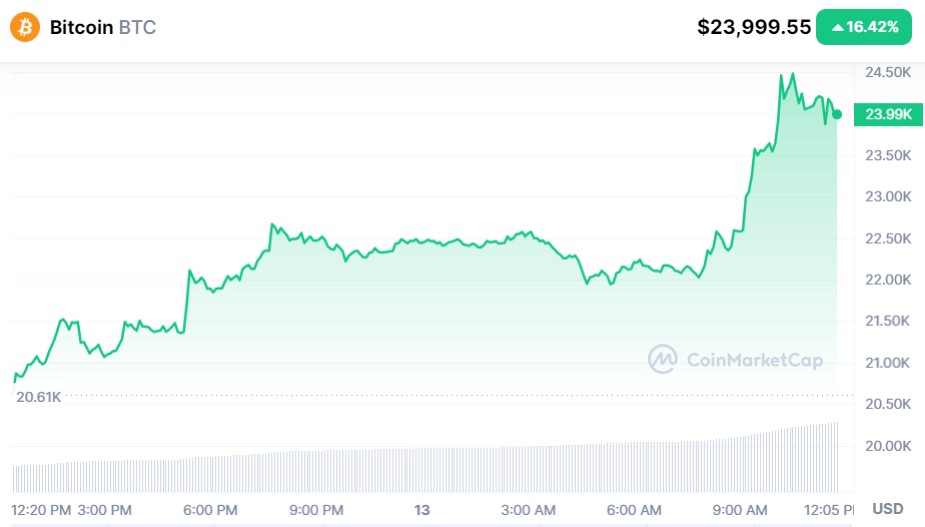 That marks gains of around 16% and 13% for the world's largest two cryptocurrencies in the last 24 hours, according to CoinMarketCap. The total market capitalization of the cryptocurrency market was last up around 12% to $1.07 trillion, according to the crypto data website.
Love Hate Inu (LHINU) – New Viral Presale
Love Hate Inu (LHINU) is a viral new dog-inspired meme coin that will power the soon-to-be-released vote-to-earn (V2E) social polling platform that goes by the same name. To fund the development of its new platform, Love Hate Inu is conducting a presale of its LHINU tokens and the presale already ranks as one of 2023's hottest.
The social media meme coin start-up has already managed to raise a whopping $400,000 in less than a week since the presale's launch. This reflects how the project has been going viral on social media – since @LoveHateInu's first tweet less than a week ago, the page has garnered a huge 31.5K followers.
Hey #LoveHateInu community! 👋

We have hit another amazing milestone, raising over $400,000! 🎉💰

A massive thank you to everyone for all the incredible support!🙏🚀

Join the funniest #memecoin project today and stay tuned for what's to come! 🤩👀

🔗 https://t.co/Pu2Bo8WOUy pic.twitter.com/3Pr2I6NSpq

— Love Hate Inu (@LoveHateInu) March 13, 2023
Investors are hyped by the project's potential given that it is currently one of the only existing vote-to-earn platforms, but also combines the virality of meme coins and discussion of the world's most viral/controversial topics.
Conflux (CFX) – The Best Performer in the Top 100 Cryptos by Market Cap
Conflux (CFX) is leading the charge higher amongst major cryptocurrencies. According to CoinMarketCap, CFX is the best performer in the last 24 hours out of the top 100 cryptocurrencies by market capitalization, having gained a whopping 65%.
CFX/USD, currently around $0.24, is now trading a stunning 80% up versus last week's lows in the $0.14 area and is back above its 21-Day Moving Average just under $0.22. Bulls will now be eyeing a possible retest of February's highs around $0.36, a further 50% rally from current levels.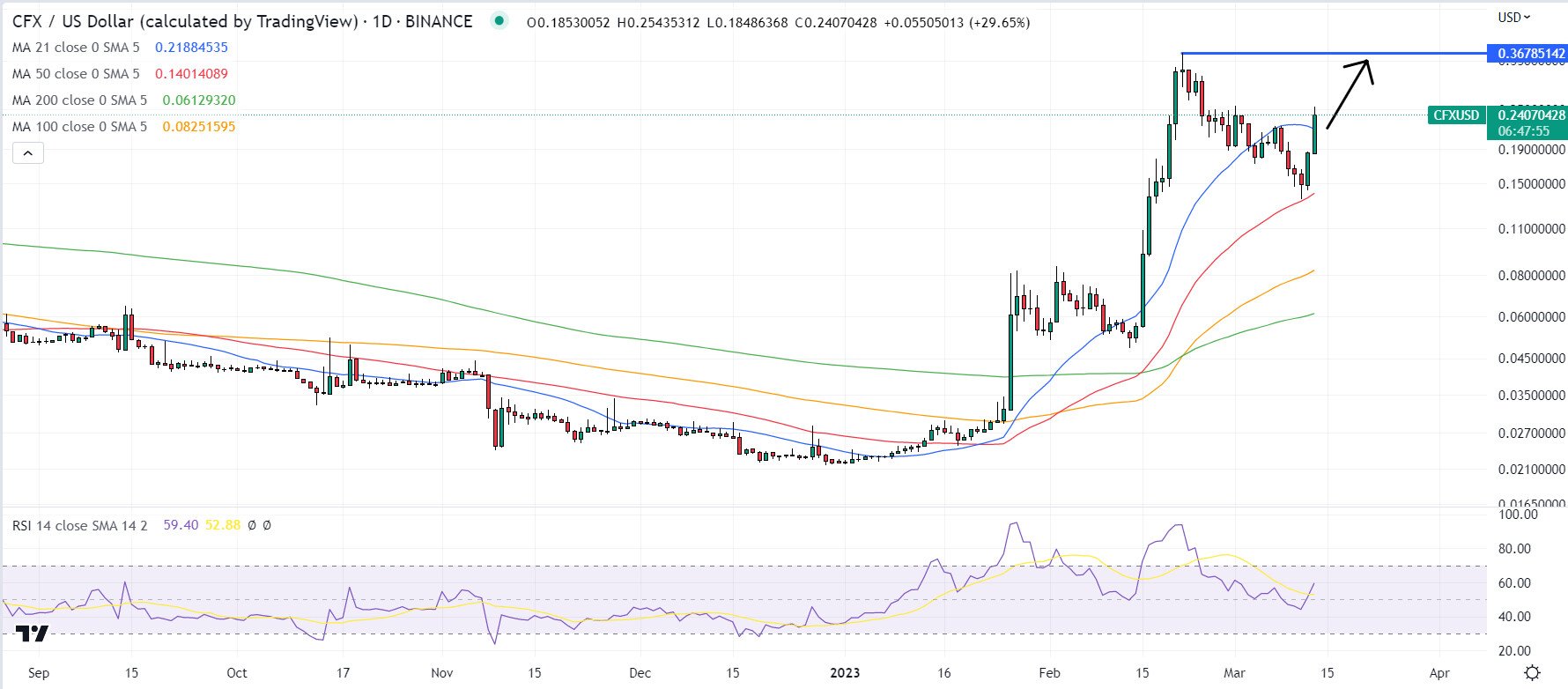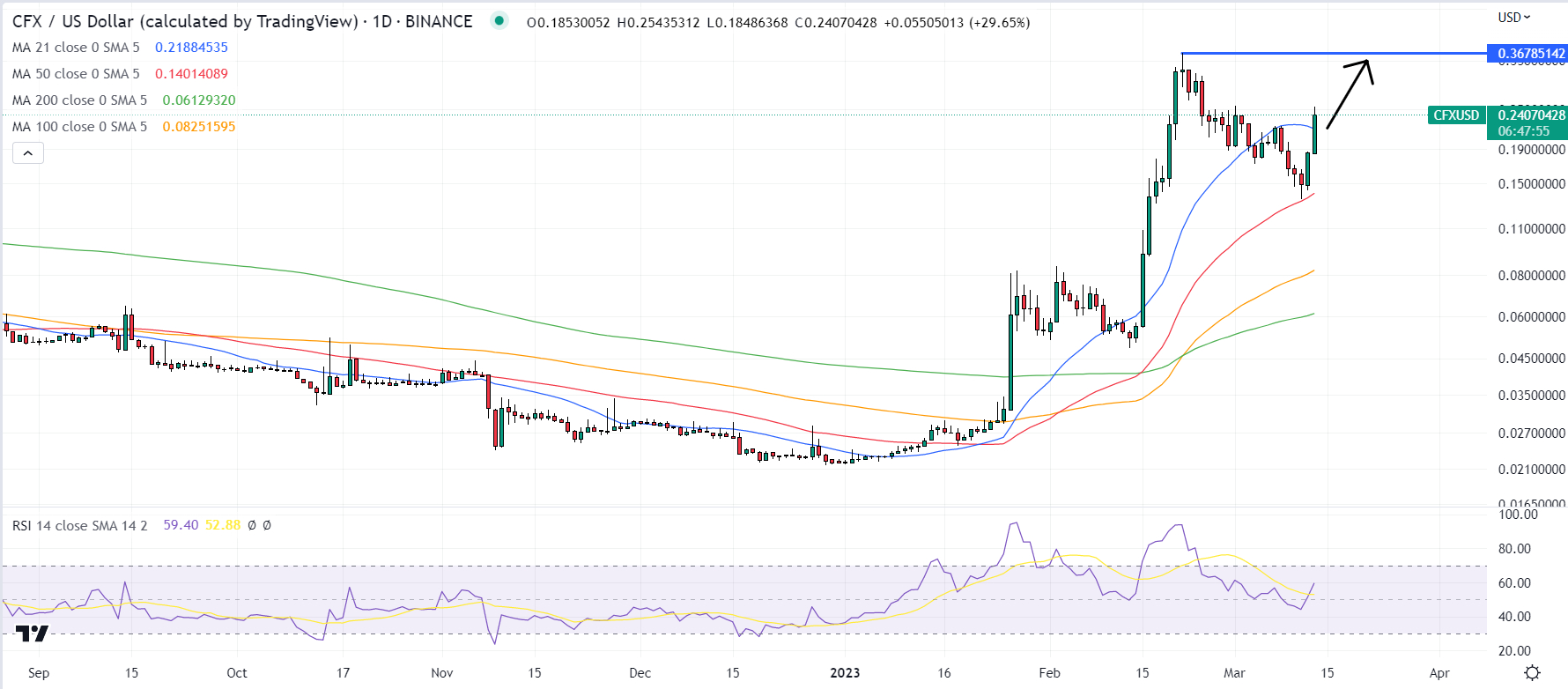 Fight Out (FGHT) – Over $5.4 Million Now Raised
Fight Out is a brand new web3 fitness application and gym chain that rewards its users for working out, completing challenges, and competing within a first-of-its-kind fitness metaverse.
While existing M2E applications such as STEPN only track steps and require expensive non-fungible token (NFT) buy-ins to take part, Fight Out takes a more holistic approach to tracking and rewarding its users for their exercise and activity, and doesn't require any expensive buy-ins to take part.
Fight Out is currently conducting a presale of the FGHT token that will power its Web3 ecosystem and has already raised a whopping more than $5.4 million. The token is scheduled to list across centralized exchanges in April at $0.033 per token.
$5.4M RAISED 👊⚡️

Let's go, #FightOutCrew! Another milestone reached!

Make sure to join the presale before the price of $FGHT increases 🚀

Don't miss out!
👉https://t.co/9pikKGRRHL#Crypto #Presale #P2EGame pic.twitter.com/DbePksntCA

— Fight Out (@FightOut_) March 13, 2023
Investors should move quickly as if they secure tokens now, they could be sat on paper gains of nearly 30% by the time the crypto token lists on exchanges at the start of Q2. Investors should be aware that, depending on how many tokens they buy and for how long they choose to vest them, they could get a whopping up to 67% bonus.
Don't forget to claim your presale BONUS before it's too late!

Secure your spot now! 💸
👉 https://t.co/9pikKGRjSd#Presale #Blockchain #PlayToEarn pic.twitter.com/LNdWpZPgmo

— Fight Out (@FightOut_) March 8, 2023
Investors can also get an additional 5% bonus on all the tokens purchased by those who used a referral link. Fight Out is also conducting a $250,000 giveaway.
Optimism (OP) – Another Strong Performer
Optimism (OP), the token that powers Optimism's layer-2 Ethereum scaling solution, has bounced an impressive more than 40% since last week's lows around $1.80 and was last trading close to its 21 and 50-Day Moving Averages in the $2.50s.
The cryptocurrency is eyeing a break back above an uptrend that had previously offered support. This could open the door to a retest of recent highs in the $3.20s.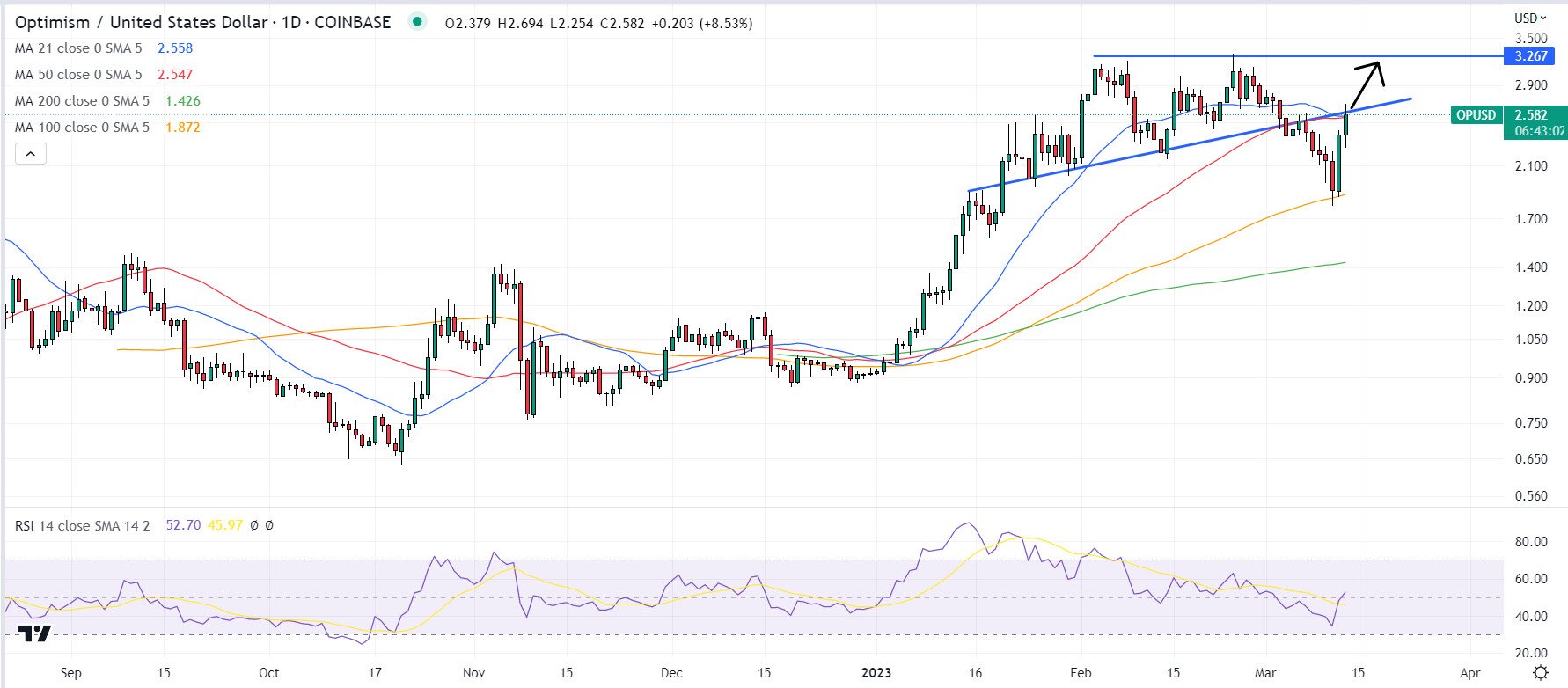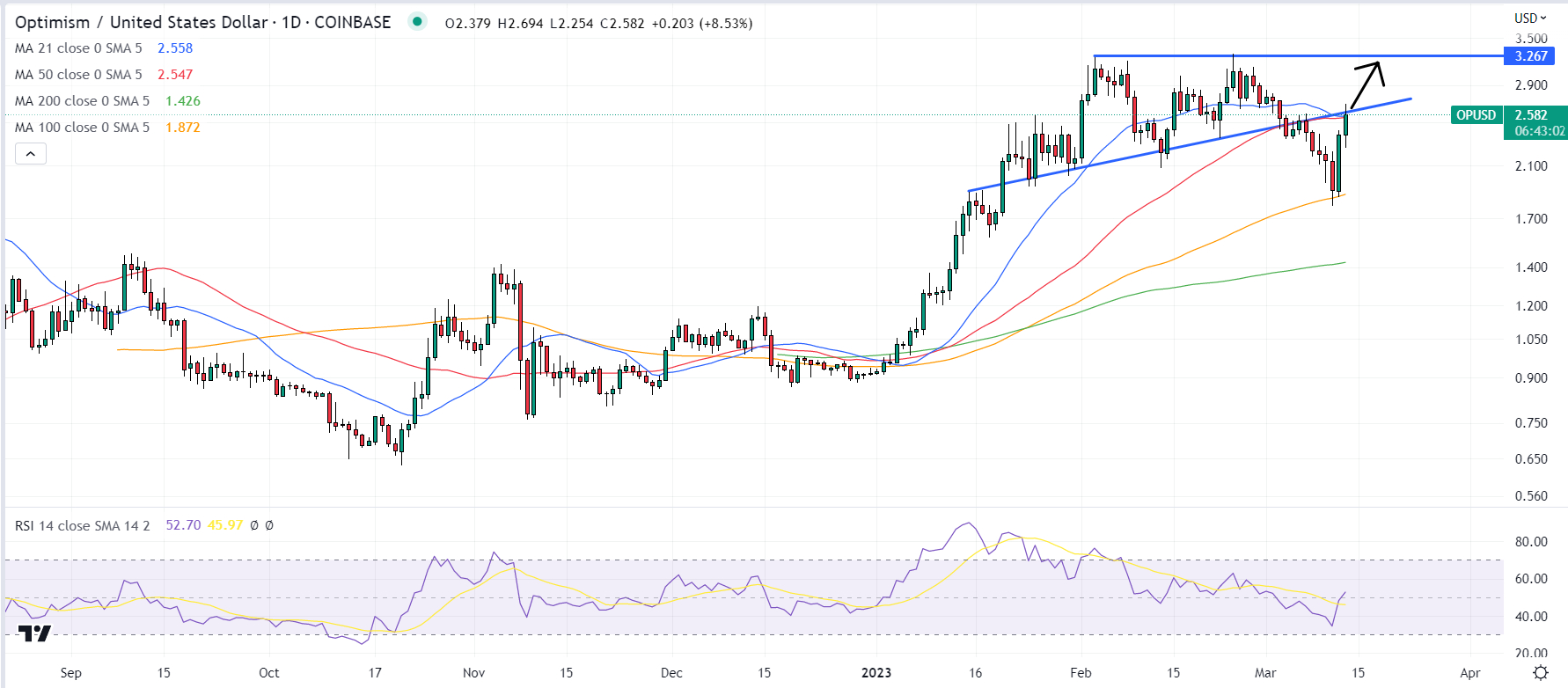 Metropoly (METRO) – Crypto Start-up Looking to Transform Real Estate Market
Metropoly has an ambitious goal – to transform the real estate market by democratizing access to real estate investment. How? By building the world's first marketplace for real estate non-fungible tokens (NFTs).
And these NFTs aren't for digital real estate in some metaverse. These tokens represent a real ownership stake in a real property, that Metropoly will also be renting out so that owners can earn a passive income.
Metropoly is currently conducting a presale to fund its ongoing development and has now raised an immense near-$820,000. The start-up has already released a beta version of its platform, which already looks great and is proving very popular.
The barriers to traditional real estate investment around the world are huge. Metropoly hopes its platform can level the playing field, with investors able to start owning property with as little as $100. Presale investors should note that stand a chance at winning a portion of Metropoly's massive, industry leading $1 million giveaway.
Visit Metropoly's Presale Here
---