Battle Infinity Price Prediction | The Next 100x Project?
Disclosure: Crypto is a high-risk asset class. This article is provided for informational purposes and does not constitute investment advice. By using this website, you agree to our terms and conditions. We may utilise affiliate links within our content, and receive commission.
Disclaimer: The text below is an advertorial article that is not part of Cryptonews.com editorial content.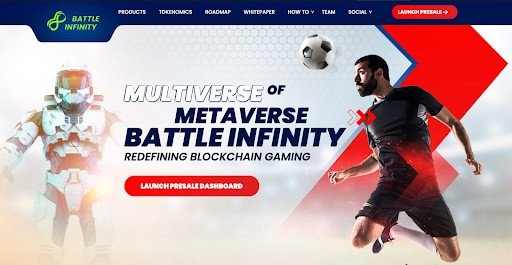 If you want to make huge returns from the crypto market, the trick is to invest early. You need to grab tokens before the word spreads and investors scramble to buy them at massive prices. Instead of going for overvalued assets with huge market caps, the focus should be shifted to finding new projects with pioneering visions and realistic roadmaps.
In this article, we share our price prediction for one of the most promising projects of 2022 — Battle Infinity. It's a play-to-earn gaming platform that redefines blockchain gaming with a unique metaverse mission. We also analyze how the project's vision and ongoing developments justify the price forecast.
Battle Infinity Price Prediction Overview
IBAT serves as the utility token of the Battle Infinity ecosystem. Here is a quick look at our IBAT price prediction:
| | |
| --- | --- |
| TIME | PRICE |
| Presale (1 BNB = 166,666.66 IBAT) | USD 0.0015 |
| December 2022 prediction | USD 0.075 |
| June 2023 prediction | USD 0.1125 |
| December 2023 prediction | USD 0.1875 |
Battle Infinity Crypto Price Forecast 2022
Battle Infinity is one of the most anticipated projects of this year. Although the project was announced just recently, it has captured significant attention from the crypto community. Battle Infinity introduces an immersive virtual world where gamers can not just play and battle, but also earn, interact, and explore. The six products in the pipeline across the NFT, DeFi, and gaming sectors build a wide ecosystem dedicated to avid gamers. Moreover, the diverse streams of monetization on Battle Infinity empower users to turn their passion for gaming into a viable source of income. IBAT token is your key to the Battle Infinity ecosystem.
Currently, the project is in its presale phase, which will last for 90 days. You can now grab 166,666.66 IBAT for just one BNB. Shortly after, the token will be listed on PancakeSwap and other prominent crypto exchanges. As we have seen with genuine tokens backed by solid white papers, IBAT is likely to witness huge demand during the PancakeSwap listing. We predict a 30X-40X rise in price in the hours that follow. Even if the price falls in the following days due to the inevitable early-stage dumps, Battle Infinity has an ambitious roadmap that can bridge the gap in no time.
For example, the upcoming phase of the roadmap lists out the Battle Swap testnet launch, Battle Swap mainnet launch, Battle Infinity Dapp Alpha release (Google Play Store), and merchandise store launch. While the roadmap doesn't specify the exact timeline for each phase, we expect Battle Infinity to cross some exciting milestones this year. As the project achieves its product development goals and expands its media presence through influencer marketing and community events, IBAT has the potential to take off up to 50X by the end of 2022.
Battle Infinity Long-term Price Forecast
Once Battle Infinity releases its products and games, the value of IBAT tokens will be primarily driven by utility rather than speculation. IBAT tokens serve a wide range of use cases in the Battle Infinity ecosystem, from granting access to Battle Infinity games to facilitating in-game purchases and staking. The roadmap gives a peek into milestones like celebrity marketing, strategic partnerships, and land map integration as well.
Given the gripping game mechanics unique to Battle Infinity, the games are expected to acquire a large user base over the next few years. Crypto enthusiasts and industry experts predict Battle Infinity to be the next Axie Infinity. To be fair, Battle Infinity's gameplay and ecosystem are more extensive than Axie Infinity. While Axie Infinity thrives on simple gameplay involving an in-game breeding mechanism, Battle Infinity brings multiple fantasy sports games to the metaverse. The team's focus on sound technical development and sustainable growth makes it one of the best crypto projects to look forward to.
The demand for the token will keep up with the rising number of users over the next phases of development, rewarding early-stage investors lucratively.
What is Battle Infinity
If you just heard about Battle Infinity from friends, family, or a random online post, here is a brief introduction to the next 100X crypto project.
Battle Infinity is a video gaming platform that brings multiple play-to-earn battle games to the metaverse. The virtual world, titled the IBAT Battle Arena, will host fiery games for players from around the globe. Here, you don't just play and battle, unlike traditional video gaming platforms. You also get to earn rewards in IBAT tokens with real-world value. You can exchange them for money via listed exchanges and generate income from your favorite hobby. Sounds good? There is more. Battle Infinity will be an interactive metaverse where you can socialize with other players, perform and watch events, and experience the immersive virtual space.
The project aims to set the stage for a new gaming revolution using blockchain and metaverse technologies. Battle Infinity will be a fair, transparent, and inclusive platform where gamers and content creators enjoy true ownership of their collectible and creative assets.
Battle Infinity Presale Overview
| | |
| --- | --- |
| Ticker | IBAT |
| Blockchain | Binance Smart Chain |
| Token contract | BEP-20 |
| Total supply | 10 billion |
| Presale price | 1 BNB = 166,666.66 IBAT |
A Closer Look at the Battle Infinity Ecosystem
The Battle Infinity ecosystem will have six different products, each of which is designed to give the platform a competitive edge in the market.
IBAT Battle Swap
Battle Swap is a DEX (decentralized exchange) where you can buy IBAT tokens directly and exchange them for other currencies. To save you the trouble of hopping platforms, Battle Swap is integrated with the Battle Infinity marketplace, game store, and arena. This goes a long way in improving the overall in-app experience.
IBAT Battle Market
Battle Infinity in-game assets are tokenized on Ethereum to feature their seamless transfer across borders. The value of each asset will vary depending on its rarity and relevance inside the game. You can buy and sell them from IBAT Battle Market.
The NFT marketplace is divided into two sections for creators and gamers. While creators can mint, trade, and advertise their artwork, gamers can trade assets and purchase upgrades from IBAT Battle Market.
IBAT Premier League
IBAT Premier League is the world's first NFT-based fantasy sports game in the metaverse. Here, you can build your own strategic teams and battle with other players, while earning exciting rewards. You need an NFT pass to participate in the leagues. It gives you the budget to buy real-life sports players and form your virtual team. Players are graded based on their real-world performances. Interestingly, you will be rewarded based on your players' performance in real matches. Once the scores are settled, the team that showcased the best performance will get rewards and perks.
IBAT Battle Games
IBAT Battle Games is a multiplayer game store where you can access multiple P2E NFT games by staking tokens. The staked tokens are used for rewarding players of various events and winners of each game and the foundation development. Developers who launch games on the platform are also rewarded from the global stake pool. The platform is integrated with other products in the ecosystem to feature a seamless gaming experience.
IBAT Battle Arena
Battle Arena is the immersive metaverse of Battle Infinity. Entry to the metaverse is restricted to people who own unique NFT avatars launched by the project. For a superior virtual experience, the platform will support high-end VR headsets and controllers. You can socialize with other players, attend concerts and parties, and host meetings in IBAT Battle Arena.
IBAT Battle Stake
Battle Infinity integrates GameFi into its ecosystem with Battle Stake, a platform where you can stake your tokens and receive attractive APYs. There will be three types of staking — Solo, Duo, and Crates. While Solo staking refers to single asset staking of IBAT tokens in monthly, half-yearly, and yearly pools, Duo staking will pair IBAT with popular cryptos like BNB, ETH, DOGE. Crates staking is a little different from the above two. It requires you to buy 'NFT crates' from IBAT Battle Market and unlock it with matching NFT keys.
Why Battle Infinity Could be the Next 100X Project
Battle Infinity presale has kicked off in full swing, raising 500 BNB (USD 110,000) within the first 72 hours. Since the project is still young and the 90-day presale commenced without build-up, the reception signals the growth potential of IBAT. If the presale continues at this pace, the token will be sold out early.
These are the reasons why we believe Battle Infinity could be the next 100X crypto project.
McKinsey & Co's new research reveals that the metaverse could grow up to USD 5 trillion by 2030. "The metaverse is too big for companies to ignore," notes the report. Battle Infinity introduces a play-to-earn gaming ecosystem to the thriving metaverse on a blockchain footing. It brings the best of the emerging technologies to create an immersive, interactive world where gamers can monetize their skills and passion.
The fantasy sports market is expected to reach USD 48.6 billion by 2027, recording a CAGR of 13.9% from 2021 to 2027. Battle Infinity steps up the market with metaverse, crypto, and NFT integrations.
We have seen how even the most popular project can crash overnight due to technical vulnerabilities. Battle Infinity implements multiple testing and auditing rounds to ensure that the products are robust for mass use.
Battle Infinity is built on BSC, which is considered a better alternative to popular blockchains like Ethereum in terms of scalability. The lower transaction fees and time ensure a smooth gaming experience.
Battle Infinity is led by a multidisciplinary team with a strong technical and creative background. They choose to reveal their identity, which is a strong green signal in the crypto market. The track record of the team instills confidence in the project. The team allocation of IBAT tokens is limited to 10.5%.
How to Buy IBAT at Presale
IBAT presale is now live on the official website of Battle Infinity at a price of around USD 0.0015. It will officially close in the first half of October. Here is a step-by-step guide to joining IBAT presale.
1. Deposit BNB in your crypto wallet
The presale price of IBAT is fixed at 166,666.66 IBAT for 1 BNB. If you don't have BNB holdings, purchase them from a crypto exchange and transfer them to your wallet. Calculate the amount of BNB you will need beforehand.
2. Connect your wallet to Battle Infinity Presale Dashboard
The next step is to connect your crypto wallet to the presale dashboard. Battle Infinity supports popular BSC-compatible wallets like MetaMask and Trust Wallet. Make sure the network is switched to BSC while connecting.
3. Purchase IBAT tokens
Scroll down to find the [BUY IBAT] box. Here, enter the amount of BNB to swap or the amount of IBAT you wish to buy. The system will automatically update the other field. There is also the option to add the wallet address of a referrer and earn rewards.
4. Import IBAT tokens
Once you make the payment, the tokens are sent to your wallet. To see them, click [Import Tokens] and enter the contract address.
Conclusion
The feature-rich ecosystem of Battle Infinity shows that IBAT could be the next 100X crypto token. If the project sticks to its roadmap, the token has the potential to cross USD 0.075 by the end of this year. And with new products and the growing ecosystem, it can go up to as high as 0.1875 in 2023.
---