B2Core Launches Highly Anticipated Update: New Event Notification Module, Telegram integration, and More!
Disclaimer: The text below is a press release that is not part of Cryptonews.com editorial content.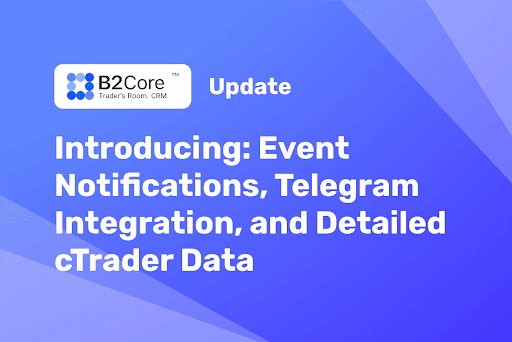 B2Core, the industry's leading CRM solution, has released a significant update to elevate the overall user experience to new heights. This update introduces four noteworthy features that enhance the platform's functionality and deliver exceptional value to users. The update includes the following features:
An advanced event notification module
Telegram integration
Detailed cTrader data availability
Streamlined bulk deposits to client accounts
This update also includes a variety of improvements and enhancements that further improve the customer journey.
Advanced Event Notification Module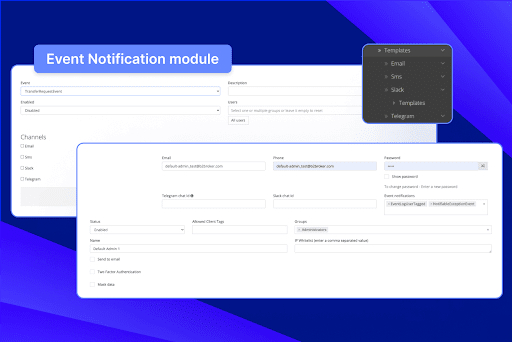 B2Core's Back Office now has a cutting-edge Event Notification module, giving admins unparalleled flexibility and customization options regarding notification settings. With this option, admins may modify the frequency, format, and other aspects of event alerts to meet their specific needs. With an extensive range of 27 configurable notification options, including withdrawal requests, successful registrations, and more, B2Core enables administrators to stay informed and take timely action when triggered events occur.
The module goes a step further by allowing certain specified admin users to receive certain notifications by adding admins in the "Users" category. Notifications can be channeled through various mediums, including email, SMS, Slack, and the newly integrated Telegram integration, allowing admins to receive notifications via the channel that is most convenient for them. All event notifications are displayed in the user card.
Official detailed documentation, as well as the comprehensive How-to Guide and the References page, are available to assist users in harnessing the full potential of the Event Notification module.
Integration Of Telegram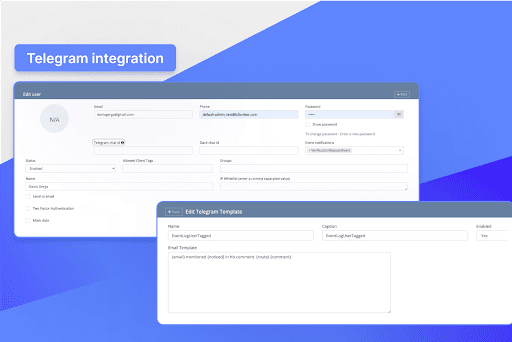 As part of its commitment to providing diverse and efficient communication channels, B2Core seamlessly integrates with Telegram, a popular messaging platform. To start receiving real-time updates and notifications via their preferred platform, users need to link their B2Core Back Office account with their Telegram chat ID. This can be done in the admin's card by going to "System — Users — Edit user". After that, users need to configure the preferred notification template in the "System — Templates — Telegram" section and add the Telegram channel to the notifications in Event Notifications.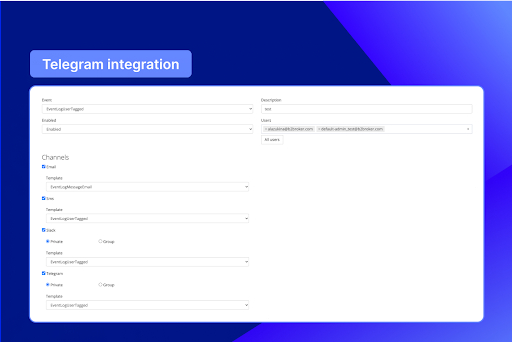 Telegram's event alerts can help financial organizations and brokers be more responsive and make better decisions. If you need more information, B2Core has prepared detailed instructions on installing Telegram bots and templates, finding your chat ID, and more.
Advanced cTrader Data Insights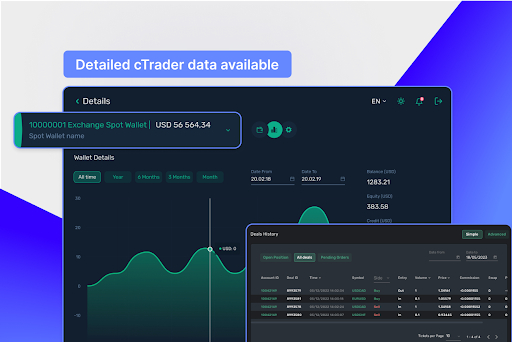 B2Core improves the cTrader interface for cTrader accounts by giving traders access to superior data insights and analytical capabilities. Equity, Balance, Leverage, Credit, and Free funds are just some of the granular indicators now available to traders. With this all-encompassing picture, investors may better grasp their financial standing and make educated choices.
To further aid traders in analyzing trends and performance across varying time periods, B2Core includes historical equity indicators in an interactive format. With access to real-time data on user orders, open positions, executed trades, and other pertinent information, B2Core provides a consolidated and user-friendly trading interface that equips traders with the critical data they need to succeed in dynamic markets.
Streamlined Bulk Deposit Functionality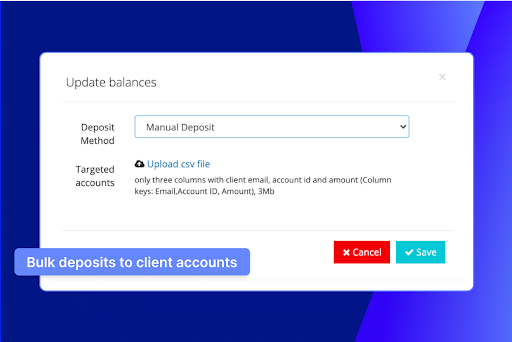 Streamlining bulk deposits is another way B2Core simplifies fund management for brokers and financial institutions. The new "Update Balances'' box under the user-friendly "Accounts'' area allows for the simultaneous funding of an array of customer accounts. Rather than manually entering information like email addresses and account numbers, brokers may just submit a CSV file containing the necessary data. This functionality improves operational efficiency, freeing up brokers' time and energy for more strategic endeavors while also making their day-to-day fund administration responsibilities easier.
Summary
The newest B2Core improvements have raised the bar for customer relationship management software in the financial industry. Enhanced Event Notifications, Seamless Telegram Integration, Advanced cTrader Data Insights, and Streamlined Bulk Deposit Functionality demonstrate B2Core's dedication to providing brokers and financial institutions with cutting-edge tools to succeed in today's competitive marketplace.
With a focus on customization, efficiency, and data-driven decision-making, B2Core continues to solidify its position as the preferred CRM solution for industry professionals worldwide.
Follow B2Core's progress as it fosters creativity and gives financial institutions the tools they need to succeed!
---