B2Broker Unveils Highly-Anticipated B2Margin White Label Margin Exchange Trading Platform
The text below is an advertorial article that was not written by Cryptonews.com journalists.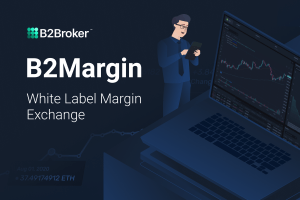 B2Broker recently launched its white label margin exchange trading platform which has already been implemented by several new clients. B2Margin, as it is known, has been a strong focus for the development team during 2020 who delivered its long-awaited solution amid an enthusiastic welcome.
Margin trading has been a feature of the Forex markets for a while and has more recently started to grow in popularity in the fast-paced crypto sphere. We now see that even the best-known exchanges have implemented leveraged trading, attracted by its impressive profit-potential which is no longer possible with spot trading.
B2Broker reports that margin trading has greatly increased in popularity in spite of the fact that derivative trading is what everyone tried to avoid in the early days. Five years ago, everyone preferred spot trading but finds that business is now moving further towards derivative trading. B2Broker confirms this trend will get even stronger, and for this reason, decided to develop B2Margin and offer an attractive margin trading solution to its clients.
Crypto margin trading offers brokers many benefits and additional trading opportunities. It is also worth noting that the threat of exchange hacks is lessened as trading with leverage means that the amount of capital required to be held by an exchange is reduced.
B2Margin Explained
As we have seen, B2Margin offers traders the opportunity to boost their trading with leverage, and includes a broad spectrum of functions such as on-boarding, compliance, risk management, pricing and trading analytics. B2Margin was designed for both institutional and retail clients and supports multiple asset classes, such as Forex, Metals, Indices, Energies, Stocks, ETFs, Cryptocurrencies CFDs and Spot/Cash Cryptocurrencies, with Futures Cryptocurrencies coming soon. Essentially, every broker will be able to provide two solutions to their clients: (1) leverage trading or (2) cash trading on all the asset classes specified.
B2Broker is also in the final stages of completing its dividend distribution module. This will enable broker-dealers to provide liquidity for STOs shares and cash equities.
Professional and Adaptive GUI
B2Margin offers a vast range of features with an advanced interface which meets all requirements from beginners through to professional traders. With a customizable and adaptive layout, end users can choose what they want to see in accordance with their needs and preferences. Trading instruments are grouped by classes with a customisable workspace which includes intuitive visualization of market data, an extensive suite of trading tools and complete branding customisation. These are some of the main features:
Multiple Order Types
B2Margin offers multiple order types to support the most sophisticated trading strategies and provide users with a variety of options on how and when to enter and exit a trade. From Protection orders to Time in Force up to Pending orders, traders have everything they need to manage their trading activity.
Professional Сharts
This function allows users to place trades, manage orders and work directly from our integrated charts and make use of a comprehensive suite of drawing tools, including over 50 technical indicators to analyse price trends.
Secure Wallets
The ability to withdraw, deposit and store your assets in your personal secure wallet. All assets are securely held in our offline storage system to protect users against any possible risks and threats.
Watchlist
Users have the opportunity to add their favourite instruments to the list so they can keep an eye on their current prices and 34 hour changes. Orders can then be placed straight from the Watchlist.
Order Book
The list of buy and sell orders organized by price is updated in real time and is a key indicator of market depth, reflecting the trading instrument's likely price trend.
Customised Leverage
For precise risk management, a broker's clients are able to set their own custom leverage for each trade order. This is a unique feature that provides a competitive advantage when it comes to attracting clients to a business.
Risk Management
Besides managing risk known as A-Book or B-Book, B2Margin also allows brokers to use C-Book. This is a highly advanced feature for every broker's dealing department.
Broker dealers can also customise their spread, markup, swap and commissions for each user, particular accounts, as well as by group.
Technical Support
24/7 technical support is offered to all clients.
These features and more, with the added benefit of detailed account statements to volume trade reports, enable brokers to seize full control of their operations and maximise their business potential.
---