Are NFTs Bad for the Environment? The Truth Revealed
Disclosure: Crypto is a high-risk asset class. This article is provided for informational purposes and does not constitute investment advice. By using this website, you agree to our terms and conditions. We may utilise affiliate links within our content, and receive commission.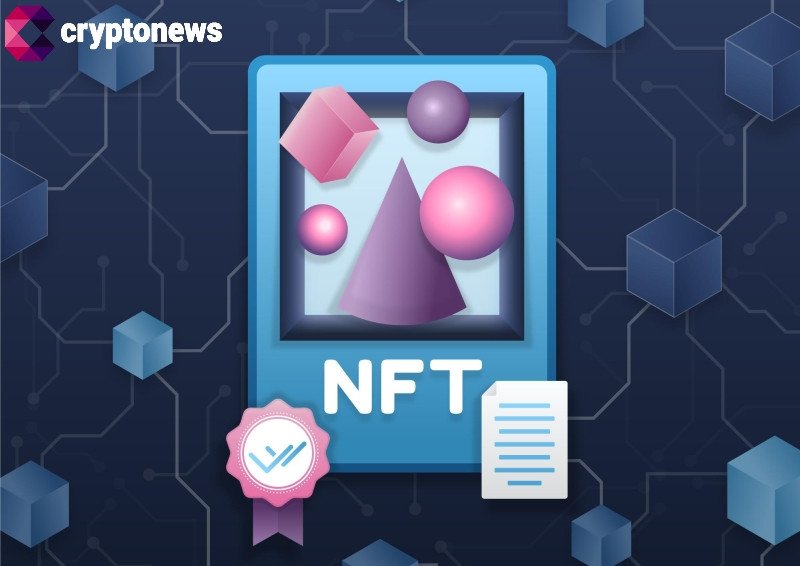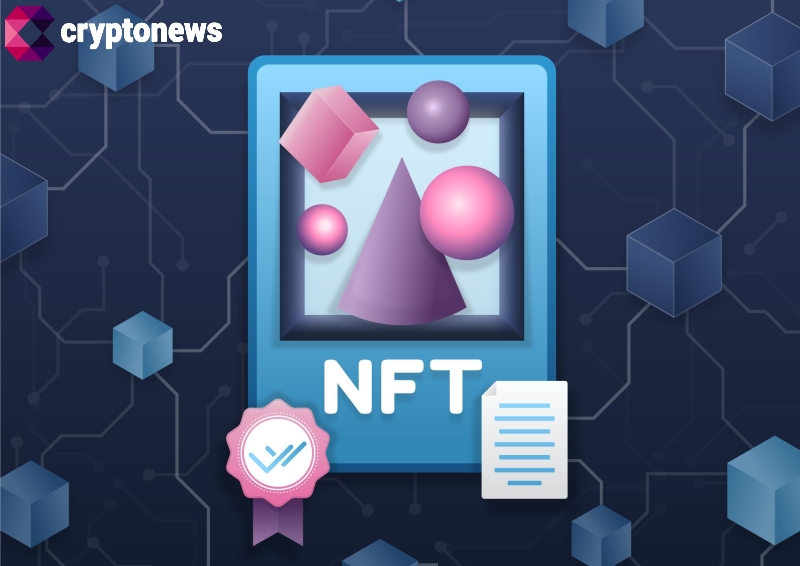 Disclaimer: The Industry Talk section features insights from crypto industry players and is not a part of the editorial content of Cryptonews.com.
There is regular media coverage on blockchain networks consuming vast levels of energy. According to recent reports, Bitcoin alone consumes more energy that the entire population of Argentina.
Therefore, that begs the question – are NFTs bad for the environment? Read on to find out what our research concluded.
IMPT – The Most Eco-Friendly NFTs
Overall, we found that while some crypto assets and NFTs can be bad for the environment, this isn't the case across the board. IMPT, for example, is a newly launched project that actually contributed to environmentally-friendly causes through its carbon credit ecosystem.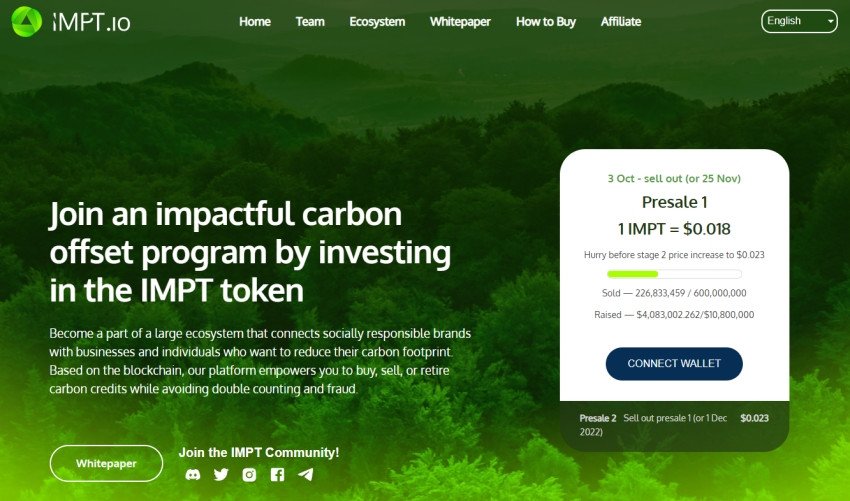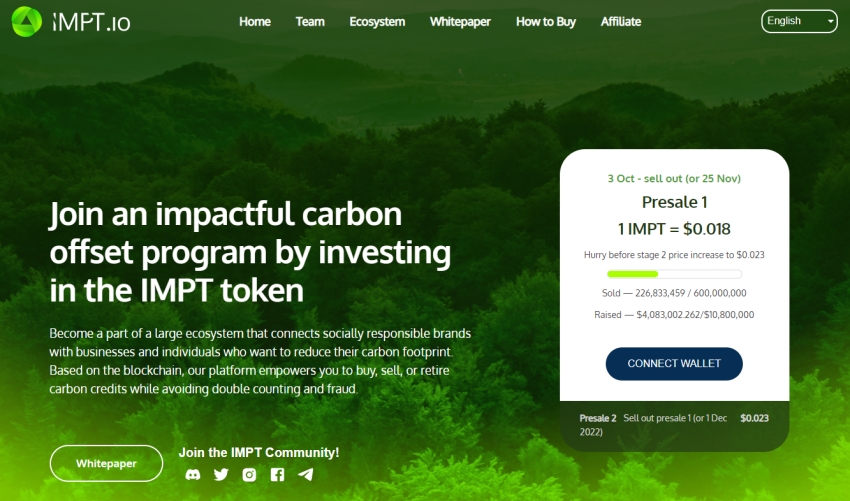 In a nutshell, IMPT enables consumers and organizations to buy digital tokens that are subsequently converted to carbon credits in the form of NFTs.
Users of the ecosystem can elect to burn offset their carbon credits and thus – this has a long-lasting positive impact on the environment.
Moreover, IMPT is also one of the most sustainable cryptocurrencies from an investment perspective, as users have the option of selling their carbon credits on the secondary market.
Should the global value of carbon credits increase, this would offer an opportunity to generate gains.
IMPT is currently offering its digital tokens via a presale launch, with early stakeholders having access to the best price possible.
NFTs and the Environment – The Basics
Before being able to evaluate whether or not NFTs are bad for the environment, it is important to have an understanding of the basics. First and foremost, just like conventional crypto assets – NFTs operate on the blockchain network.
This means that NFTs operate in a decentralized manner and thus – transactions are verified by miners. When a new NFT is minted, for example, this requires a transaction on the respective blockchain. In turn, this requires miners to verify the transaction via complex mathematical equations.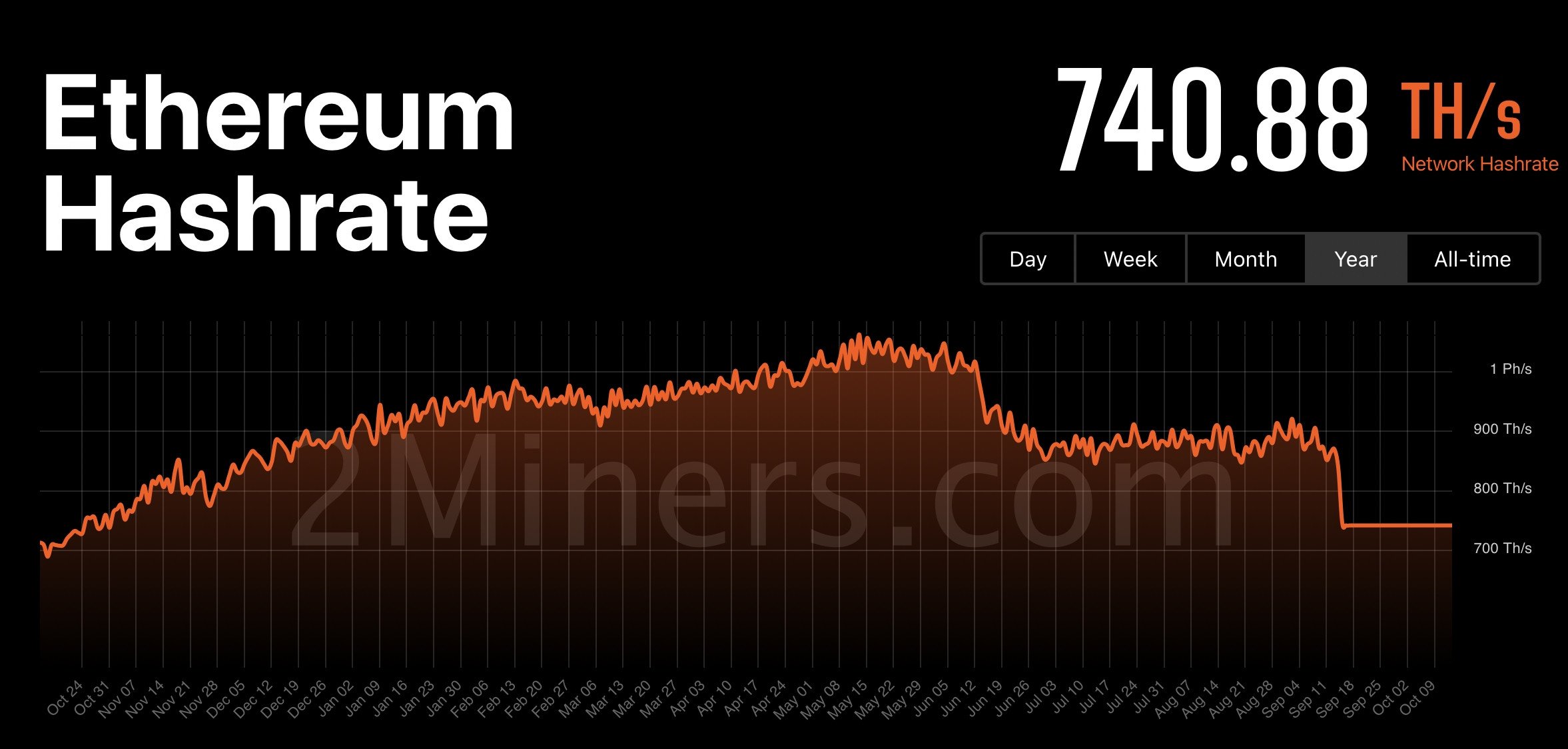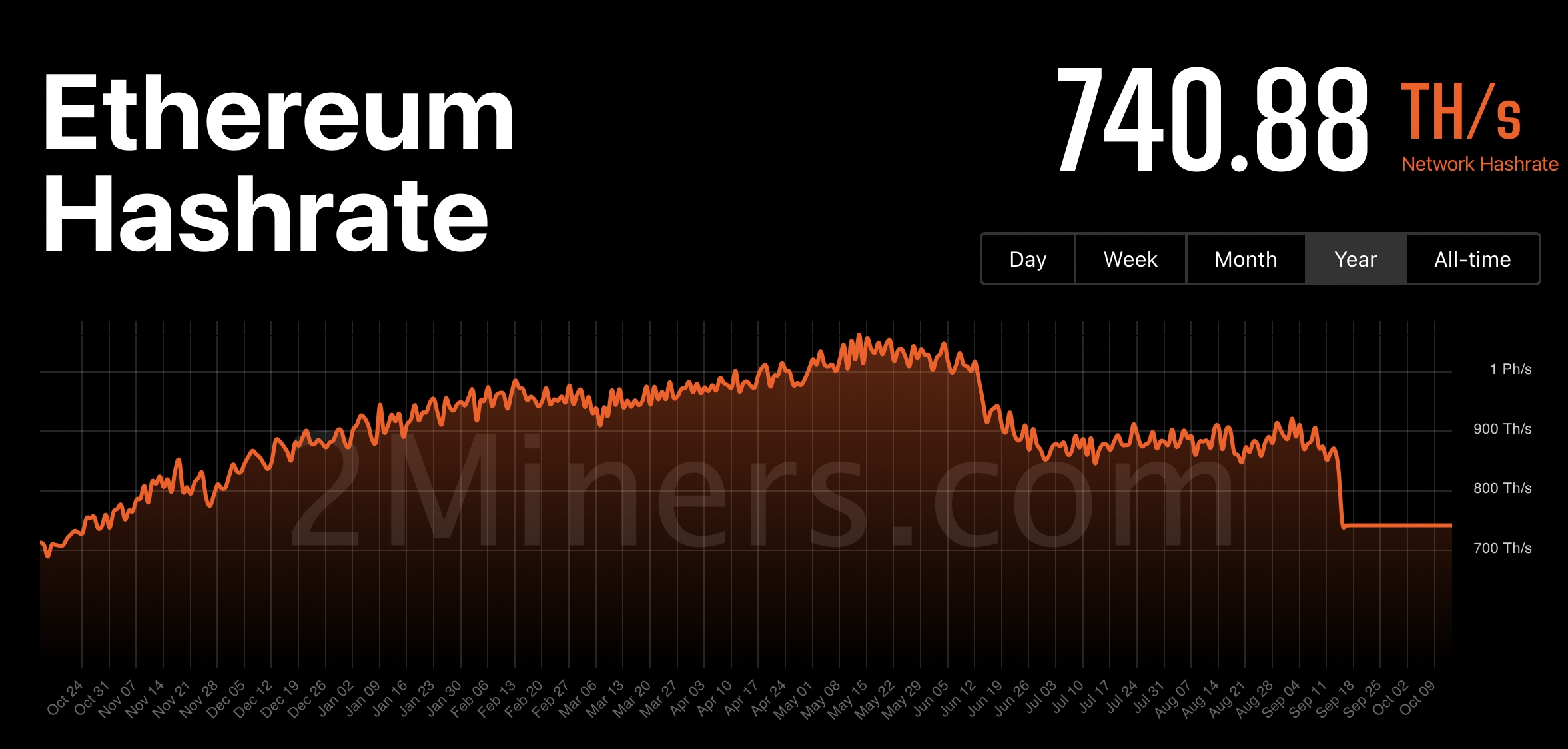 This process – depending on the blockchain, often requires vast levels of electricity consumption. As noted above, recent estimates suggest that the Bitcoin network consumes more energy each year than the entire population of Argentina. With that being said, the vast majority of NFTs operate on the Ethereum blockchain.
Until recently, Ethereum was also bad for the environment in terms of energy consumption. However, as we discuss in more detail shortly, Ethereum has since migrated from a proof-of-work consensus mechanism over to proof-of-stake. As such, this means that transactions on the Ethereum network now represent the most energy-efficient cryptocurrencies and NFTs.
How NFTs Can be Bad for the Environment
In this section, we take a much closer look at the question – how do NFTs hurt the environment?
NFT Transactions
We should first explain why NFTs require the use of a blockchain network and transactional throughput. This will help answer the question – are NFTs bad for the environment?
The first transaction that occurs is when a new NFT is minted.
This is a term that refers to the creation of a new NFT on its respective blockchain.
The transaction will be posted to the newly minted NFT on the network, which will be validated by miners.
As we cover shortly, miners are paid transaction fees – which are covered by the person that mints the NFTs. This can and will vary considerably depending on the network, albeit, as we have established – the vast bulk of NFTs are Ethereum-based.
After buying an NFT from an online marketplace, the provider will transfer the non-fungible token to the user's private wallet. Once again, this will require another transaction on the blockchain that must be validated by a miner.
In essence, every time that there is a movement of the NFT from one wallet to another, this will demand another transaction. This issue is exacerbated when you consider that some NFT collections will consist of thousands of individual tokens.
Pre-Ethereum Merge
As we briefly noted earlier, the majority of NFTs operate on top of the Ethereum blockchain. This is a key factor to take into account when attempting to answer the question – how do NFTs harm the environment?
Prior to its recent merge to proof-of-stake, Ethereum was utilizing the proof-of-work mechanism – just like Bitcoin.
While ultra-secure and transparent, proof-of-work transactions are extremely bad for the environment. The reason for this is the way in which transactions are confirmed and validated by blockchain miners.
The typical process is as follows:
Each 'block' on the network contains a range of transactions, which will cover both cryptocurrencies and NFTs
In order to verify the transaction as valid, miners are tasked with solving ultra-complex mathematical equations
These equations are so complex that no human could realistically solve them without the aid of a computer and specialist device
The technology needed to solve proof-of-stake transactions ultimately requires vast sums of electricity – owing to the complexity of the equation
When assessing NFTs effect on the environment, the above example highlights that much-needed energy is being wasted on validating transactions.
Moreover, as the previous proof-of-work system utilized by Ethereum could only handle the region of 15/16 transactions per second, this meant that the network was often overloaded. In turn, this required more energy consumption and thus – unfavorable fees.
During the peak of the NFT craze in 2021, Ethereum transaction fees were averaging $3-4. Consider that a new 10,000 NFT collection being minted would there demand tens of thousands of dollars – just to pay miners.
This in itself could be considered as bad for the environment and society as a whole.
Post-Ethereum Merge
After many years in the making, Ethereum is now a proof-of-stake blockchain. This means that the network is significantly more efficient, which feeds down to NFTs.
First and foremost, Ethereum no longer requires miners to solve ultra-complex mathematical equations to validate NFT transactions. Instead, the proof-of-stake mechanism offers a fairer and much more energy-efficient system.
In fact, according to a recent article published by Reuters, the Ethereum merge has since resulted in a transactional throughput process that is now 99% more environmentally friendly. This means that minting and transferring NFTs is no longer a strain on energy resources.
Furthermore, fees are now significantly lower, not least because the proof-of-stake system now has the capacity to scale more than 100,000 transactions per second.
How NFTs Can be Good for the Environment
While it is true that NFTs on the Ethereum network still requires energy consumption and transaction fees, there are a number of projects in this space that are actually looking to do good things for the environment.
We discuss this sentiment in more detail in the sections below.
Carbon Offsets
The possibilities with NFTs are virtually endless. One such angle that enables NFTs to be good for the environment is that they can provide a framework to offset carbon emissions.
Many countries around the world have installed a limit on the amount of carbon emissions that companies can emit each year, and the specific allocation will vary from one jurisdiction to the next.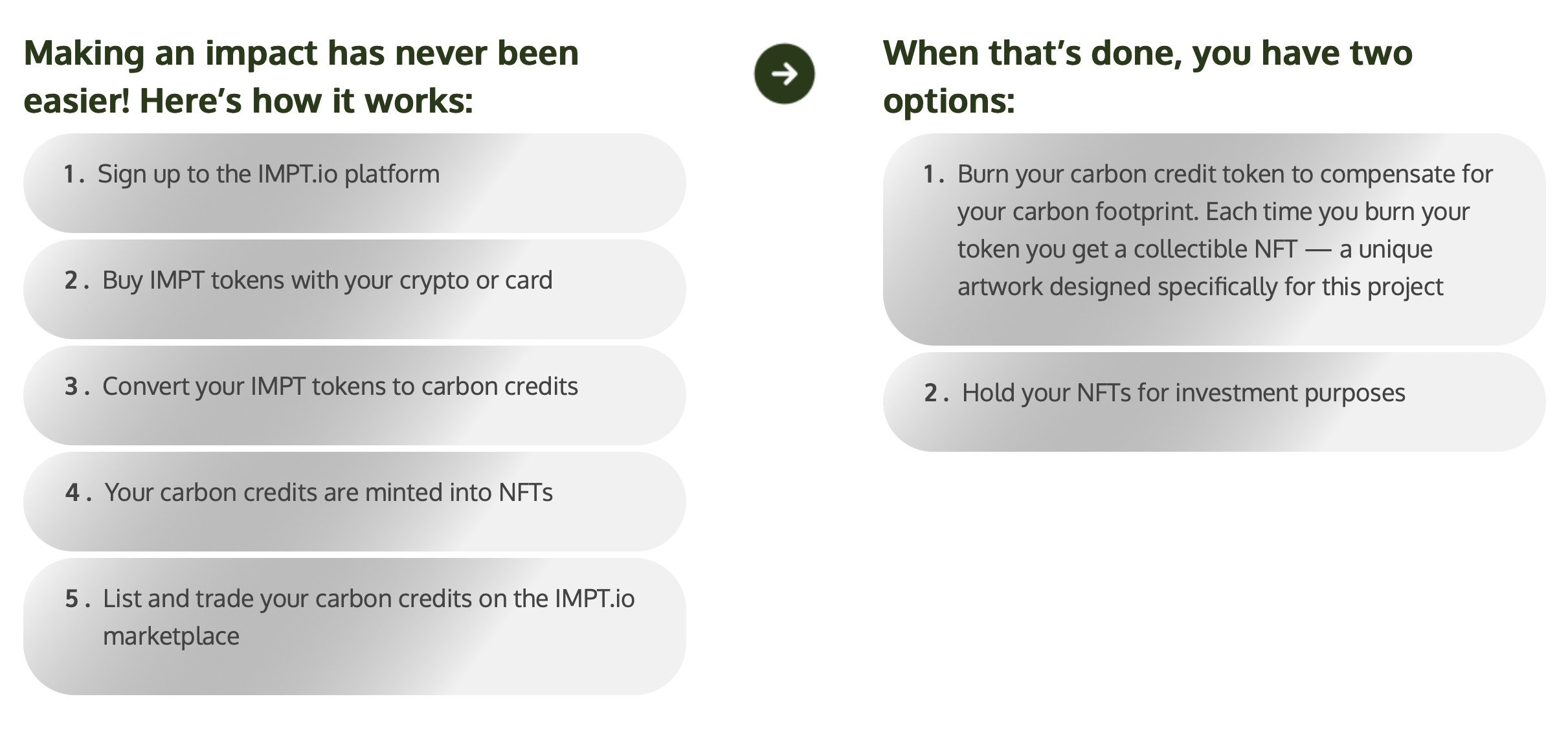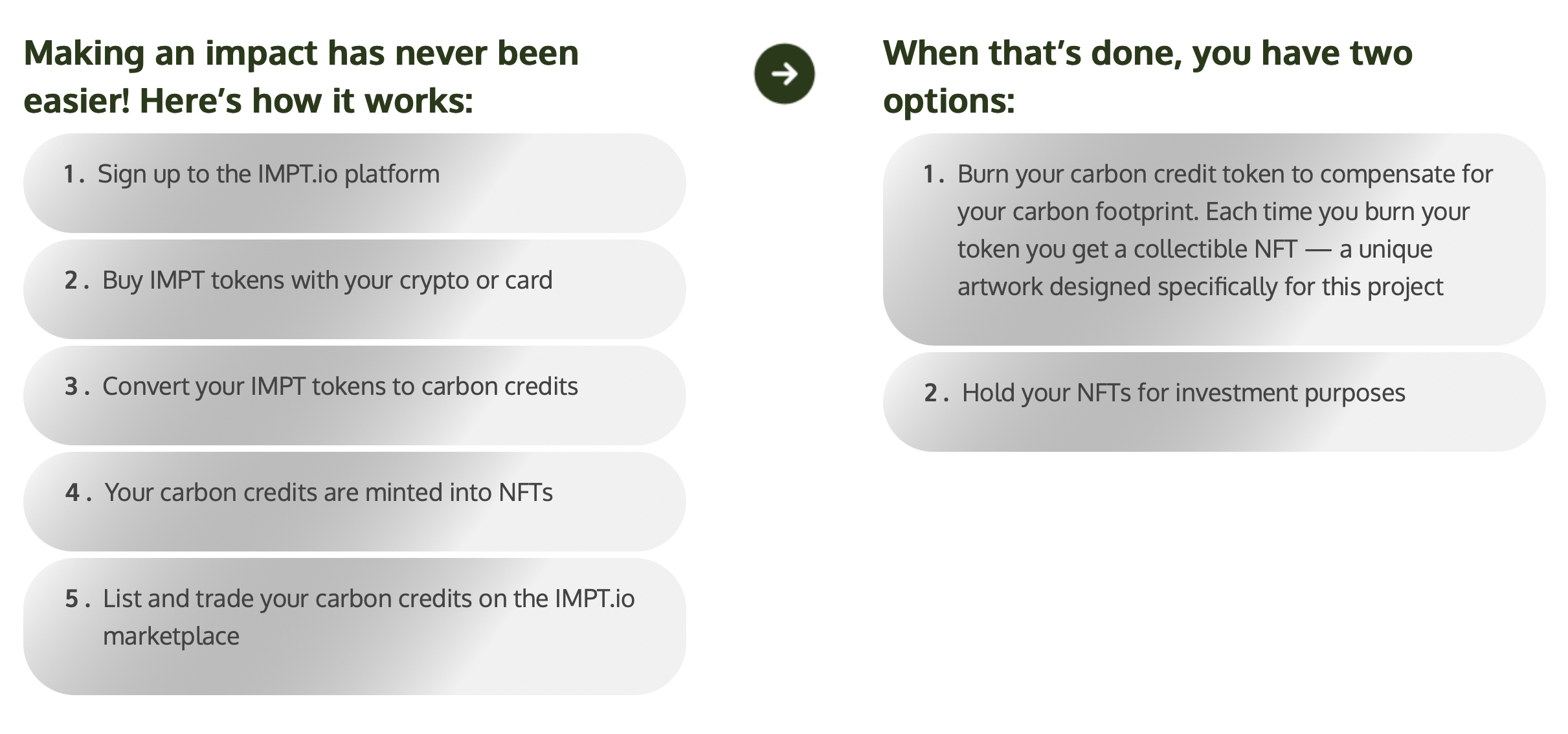 Should a company have a need to emit more harmful emissions than the allocation allows, they are required to purchase carbon credits. One of the most efficient ways to achieve this is through NFTs.
For example, IMPT is building an ecosystem that will enable businesses to buy and sell carbon credit emissions. Moreover, those holding IMPT tokens can convert the digital assets to NFTs and subsequently decide to offset the carbon emissions. As such IMPT has been dubbed the greenest cryptocurrency on the market in 2023.
In turn, this has a positive impact on the environment. Furthermore, as NFTs operate on the blockchain, all carbon credit transactions are publicly verifiable on the public ledger.
Alternative Minting Processes
We briefly discussed earlier that when a new NFT is minted, it requires a transaction on the blockchain. This means that miners are required to verify the transaction, which consumes energy.
However, innovative minting processes mean that there are now ways around this issue.
For instance, 'batch' minting enables creators to mint an entire NFT collection through a single transaction. This will be especially useful for creators that wish to mint a sizable collection of many thousand NFTs.
Another option for creators is to opt for 'lazy' minting. This enables creators to mint a new NFT collection, but the transaction for each token does not require a blockchain movement until a sale is made.
While lazy minting will at some point still requires a transaction, this will only be the case as each token is sold.
After all, many creators will mint an entire NFT collection and perhaps only sell a small portion of the allocation. This means that unsold NFTs will not require a blockchain transaction.
Tree Planting
While NFTs can also extend to other environmentally friendly causes, one such area that is becoming prominent is the planting of new trees.
In its most basic form, users can buy an NFT that represents a tree that will be planted by the respective project.
As the NFT operates on the blockchain, it is possible to get a full overview of the tree-planting process in a transparent manner.
Charitable Donations
We also came across a number of NFT projects that make sustainable donations to charitable causes. This is funded through the transaction fees that are generated when NFTs are bought and sold.
When the project collects transaction fees, it can donate a portion of the funds to environmental causes. In turn, this can actually result in the blockchain becoming carbon-negative, meaning that it does more good than bad to the environment.
The Best NFTs That Help the Environment
Thus far in this insight we have answered the question – are NFTs bad for the environment?
In this section, we now explore some of the best NFT projects in the space right now that are generating a positive impact on environmental causes.
1. IMPT – Carbon Offset Ecosystem and Secondary Marketplace
Overall, we really like the work that the team at IMPT is doing for the environment through their innovative carbon offset ecosystem. First and foremost, IMPT is built on top of the Ethereum blockchain.
As we covered extensively earlier, Ethereum has since migrated to a proof-of-stake consensus mechanism, which is 99% more energy-efficient than its proof-of-work counterpart. As such, crypto asset and NFT transactions on the IMPT platform do not require vast levels of energy consumption.
With that said, it is the carbon offset program that really takes IMPT's dedication to the environment to the next level. In a nutshell, users can register an account with IMPT and proceed to buy the project's native token. The IMPT token can then be converted to carbon credits, which are then minted into an NFT that is securely stored on the blockchain.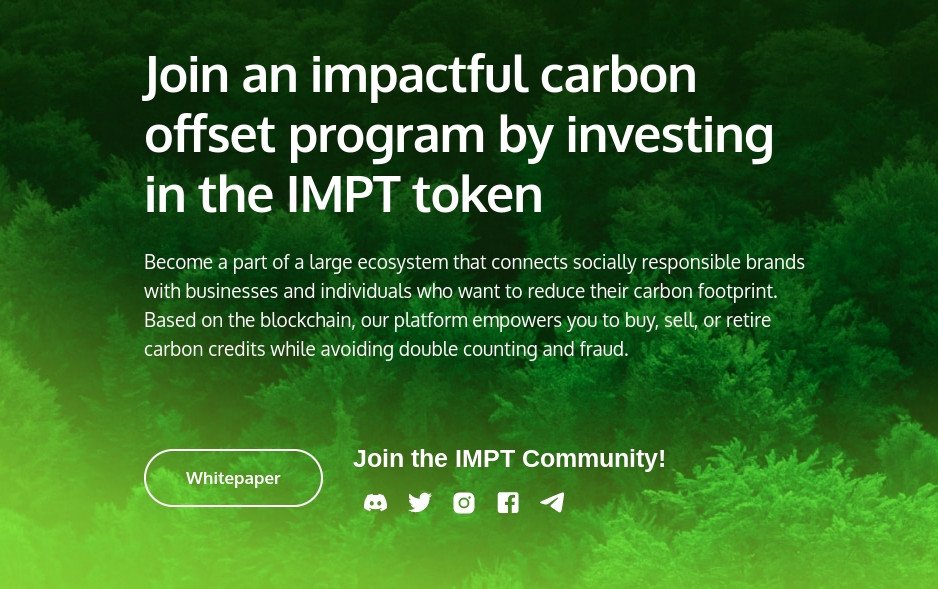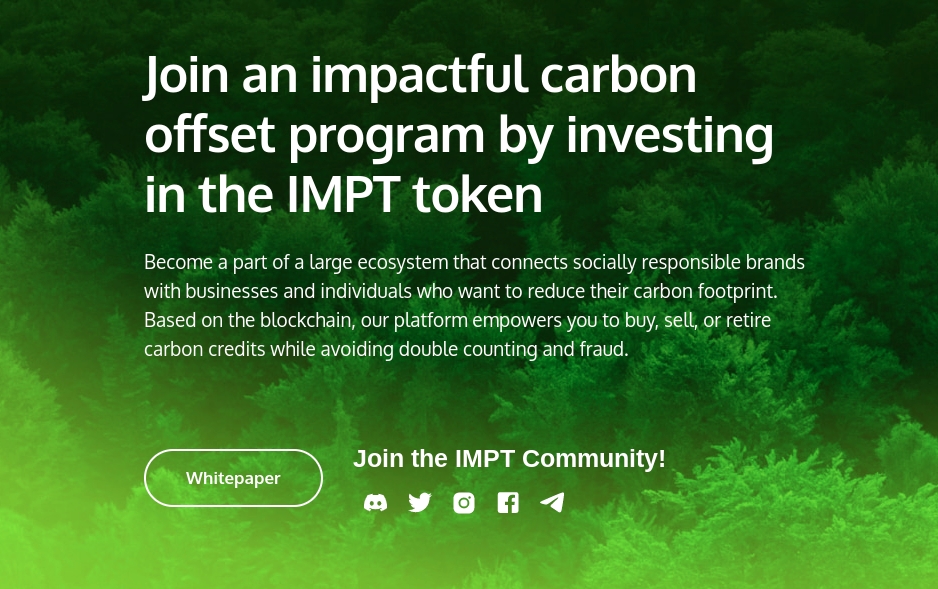 At this stake, NFT holders have a duo of options. Environmentally-focuses users can elect to burn the carbon credits that are represented by IMPT tokens. After burning a token, this offsets carbon emissions. In turn, users will receive an NFT collectible that comes with unique artwork. The other option offered by IMPT will appeal to investors.
Put simply, the IMPT token reflects the value of global carbon credit prices. This means that users can list their carbon credits on the IMPT secondary marketplace. If carbon credit prices increase, this means that buyers will need to pay a higher price to purchase the IMPT token. As such, this offers an investment opportunity in its own right.
IMPT tokens are currently available to purchase in a much-anticipated presale launch. A limited number of tokens are currently available at a presale price of $0.018. Once this initial batch sells – the price will increase by just over 27% to $0.023. Once the presale has concluded, IMPT will list on public exchanges, which will enable the public to buy and sell the token.
Ultimately, crypto presales like IMPT not only offer an attractive upside from an investment perspective, but the project is contributing to positive environmental causes. For further details users can read the IMPT whitepaper as well as join the official Telegram group with over 12.5k subscribers.
2. Algorand – Carbon Negative Since 2021
Founded in 2019, Algorand is a popular blockchain project that offers super-fast transactions at low fees. Moreover, Algorand is committed to a wide variety of environmentally-friendly causes. At the forefront of this is its proof-of-stake protocol (POS). While somewhat similar to Ethereum's proof-of-stake mechanism, POS is even more energy-efficient.
In turn, Algorand claims that its blockchain network has been carbon negative since 2021. Algorand is also partnered with a plethora of projects that are tasked with solving environmental issues.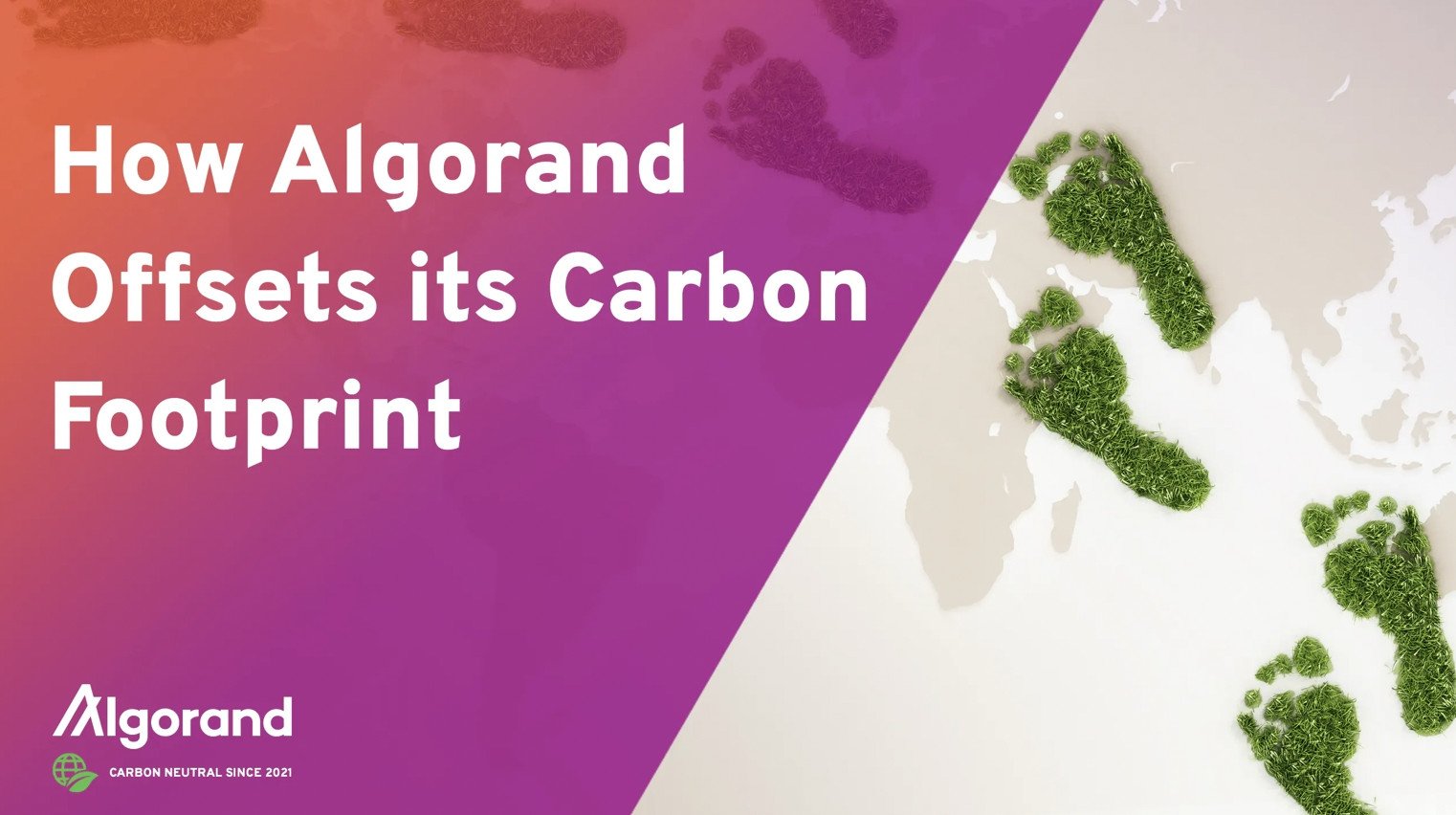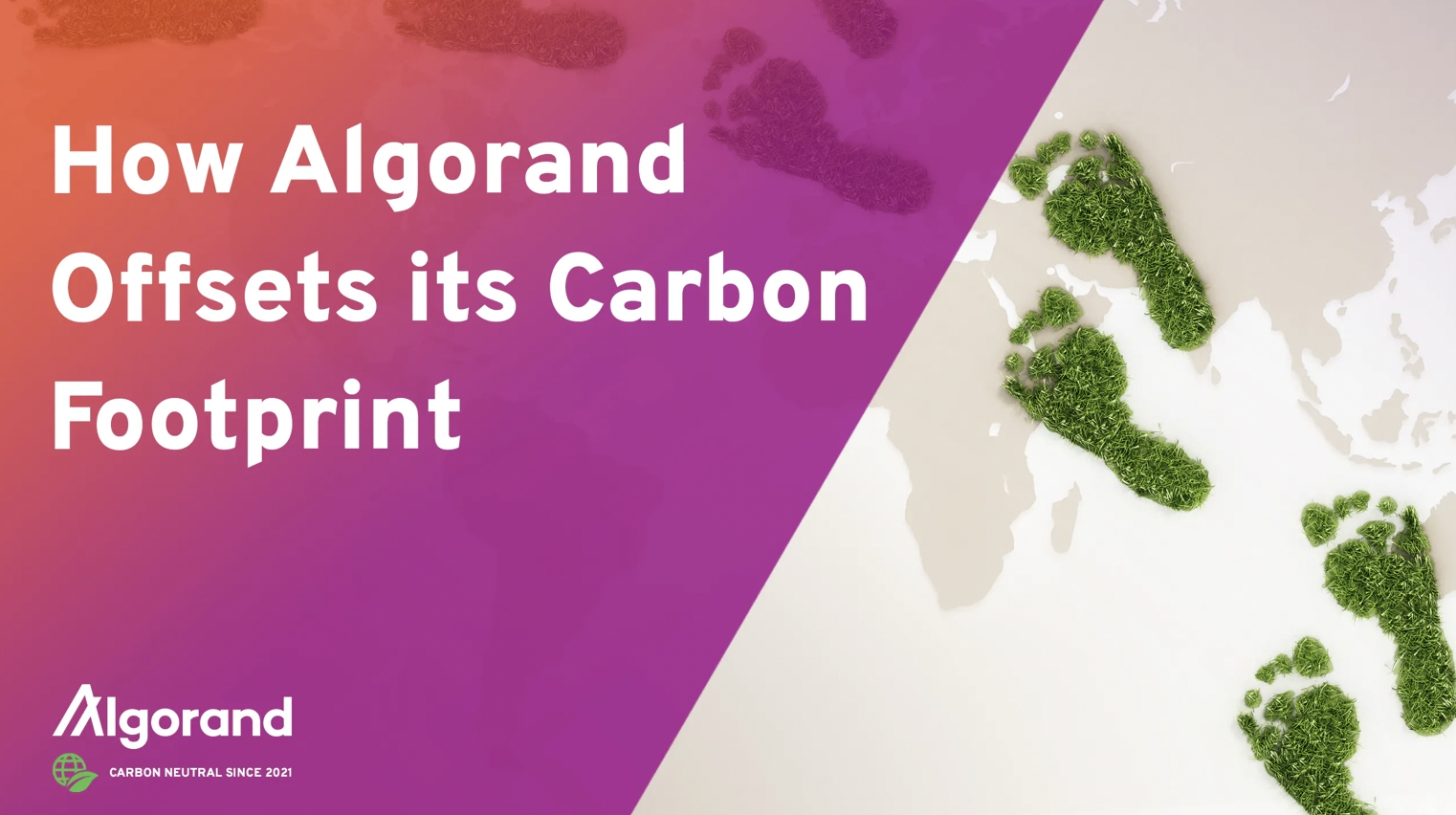 For instance, in partnership with ACCIONA, the Oaxaca Wind Project continues to generate clean energy in Mexico. This provides more than 700,000 households with clean, locally produced energy. The Algorand blockchain also has the capacity to mint, store, and trade NFTs. This could be a great alternative to Ethereum-based NFTs, considering the carbon-negative status of Algorand.
3. Coorest – Tree-Planting Initiative Through NFT Ownership
Coorest is an innovative project that enables users to help continue to the environment through NFTs and tree-planting initiatives. In a nutshell, each NFT is backed by 10 trees in the real world. Each NFT will allegedly absorb 250 kg of CO2 emissions each year.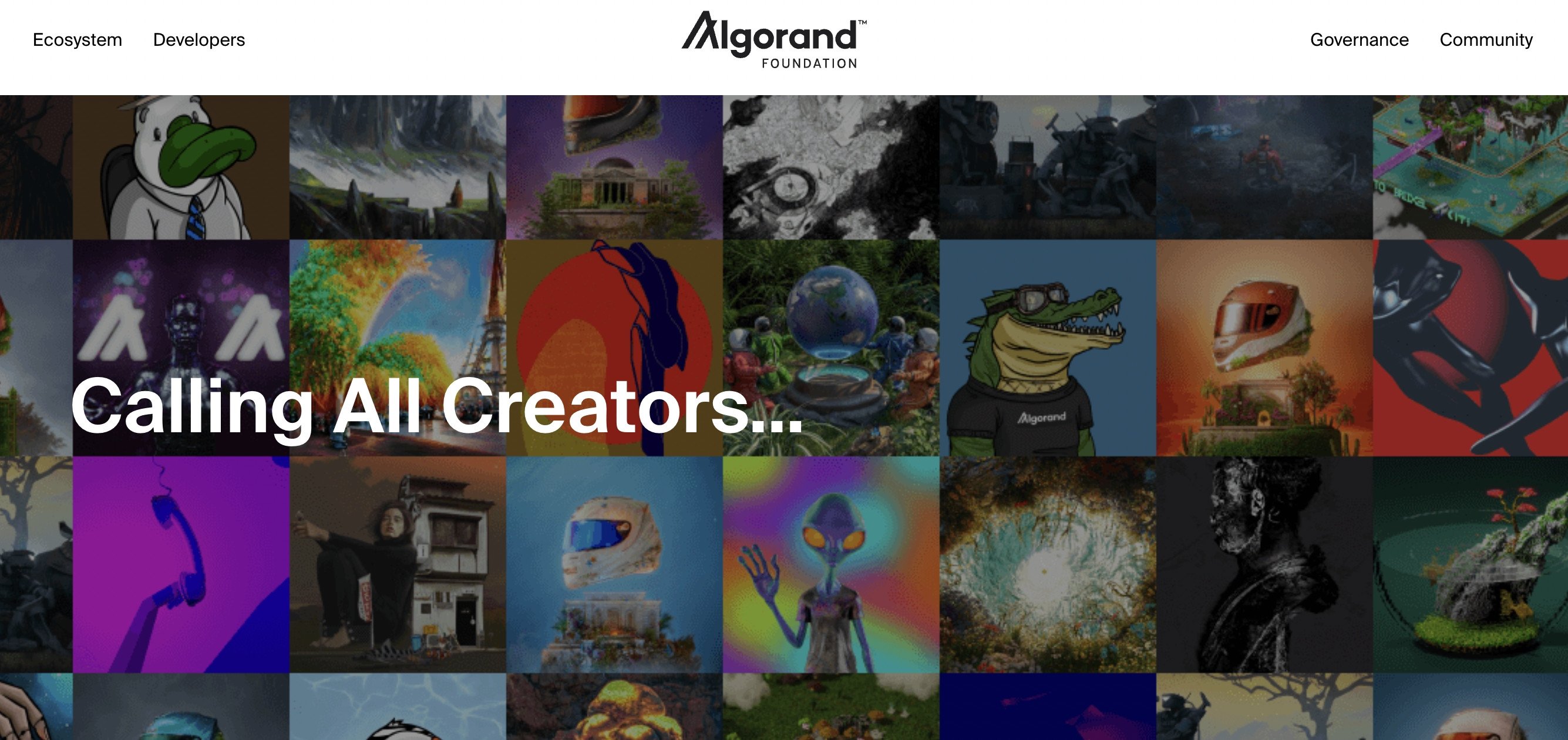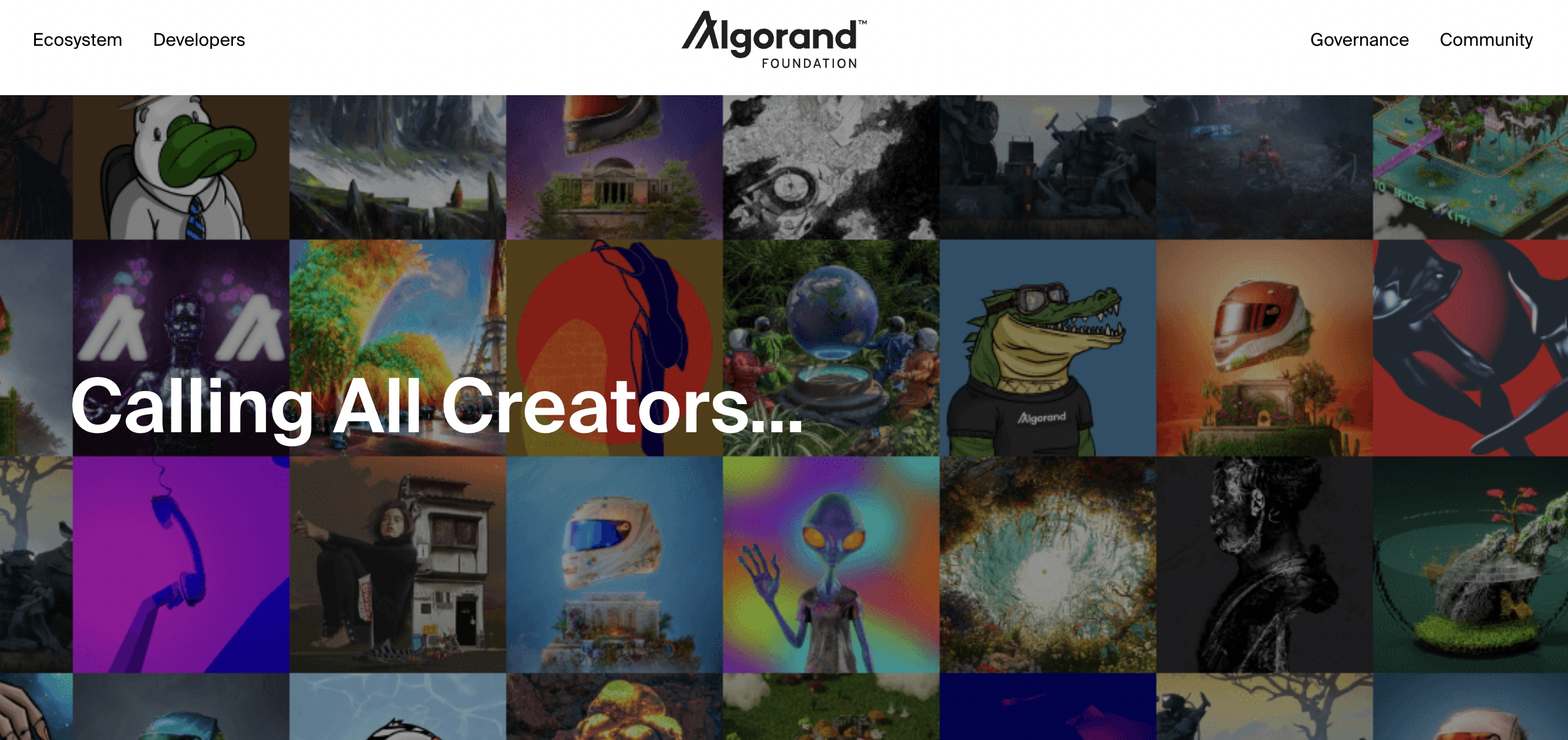 The first batch of trees will be planted in Northern Europe, with an estimated timeframe of Q4 2022 – Q2 2023. Coorest also notes that NFT holders will receive a Proof of Carbon Compensation Certificate, should they wish to offset their carbon footprint.
The Verdict – Can NFTs Help the Environment & Fight Climate Change?
This market insight has explored why NFTs are bad for the environment. The vast majority of NFTs are built on the Ethereum blockchain which, prior to its proof-of-stake migration, requires vast levels of energy to confirm minting and transfer transactions.
However, since the upgrade, Ethereum NFTs are now considered 99% more energy-efficient. Moreover, there are NFT projects like IMPT that are actually helping to fight climate change.
Through its blockchain-based ecosystem, IMPT enables consumers and businesses to offset their carbon footprint. Through the IMPT token, users can also gain exposure to the carbon credit trading markets.
A limited number of IMPT tokens are now being offered at preferential prices via a presale launch.
FAQs
Are NFTs bad for the environment?
Whether or not NFTs are bad for the environment will ultimately depend on the blockchain that they are built on. For example, NFTs built on the Ethereum blockchain – which covers the vast majority of this industry, are no longer detrimental to the environment. Since the proof-of-stake migration, Ethereum NFTs utilize 99% less energy.
How much energy do NFTs use?
The amount of energy required when minting or transferring NFTs will depend on a variety of factors. This includes the type of blockchain that the NFT is built on and how congested the underlying network is. The larger the number of NFTs within a collection, the more energy is required.
---