Arbitrum Price Prediction as ARB is listed on Binance and Coinbase – Can ARB Reach $10?
Disclosure: Crypto is a high-risk asset class. This article is provided for informational purposes and does not constitute investment advice. By using this website, you agree to our terms and conditions. We may utilise affiliate links within our content, and receive commission.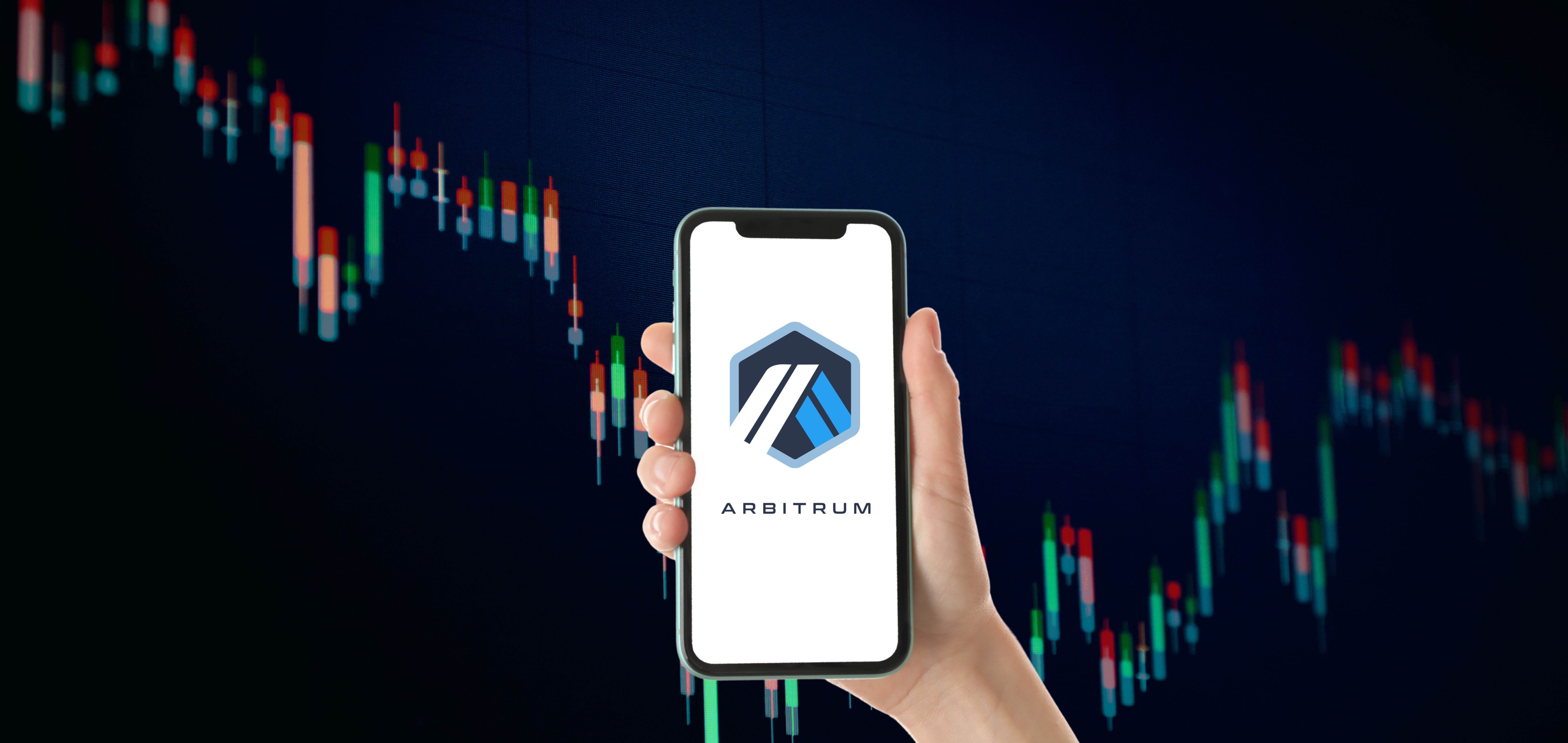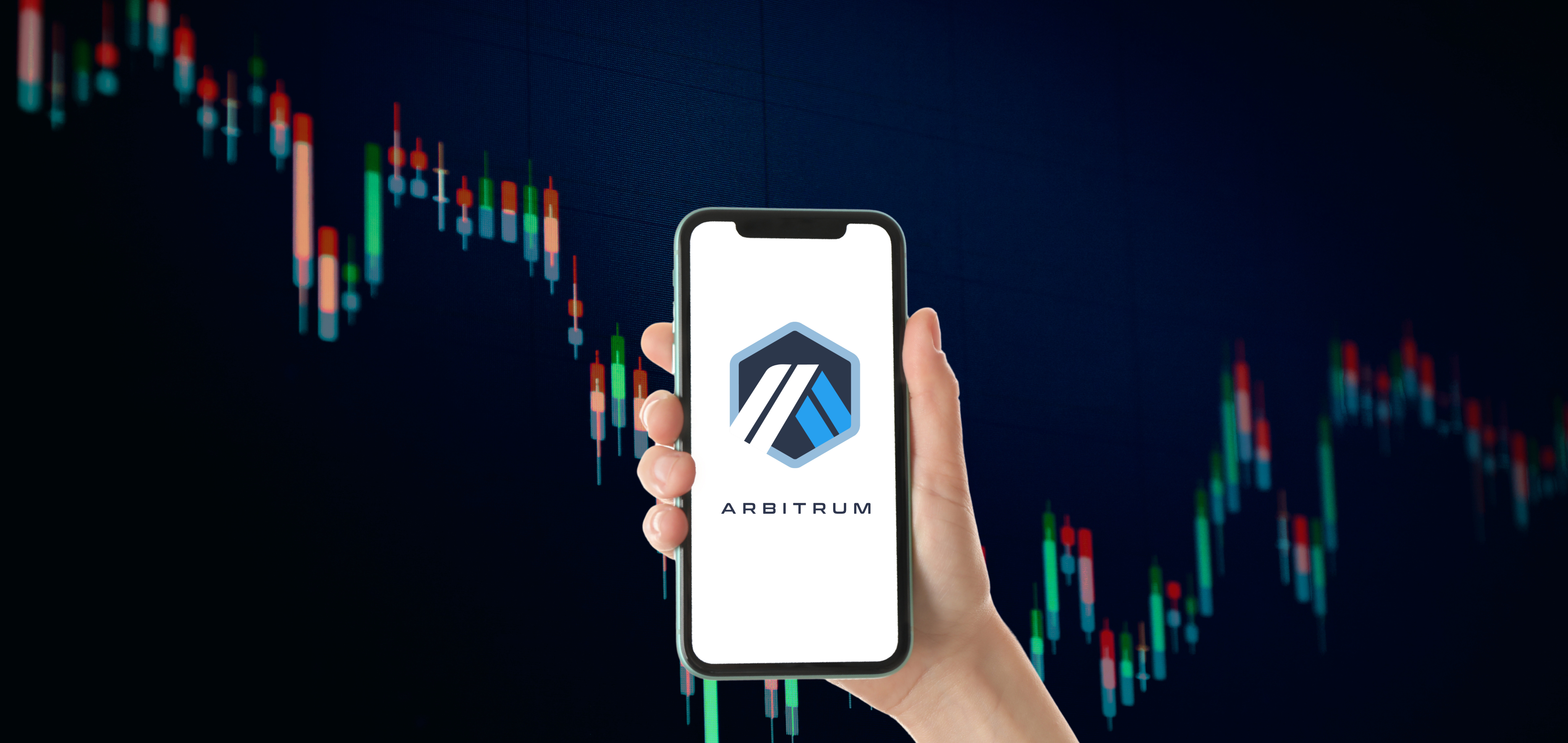 The recently airdropped token, ARB, which powers the Arbitrum Decentralized Autonomous Organization (DAO), experienced extreme volatility in trading on Thursday.
Arbitrum, the prominent layer-2 scaling solution on the Ethereum blockchain that offers fast and cheap transactions, officially became a DAO on Thursday after airdropping just over 1 billion of its ARB token to network users.
According to TradingView, citing Kraken data, ARB/USD rallied as high at $9 per token before dumping as low as $1.10 within as little as one hour.
Prices reportedly reached as high as $14 per token on ByBit.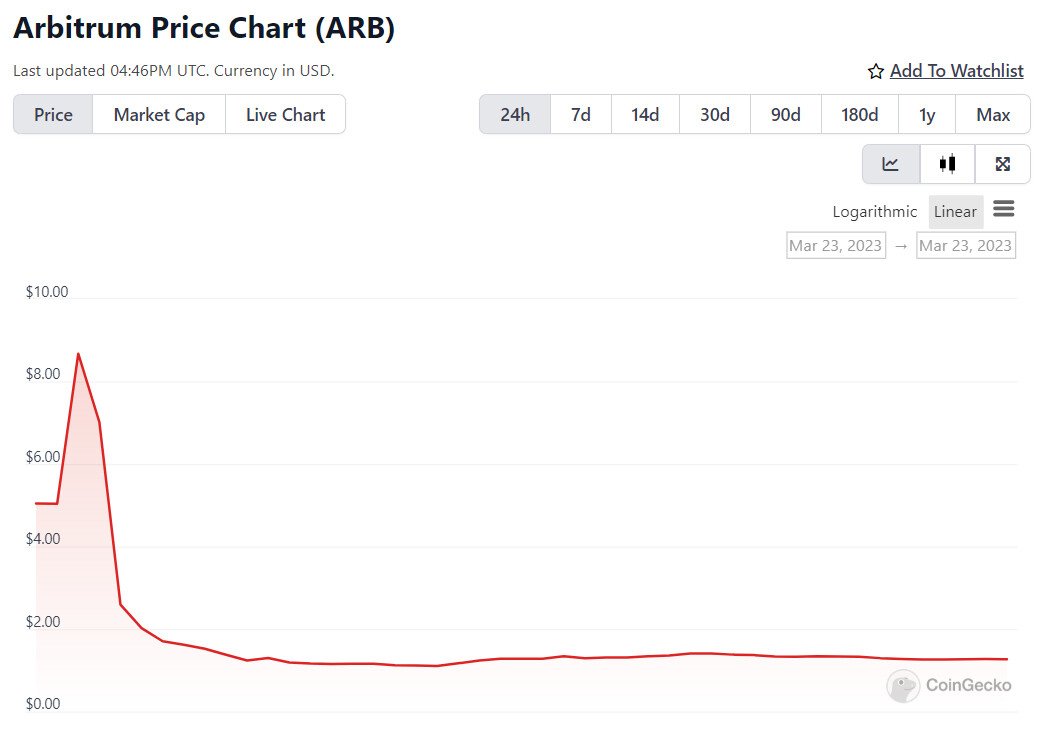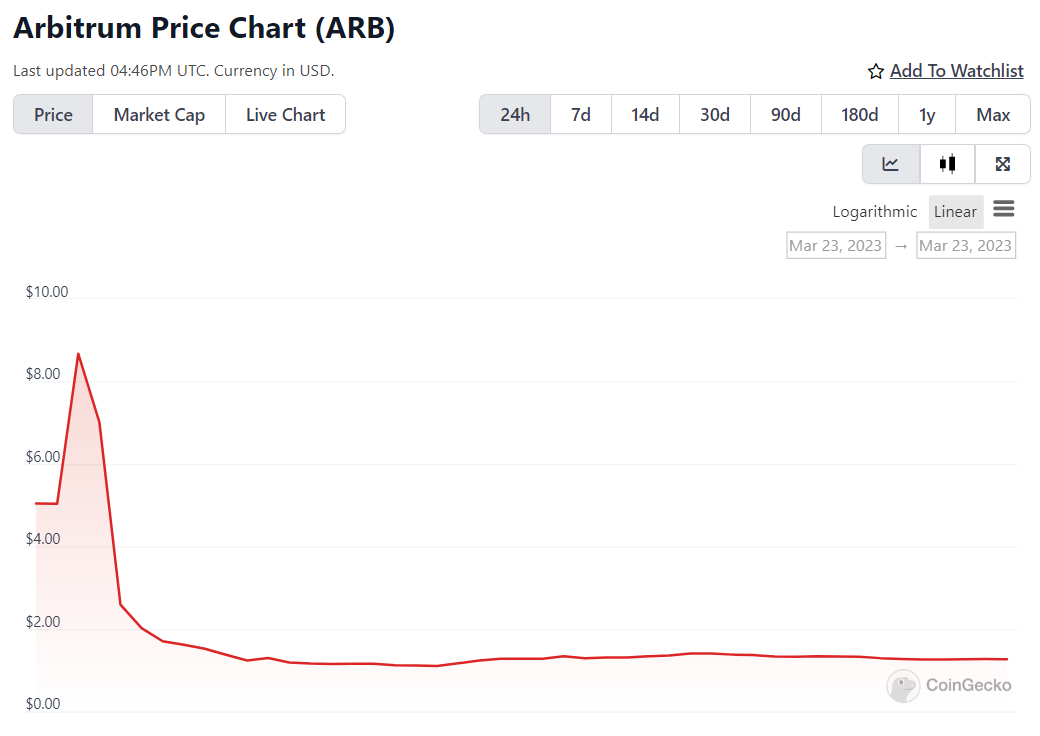 ARB/USD was last moving sideways around $1.35 per token, giving it a market cap of around $1.7 billion and making it the 40th largest cryptocurrency by market capitalization, according to CoinGecko.
Arbitrum's ARB token has a maximum supply of 10 billion, meaning its fully diluted market capitalization at current prices is around $13.5 billion, which would make it the ninth largest cryptocurrency by fully diluted market capitalization.
Why Did ARB Dump?
At earlier highs in the $9 to $14 per token range, Arbitrum's fully diluted market capitalization would have been a massive $90 to $140 billion, between 15-24% of Bitcoin's.
Yes, Arbitrum is an impressive, fast-growing protocol, with daily transactions spiking to a new record high this week above 1.2 million.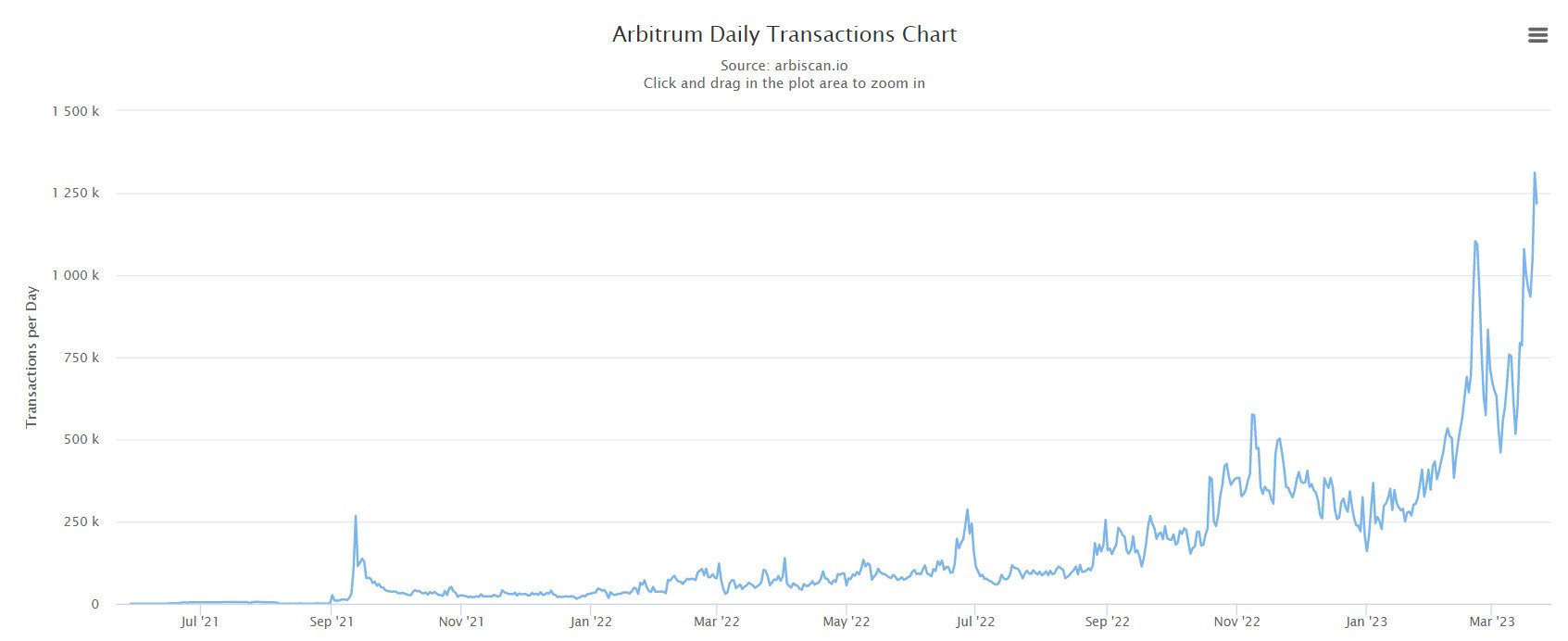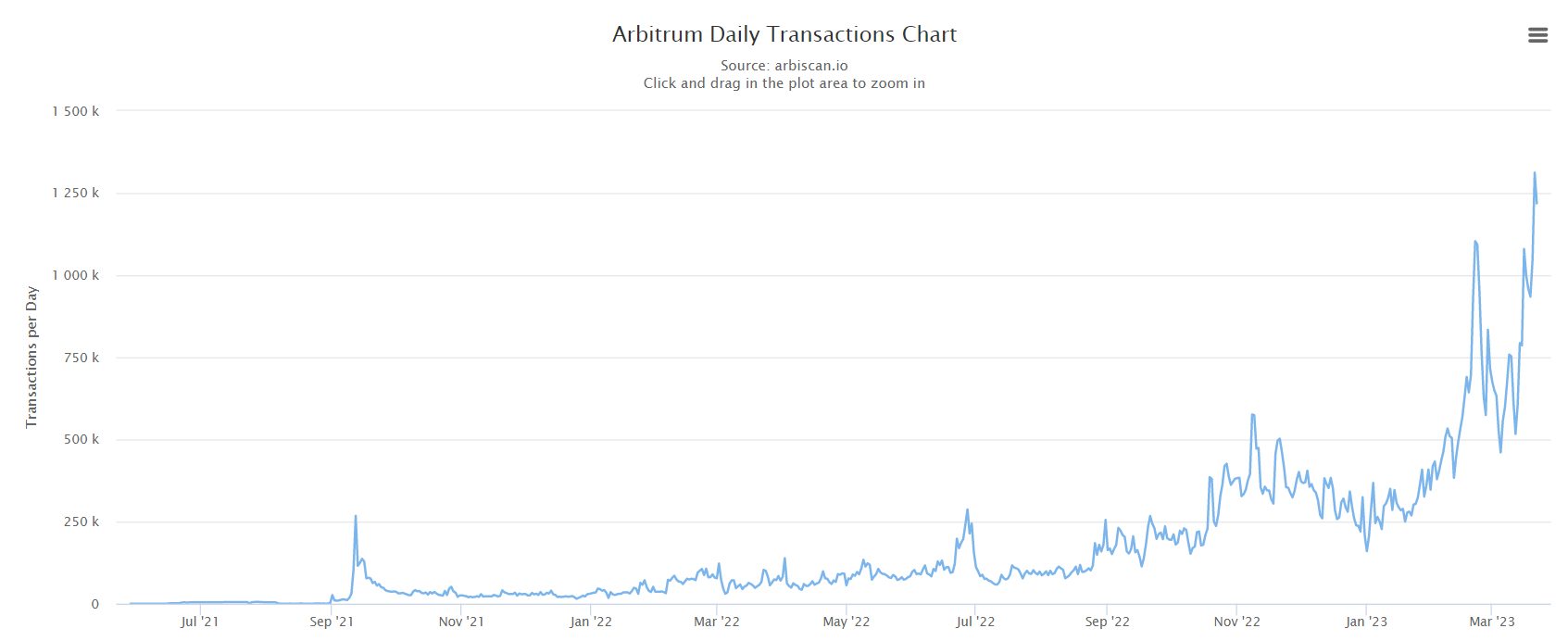 But to be worth 15-24% of Bitcoin is probably a stretch at this point.
In that sense, it probably should not come as a surprise that ARB tokens were subsequently dumped onto the market as airdrop participants sought to cash in.
Additionally, Arbitrum's website and blockchain scanner both crashed amid a surge in users trying to access the sites when the airdrop went live.
This could have spooked some airdrop participants into dumping their tokens.
Price Prediction – Where Next for ARB?
Given the lack of price history data for ARB, it's difficult to forecast its future price based on technical analysis.
It's probably better to watch trends in the Arbitrum network and ecosystem, as well as in the broader cryptocurrency market, to guess where ARB is headed next.
Large airdrops like the one just conducted by Arbitrum typically generate lots of hype in the crypto space and help to boost a protocol's adoption.
As noted, daily transactions taking place on the Arbitrum network have spiked, as has the number of unique addresses.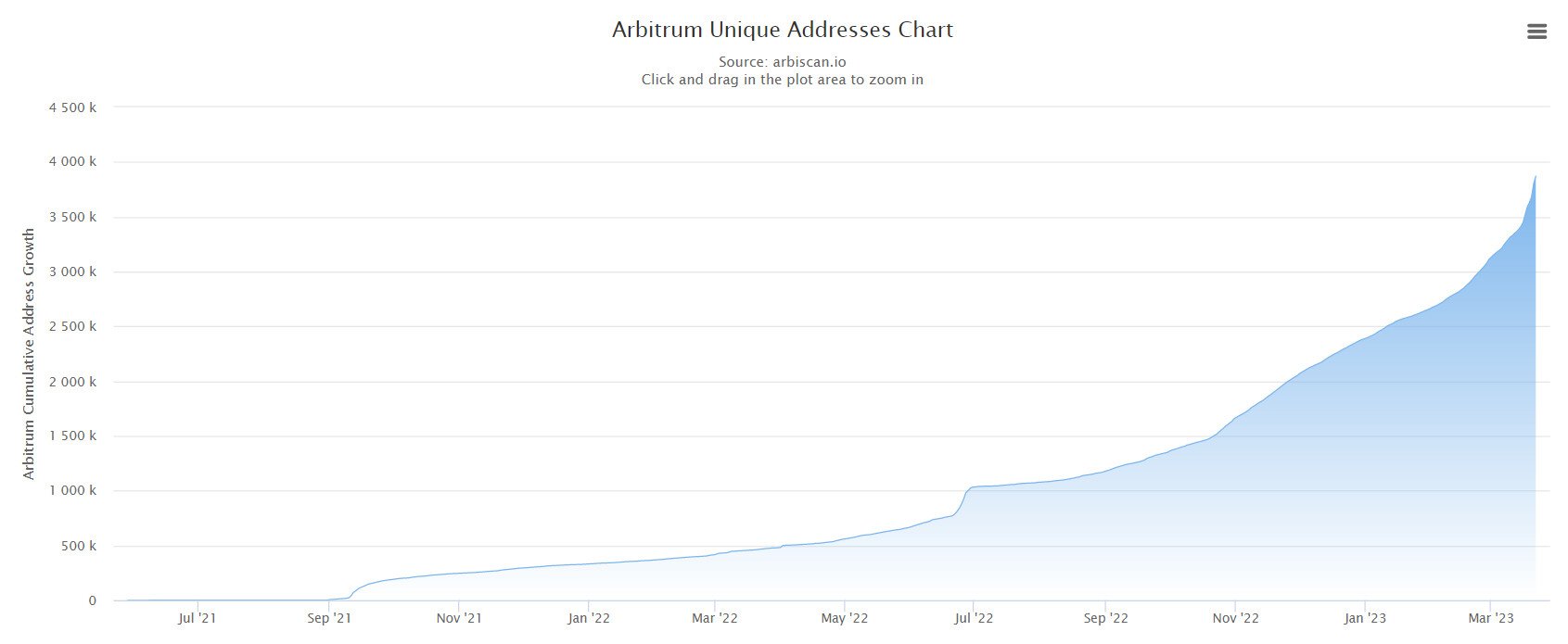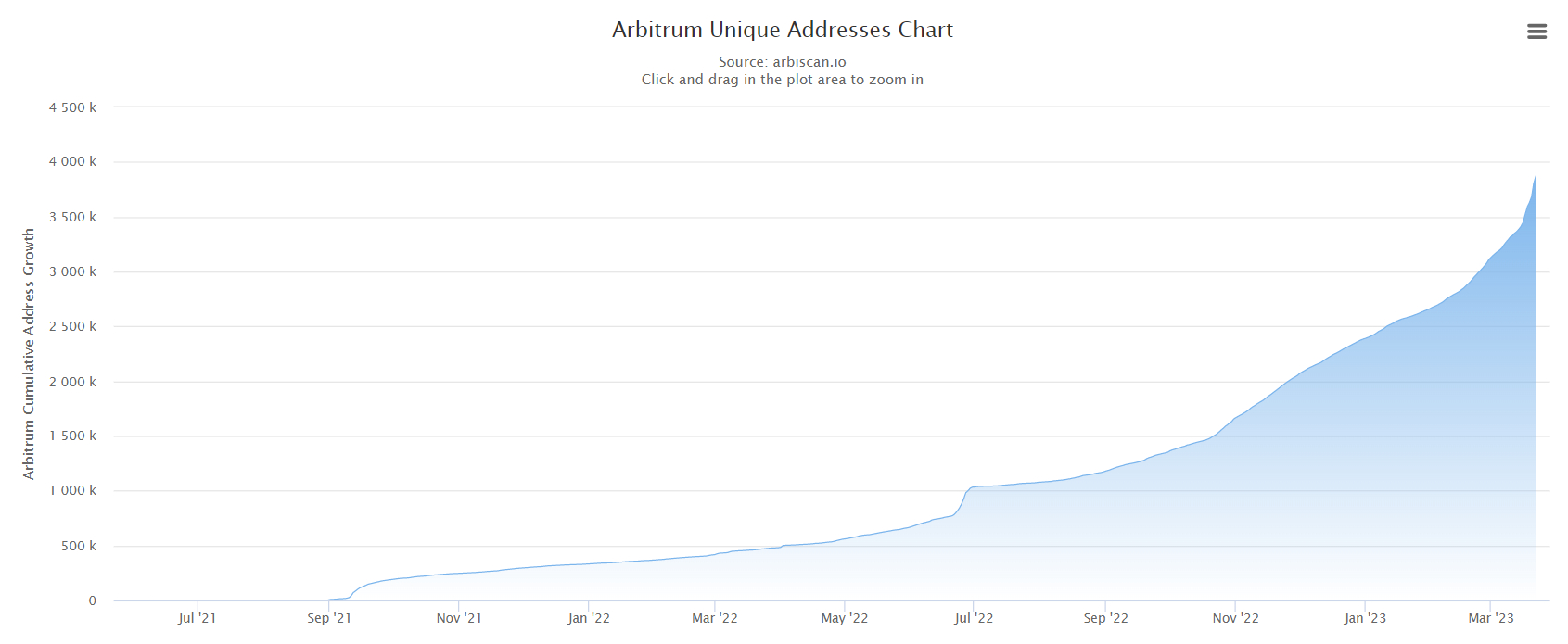 These positive trends are likely to continue in the weeks ahead as more and more major exchanges list the ARB token, further boosting the protocol's hype.
Investors should also keep an eye on whether the total value locked (TVL) of crypto in smart contracts on the Arbitrum blockchain continues to rise.
On Thursday, it hit a new record high above $3.5 billion, according to DeFi Llama.


A continued rise shows investors moving more capital into DeFi protocols operating on the Arbitrum blockchain.
That could support a rebound in ARB, though how high is difficult to gauge as the market remains in a period of price discovery.
Can ARB Hit $10 Again?
ARB certainly can hit $10 again, assuming positive adoption trends in its network continue and assuming the broader crypto market continues to perform well.
ARB bulls should prepare to be patient.
Bitcoin may need to hit $1 trillion or more in the market cap before ARB to becomes a $100 billion (fully diluted market cap) coin once again, as ARB being worth over 10% of Bitcoin remains a bit of a far-fetched notion at this point.
But Bitcoin hitting $1 trillion again could happen this year, if the US banking crisis worsens, US economic growth worsens and the Fed embarks on a now widely anticipated rate-cutting cycle in the second half of this year.
ARB's outlook thus looks strong.
---