Ant Group Explains What its 100m per Day 'Digital Assets' Uploads Are
Alibaba affiliate Ant Group has revealed details about the nature of the 100 million+ "digital assets" it said are uploaded onto its AntChain blockchain network "every day."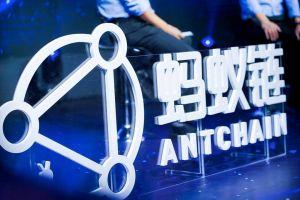 As reported, the Ant Group earlier this week announced that it has launched AntChain, calling it a "new technology brand for the Ant Group's blockchain-based solutions."
The company claimed that it "now has the largest productivity blockchain platform in China, with the ability to process and support one billion user accounts and one billion transactions every day."
Cryptonews.com asked the Ant Group to clarify what these digital assets were, and the Chinese company responded, explaining via email,
"Digital assets are things like transaction records, shipping information, invoices, copyright certificates and so on. They are typically uploaded by companies using AntChain."
The company added that in the case of shipping-related firms using the platform, multiple "digital assets" can be uploaded to use the platform to enable them to conduct faster and more effective transactions.
The firm stated that shipping companies, logistic sub-contractors as well as last-mile delivery vendors can all upload their records onto the AntChain network, so that each participant can know the status of shipping assignment without having to verify through traditional means, such as making a phone call or sending a fax.
The company also explained that its solution is finding a home in the world of trade and supply chain financing.
In the case of a supplier who "receives a receipt after sending a batch of components to a client factory," the company noted that "usually the factory won't pay immediately but will pay in a few months' time."
Instead, the company stated,
"The supplier can then take the receipt to a bank and ask for a loan. However, traditionally it's very complicated and costly for the bank to verify if the receipt is real or not, but if the supplier, factory and the bank all use AntChain then the moment the factory issues the receipt (which represents a certain amount of account receivable), the bank will know instantaneously that it's real and can then automatically assign a credit line based on the receipt for the supplier."
The process of creating digital assets is completed, said Ant Group, when "the supplier can then use the credit line to purchase additional raw materials if another factory places a new order. In this case, every time the upload of a receipt happens, it is considered a digital asset."
The Ant Group has made no secret of its fast-growing blockchain plans. Earlier this month, media outlets in China reported that its Ant Blockchain subsidiary was planning to build up a talent pool of blockchain specialists from some of the top tech universities in the world to last it "the next 20 years."
The company is famously the operator of the Alipay e-pay solution, which together with Tencent-run WeChat Pay, has cornered around 15% of the Chinese payments market.
___
Learn more:
Bitcoin Is Blockchain's 'Killer App,' But Blockchain Is Catching Up
Mining, Steel Giants Complete USD14m Blockchain-powered Iron Ore Trade
How Blockchain Will Help Send People Into Space
Supply Chain Professionals Are Already Keen on Blockchain Technology
Blockchain Can Trace Foods, But the Industry is Still Behind the Curve
---