Andrew Tate Crypto Token ($TATE) Dumps 96%, Tao Coin ($TAOTAO) 100% - Shitcoin Scams?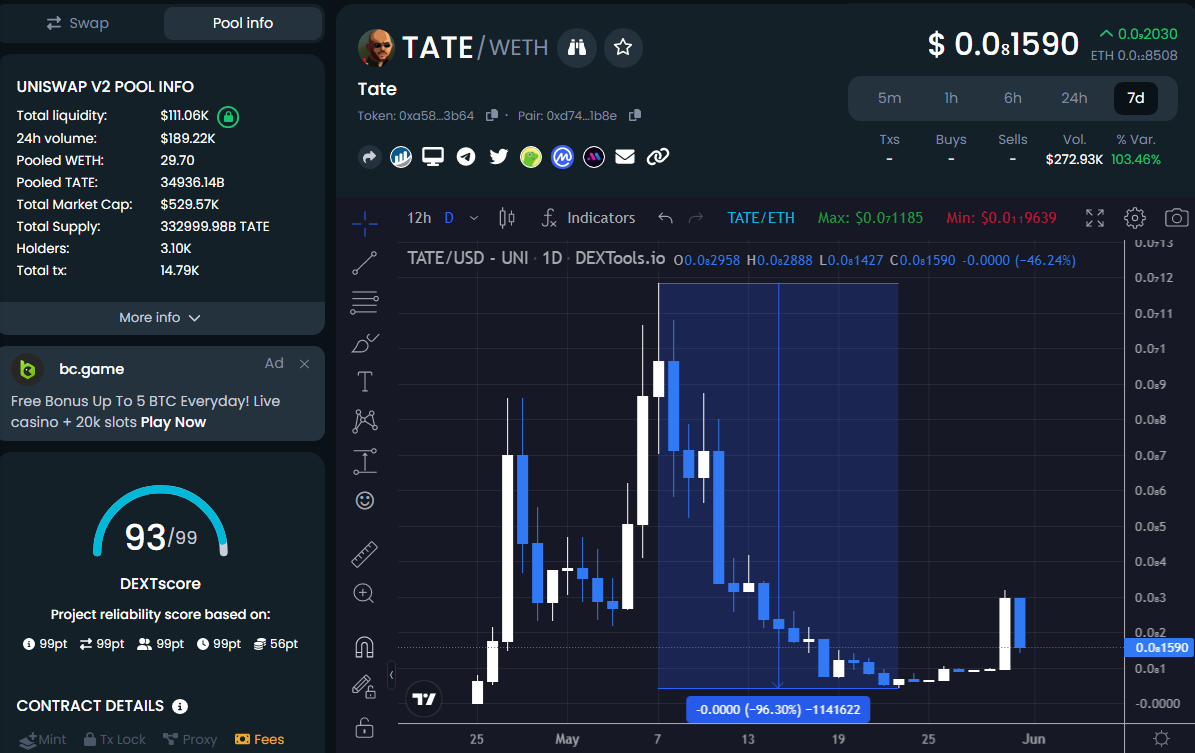 Low market cap coins not officially linked to Andrew Tate, have pumped thousands of percent on Uniswap before crashes of over 95%.
A new token Tate (TATE) was the top daily gainer on DEXTools yesterday, which charts DEX coins, at one point being up approximately 50,000%.
Another TATE launched last month is also up 100% this week after a 96% correction.
Andrew Tate Token ($TATE) Crash
Influencer and former kickboxer Andrew Tate hasn't mentioned any $TATE coins on his Twitter feed @Cobratate.
Earlier this month Tate called traders 'literally just degen autists' and compared 'gambling on shitcoins' to visiting a casino. However in the past he has advocated buying Bitcoin.
Also referring to altcoin buyers as 'sluts' on May 18th, a Sluts ($SLUTS) token pumped shortly after on Uniswap. It has since crashed 70% from its highs.
Several Andrew Tate coins have emerged to be pump and dump scams in the past, such as Tatecoin, Andrew Tate Inu, Tate CEO, and $ANDREWTATE.
Several share the same the ticker symbol TATE, one launched May 29th, one April 25th.
Both TATE cryptos are not yet listed on any centralized exchange (CEX) platforms.
Despite its 96% crash, the TATE token charted above has a high DEXTscore rating of 93/99. It does have a smart contract warning however - a modifiable trading tax, according to the automatic audit results displayed on its DEXTools TATE/WETH pair.
The other TATE token has a much lower 31/99 rating.
Tao Coin ($TAOTAO) Rug Pull
Another relatively unknown new cryptocurrency, Tao Coin, was among the 'hot pairs' of trending crypto coins on DEXTools over the weekend.
After a rally, it crashed 100%, reminiscent of the Squid Game crypto which famously rugpulled investors. $TAOTAO now has a market cap of just $4.
While it is possible to trade new Uniswap coins for a profit, it's recommended only experienced traders attempt it and take note of the DEXTscore, liquidity, number of holders, contract audit, and more. Unlike a CEX, anyone can list a fake or scam token on a DEX.
Also check whether a new coin listing has been mentioned by reliable influencers across social media, to gauge whether the interest from buyers is organic.
Several Asian-themed Uniswap coins have been trending this week, including Biaocoin ($BIAO), $YUAN, and $CHINA.
Top Shitcoins List
Our resident analyst Jacob Bury reviewed some of the latest and best shitcoins to buy this month.
He included some crypto presales which are yet to be listed on exchanges - allowing a lower entry point for buyers before the initial pump.
His top pick was Wall Street Memes (WSM) which has raised over $1.5 million in its token sale since May 26th.
See our review of the WSM token here.
Related
---