Altcoin Season Takes Off, Viral Meme Coin Sonik Attracts $750k With Just 6 Days Left to Buy at Low Prices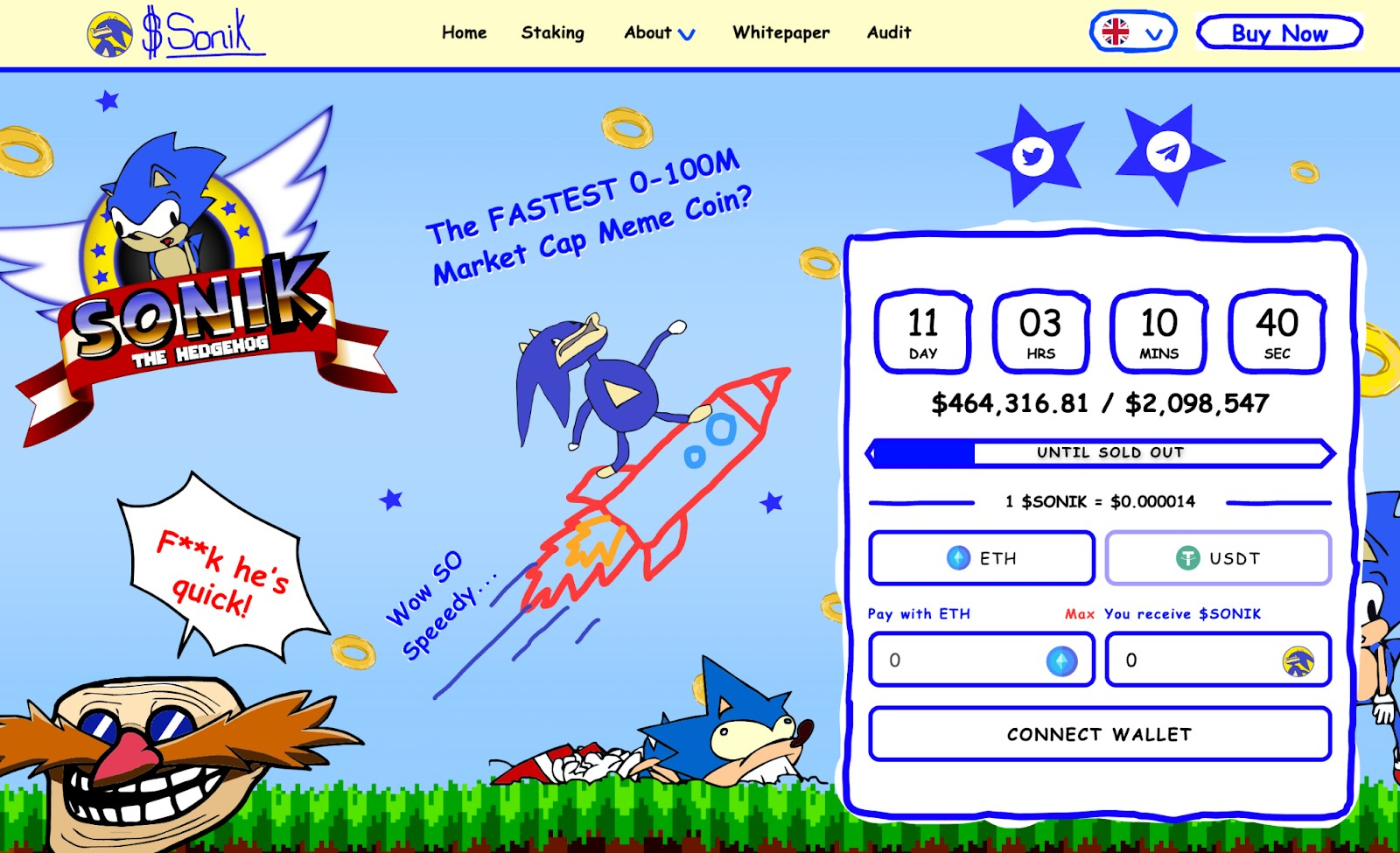 Wednesday, August 30th, 2023 – Altcoin season looks set to take off, and new meme coin Sonik Coin in a show of strength, has raised more than $750,000 from hungry investors.
News that Grayscale has won its bitcoin ETF case against the US Securities and Exchange Commission has lit a fire under altcoin prices.
Meme coins continue to be one of the most traded coin sectors in the crypto complex, and Sonik is set to be the latest hot addition.
Sonik Coin plans to join the likes of Dogecoin and Shiba Inu as meme coin favorites.
The $SONIK meme coin is inspired by a gaming character originating in Japan and is built around the sort of degen humor typical of the meme coin space. Its wacky graphics and art, as showcased on its website, are sure to have viral appeal.
$SONIK has raised $756,445, and the run rate is accelerating with only six days left before the presale sell-out.
$SONIK meme coin has what other meme coins don't have – stake-to-earn
Helping Sonik Coin's surge is a feature that most meme coins don't have – stake-to-earn utility to earn passive income for token holders.
So far, 26.3 billion tokens have been staked by presale contributors, earning an annual percentage yield of 91%.
Sonik Coin is selling 50% of a total 299,792,458,000 token supply in presale and looking to raise just under $2.1 million.
Why that number, you ask?
Well, that number represents the speed of light in meters per second, which the team suggests is the speed at which the Sonik character can run as it speeds toward a target of $100 million market cap.
Fifty percent of the total token supply is on offer to the public in the presale, which means 17% of those tokens are now staked, removing sell pressure from the market when the coin lists on Uniswap, possibly late next week.
The token's viral potential and its yield-bearing characteristics mean it is a contender to be one of the top meme coins. Indeed, as the website asserts, Sonik Coin intends to be the fastest $0 to $100 million market cap meme coin there has ever been.
Contributions to the presale continue to speed up as the token races toward its hard cap raise goal of just under $2.1 million.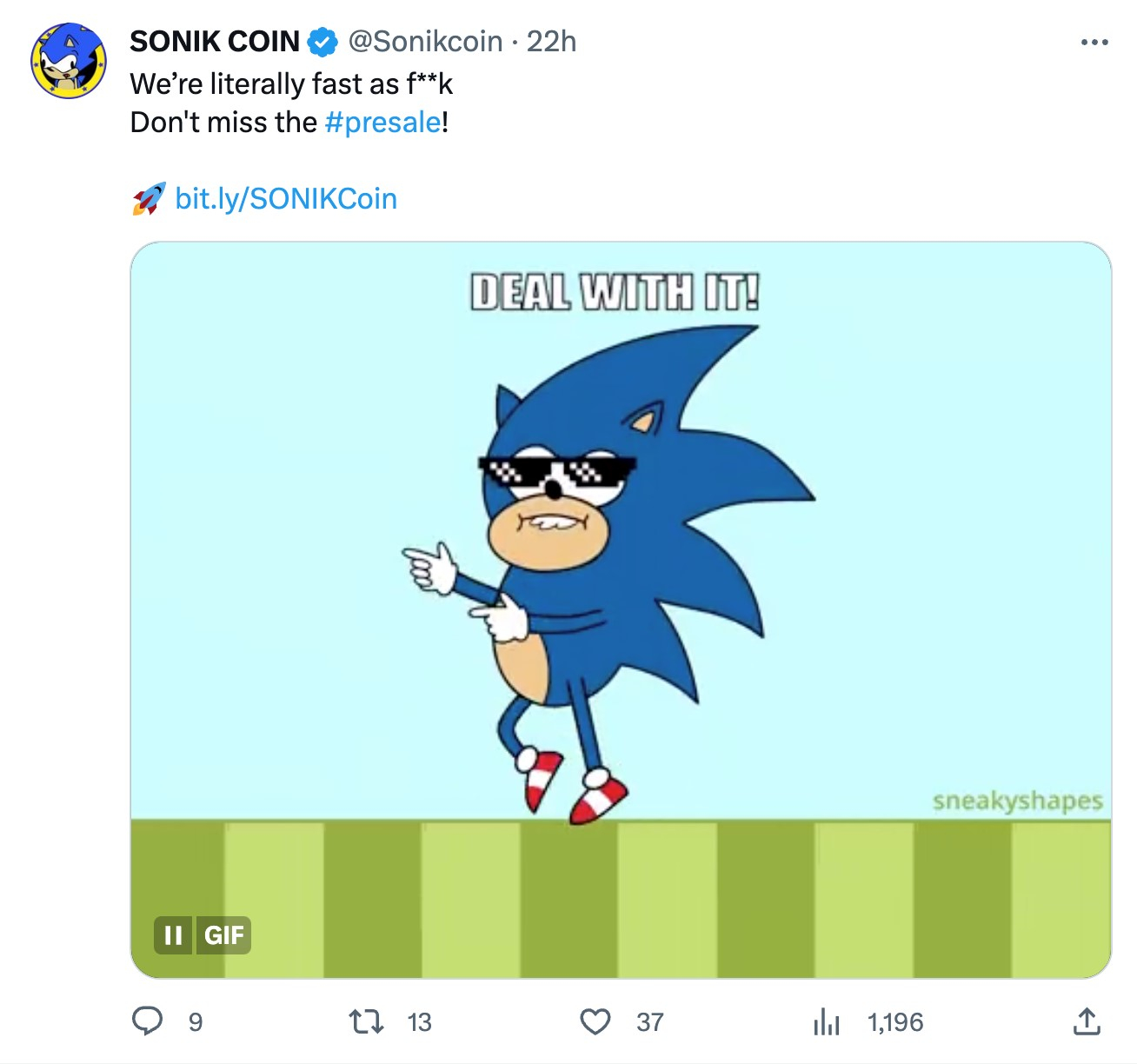 You can earn a passive income of 91% APY with $SONIK
Forty percent of $SONIK's supply has been allocated to provide rewards to those who stake their tokens.
By buying and staking today, contributors to the presale can start earning straight away. The yield is dynamic, and its real-time level is shown on Sonik Coin's staking dashboard.

How many other meme coins come with an in-built yield-generating mechanism? Very few.
Stakers' tokens are claimable when the presale ends and the coin is listed, but bear in mind there's a lock period of 7 days.
After the coin launches on Uniswap, new stakers will also be subject to the seven-day lock from the time at which they started staking. Stakers can withdraw their deposit and rewards from the staking contract at any time.
The staking program will see rewards distributed to stakers over a four-year period.
Will Sonik be the next 100x meme coin?
As the broader altcoin market gets its mojo back, it begs the question: how high could the Sonik coin price go?
The presale price of $0.000014 values the coin at a modest, fully diluted market capitalization of $4.2 million, which means there's plenty of room for a price explosion.
If $SONIK succeeds in its aim of a quick pump to a $100 million market cap, that would represent gains of around 24x for presale investors.
Alternatively, $SONIK could reach a market cap of $200 million, which would mean a return of around 50x for presale investors.
Because of the hyper-speculative nature of meme coins, even more so than other altcoins, which has led some to liken buying in the sector to being akin to betting, the opportunities for parabolic gains are relatively high.
Coins such as Pepe and Shiba Inu have all seen gains of more than 100x. Many others continue to launch weekly that return 100% gains or more for presale contributors on their first day of trading.
HPOS10I (BITCOIN), for example, and Baby Shiba Inu (BABAYSHIB) are some recent examples of the stratospheric gains meme coin buyers can expect if they know where to look.
Plentiful locked liquidity and a big marketing push will pump Sonik Coin's price
The project has allocated 10% of its token supply to decentralized exchange (DEX) liquidity, which means there will be no difficulties executing trades efficiently.
It is definitely worth mentioning, too, that the project intends to lock liquidity on Uniswap. That means contributors to the presale will not need to worry about a rug pull by bad actors.
And the marketing team's efforts are already paying dividends.
Sonik Coin has secured features in high-profile crypto news websites such as Finbold, CryptoPotato, and Captain Altcoin.
Top FX trading and financial site FXStreet says Sonik Coin is a crypto to watch.
The Twitter following has grown 50% in the past 5 days to over 1,462, and a Telegram channel subscriber base has almost doubled to over 2,183.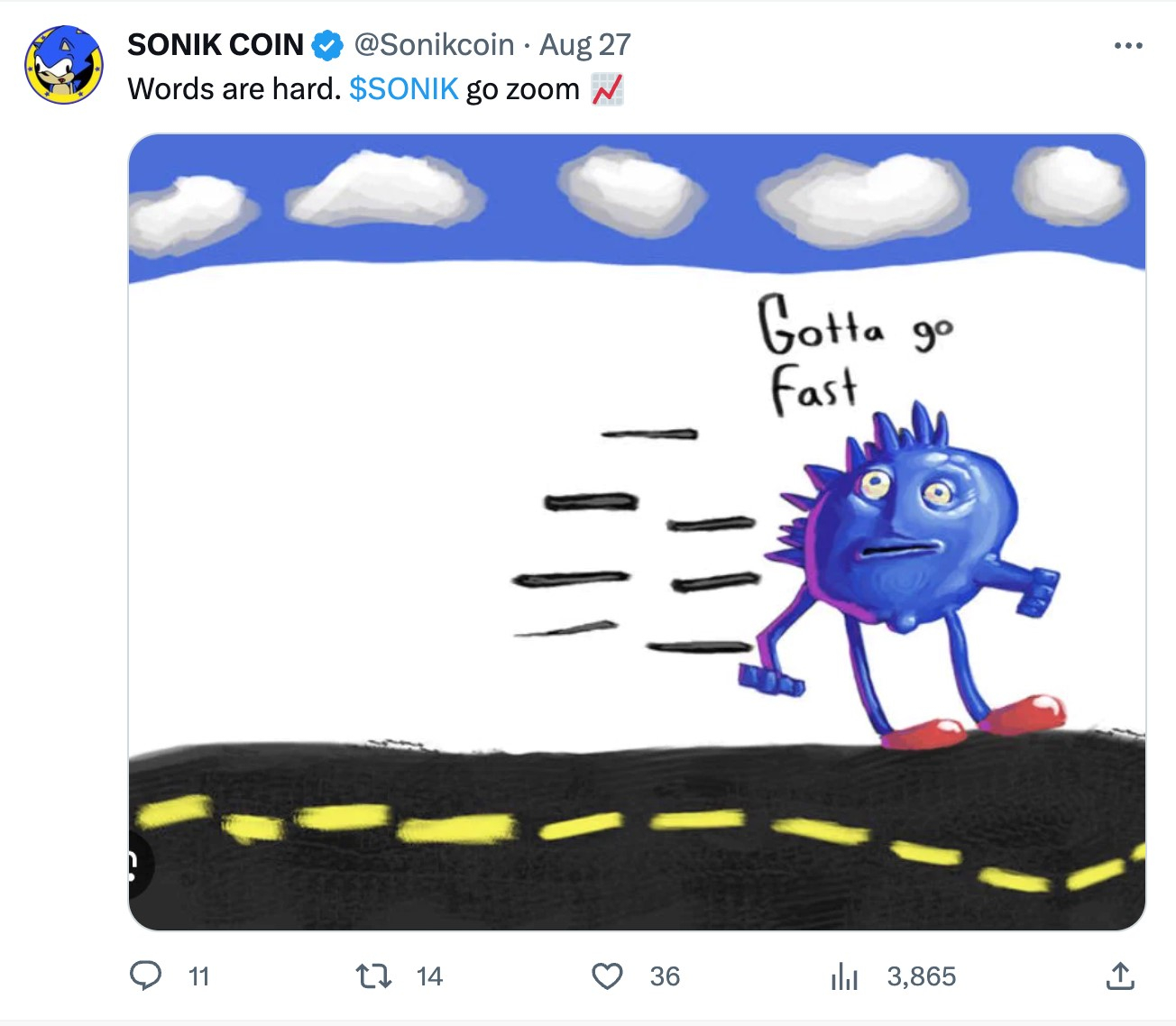 Dozens of major crypto influencers have also been singing the coin's praises.
Crypto coin analysis YouTube channel CryptoGains, with 107k subscribers, is tipping Sonik Coin to be a 20x launch.
A leading crypto YouTuber, Michael Wrubel, who has over 300,000 subscribers on YouTube, called the token his "next $1,000,000 meme crypto".
Meanwhile, GoUp thinks Sonik Coin is a new 100x project, and another analyst believes it could be a 10x coin.
As Sonik Coin raises more funds, expect the marketing push to accelerate and more Twitter/YouTube influencers and crypto investing communities to start promoting the coin.
$SONIK cultivating a strong following in Asia
Some of the best-performing meme coins of the year have piggybacked off existing viral memes or fictional characters.
Sonic The Hedgehog has been hugely popular for years, particularly in Japan and elsewhere in Asia, areas of the world known to be at the leading edge of crypto adoption.
Sonik Coin's spin on this theme is loaded with viral potential and should attract an ever-growing base of meme coin-loving supporters.
How to buy $SONIK
To buy $SONIK, connect your Web3 wallet to the project's official website, and (via the Ethereum network) you can buy the coin with $ETH or $USDT.
Sonik Coin is not affiliated with Sonic The Hedgehog, SEGA, or any of its associated projects and is simply a standalone meme coin.
Disclaimer: Crypto is a high-risk asset class. This article is provided for informational purposes and does not constitute investment advice. You could lose all of your capital.
---