Algorand Price Prediction - Don't Miss Out on Collateral Network and Aave
Disclaimer: The text below is an advertorial article that is not part of Cryptonews.com editorial content.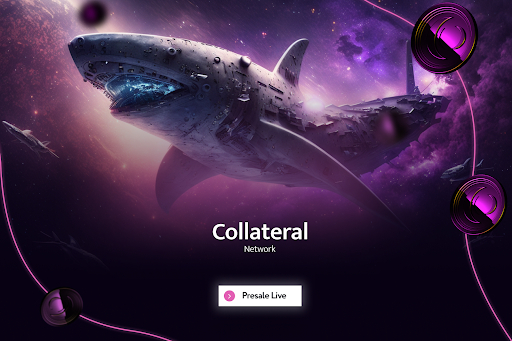 Algorand (ALGO) is charting a promising price path and people are speculating that its price could rocket to new heights in the near future. Elsewhere, Collateral Network (COLT) and Aave (AAVE) are two other crypto assets that look set for further growth in the months ahead.
Collateral Network is leading the way with a 141% price increase during the ongoing presale phase, let's take a look at these projects.
Algorand Price Prediction
Algorand is a trailblazing blockchain platform developed by Turing Award laureate Silvio Micali. Algorand seeks to overhaul conventional payment systems by offering faster and safer transaction processing with its unique consensus mechanism, Pure Proof-of-Stake (PoS).
Algorand has been making significant strides worldwide, as more and more businesses are implementing its technology. Algorand has also embarked on numerous collaborations in India recently to promote the growth of Web3 technology in the country.
The increasing adoption of Algorand by enterprises suggests that its native token, ALGO, is set to experience continued growth from its current price of $0.1491. Market analysts have pointed to the $0.10 mark as a critical support level, and suggest that a potential target for Algorand could be the $0.30 price level.
However, the wider crypto market will have an effect on Algorand (ALGO) price movements as well. While $0.10 could be a great entry point, losing this support level due to a bearish market trend could be devastating for Algorand investors.

Collateral Network Modernizes Lending
Collateral Network is an asset-backed lending platform that seeks to modernize the way people borrow and lend against their physical assets. By harnessing the power of blockchain technology, it creates a peer-to-peer lending ecosystem, eliminating the need for traditional intermediaries such as banks.
One of the distinguishing features of Collateral Network is its ability to digitize loan collateral into NFTs that can then be fractionally owned. Collateral Network's method means that loans can be split into smaller parts and sold to multiple lenders.
Instead of needing large amounts of capital, lenders on Collateral Network can invest as little as $10 in a loan. As such, Collateral Network enhances liquidity in the loan market and provides lenders with the flexibility to quickly convert their investments back into cash if needed.
The price of COLT has increased by 141% since the start of its presale phase in Q1 2023.
Currently priced at $0.0241, experts predict COLT's value could increase by 3500% as Collateral Network (COLT) transitions from its presale to the public launch phase.
Aave Price Analysis
Aave, a leading player in the decentralized finance space, is making strides toward significant improvements in its network's speed and scalability. The Aave community has voted in favor of deploying Aave on the zkSync Era Mainnet, which would boost the system's overall efficiency.
This decision now paves the way for further dialogue within the Aave community, encouraging members to voice any potential worries, suggest enhancements, and provide their valuable input. Aave's democratic approach and collaborative environment are key factors that make it appealing to both users and investors.
Aave (AAVE) is currently trading at a price of $62 after starting the year at just $50 — a gain of 24% in five months. While this isn't the largest move, analysts note that Aave is always improving and could potentially see its value double to the $120 resistance level as more users come on board.
Find out more about the Collateral Network presale here:
Website: https://www.collateralnetwork.io/
Presale: https://presale.collateralnetwork.io/register
Telegram: https://t.me/collateralnwk
Twitter: https://twitter.com/Collateralnwk
---