AiDoge.com Meme Coin Presale Raises $2.5 Million, The Next PEPE Coin, TURBO or $SPONGE?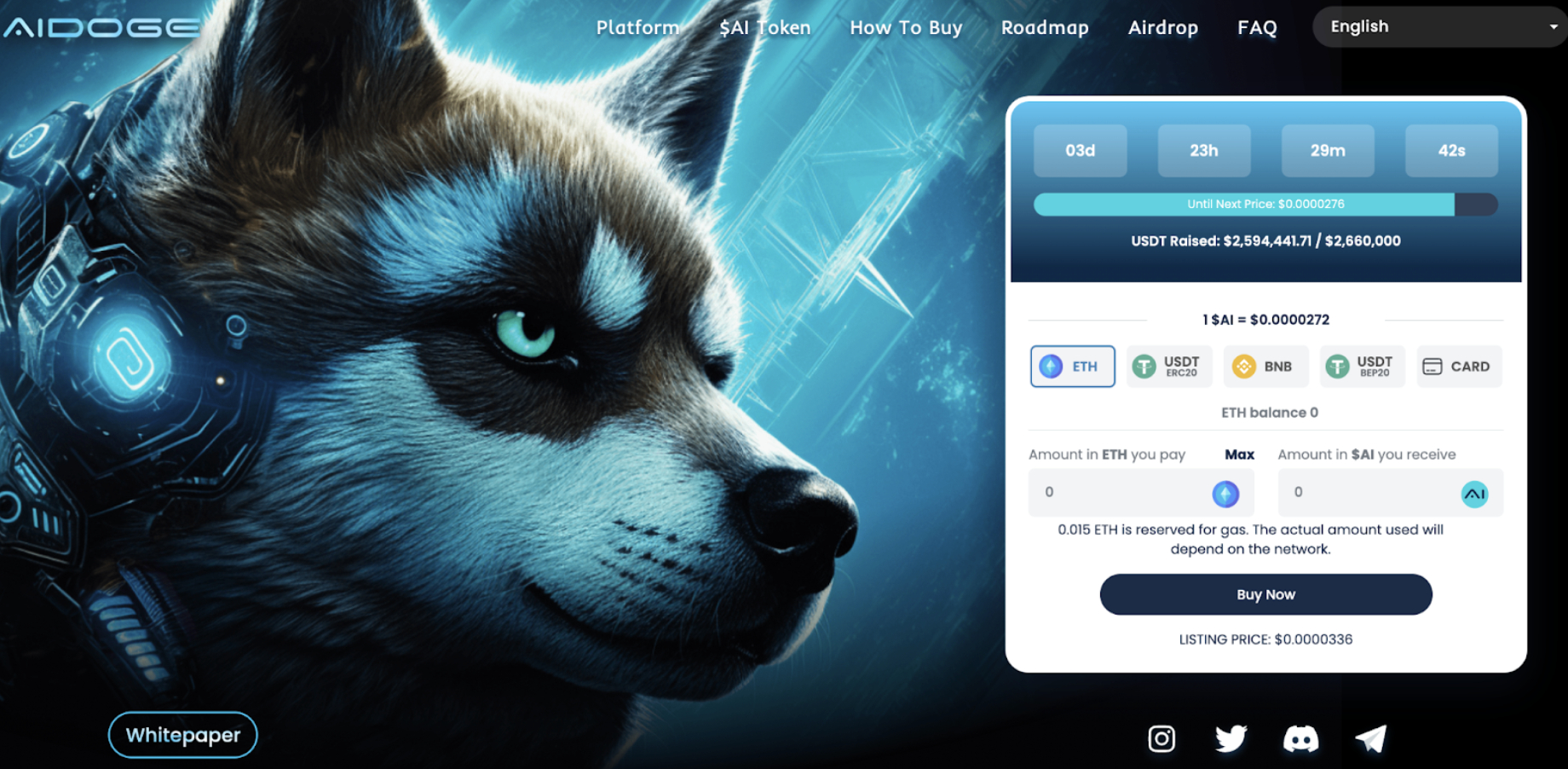 Sunday May 7th 2023 – AI coin mania is rocketing as AiDoge.com raises $2.5 million while blasting through its presale stages.
In the past 48 hours $1 million has poured into meme-generating platform AiDoge ($AI). Investors are jumping over each other to buy tokens at the lowest prices.
There is no sign of the tempo of fundraising slowing. Crypto market participants are jostling in a feeding frenzy to catch the next Pepe coin, Turbo or $SPONGE.
AiDoge set to dominate two huge niches – AI and meme coins
AiDoge has all the attributes to leave all competing AI coins in its wake.
The team behind the new crypto is building a meme creator that leverages image-generating artificial intelligence. It brings together in one coin the two most prized sectors in crypto – AI and meme coins.
And as investors become more savvy about where they put their money, the unique business model of the project, which will allow its users to generate memes simply by entering a prompt, presents itself as a winning pitch.
AiDoge.com is in Stage 4 of its presale and is only $50k off entering its next stage, meaning the price of the token will jump from $0.0000272 to $0.0000276.
Secure your spot now before AiDoge presale sells out
There are 20 stages in all but investors can't afford to sit back if they want to maximize their returns by locking in the lowest prices.
At the current run rate the presale could sell out before the end of the month. However, interested investors should bear in mind that the rate of the fundraising will inevitably pick up as the presale gets closer to its hard cap total.
For instance there's ArbDoge ($AIDOGE) – not to be confused with AiDoge ($AI) – that have pumped recently but in practice have little to offer in the way of utility.
AiDoge taps into the existing undisputed popularity of internet memes.
The platform is highly likely to be able to find that same massive takeup that has ChatGPT and other text-based prompt systems to generate all manner of outputs, from code to memes.
Other coins like SingularityNET are aimed at the infrastructure level and business 2 business segments. As good as its technology may be, that is likely to be a slow burn affair as far as mass adoption is concerned.
By contrast AiDoge will instantly appeal to the mass market.
AiDoge – on track to be next Pepe, Wojak, $SPONGE as meme coin wave gathers strength
On the meme coins front, something quite remarkable is happening.
Although the wider crypto market is in consolidation mode after a year of to date of gains, led by bitcoin that has seen the asset class outperform all others, a new wave of meme coins could be the precursor to a renewed influx of retail traders coming into the sector.
But whether or not that turns out to be the case, it is meme coins such as Pepe, Wojak, Turbo and Sponge that are capturing all the attention, and the buyers.
Pepe has seen gains in excess of 7,000% but now it is SPONGE that is battling to take its crown.
AiDoge is not trading yet but it could be out of presale much sooner than the team initially envisaged. When it does start trading, it will very probably be joining the rarified band of new wave meme coins.
Crypto investors are flooding into the AI sector at the moment, which can make it hard to decide where to turn.
But analysts are predicting that it is those coins with a strong utility-focus AI, like AiDoge, that will be the winners.
You'll be hearing much more about AiDoge.com – ambassadors are being signed up to storm the internet
It could be said that AiDoge.com has such a great story to tell regarding its use case that it probably doesn't really need much more help, but the team is not leaving anything to chance.
Ambassadors are being lined up by the project to spread the good news. Crypto's smartest and finest are being hired to , starting with YouTube star crypto investor and analyst Conor Kenny.
Kenny has 155,000 subscribers to his YouTube channel, and has already been getting the message out about AiDoge.
The YouTuber is a well-known crypto tipster and analyst who has built up an enviable reputation for considered analysis and winning coin tips. He's the perfect fit for AiDoge to reach the discerning crypto investor.
Sign up to Kenny's YouTube channel today and leave a comment: https://www.youtube.com/channel/UCJQY1CkwtFNfJfIzROc8KiA
AiDoge.com system works like ChatGPT but for meme generation
Artificial intelligence is already transforming the way we interact with the internet, with chatbots like ChatGPT leading the way. AiDoge is joining the party with its similarly innovative technology and product offering.
The boost to the productivity of user-friendly chatbots will be matched by the creative impulses that AiDoge will unleash in the realm of memes
AiDoge's meme generator will unleash our creative urges in a way that democratizes meme creation.
This is not a frivolous matter. Memes are a powerful form of internet communication.
AiDoge is opening meme generation to all, regardless of an individual's art of graphic-design abilities.
All you will need is a little imagination and the ability to describe your idea by writing a text prompt – AiDoge does the rest.
Here's the secret sauce that makes AiDoge revolutionary
Through the application of machine-learning technology and large language models as used by AiDoge and ChatGPT, AiDoge opens a world of possibilities.
AiDoge's AI training has taken place on massive datasets of memes and other images as well as crypto news. This is the secret sauce that allows AiDoge to generate always relevant memes.
If you are hunting for a truly original idea that fully leverages the promise of AI, AiDoge is that project.
$AI is the utility token of AiDoge and is used to purchase credits in order to generate memes – it is this utility that gives the token its value.
In addition, $AI token's value will be enhanced by incentives to promote network participation to create viral content.
Community-led platform lets you vote for the best memes, transform internet engagement
AiDoge features a public wall feed of all the memes generated by the community of users. The wall acts as a voting forum to discover which are the best memes. The winning creators earn $AI token rewards.
Each month the creators with the highest-scoring memes get token rewards. Everyone has a chance to win on a monthly basis when the leaderboard is reset.
The top-ranking meme creators will be able to gain exclusive access to premium features too and even be granted voting rights as part of AiDoge's governance.
Not to be overlooked, AiDoge also provides staking rewards. Stakers earn daily credit rewards depending on how much is staked, thereby generating a passive income as well viral memes.
The more the platform grows, the greater the revenue-earning potential there is for its meme creators. In other words, AiDoge is not just a meme generator, it is an income stream generator too.
Before too long the AiDoge ecosystem will have built for itself a 'network effects' moat that will protect its market-leading position should there be Johnny-come-lately imitators.
AiDoge has the meme and AI power to take it into the top 100 of crypto, nevermind meme or Ai coins.
There's no time to lose before the presale ends, so start putting your money to work today by investing in the future of internet communication and engagement.
---