A Simple Way to "Immortalize" Your Message on the Bitcoin Blockchain
Do you want to leave an immutable message for future generations? Then check out the Blockchainsareforever.com project. It's not the best service for private messaging as every single message is recorded on the Bitcoin blockchain, which means that they are public and can never be modified or deleted.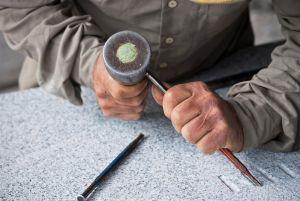 This fun service isn't that revolutionary, as it has been possible to add messages on the Bitcoin blockchain since its inception. For example, Satoshi Nakamoto, the mysterious creator of Bitcoin, included this message in the Genesis Block, or the first-ever block of Bitcoin: "The Times 03/Jan/2009 Chancellor on brink of second bailout for banks." Meanwhile, this year, TD Ameritrade, an online broker, planted their literal flag on the Bitcoin's blockchain, effectively making an advertisement for themselves.
However, "Blockchains are forever" makes this much easier. Just type in your message, choose whether you want your message to show on the Bitcoin blockchain or testnet, choose your payment method (via the Lightning Network or the regular Bitcoin payment), pay, and voilá! Your message is "immortalized."
This is what people are sending into eternity: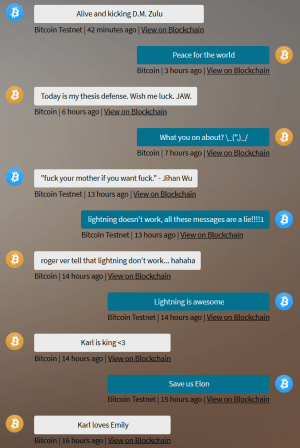 It won't cost you a lot to try "Blockchains are forever" as sending one message is less than 5 US dollar cents. However, you are only allowed to send 80 characters in a single message. So, if you are planning to add a wall of text to the Bitcoin blockchain, be sure to stock up with BTC first.
Cryptonews.com covered two similarly creative crypto projects previously. The first one is Steem Whale, which allows you to make an artificial whale fountain squirt by sending the Steem cryptocurrency.
Another fun project is Satoshi's Place, a graffiti board to show the power and capabilities of the Lightning Network. There're one million pixels on the canvas with each costing 1 satoshi to paint. Even if you draw something large, it won't cost you a lot. But be aware: others can respray your art!
Hower, immutability of public blockchains is being used to send serious messages, also. As reported in April, activists have posted a student of Peking University's #MeToo movement letter on the Ethereum blockchain in an attempt to avoid government censorship.
---