99Starz Launches Innovative Platform to Empower Gamers, Guilds and Investors in the Web3 Industry
Disclaimer: The text below is a press release that is not part of Cryptonews.com editorial content.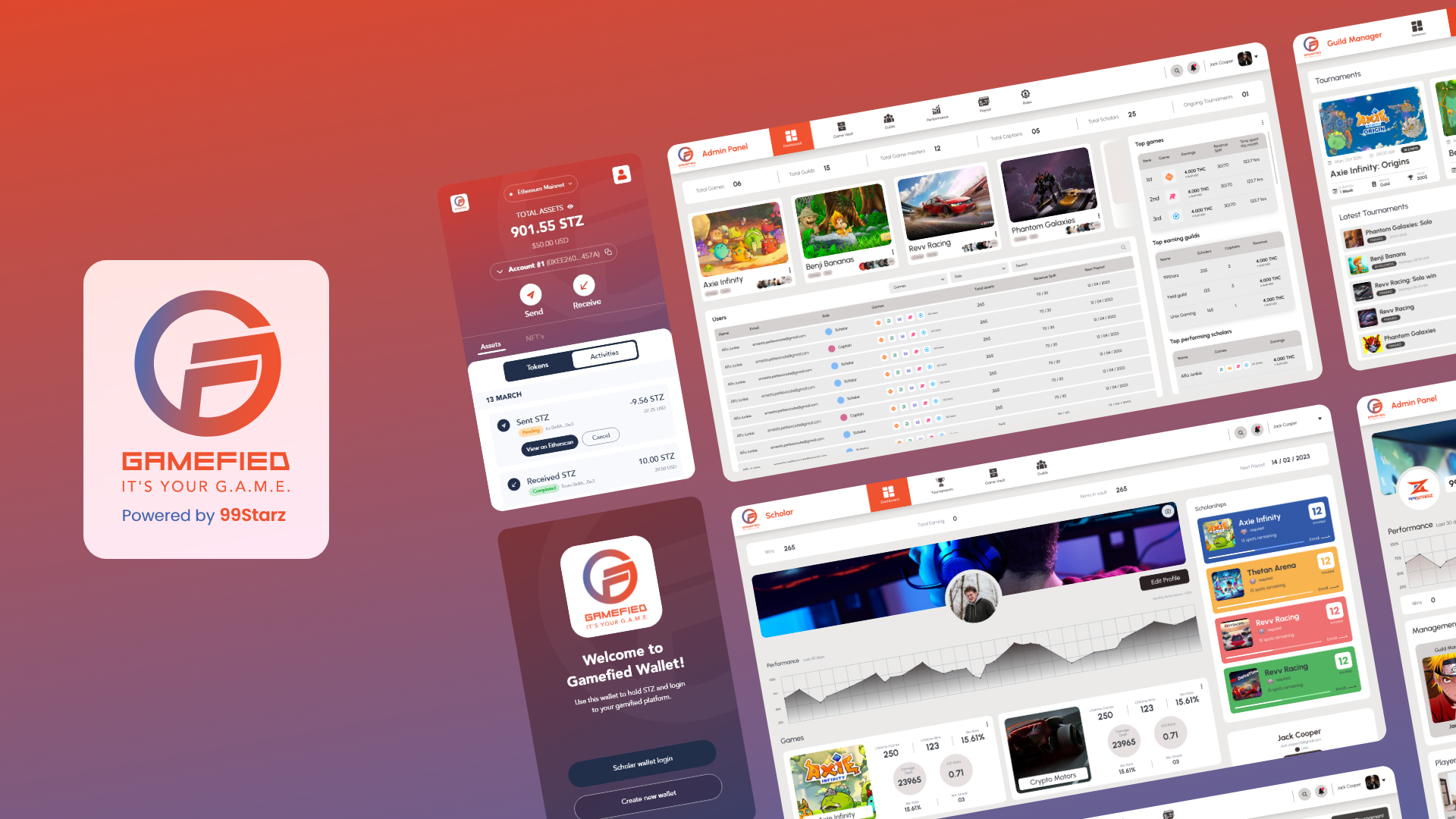 Dubai, March 31st, 2023 - 99Starz, one of the pioneers in play-and-earn games and Web3 solutions, today announced its updated logo, new business model, and platform. The company has transformed from an NFT yield farming ecosystem for blockchain-based games into a full-blown in-game and digital asset management platform designed to serve the Web3 industry by providing tools and services for mass adoption into the Web3 gaming and metaverse gig economy.
Currently, asset owners are faced with a daunting challenge of managing and tracking their assets. Often, these assets are either left idle or transferred directly to a player or user's wallet to generate revenue, which exposes them to potential security breaches. Alternatively, asset owners may need to provide third-party access to their private security keys, which also presents a significant security risk. This is where 99Starz comes in.
The new 99Starz ecosystem comprises the GameFied Asset Management Platform, the GameFied Wallet, and the 99Starz Guild. These three vertices work together to offer a comprehensive Web3 asset management solution - GameFied's innovative tools enable the efficient distribution, tracking, transfer, and storage of assets. Whilst the 99Starz Guild is available to provide expert guidance and utilization of these assets to achieve maximum returns on asset investments.
The GameFied Asset Management Platform is an all-in-one, trustless, institutional-grade, Web3 asset management software that supports complex gaming, assets, and guild scholarship operations.
The GameFied Wallet is an NFT delegation solution for trustless distribution of Web3 assets, to buy, store, send and swap assets, users can efficiently streamline the management of their portfolios with a full 360 solution.
99Starz Guild is a Web3-focused community of gamers that onboard and support player participation in partnered Web3 games. This pioneering project continues to foster a strong community of players built around trust, transparency, and collaboration, creating a new era of gaming that is fair, secure, and rewarding for all participants.
Yat Siu, the co-founder and executive chairman of Animoca Brands, which is an investor in and partner of 99Starz, commented:
"We're thrilled to see 99Starz announce its GameFied asset management products, which we think are important contributions to the technology for the Web3 gaming space. This new platform will allow asset holders such as guilds, gaming studios, investors and even players to easily track, distribute, and utilize their assets for optimal returns on investment."

"We realized that the 99Starz project had a lot more potential than we thought. There is real demand for an all-encompassing solution that will help gamers explore the Web3 gaming universe, manage assets securely, and find like-minded individuals," Lead Game Specialist Vlad Patcas explains. "We are excited to launch the updated version of 99Starz and are confident players will see the enthusiasm, excitement, and all the hard work we put into creating this ecosystem."
Luca Lamberti, Co-founder 99Starz, commented:
"I am immensely grateful to our team for their incredible achievements and the robust platform built. We are bullish on our new business model and its scalability. Our unwavering belief in our vision is reflected in our token buybacks during the bear market. We're excited to announce strategic partnerships with top-tier players in AAA games, well-being platforms, metaverses, and CEX listings, all coming soon"
99Starz has updated its roadmap and litepaper to better reflect the company's new direction. To learn more about 99Starz, read the updated roadmap and litepaper, visit 99Starz.io.
About 99Starz
99Starz is a blockchain gaming ecosystem that brings the play-to-earn game model to millions of gamers through guilds creation and NFT renting. 99Starz allows its members to maximize player rewards and facilitate cooperation in Web3 game,enabling anyone to tap into the gig economy of the metaverse and earn rewards from blockchain gaming using the STZ token.
Contact:
Quintessa Porquet
Follow 99Starz on Twitter - https://twitter.com/99Starz_
Join 99Starz on Discord - https://discord.com/invite/eGZUpKp6sr
Website - 99Starz.io / GameFied.io
---