8 Best Metaverse Crypto Coins to Invest in 2022
Disclaimer: The text below is an advertorial article that is not part of Cryptonews.com editorial content.
With the Metaverse being one of the most popular sectors within cryptocurrency, finding the best Metaverse crypto coins can be an excellent investment strategy.
Throughout this article, we'll be reviewing eight of the top metaverse crypto coins and detailing how to buy our number one pick. Let's get started.
Best Metaverse Crypto Coins to Invest in - Our Picks
Below, we've included a quick summary of our Metaverse crypto list. Detailed reviews can be found in the next section.
Tamadoge - Overall Best Metaverse Crypto Coin
Battle Infinity - Play-to-Earn Metaverse Ecosystem
Quint - Merging the Metaverse and Real-Life
Decentraland - Leading Metaverse World
Enjin - Tokenizing In-Game Assets
The Sandbox - Community-Focused Metaverse
MetaHero - Import Real-World Objects into the Metaverse
NFT Worlds - Blending Minecraft and the Metaverse
A Closer Look at the Best Metaverse Crypto Coins to Invest in
Each of the Metaverse crypto coins we'll be reviewing boasts a strong feature set and plenty of utility.
Tamadoge - Overall Best Metaverse Crypto Coin
Tamadoge (TAMA) is a massively exciting project blending NFTs, the Metaverse, and memes in order to create a P2E game perfect for both casual players and crypto enthusiasts.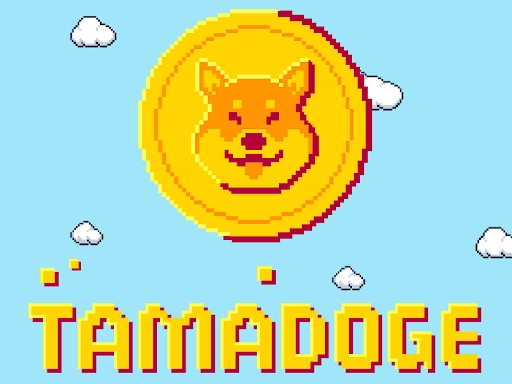 Centering around a Metaverse world named the Tamaverse, the game would see players raise NFT-based pets. A player can give their pet items from the Tamadoge store to upgrade it, earning Dogepoints in the process. As a player earns points, they move up the in-game leaderboard and earn a greater share of the rewards pool.
While Tamadoge will first be available through a web browser, it will later release support for virtual reality headsets, providing users with an immersive way to interact and play mini-games within the Tamaverse. Players will also be able to use their phones to bring Tamadoge pets into the real world, similar to Pokemon Go (expected Q4 2023).
Tamadoge features a fixed supply of 2 billion tokens and a 5% burn rate on revenue generated from the in-game store.
Tamadoge is one of the best Metaverse coins on the market. Its presale has raised over $4 million, and with the price per TAMA increasing slightly as tokens are sold, it's worth checking it out today. Join the Tamadoge Telegram to learn more.
Battle Infinity - Play-to-Earn Metaverse Ecosystem
Battle Infinity (IBAT) is an upcoming P2E Metaverse ecosystem. It features a virtual world, exciting player-vs-player (PVP) games, and multiple DeFi elements.
Investors seem to love Battle Infinity, after just days of being in presale the project hit its hard cap of 16,500 BNB. While the presale sold out, IBAT will become available to trade on PancakeSwap on August 17th giving investors an extra chance to pick up some tokens.
Battle Infinity is split into six platforms, a fantasy sports league, a decentralized exchange (DEX), an NFT marketplace, a collection of PVP P2E games, a staking platform, and a Metaverse world in which players can customize their avatar and watch battles in the arena.
Some competitors to Battle Infinity's fantasy sports league (Dream11, Mobile Premier League) have tens of millions of users. With Battle Infinity incorporating elements from crypto as well as fantasy sports, it could capture an even larger user base, which could do wonders for the value of IBAT.
Battle Infinity is one of the few Metaverse crypto coins likely to stick around for the long term. The project has been audited by SolidProof and KYC-verified by CoinSniper adding to its validity. Check it out today using the link below and join the IBAT Telegram to stay up-to-date with the project.
Quint - Merging the Metaverse and Real-Life
Quint (QUINT) is a Metaverse project blending the real and virtual worlds to provide investors immense value.
On the surface of things, Quint seems like a regular crypto project, it will feature staking, an NFT marketplace, and distribute rewards to investors. However, when you look into the details it's clear that Quint is different from most projects.
In addition to traditional staking (earn crypto for locking funds), Quint will offer investors the ability to participate in Super-staking pools. Within these pools, users will be able to earn real-life rewards like hotel stays, supercar experiences, and discounts on restaurants.
In order to reshape the way NFT marketplaces currently operate, Quint will create a boutique NFT marketplace that offers users the option to have freshly minted NFTs framed and delivered, merging the real and Metaverse worlds.
Later down the line, Quint plans to add real-world items to its treasury. Investors will become part-owners of these items with the exact rates based on the number of QUINT tokens owned.
Quint is a first-of-its-kind platform. With the Metaverse growing exponentially, Quint could be the key to bringing the sector to the mainstream. Check out the project below.
Decentraland - Leading Metaverse World
Decentraland (MANA) is the world's most popular metaverse world.
Within Decentraland, users can purchase parcels of land which can be built upon. The possibilities of what can be created are near-endless with some users creating entire office blocks and P2E experiences.
Decentraland is perhaps the most well-known Metaverse world in existence. It provides users with a wide range of monetization opportunities and will likely perform well in the foreseeable future.
Enjin - Tokenizing In-Game Assets
Enjin (ENJ) is a project that could reshape the gaming industry by tokenizing in-game assets.
The project aims to reshape the way developers create and distribute in-game items by tokenizing them to support easy buying, selling, and trading. Developers will also be able to receive royalties on secondary sales, similar to NFT creators.
Currently, the main factor holding Enjin back is the lack of implementation. However, as this Metaverse crypto project is used in more large-scale games demand will likely boom.
The Sandbox - Community-Focused Metaverse
The Sandbox (SAND) is a community-centric Metaverse and the main competitor to Decentraland.
While The Sandbox boasts similar features to Decentraland (monetization options, land parcels, etc) it focuses more on the experience of individual players rather than catering to big businesses.
The Sandbox consistently ranks as one of the 11 best Metaverse coins. The project is growing quickly and is worth a quick look.
MetaHero - Import Real-World Objects into the Metaverse
Currently, the vast majority of assets usable within the Metaverse are computer generated and created digitally. However, MetaHero (HERO) could change things.
The project plans to create the world's largest library of Metaverse assets. It will scan real-world objects and people to create assets unrivaled in terms of realism and detail.
With MetaHero providing Metaverse developers the ability to create more realistic worlds, it could be one of the top metaverse cryptocurrency projects in the future.
NFT Worlds - Blending Minecraft and the Metaverse
NFT Worlds blends one of the world's most popular games, Minecraft, and the Metaverse to create a familiar yet powerful set of virtual worlds.
NFT Worlds allows players to create immersive Metaverse experiences and P2E games similar to Decentraland while using the familiar tools offered by Minecraft.
Millions of people own Minecraft accounts, as such, a platform allowing people to create Metaverse experiences within the game is likely to draw the attention of investors.
How to Invest in the Best Metaverse Crypto Coins
In order to make the process simple, we've detailed how to buy TAMA, the best crypto to watch in 2022.
Step 1: Register with an Exchange
To purchase TAMA, an investor needs to acquire ETH from a regulated exchange like eToro or directly from the Tamadoge website.
Cryptoassets are a highly volatile unregulated investment product. No UK or EU investor protection
Step 2: Deposit and Buy ETH
Once an account has been created, press 'Deposit Funds', decide how much to invest, and press, 'Deposit'. Then, search for 'ETH', click 'Trade', choose how much Ether to purchase, and press 'Open Trade'.
Step 3: Create Crypto Wallet & Withdraw ETH
Next, create a crypto wallet by downloading the Metaverse extension or mobile app. Check that it's set to the Ethereum network and use the eToro Money Wallet to withdraw ETH from eToro to MetaMask.
Step 4: Connect Wallet & Buy TAMA
Lastly, head to the Tamadoge presale website, click 'Connect Wallet', choose MetaMask, and confirm the connection. Next, click 'Buy Tamadoge', decide how many tokens to buy (1000 TAMA minimum), and hit 'Convert ETH'. The tokens will be available to claim as soon as the presale has concluded.
---