$420CHAN Token Blasts Up 40,000% After Going Viral But Crypto Whales Are Accumulating Wall Street Memes Before it Lists on Exchanges – Here's Why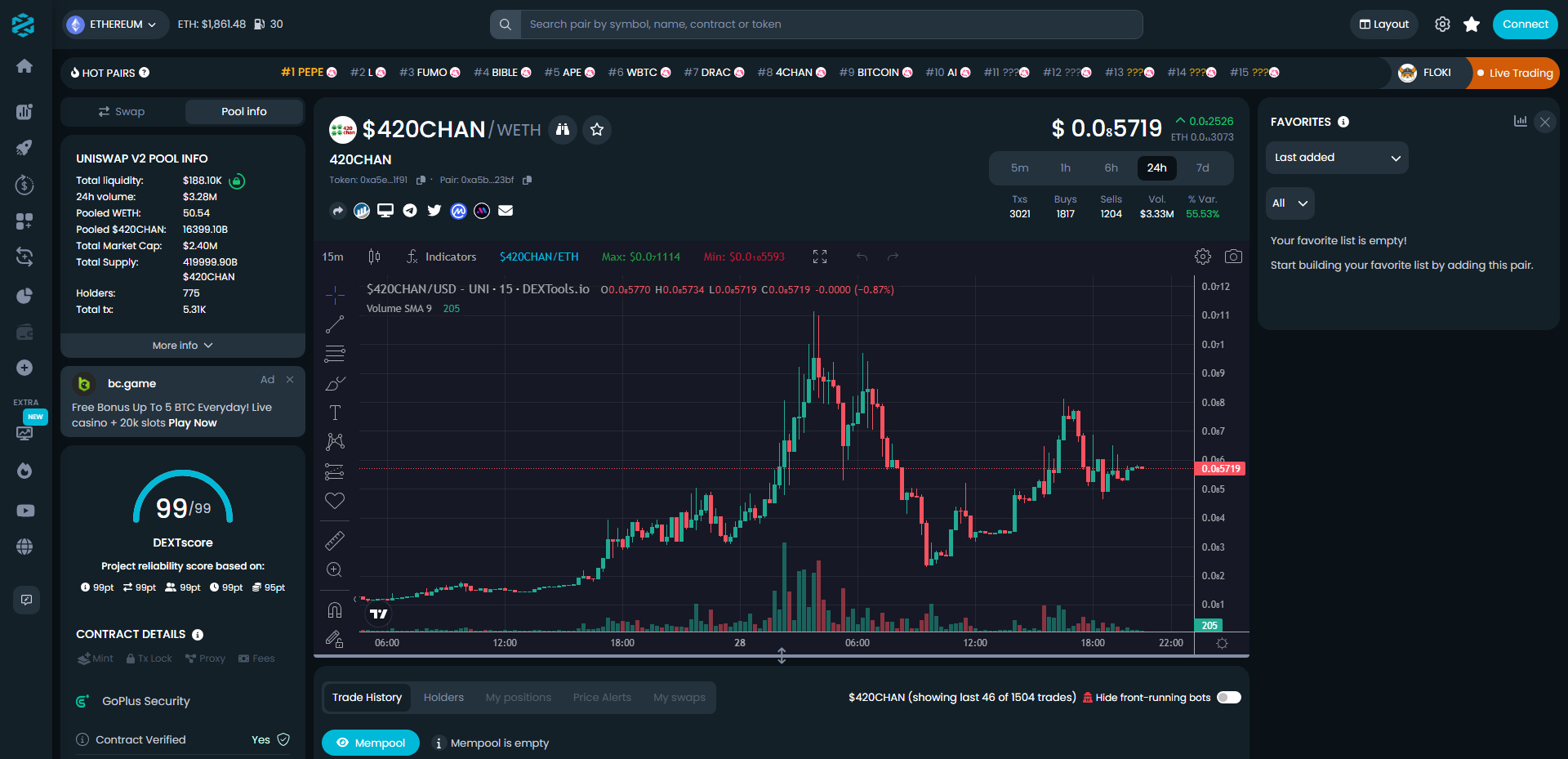 New meme coin 420CHAN ($420CHAN) has been pumping over the past 24 hours. The ERC-20 token first launched onJune 21 but has recently caught the attention of traders.
420chan is a reference to an anonymous imageboard founded by Aubrey Cottle in 2005 that later metapmorhisized into a cannabis and then general drug culture slang word.
420CHAN token blows up
Over the past two days the $420CHAN price has seen two spikes in price, as can be soon on the chart above.
Although buls may be having a rest now, they could soon be coming back for more.
This meteoric rise in price is probably helped by its association – intended or otherwise – with the $4CHAN token that has been garnering strong buyer interest of late. 4Chan is an unmoderated messageboard platform.
79% of the token's $97k liquidity has been locked for 35 years, although volume has now slippped back somewhat to $781k.
Can 420CHAN continue its surge?
It remains to be soon whether $420CHAN can maintain its price momentum. With only around 600 holders of the coin, its price progress to date could be on shaky foundations.
Given the token's rapid ascent, it is highly likely that a significant correction may occur as traders decide to cash in their profits and exit their positions.
Furthermore, it is worth mentioning the behavior of crypto whales, who are currently showing a preference for another meme coin called Wall Street Memes (WSM).
This indicates a continuing shift in focus among crypto enthusiasts towards alternative opportunities within the meme coin space.
Whales are focusing on Wall Street Memes ($WSM)
Wall Street Memes, a meme coin inspired by the WallStreetBets subreddit's fight against institutional investors, has managed to generate significant attention even before being listed on exchanges.
Currently in its presale phase, WSM tokens are being offered at a price of $0.0304 each. The project has already raised over $11 million in its fundraising, showcasing strong investor interest and enthusiasm.
Investors still have the opportunity to purchase WSM tokens at the current price for another day and a half before it increases to $0.0307 per token. The tokens can be bought using ETH, USDT, or card payments.
WSM already has a highly engaged one-million strong social community
WSM has a strong community already in existence around it, numbering around one million, of which half that total is on Instagram and a quarter of a million on its official Twitter account.
WSM plans to do for crypto what is has done for stocks as 'The King of Stonks', and it has the community backing to succeed.
No wonder some analysts are predicting $WSM to fly when it hits the decentralized and centralized exchanges.
Last but not least, it should be mentioned that Elon Musk has engaged with WSM on Twitter in the past. In meme coin land, being able to boast that kind of reach is gold dust, so don't be surprised when $WSM moons.
Disclaimer: The Industry Talk section features insights by crypto industry players and is not a part of the editorial content of Cryptonews.com.
---