33% of Surveyed ICO Investors Feel Deceived, But 56% Would Invest Again
Nearly 33% of surveyed investors feel that the initial coin offering (ICO) project they invested in deceived them, found South Korean business giant Hanhwa Group-backed crypto disclosure platform Xangle. However, 56% of all respondents said they'd make another investment if they had more information and research to help them.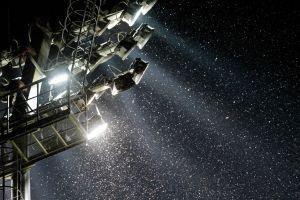 Investors are "excited" to put their money in the booming crypto industry, which results in that industry expanding as more crypto projects created are encouraged to form, but a number of investors reported having experienced the last thing they wanted - to be kept "in the dark about the project, feel like information is being withheld from them, or, at the very worst, find that their money has disappeared overnight along with the company," wrote the Xangle team in their ICO Retail Investor Sentiment & Outlook 2020 report. "This has turned them off to the crypto industry perhaps indefinitely."
To better understand the experiences of retail investors, Xangle said it surveyed 600 people who live in the US and who made an investment in an ICO between 2017 and October 2020.
They found that 32.7% of investors felt that the ICO deceived them or withheld information from them. On the positive note, half of all respondents didn't share that experience. Nonetheless, 17% were unable to determine whether they were deceived or not, meaning they didn't know enough about the project or the industry to determine if the project deceived them or withheld information.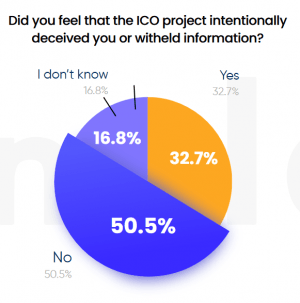 "These responses show a much bigger problem around transparency and information asymmetry," said the report. "Information asymmetry leads to investor confusion about projects and the perception of being willingly deceived about the information made available."
Of the 33% who felt deceived by their ICO, 54% said that the ICO founders should be held criminally liable for their actions. Meanwhile, 19% believed the opposite, but "having nearly 30% of respondents unsure of whether criminal negligence or fraud had occurred shows that again there's a lot more to do in the way of educating investor."
22% of the respondents first invested in an ICO in the year of the ICO boom, 2017. But most of them, 35%, first invested in 2018, followed by 26% in 2019, and 9% in 2020. "This shows a consistent interest in ICOs, with new investors steadily coming in each year," said the report.
The majority of respondents (55%) invested to earn more money, while nearly 23% wanted to invest in the idea behind the project and nearly 17% in the technology, and some 5% said that they wanted to be an early adopter. Nearly half invested less than USD 1,000, likely to test the waters, while 30% of the respondents invested between USD 1,001 - USD 10,000. Only 2% invested more than USD 100,000.
That said, prior to their investment, these respondents relied on proper research the least, the report suggested, stating that "nearly half [of] those who invested made their decision based on word of mouth rather than their own research." In other words, 46% learned about the ICO they invested in from friends, family, or co-workers. Another 19% learned about it from forums, 18% from social media, and 15% from news articles, TV, and other media coverage.
Half of the previous investors still invest in crypto projects, and half do not. "If 50% of your customers tried your product and never returned, that's a big red flag that change is need," said the report. Respondents felt that a lack of regulation, awareness, and security is holding the crypto market back, followed by lack of transparency and use cases. They find that more accountability, investor protection from government and regulators, more information, and more unique projects are needed to increase investor buy-in.
Furthermore, 30% of respondents had a positive experience investing, saying they would do it again and not change a thing, while 11% responded that they would never invest in an ICO again, and regret having done so in the first place.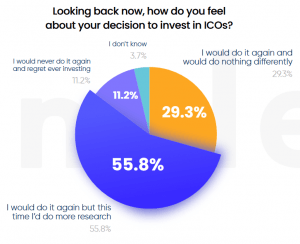 ____
Learn more:
VCs Learned Bitcoin & ICO Lesson The Hard Way - Marc van der Chijs
This Is How John McAfee Made USD 23m For Shilling ICOs (According to SEC)
Kik Loses Against SEC As Judge 'Shreds' ICOs - Expect More Cases
Another ICO Set to Close and Refund Investors, Blames Regulatory Fog
---