3 Utility Tokens Set to Revolutionize Web3: Cardano (ADA), Chainlink (LINK), Collateral Network (COLT)
Disclaimer: The text below is an advertorial article that is not part of Cryptonews.com editorial content.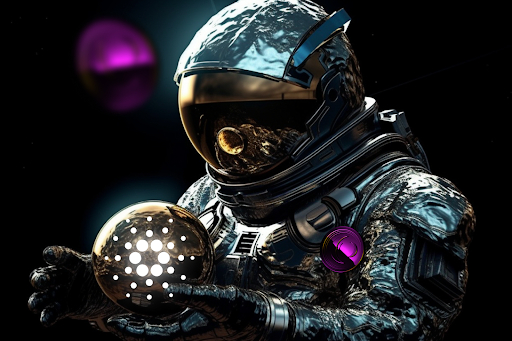 As the crypto market evolves, utility tokens continue to gain traction, with projects like Cardano (ADA) and Chainlink (LINK) leading the pack.
Meanwhile, the upcoming Collateral Network (COLT) presale offers investors an opportunity to be part of a groundbreaking Web3 peer-to-peer lending platform.
Is Cardano (ADA) good for long term?
The Valentine Upgrade, a recent addition to Cardano's Goguen era, has set the stage for the network's future expansion. The latest Cardano upgrade enables the creation of decentralized applications (dApps) on the platform.
Cardano is a scalable and secure blockchain focusing on sustainability and interoperability. The project has ambitious goals, with a vision to provide a more inclusive and sustainable financial system for all.
Cardano's development has progressed through five eras so far. These are Byron, Shelley, Goguen, Basho, and Voltaire, with each bringing improvements to Cardano.
The Valentine Upgrade will finally enable developers to build dApps on Cardano. This will position the network as a competitor against Ethereum for the DeFi market.
Is Chainlink (LINK) a good investment?
Chainlink has been making waves in the crypto space with its decentralized oracle network, which aims to bridge the gap between blockchain-based smart contracts and real-world data.
Recent research by Spherical Insights suggests that the intersection of Chainlink and AI could hit a market worth billions of dollars in the next decade.
As a decentralized oracle network, Chainlink provides reliable and tamper-proof data inputs for smart contracts. This way, Chainlink enables more complex and sophisticated use cases for blockchain.
By combining Chainlink's capabilities with AI technology, the potential for innovative solutions across various industries becomes enormous. Chainlink's role in the booming AI market highlights its importance in the future of Web3 and decentralized technologies.
Collateral Network (COLT) is making waves
While Cardano and Chainlink both have important roles, there's another platform that has been making waves recently - Collateral Network.
Collateral Network, an upcoming project with its presale around the corner, aims to disrupt the lending industry. The platform allows users to borrow crypto against physical assets on the Ethereum blockchain.
Collateral Network works by enabling borrowers to deposit physical assets in a vault. The network accepts non-traditional assets like fine wines, gold, jewelry, luxury cars and more.
There, the Collateral Network team values the item and creates an NFT that represents the asset. Collateral Network then fractionalizes the NFTs, allowing investors to lend against a fraction of the token.
This way, Collateral Network offers significant benefits to borrowers and lenders alike. This Web3 platform provides a secure, transparent, and efficient marketplace for lending against alternative assets.
The upcoming COLT presale presents an opportunity for investors to participate in this groundbreaking project. With its unique tokenomics, potential to change the industry, and a strong focus on utility, Collateral Network is set to revolutionize the world of Web3 peer-to-peer lending.
Find out more about the Collateral Network presale here:
Website: https://www.collateralnetwork.io/
Presale: https://app.collateralnetwork.io/register
Telegram: https://t.me/collateralnwk
Twitter: https://twitter.com/Collateralnwk
---