3 Reasons Axie Infinity Price is Doomed and Calvaria Is Pumping During Presale
Disclosure: Crypto is a high-risk asset class. This article is provided for informational purposes and does not constitute investment advice. By using this website, you agree to our terms and conditions. We may utilise affiliate links within our content, and receive commission.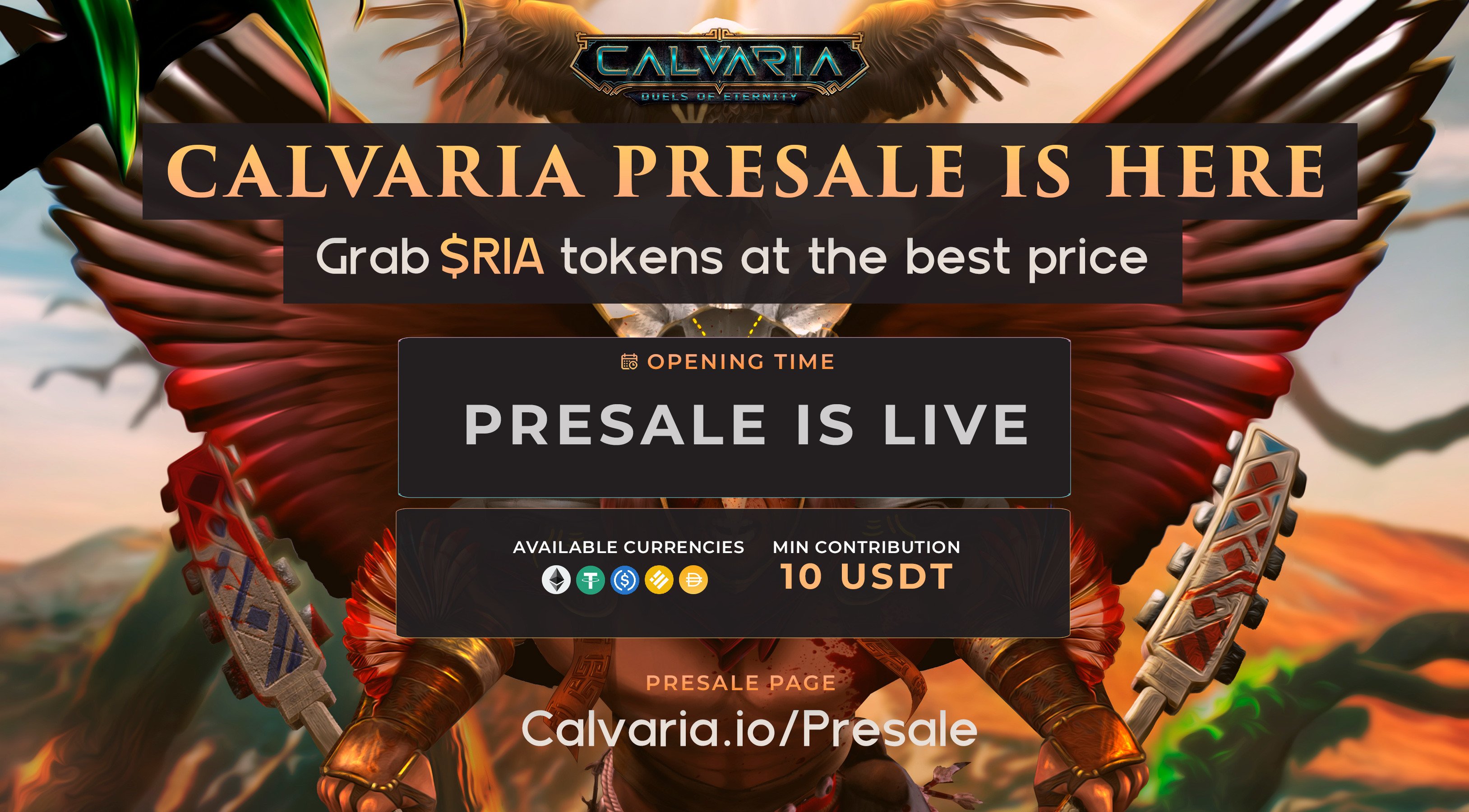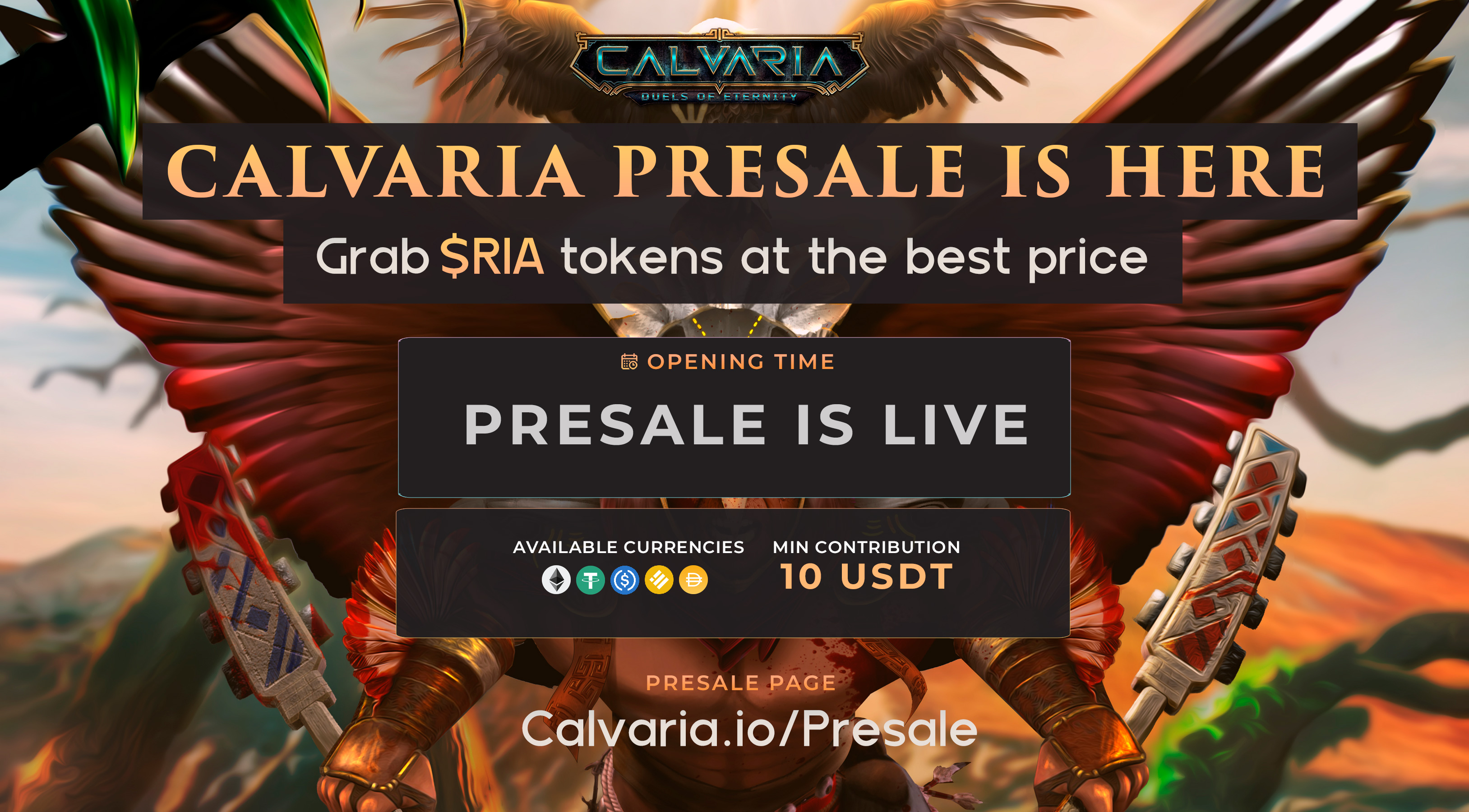 Disclaimer: The Industry Talk section features insights by crypto industry players and is not a part of the editorial content of Cryptonews.com.
The Axie Infinity price has increased by 4% in the past 24 hours, rising up $8.99. However, with its active users remaining comparatively low and the wider cryptocurrency market still stagnant, its price has also fallen by 20% in a week and by 30% in a month.
This time last year AXS was riding high, with the altcoin reaching an all-time record of $164.90 on November 6. Since then, it has suffered a steady long-term decline, with its daily active users dropping from 2.7 million in mid-November to 250,000 by early August of this year.
Fortunately, traders looking for new play-to-earn gaming platforms to invest in do not have to look too far, with Calvaria: Duels of Eternity recently launching its presale. This title aims to succeed where Axie Infinity has failed, with the game also supporting a free-to-play version that requires no crypto for users to participate.
3 Reasons Axie Infinity Price is Doomed
AXS's chart doesn't paint a pretty picture. Its relative strength index (purple) has been under 50 since the middle of August and has been above 50 for only a few weeks (between mid-July and mid-August) since the start of April.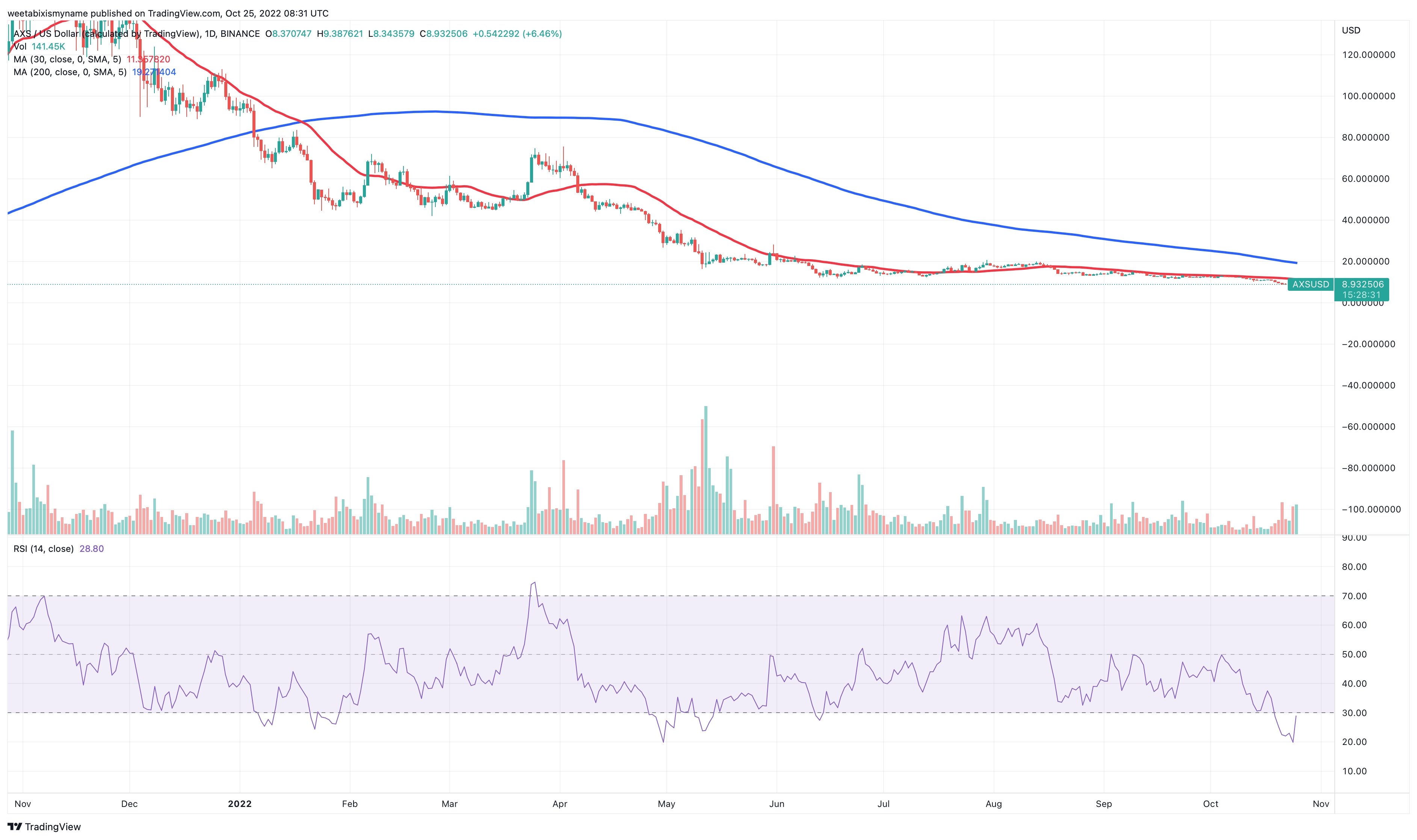 This suggests a serious downturn, as does the coin's 30-day moving average (red). The latter has languished below AXS's 200-day average (blue) since January, defying purely chartist expectations that it should be due a rebound anytime soon.
It's not only AXS' indicators that look grim. As mentioned above, Axie Infinity has struggled to regain the daily active users it has lost since last November.
Throughout the past year, its developer Sky Mavis has rolled out a number of upgrades in the hope of resuscitating its user base. However, from core system updates to new features, these haven't been met with an uptick in the game's user numbers, or in the price of AXS.
As such, it's hard to see what else Sky Mavis can do to restore Axie Infinity to its previous heights. It seems players have lost interest in the game, something which has been exacerbated by the bear market reducing the value of the rewards they receive for playing it.
Bridge hacks have accounted for 2/3 of the $3B that has been stolen from DeFi.@AxieInfinity's @Ronin_Network bridge hack has been the largest to date at $600M lost. pic.twitter.com/5IAuTqShMO

— Messari (@MessariCrypto) August 30, 2022
Thirdly, it's worth pointing out that Axie Infinity also hasn't recovered from the major hack suffered by its Ronin bridge in March. This exploit resulted in the theft of Ethereum and USDC worth around $540 million at the time, and its major effect was to undermine trust in Axie Infinity.
While the Axie Infinity team updated Ronin following the hack, it's likely that the breach has undermined trust in Axie for the long term, something which would also help explain its continuing decline in user numbers.
Why Calvaria Is Pumping During Presale
Turning to Calvaria, it's arguable that Axie Infinity's decline also explains the surge in interest in newer play-to-earn titles, with investors looking elsewhere in the sub-sector for growth.
Calvaria launched its presale on October 10, making its RIA native token available at a price of 0.01 USDT. So far, it has sold 7,558,482 RIA out of a total of 30 million, although this total applies only to the current first stage of the sale, with subsequent stages (during which RIA's price will rise) set to follow.
Available on PC and mobile app stores, Calvaria differs a little from other blockchain-based play-to-earn games in that gamers don't need cryptocurrency to play it. This makes it an ideal entry point for newcomers to crypto and P2E, especially for those who would otherwise be turned off by the need to have a wallet and connect it to the game's platform.
Calvaria comes in Free-to-Play and Play-to-Earn versions. Either way, it's set in the afterlife, where players can earn and upgrade collectible cards used to battle with different factions in the game's universe.
Calvaria Universe consists of many underworlds, being shaped and shifted differently to the preferences of the rulers who are at war with each other.
Get to know more : https://t.co/6wSK6JxgUG
Join us on our journey!#CalvariaGang #altcoin #playtoearn #crypto #blockchain pic.twitter.com/HejaCUk2Yc

— Calvaria: Duels of Eternity! ✨ (@CalvariaP2E) September 24, 2022
These cards are represented as non-fungible tokens (as are other in-game items and assets), while players can also stake the native RIA token to earn rewards. Other features include mini-games and a scholarship system.
If you ever wondered what Duels of Eternity mechanics would look like, here's the sneak peek for you!
Join our early presale for the best value: https://t.co/xB0JFw39gl
We got GAMES, NFTs, CASH PRIZES for community and much much more! #CalvariaGang #Altcoin #presale #x1000gem pic.twitter.com/26dD1nz3Pk

— Calvaria: Duels of Eternity! ✨ (@CalvariaP2E) September 20, 2022
According to the Calvaria roadmap, the alpha version of the game is set to launch in the first quarter of next year, with a full launch due the following quarter. Its RIA token has a total maximum supply of one billion, with 38% of this devoted to the ongoing presale (this is the largest share).
It, therefore, looks like it's shaping up to be an exciting addition to the blockchain gaming ecosystem, which is arguably in need of a new champion now that Axie Infinity continues to wane. Whether Calvaria ends up becoming this champion is open to debate, yet it certainly has the fundamentals to succeed regardless.

Visit Calvaria Now
---