3 High Growth Cryptos For Your Portfolio HedgeUp, Theta Network and Helium
Disclaimer: The text below is an advertorial article that is not part of Cryptonews.com editorial content.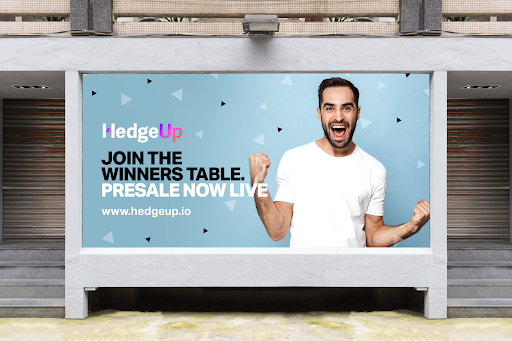 Investors typically evaluate the benefits and drawbacks of an asset before investing. The complexity of the cryptocurrency market makes it difficult for the investor to choose a specific investment.
Professionals have offered their opinions in addition to your study in some situations. Numerous professionals believe HedgeUp is a wiser investment than Hedera. This is based on the company's predicted high returns and low volatility, which effectively translates to low risks.
Theta Network
Theta is a content distribution network and decentralized streaming platform. Its main objective is to increase the caliber of content given and shorten the time it takes for users to load videos. Theta Labs, Inc., a San Francisco-based business, founded the initiative. The team attracted $20 million of the original financing in a token sale in 2017.
Distributed P2P networks are gaining popularity, and video platforms have issues that need to be fixed. It became evident when blockchain technology and streaming converged that theta would arise.
HedgeUp
A cryptocurrency called HedgeUp (HDUP) seeks to question and alter the financial system's current state. To bridge the gap between cryptocurrency and traditional investors, HDUP was created. It has produced an alternate investment pattern that allows investors to use various products and commodities as leverage.
The crypto market has reached a new level due to HedgeUp's alternative investment strategy. Investors are no longer restricted to just trading and staking cryptocurrencies. They can now buy tangible commodities like diamonds and private planes.
Each person can invest thanks to HDUP's availability and accessibility. Anyone can join HedgeUp's investment system and become an investor for just $1. Investors can access a wide range of assets, including gold, wine, yachts, and private jets. Investors unable to afford full ownership of these assets can acquire a portion.
Before the launch of HedgeUp, traditional asset investment was considered a privilege reserved for the powerful and wealthy. However, these high-net-worth assets are made available via HedgeUp (HDUP).
Helium
The People's Network, now referred to be the fastest-growing wireless network in the world, is powered by the decentralized blockchain called Helium (HNT). A 5G Internet-of-Things-focused initiative is called Helium.
With the help of Helium's technology, anyone can create a substantial, economic, wireless infrastructure. Low-powered wireless devices can be connected to Helium's nodes, known as Hotspots, enabling them to talk with one another and send data over its network.
IoT devices supporting LoRaWAN can access the dispersed, global Helium Network, a long-range wireless network. The network comprises Hotspots, which offer public network coverage in exchange for payment in HNT, Helium's native money. Additionally connected to the network is the Helium blockchain, which offers a reward for hosting hotspots.
Conclusion
The advantage of HedgeUp for consumers includes a decentralized wallet that allows them to purchase, sell, and hold NFTs and cryptocurrencies.
The HedgeUp Launchpad allows users to invest across various asset classes and allows startups to obtain funds quickly. The platform will also include virtual networking and communications as HedgeUp integrates into the metaverse.
Numerous crypto experts predict that HedgeUp will develop into the following significant crypto initiative. In 2023, a significant price hike is anticipated.
HedgeUp's current pre-sale period will sell out sooner than anticipated. This is a fantastic chance for new investors to get involved in one of the fastest-expanding industries: alternative investment.
For more information on HedgeUP click the links below:
Presale Sign Up: https://app.hedgeup.io/sign-up
Official Website: https://hedgeup.io
Community Links: https://linktr.ee/hedgeupofficial
---