2023's Hottest Shitcoin Presale Mr Hankey Coin Raises Whopping $500K to Sell Out in Under 10 Hours, Setting Up Explosive DEX Launch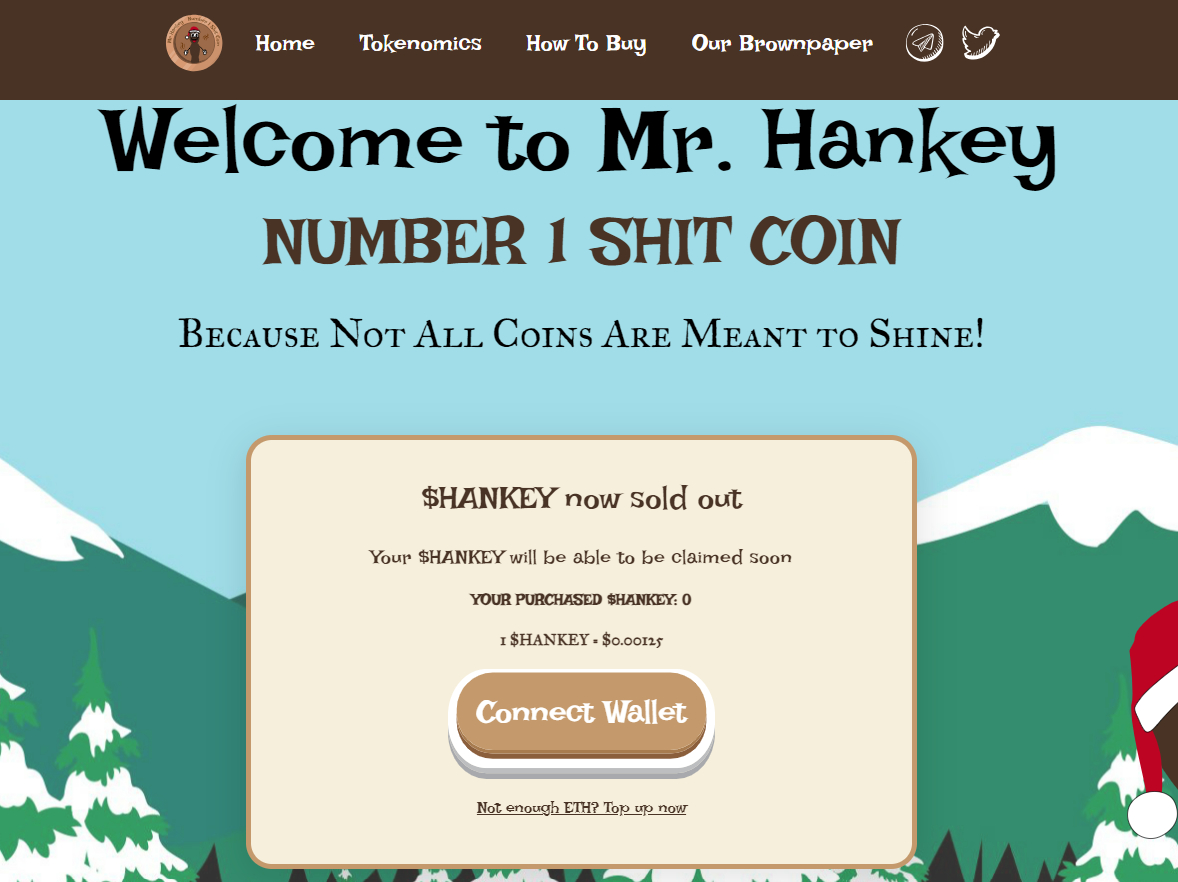 Friday, 14th July - Mr Hankey Coin ($HANKEY), widely touted as 2023's hottest shitcoin, just delivered on the hype in a big way.
The meme coin project's highly anticipated presale sold out within 10 hours of its launch on Thursday, raising a whopping $500,000 in the process.
Mr Hankey Coin is a brand-new meme coin themed on South Park's popular Mr Hankey, a sentient, jolly piece of feces and the cartoon's former Christmas deity.
Meme coin degens and low market cap shitcoin hunters will now need to prepare for the $HANKEY listing on decentralized exchanges (DEXs) today at 6 pm CET.
Presale buyers can claim their tokens at the launch time of 6 pm CET, and the list price will be the same as the presale price – $0.00125.
The team advises holders to keep an eye on the website and make sure to follow the Twitter account and Telegram channel.
The breathtaking pace at which the presale sold out suggests that pent-up demand and FOMO will be sustained into an explosive DEX launch.
Mr Hankey Coin's $500,000 presale represented a generous 40% of $HANKEY's total 1 billion token supply.
That means the presale valued the shitcoin at a very modest $1.25 million - a true small-cap gem.
Follow Mr Hankey Coin on Twitter and Telegram now to ensure you are among the first to be notified when the coin launches on exchanges.
$HANKEY Has The Recipe for Explosive Upside
Meme coin degens who managed to get in on the blockbuster presale may have hit the jackpot with $HANKEY, with the coin demonstrating it has the recipe for explosive upside.
As already noted, the fast pace at which the presale sold out suggests huge and still unmet demand for the token.
But why has demand been so strong? Let's examine a few reasons why.
$HANKEY Is a True Small Cap Gem
Traders who secured their $HANKEY tokens in the presale got them for a ridiculously cheap price of $0.00125.
That token price implies a fully diluted market cap of just $1.25 million for $HANKEY.
That means Mr Hankey Coin is a true low-cap gem - not often do you find a meme coin that has generated the amount of hype that Mr Hankey Coin has, but still only has a market cap of just over $1 million.
Much lesser meme coins have been able to achieve exponentially higher market caps.
Mr Hankey Coin is Already Going Viral
Mr Hankey Coin's official Twitter account has already surged past 7,500 followers, while its Telegram is already at 1,600.
Reputable crypto news outlets like Cryptonews.com, BeInCrypto, Cointelegraph, CryptoPotato, Outlook India, and Coingape have all covered the token.
And a wave of high-profile crypto influencers has been promoting the token via giveaway competitions, including the likes of @MattInWeb3, @AmeerNFTs, and @mrbrown_nft, all of whom boast over 100K followers on Twitter.
All of the above suggests that Mr Hankey Coin has a serious marketing engine behind it.
Rumors are already circulating that the savvy marketing teams behind $SPONGE and $PEPE might have a hand in $HANKEY.
Mr Hankey Coin Play on the South Park/Shitcoin Theme is Fun & Original
Mr Hankey Coin's play on representing one of South Park's most loved characters and, at the same time, being 2023's best shitcoin is fun and original.
The label "shitcoin," once used as a pejorative for the tokens issued by new and often unreliable crypto projects, is now used more commonly to signify a high-risk, high-reward opportunity.
And unlike other shitcoins, Mr Hankey Coin embraces its own reality.
"Mr. Hankey Coin is what happens when we stop pretending to be the next Bitcoin and embrace our inner turd," the project's website reads.
Massive DEX Liquidity Lock
The Mr Hankey Coin team is committed to providing a smooth token trading environment, and so has pledged to dedicate 40% of its token supply to decentralized exchange (DEX) liquidity.
That's important because, in the absence of plentiful liquidity, meme coin degens often face the hurdle of inefficient buying and selling and significant potential losses due to price slippage.
Significantly, Mr Hankey Coin's team has also pledged to lock this liquidity, ensuring that there is no rug pull.
Allocating such a large percentage of a new meme token's supply to a DEX liquidity lock is a rare move in the scam-ridden shitcoin space and should help bolster confidence in the project.
Is $HANKEY the Next 100x Crypto?
Meme coin market experts are already predicting big things for Mr Hankey Coin.
Analysts across major crypto websites such as Outlook, NewsBTC, and CryptoPotato all rank the shitcoin as one of 2023's best presale opportunities.
Meanwhile, popular presale analyst Ari here at Cryptonews, with a solid track record for identifying low market cap gems, has said $HANKEY boasts 10x potential.
For reference, 10x gains would see $HANKEY hit a market cap of $12.5 million.
That's still very modest in the meme coin world, which means there is the potential for even bigger returns.
Shitcoins with far less compelling stories, tokenomics, and less competent marketing teams, have achieved far higher market caps.
If $PEPE coin was able to hit a monstrous market cap of $1.8 billion, there is no reason why Mr Hankey Coin can't top $100 million.
100x gains are on the cards for the savvy investors who managed to get in on the presale.
For those who missed out on the presale but still want to get involved, speed will be of the essence if they wish to secure their $HANKEY tokens for a low price.
As noted above, Mr Hankey Coin is showing all the signs of an explosive DEX launch.
That means degens who want to get $HANKEY on the cheap will need to wait to pounce as soon as the DEX launch goes down, and before the pump really gets going.
Stay tuned to Mr Hankey Coin's official Twitter and Telegram to find out.
Disclaimer: Crypto is a high-risk asset class. This article is provided for informational purposes and does not constitute investment advice. You could lose all of your capital.
---