15,000 gALGO in Prizes: Don't miss the Biggest Giveaway on Algorand
Disclaimer: The text below is a press release that is not part of Cryptonews.com editorial content.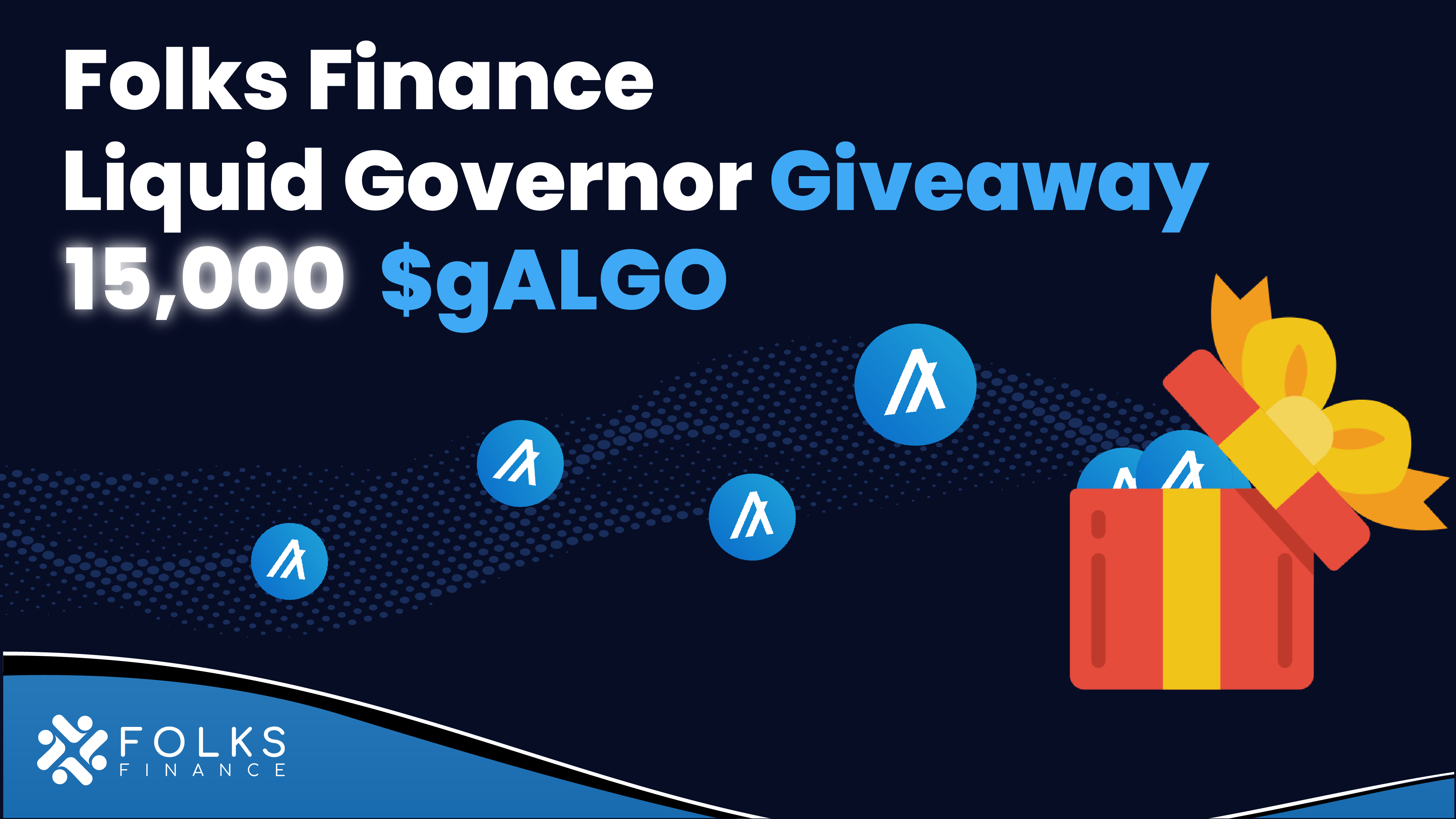 Folks Finance, a leading DeFi project on Algorand, has launched the Liquid Governor Giveaway for anyone who wishes to join the rapidly growing Algorand ecosystem and try their luck at making the most of their liquid staking. The giveaway will last for 2 weeks: from April 11th till April 21st.
By completing the quests on Folks Finance's Zealy hub, users will be able to win some of the total prize of 15,000 gALGO tokens (minted 1:1 to ALGO tokens) plus an Akita Kennel Club NFT whitelisting, become Algorand governors and make their liquid staking strategy maximum profitable.
What is Folks Finance and how does liquid governance work on Algorand? How do you take the most advantage of Liquid Governor Giveaway? Stay tuned and keep on reading!
Folks Finance and Liquid Governance
Folks Finance is a DeFi protocol that provides advanced, non-custodial DeFi tools for managing digital assets. Users looking for an all-in-one place to hold, manage, trade, and make high interest on their crypto can now fulfill their needs in a fast, affordable, and permissionless manner on Folks Finance.
Why Liquid Governance?
Liquid Governance is a liquid-staking product developed by Folks Finance to let users take advantage of Algorand governance while keeping their asset value liquid. This is achieved through the minting of gALGO, distributed 1:1 for each ALGO committed to Liquid Governance. While your ALGO remains in Folks Finance's smart contracts, your gALGO is able to be traded, spent, or staked around the ecosystem.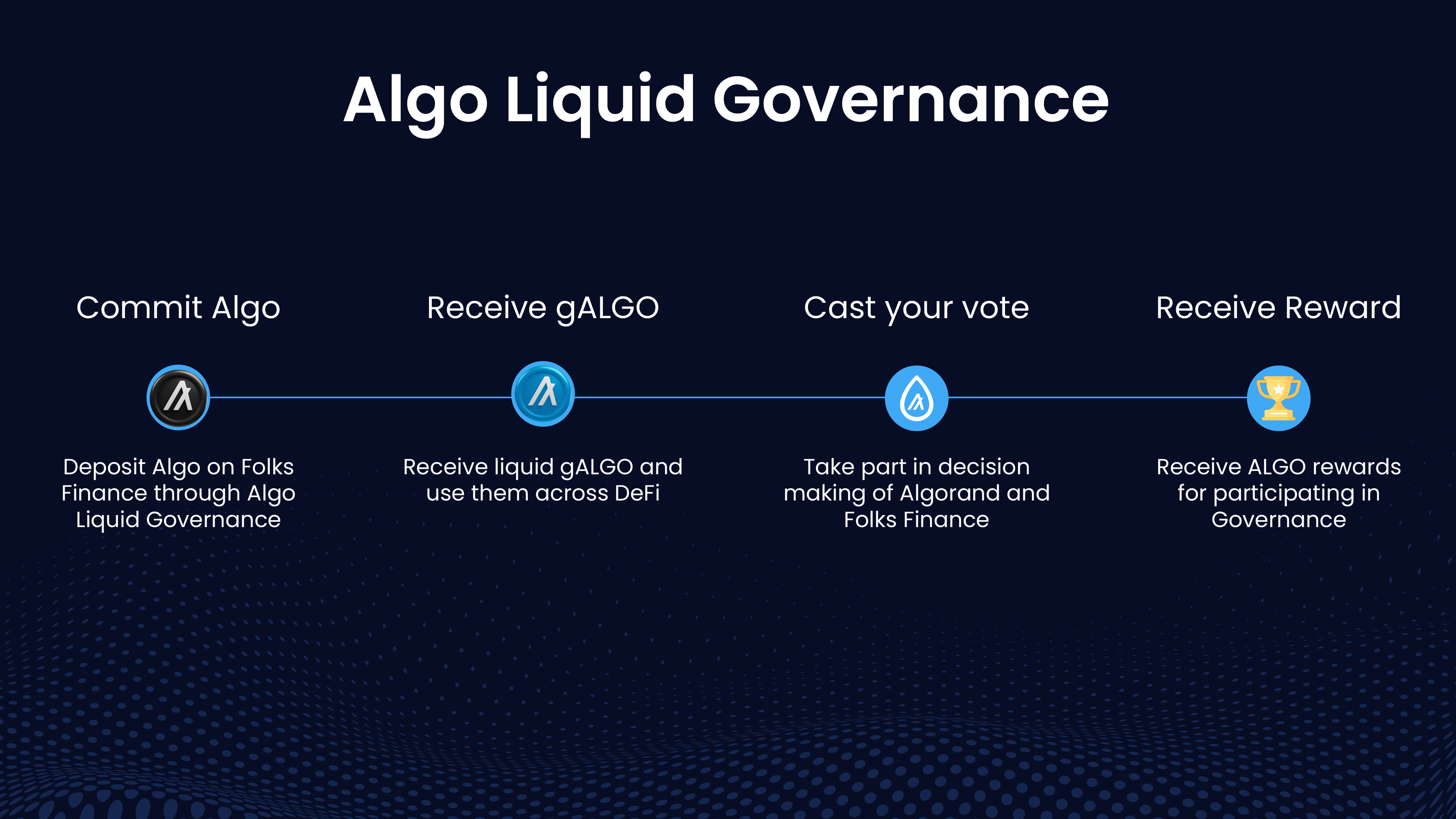 Being the most effective and popular DeFi strategy on Algorand, Algo Liquid Governance built by Folks Finance is now open for users to deposit! The governance APR on Folks Finance can reach up to 15-16%, dwarfing the APR from traditional Algorand Governance, which usually lands around 6%
How to take part in Liquid Governor Giveaway?
The first step is to commit 1000 ALGO to Liquid Governance and pass the Start with Folks quest. You have a chance to win 10% of your commitment, scaling from commitments of 1000 to 5000.
For 1000+ ALGO committed, win an additional 100 gALGO plus a standard Akita Kennel Club whitelist spot
For 2000+ ALGO committed, win an additional 200 gALGO plus a standard Akita Kennel Club whitelist spot
For 3000+ ALGO committed, win additional 300 gALGO plus a standard Akita Kennel Club whitelist spot
For 4000+ ALGO committed, win an additional 400 gALGO plus a gem Akita Kennel Club whitelist spot, guaranteeing a rare mint!
For 5000+ ALGO committed, win an additional 500 gALGO plus a gem Akita Kennel Club whitelist spot, guaranteeing a rare mint!
5 lucky winners will be randomly selected for each of the categories highlighted above!
Are you a Champion?
If you want to win even more, compete for an additional 500 gALGO by passing through the Champions Quest and completing the tasks you'd like. Each task grants you a certain amount of points. The more points you earn, the higher your position in the leaderboard is.
The 10 champions with the highest scores on the leaderboard win +500 gALGO! To be able to pass the Champions section, you first need to fulfill the basic requirements: commit the min of 1,000 ALGO and pass through the "Start with Folks" quest.
All the champions that passed the threshold in the leadership board will be raffled to win for + 500 gALGO (10 champions will be rewarded each of the 10 places). The minimum threshold to take part in a raffle is 255 points
Benefits for Folksy Guys Holders:
If you hold a Folksy Guy, the NFT series by Folks Finance, it gets even better! 5 lucky Folksy Guys holders who've committed the minimum of 1,000 gALGO and passed through the "Start with Folks" quest on zealy.io will win an additional 500 gALGO! If you're not a Folksy Guys NFT holder, but want to become one, you can get the NFTs here.
What's the best I could do?
Let's theorize for a moment. If you:
Completed the Start with Folks quest
Committed 5000+ ALGO
Made the Top 10 for the Champions quest
Hold a Folksy Guy
You could win 1500 gALGO and a gem Akita Kennel Club whitelist spot!
The Liquid Governor Giveaway will be open for entry during the commitment period, which began April 1st and runs until April 21st. Try your luck at massively boosting your ALGO rewards. This is going to be huge!
How to get started with Folks Finance:
Set up a Pera wallet.
If you don't have ALGO or any other ASA tokens in your wallet, buy it on app.folks.finance through the Fiat-On-Ramp function which will be available when you choose "Swap". You can also pack your wallet with ALGO on a centralized exchange (Kukoin, Binance, and others)
For all the details, read "Get started" in Folks Finance documentations.
About Folks Finance:
Folks Finance is a DeFi asset management platform that gives users self-custody for lending, borrowing, trading, hedging and managing crypto - all in one place.
---