$10 Million Viral Meme Coin Love Hate Inu to be Listed on Top 3 Crypto Exchange OKX – Here's What You Need to Know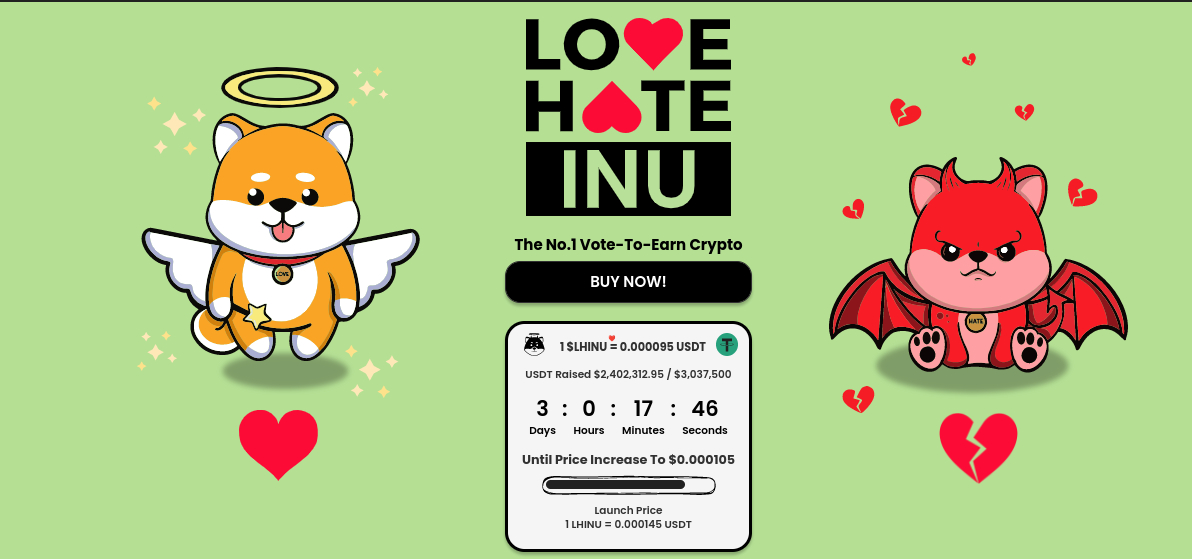 The high-paced crypto markets are no stranger to unanticipated sensations, and the latest entrant making waves is the dynamic meme coin, Love Hate Inu (LHINU).
Owing to its remarkably fruitful presale phase, which generated over $10.2 million, LHINU has been capturing the spotlight, and for good reasons.
The latest buzz? The much-anticipated listing of LHINU on the prestigious OKX exchange, slated for May 19, 10am UTC.
Love Hate Inu to list on 5th Biggest CEX
OKX, currently the world's fifth-largest cryptocurrency exchange as per CoinMarketCap, consistently handles over $920 million in daily trading volume.
It is visited by an astonishing 2.2 million visitors weekly - this significant user base indicates a vast untapped market, poised to be exposed to the potential growth of Love Hate Inu.
The exhilaration doesn't end here; a mere four hours post the OKX listing, LHINU will also be listed on the world's largest DEX, Uniswap, boasting over $6.7 billion in total value locked (TVL).
Love Hate Inu: the Next Meme Coin Rocket?
In the realm of meme coins, Love Hate Inu has proven to be a unicorn.
Unlike its contemporaries such as $PEPE, $LHINU is not just about "hype"; it amalgamates meme coin charm with real, tangible utility.
Pioneering the innovative Vote-to-Earn (V2E) concept, it leverages blockchain technology to reward users with LHINU tokens for participating in a myriad of polls, revolving around real-world events or controversial figures.
For instance, a poll could pose a question such as, "Should Elon Musk continue as Twitter CEO?" Community members can then cast their votes to either "Love" or "Hate" the idea.
To prevent manipulation from bot accounts or scammers, voters need to stake their LHINU tokens for at least 30 days before they can participate.
This creative setup disrupts the rapidly expanding online survey market and sets Love Hate Inu apart from the flock of meme coins.
LHINU Boasts Impressive 16,000+ Community
The robust community that has formed around Love Hate Inu is another factor in its skyrocketing popularity.
With over 16,600 members in its official Telegram channel and more than 43,000 followers on Twitter, the project has created a substantial and passionate base.
The anticipation surrounding LHINU isn't limited to its community.
With the wider crypto market and influencers also aflame with discussion about the potential of Love Hate Inu as a project.
YouTuber Michael Wrubel, with over 310,000 subscribers, recently discussed the possibility of LHINU following in the footsteps of Shiba Inu, suggesting it could surge by as much as 100x in price.
The upcoming listings on OKX and Uniswap mark a pivotal moment for Love Hate Inu.
It's not just about exposure or liquidity; it's about the validation of an innovative project that has effectively combined the allure of meme coins with the power of community engagement and tangible utility.
As per its roadmap, Love Hate Inu doesn't plan on resting on its laurels post-listings.
Future plans include securing partnerships with leading brands for sponsored polls, further engaging its community.
Vote 2 Earn Coming to Metaverse?
Looking ahead to 2024, LHINU aims to incorporate the V2E mechanism into metaverse experiences, further emphasizing its commitment to staying on the cutting edge of technological innovation.
With the OKX listing imminent, the price of Love Hate Inu is predicted to skyrocket. Analysts are even forecasting 10x returns for LHINU, hinting at a potential explosion in price.
As the journey of this intriguing meme coin unfolds, one thing is certain: Love Hate Inu is set for an exciting future.
With tangible utility, a dedicated community, and listings on reputable exchanges, Love Hate Inu is truly a meme coin to watch.
Disclaimer: Cryptocurrency projects endorsed in this article are not the financial advice of the publishing author or publication - cryptocurrencies are highly volatile investments with considerable risk, always do your own research.
---