Top Crypto Margin Trading Exchanges in 2023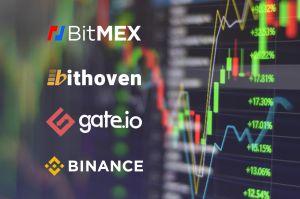 There has been a lot of hype surrounding crypto margin trading lately. As you may have heard, it is a high-risk, high-reward activity. Combined with already volatile crypto assets and highly leveraged positions, it can either make or break your portfolio.
As a result, you should be extremely careful before you venture into the unknown. The rule of thumb is simple: never margin trade what you can't afford to lose. But then again, crypto margin trading is one of the quickest ways to double or even triple your portfolio, especially if you know what you are doing.
In this guide, we review the best cryptocurrency margin trading exchanges and their key features.
Quick summary
What is crypto margin trading?
Cryptocurrency margin trading is a way to trade assets using funds provided by a third party. In contrast to traditional trading accounts, margin trading accounts allow you to access more substantial sums to leverage your positions.
Standard position trades are at a leverage of 1:1. However, you can increase the size of your position up to 100 times (only at some exchanges). The result is amplified trades that result either in higher profits or more substantial losses.
Margin trading is especially prevalent in low volatility markets like international Forex, stocks, and commodities. Despite that, traders of high volatility markets (like cryptocurrencies) are also keen on it.
A broker typically provides the borrowed funds, but in crypto markets, exchanges incentivize other traders to fund the activity via margin funding. So essentially, your trades are supported by other traders' funds.
As such, crypto margin trading is a risky activity. The higher the risks you take, the higher the chances you're going to be liquidated. Having a proper strategy for entering trades and managing risk (for example, with stop losses) is critical for your financial well-being.
Best Crypto Margin Trading Exchanges as of 2022
1. Prime XBT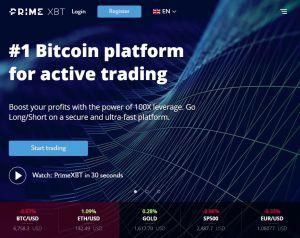 Founded in 2018, Prime XBT is a bitcoin-based derivate exchange that lets you trade top cryptocurrencies and traditional financial instruments like Forex, stocks, commodities, indices, and more. It supports up to 100x leverage for cryptocurrencies and up to 1000x leverage for Forex positions. The platform is extremely easy to use for both amateur traders as well as professionals.
| Pros | Cons |
| --- | --- |
| Up to 1000x leverage | Unregulated exchange |
| Supports tradtional trading instruments | Only five tradeable cryptocurrencies |
| Very low fees | No fiat |
Prime XBT is one of the best-kept secrets in crypto derivatives trading. It is a bitcoin-denominated derivatives trading platform with an impressive set of features. Its fast and robust trading engine is capable of executing more than 12,000 orders per second, and the average order execution speed is less than 7.12 milliseconds. Besides, it has some of the lowest fees in the industry - every trade will cost you just 0.05%.
As of January 2022, Prime XBT lets you trade more than 30 assets, including five crypto markets:
Bitcoin (up to 100x leverage)
Ethereum (up to 100x leverage)
Litecoin (up to 100x leverage)
Ripple (up to 100x leverage)
EOS (up to 100x leverage)
Most importantly, it takes less than 40 seconds to sign up and start trading. All accounts are anonymous, as no personal information is required during the signup process. All you need to do is deposit some BTC into your account, and even if you don't have any yet, Prime XBT offers you to buy some on the spot via its Changelly integration.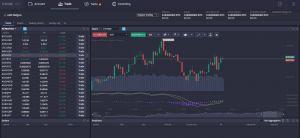 All in all, Prime XBT has it all - it is fast, convenient, offers low fees and top-notch security.
2. BitMEX
Launched in 2014, BitMEX is the most prominent name in the industry when it comes to crypto margin trading. Despite the mid-2019skirmish with crypto skeptic Nouriel Roubini and CFTC investigation, it still remains a go-to destination for the vast majority of cryptocurrency margin traders.
| Pros | Cons |
| --- | --- |
| 100x leverage | Not available for the US residents |
| Supports multiple cryptocurrencies | The system overload error at peak moments |
| No mandatory KYC | No fiat |
At BitMEX, you can trade futures, perpetual contracts, and UP & DOWN contracts. As a trader, you are free to choose from eight different digital currency markets, including:

Only two BitMEX markets trade against USD, while other cryptocurrencies are paired with BTC. As such, BitMEX is geared towards more experienced traders.
Speaking of fees, BitMEX charges -0.025% or - 0.05% maker fees (meaning that you actually receive a rebate) and 0.075% or 0.25% taker fees (varies per product). Besides, Bitcoin futures have a 0.05% settlement fee. Other tradeables are settled without a charge.
BitMEX is extremely popular worldwide, and it only takes a second to open an account. The platform is highly secure, and its users can enjoy high liquidity and an active trollbox. Nevertheless, the platform's engine frequently becomes overloaded merely due to the sheer amount of orders taking place during the key moments.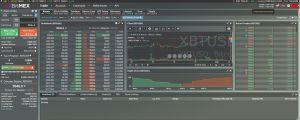 Due to regulatory issues, BitMEX does not allow US citizens on its platform.
In sum, BitMEX is one of the most popular crypto margin trading exchanges on the web. If you are a seasoned trader with a decent risk management discipline, it is well worth giving a shot.
3. Binance
Binance is the world's leading cryptocurrency exchange in terms of volume and popularity. Recently,it has introduced a margin trading feature that allows verified traders from approved countries to long and short their favorite cryptocurrencies.
| Pros | Cons |
| --- | --- |
| Wide range of cryptocurrencies | Relatively slow customer support |
| Low fees | Not available to US citizens |
| Liquid markets | No fiat pairs |
Start Margin Trading on Binance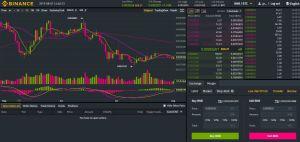 At pixel time, there are 17 active margin trading markets:
USDT pairs: BTC, BNB, ETH, XRP, EOS, LINK, TRX, ADA, ONT.
BTC pairs: BNB, ETH, XRP, EOS, LINK, TRX, ADA, TRX, ONT.
The current leverage level at Binance is 3x, but there are speculations of up to 20x leverage coming soon. The trade costs 0.2%. Unfortunately, users from the United States and other restricted countries can't access this feature.
Aside from margin trading, Binance provides access to hundreds of altcoins and allows credit and debit card deposits. The new, facelifted version of Binance has a pleasant user interface and nice user experience, and starting investors will find plenty of educational materials on all things crypto at the Binance Academy.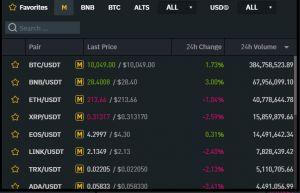 Overall, Binance margin trading is a fresh feature but it should do it for everyone who wants to get some first-hand margin trading experience with relatively low levels of risk.
4. Bithoven
Bithoven is another relatively new but promising player in the cryptocurrency and crypto margin trading space. The exchange recently introduced its own bitcoin margin trading terminal. Currently, it lets you open long and short positions with up to 20x leverage.
| Pros | Cons |
| --- | --- |
| Available for US citizens | No fiat |
| 20x leverage | Relatively new exchange |
| 24/7 customer support | Unregulated exchange |
Much like at BitMEX, all margin trading accounts at Bithoven are funded with bitcoin. The leverage level varies from 3x up to 20x. The minimal order volume is 0.01 BTC and margin call level stands at 40%. Currently, you can open positions in the following markets:
BTC pairs: USD, BCH, DASH, ETH, XMR, ZEC.
USD pairs: BTC, BCH, EOS, ETH, LTC, XMR, ZEC, XRP.
All margin trades on Bithoven cost a fixed 0.2% fee.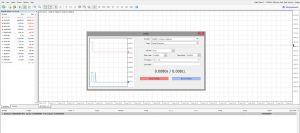 Bithoven's platform is nicely designed and integrates a powerful API trading interface for external applications. The platform is highly secure, too, since no major security incidents have been reported so far.
It's worth noting that Bithoven is an unregulated exchange without any fiat pairs, so the only way to fund your accounts is by depositing cryptocurrency.
5. Kraken
There is no need to introduce Kraken exchange unless you're new to the cryptocurrency world. It is one of a few regulated exchanges operating since 2011. Ever since, it has remained one of the top players in the cryptoverse, offering investors access to a variety of digital assets and trading products, crypto margin trading included.
| Pros | Cons |
| --- | --- |
| Available for US citizens | Extensive KYC/AML checks |
| Good liquidity | Not a lot of crypto pairs |
| Competitive fees | Customer support can be slow at times |
Kraken is not the exchange that leads the list of most listed cryptocurrencies. Instead, they try to list the quality projects only. Besides, it accepts fiat deposits in several currencies, including USD, EUR, GBP, CAD, and JPY.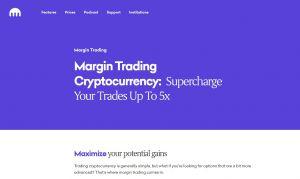 Speaking of margin trading, Kraken allows investors to use up to 5x leverage for trades involving the following cryptocurrencies:
Bitcoin
Ethereum
Tether
Monero
Ethereum Classic
Augur
XRP
Bitcoin Cash
Kraken also offers highly competitive fees. You will pay a position opening fee which ranges from 0.01 to 0.02%. Besides, every four hours, you will have to pay an extra rollover fee. Likewise, it varies from 0.01 to 0.02% based on traded cryptocurrency.
Kraken margin trading is only for investors who have completed the verification process, and, drawing from our experience, it doesn't always go smoothly. The higher your verification level, the more you can borrow. Besides, Kraken offers to invest in futures and cryptocurrency indices, too.
All in all, Kraken is the leading cryptocurrency exchange with a wide international reach and regulatory oversight. It's a great starting point for both beginners and professionals
6. Gate.io
Gate.io exchange is the best-kept secret of crypto margin trading. It allows for up to 10x leverage trades along with margin funding and borrowing services. Besides, you are free to open positions in over 40 different USDT markets.
| Pros | Cons |
| --- | --- |
| Up to 10x leverage | Not available to the US, Canadian, and Japanese users |
| Many margin trading markets | No fiat |
| Good customer support | Forced KYC and AML |
Margin trading at Gate.io revolves around 3x-10x leverage positions. There is a -0.025% Maker fee (rebate) and a 0.075% taker fee for trades. The margin accounts are nominated in both BTC and USDT. Finally, you can margin trade with more than 40 coins.

Unfortunately, users from Canada, the United States, and Japan cannot use margin trading at the moment. Besides, there are no fiat currencies, so you will have to make a cryptocurrency deposit to start trading. Last but not least, Gate.io will ask you to fulfill a KYC form before you can start trading.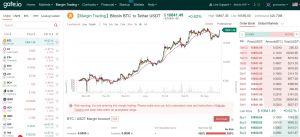 Gate.io is a powerful and robust trading platform. Aside from margin trading, you can trade perpetual contracts and invest in other financial products. However, it is not for the starting traders - we recommend Gate.io's crypto margin trading only for crypto market experts and veterans.
7. Poloniex
Poloniex is another well-known crypto market player with margin trading capability. In fact, it is a true crypto margin trading pioneer, as it was a go-to point for margin traders prior to the launch of BitMEX in 2014. Today, opening an account at Poloniex allows you to margin trade at least 16 different crypto assets with up to 2.5x leverage.
| Pros | Cons |
| --- | --- |
| Large altcoin selection | Forced KYC/AML |
| High liquidity | Margin trading is not available for US users |
| Low fees | Unregulated exchange |
Although the current leverage ratios at Poloniex is moderate, to say the least, the same can be said for the fees, which is actually a good thing. Right now you would pay 0.08% as a market maker, and 0.2% as a taker.
The current margin trading pairs at Poloniex are the following: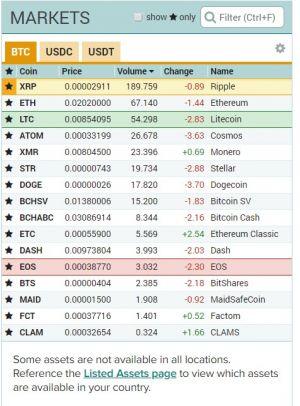 Aside from crypto margin trading, Poloniex remains a reputable altcoin exchange with no fiat pairs on it. Nevertheless, you can purchase crypto with credit or debit card, and relatively low leverage levels serve as safeguards for new traders.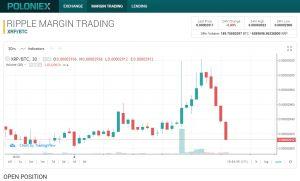 You can perform margin lending on Poloniex, too. Lenders are offered a 15% interest. Unfortunately, both margin trading and lending features are blocked for US residents, and there is no way to circumvent this due to mandatory KYC.
Still, Poloniex makes it a great margin trading training ground for residents outside of the US and other restricted countries. Besides, there are markets that are unavailable at other crypto market exchanges, so having a Poloniex account may come with its own perks.
8. Bitfinex
| Pros | Cons |
| --- | --- |
| Great liquidity | 3.3x leverage |
| Fiat pairs | Long verification process |
| Wide range of altcoins | Unregulated exchange |
The most significant advantage of Bitfinex is that it operates as a fiat on-ramp. Traders can deposit and withdraw fiat directly on and off the exchange and can open positions in fiat margin trading pairs such as BTC/USD. If you don't want to speculate on the markets, Bitfinex is also a premier destination for margin funding activities which allow you to lend your funds directly to other traders who are margin trading.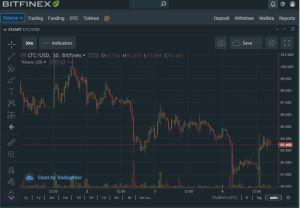 There are 25 coins and currencies available for margin trading on Bitfinex. It includes the most popular coins like BTC, ETH, and LTC, but also less popular ones like ZRX, BTG, EDO, SAN, and ETP.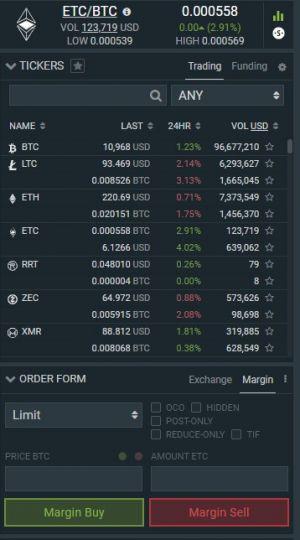 When it comes to fees, there is a 0.1% cost for market makers and a 0.2% fee for market takers. Users must be verified to conduct margin trades or funding. Due to regulatory uncertainties, US residents are barred from using Bitfinex services.
In sum, Bitfinex is a top-notch exchange for high-volume margin traders and lenders. As one of the oldest exchanges in the market, it has made its name among many professional traders from all over the world.
Closing Thoughts
These are the best crypto margin trading exchanges in the market. If you are up for trying your luck in longing or shorting some crypto assets, remember to exercise caution, have a strategy, and manage your risks wisely. Margin trading is known for liquidating numerous account balances of inexperienced traders, so it's better to be safe than sorry. Never trade what you cannot afford to lose.
---
Other Cryptocurrency Guides