How To List an NFT on OpenSea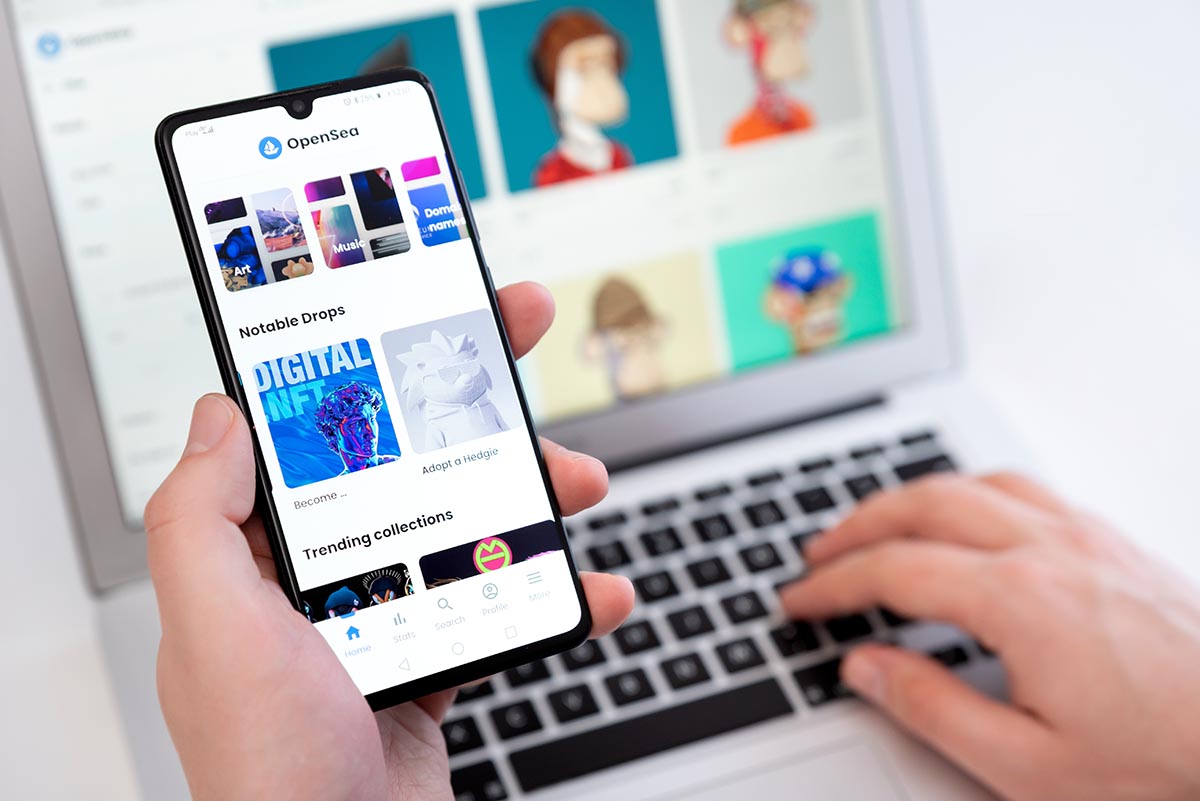 Whilst you are collating NFTs and building your ideal portfolio of artwork, there may come a time where you can make some profit from a piece or just have no need for a particular NFT anymore and would like to list it for sale thus making money and space for more purchases.
OpenSea makes this really simple, and in just a few clicks, you can list an NFT from your profile to the marketplace for a price that suits you, helping you further shape your collection.
In this guide, we will break down, step by step, how to list artwork from your collection on to the OpenSea marketplace quickly and efficiently.
This guide assumes you have already started purchasing NFTs; if you have not yet begun this journey, please click here to view our related guides.
So, you have begun buying NFTs and your collection is growing. You are enjoying the benefits of holding certain pieces and the communities you have joined along the way.
However, what can you do if there are a couple of NFTs that have gone up in value and you want to cash in, or you are no longer as fond of within your portfolio? List them back onto the marketplace, of course!
Thanks to OpensSea's simple interface, you can list and sell NFTs on their marketplace, and in this guide, we will break down how to do this, as well as how to quickly delist an item should you change your mind!
How to List Your Artwork for Sale
To begin listing your artwork for sale on OpenSea, head over to their homepage and click the account page on the top right-hand side of the screen. You may need to log into your wallet to access this page, but just follow the steps you used to create your account to do this.
As always, be aware of websites impersonating OpenSea and always ensure that you are on the correct website before allowing any Metamask permissions on the site; otherwise, you may be at risk of being hacked.
Once you are on your profile page, click the image of the artwork you are looking to list to be redirected to its page.
Once you are on this page, you will be met with all the details surrounding this particular piece, and in the top right-hand corner, you will see a blue button labeled "Sell."
Tap this to proceed.
You will be redirected to a listing page where you can see the fees you will accrue from the sale. It also allows you to decide the amount you would like to get via a buy it now option as well as how long the piece will be listed. Once you have completed those two boxes, the "Complete listing" button will become active, and you must click it to continue.
As it will be your first listing, you will need to unlock the selling functionality on OpenSea. Thankfully this is as simple as a few clicks again. It begins when you tap "unlock" on the pop-up below.
This will prompt an automatic MetaMask pop-up, confirming you are happy to link your wallet to this new address. If so, simply click the blue "Confirm" button at the bottom of the page.
Bear in mind this will cost you. However, being on the Polygon Network, fees will be minimal.
Upon confirming you are happy to proceed, you will then be prompted to sign a message again using your MetaMask wallet.
Click "Sign" to initiate this.
This MetaMask pop-up requires you to scroll to the bottom of the message to activate the sign button at the bottom of the page.
Once it turns a deeper blue, click "SIGN" to finalise the listing.
You will then be greeted with a pop-up confirming that your NFT has been successfully listed on the marketplace and offering you the opportunity to share this news across your social channels.
Once you have done this, click the small grey "X" in the top right-hand corner to be redirected back to the NFTs unique page.
If, for any reason, you decide that you no longer want to sell your beloved NFT, simply click the "Cancel listing" button in the top right corner of this page.
From here, it is as simple as signing a message via your MetaMask wallet. To prompt this, tap the blue "Sign" button as pictured below.
On the automated pop-up, click "Sign" to confirm you want to delist your NFT from the marketplace.
You will then be automatically redirected to the NFT's page, where the "Cancel listing" button will have been replaced by a "Sell" button, signifying your NFT was successfully removed and is no longer listed for sale on the OpenSea marketplace.
Closing Thoughts
Buying NFTs can be one of crypto's most exciting and fulfilling experiences. Sometimes you can replicate those feelings when you list a piece from your collection, allowing someone else to feel the thrill of a great pick-up.
Thankfully OpenSea makes listing, and delisting, artwork easy, allowing you to create your perfect, bespoke collection of fantastic artworks as you please while potentially earning (or losing!) some money along the way.
Now you are all set to further your journey into NFTs, join some amazing communities, and benefit from the properties they hold while tailoring your portfolio over time by buying and selling pieces.