Cryptotag Zeus Review (2023)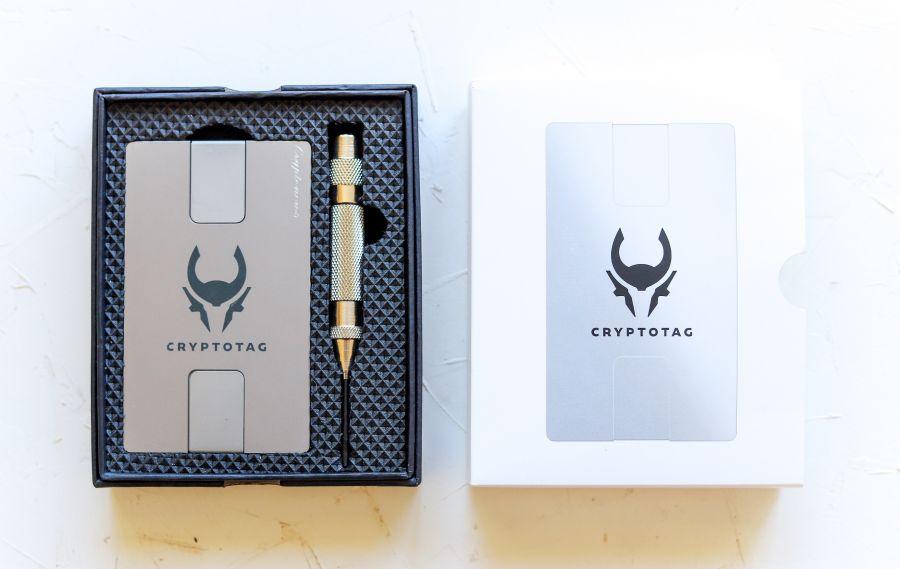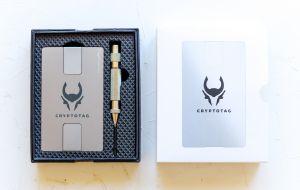 Cryptotag Zeus seed backup plate is a must-have for every serious hodler. If you are preparing to take your crypto coins out of exchanges or already store them in a private hardware wallet, the importance of a proper backup setup should not be underestimated. Too many people have made this mistake in the past – losing your recovery seed is one of the worst ways to part with your crypto holdings. No one is insured against unexpected accidents, and steel or sturdier seed backups are a no-brainer. Naturally, Cryptotag Zeus is the titanium insurance you might be looking for.
Cryptotag Zeus Review: Key features
Cryptotag is a handy tool for those who seek complete peace of mind for their personal custody setup. It is known for:
Durability. Cryptotag seed recovery plates are some of the most durable record-keeping tools in the market and can endure damage by a fire up to 1667°C / 3032°F, resist corrosion and erosion, and survive bullets without any loss of data.
Titanium quality. Cryptotag is made of titanium, meaning that it is a premium-tier product for companies and individuals who take their crypto security seriously.
Ease of use. Unlike its predecessor Cryptotag Thor kit, Cryptotag Zeus is even simpler and faster to set up. All you have to do is follow the instructions that come with the package and make sure you have a copy of the BIP-39 word list (included in the starter guide).
Non-reusable. Like most recovery seed backup solutions, it is non-reusable, meaning that if you have more than two hardware wallets or simply want to change wallets, you will need to order extra plates for every new setup.
Quick delivery. Although the delivery times vary based on your location, the product is shipped worldwide and will reach you within 1 to 3 business days.
All in all, Cryptotag is one of the most trusted brands when it comes to crypto seed backup and recovery. Although its price may be higher compared with competitor products, being frugal does not mean being cheap!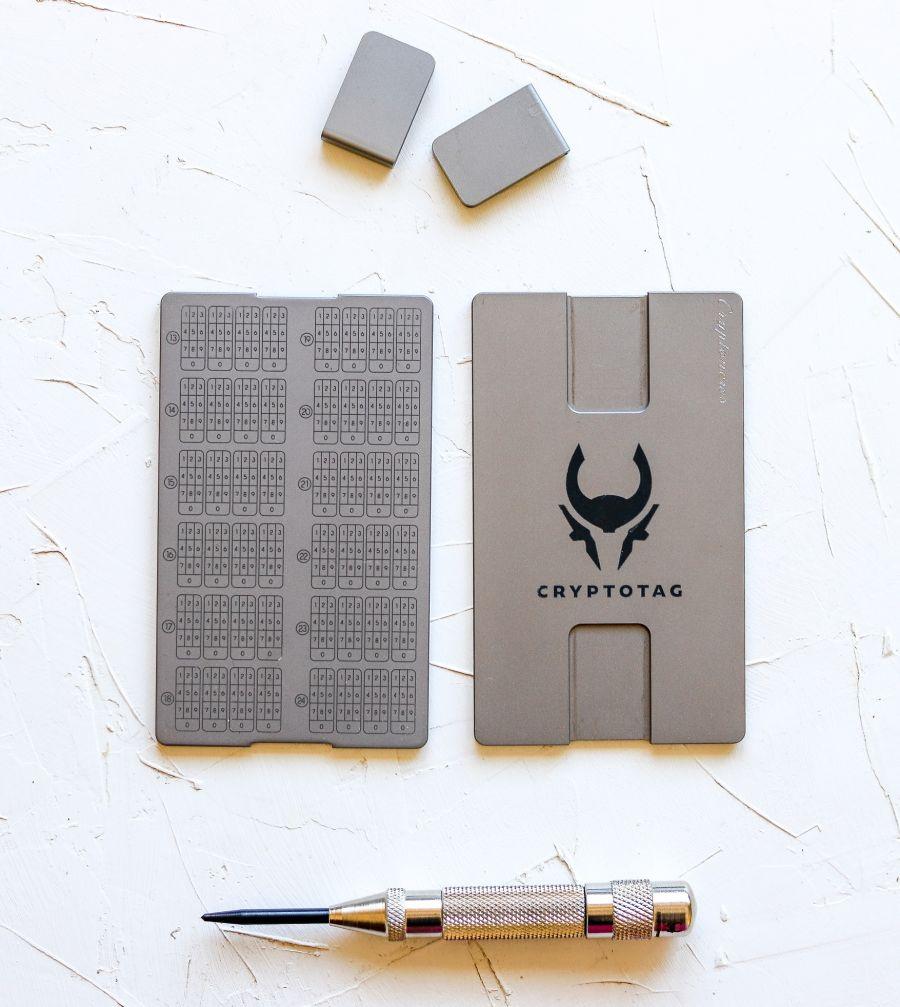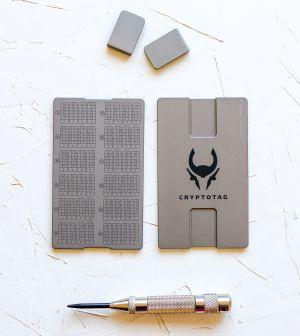 What is a cryptocurrency seed recovery kit?
Unless you are a developer or a crypto economy worker who gets paid in crypto, most new cryptocurrency users get their first coins from cryptocurrency exchanges. Most popular crypto exchanges are centralized services that take custody of your crypto assets just like banks take custody of your cash – they have complete control over your assets and there are plenty of reasons why you shouldn't keep your crypto coins with them. If you decide to custody your own coins, you will need to obtain a secure private wallet you can use on a daily basis, and hardware wallets (such as Trezor or Ledger) are considered to be some of the most secure options there.
Hardware wallets are specially designed devices that make use of top-tier cryptography to allow you to sign transactions without ever revealing your private key to an online device, meaning that you can significantly reduce the risks of using and safeguarding your coins.
In order to set up your private wallet securely, you will need to create a seed backup. A seed backup is a string of words that lets you recover your device in case of a loss or failure. There are many ways to create a secure seed backup for your device but engraving it on a titanium plate like Cryptotag ensures that it will endure even the most unexpected events like fire, flood, damage from pressure, bullets, and much more.
You still have to keep it safe and away from unauthorized access but encoding your backup words on the most durable material may help you to preserve your secret or even pass it forward as an inheritance to new generations.
What's in the box?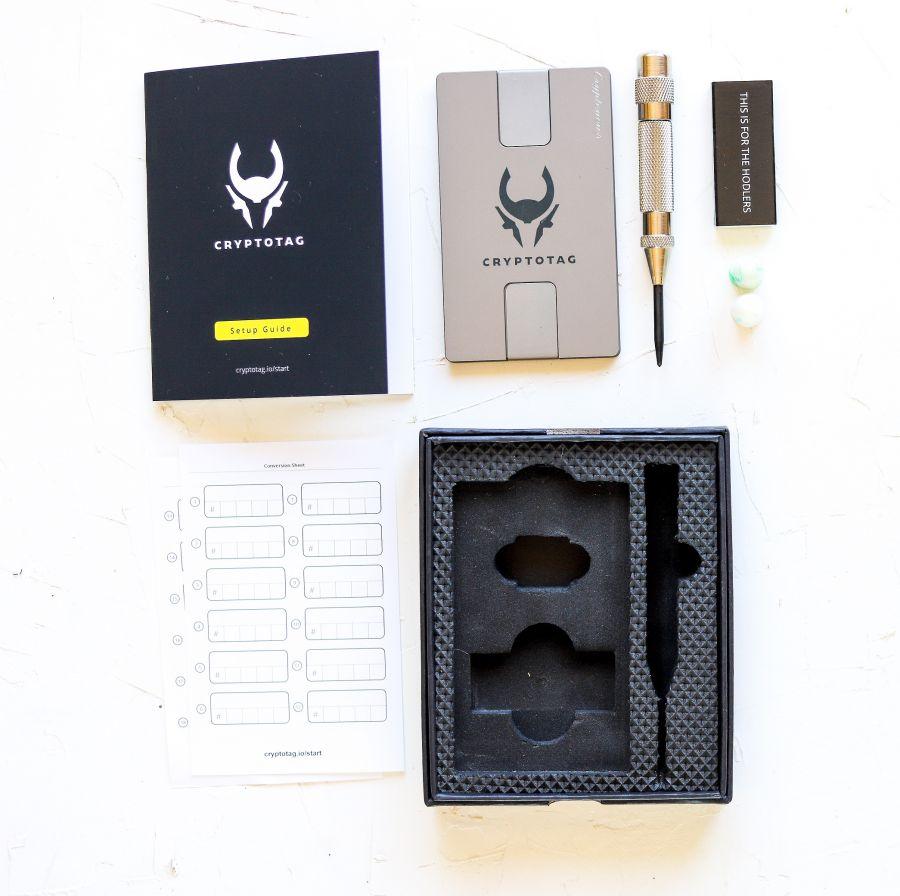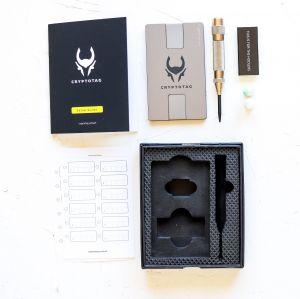 Cryptotag Zeus comes as a small package of 14.5 x 12 cm / 5.7 x 4.7 in. It includes:
2 Plates
High-Quality Center Punch
Matches
Earplugs
Setup Guide
You can really feel that Cryptotag takes a special focus on the packaging of its products, as unboxing the package is always a delightful experience.
Other specifications
| Specification | Parameter |
| --- | --- |
| Dimensions (Starter Kit package) | 14.5 x 12 x 3 cm / 5.7 x 4.7 x 1.2 in |
| Dimensions (2x CRYPTOTAG) | 11.3 x 6.8 x 0.6 cm / 4.44 x 2.67 x 0.23 in |
| Weight (Starter Kit package) | 410 gram / 14.1 oz |
| Weight (2x CRYPTOTAG) | 210 grams / 7.4 oz |
| Number of plates | 2 |
| Backup words (Starter Kit) | 24 words (2 x 12 words) |
| Material | Titanium |
| Heat resistance | 1667 °C / 3032 °F |
| Compatible with | Hardware wallets supporting BIP39 standard: Ledger, Trezor, Keepkey, Exodus, and more |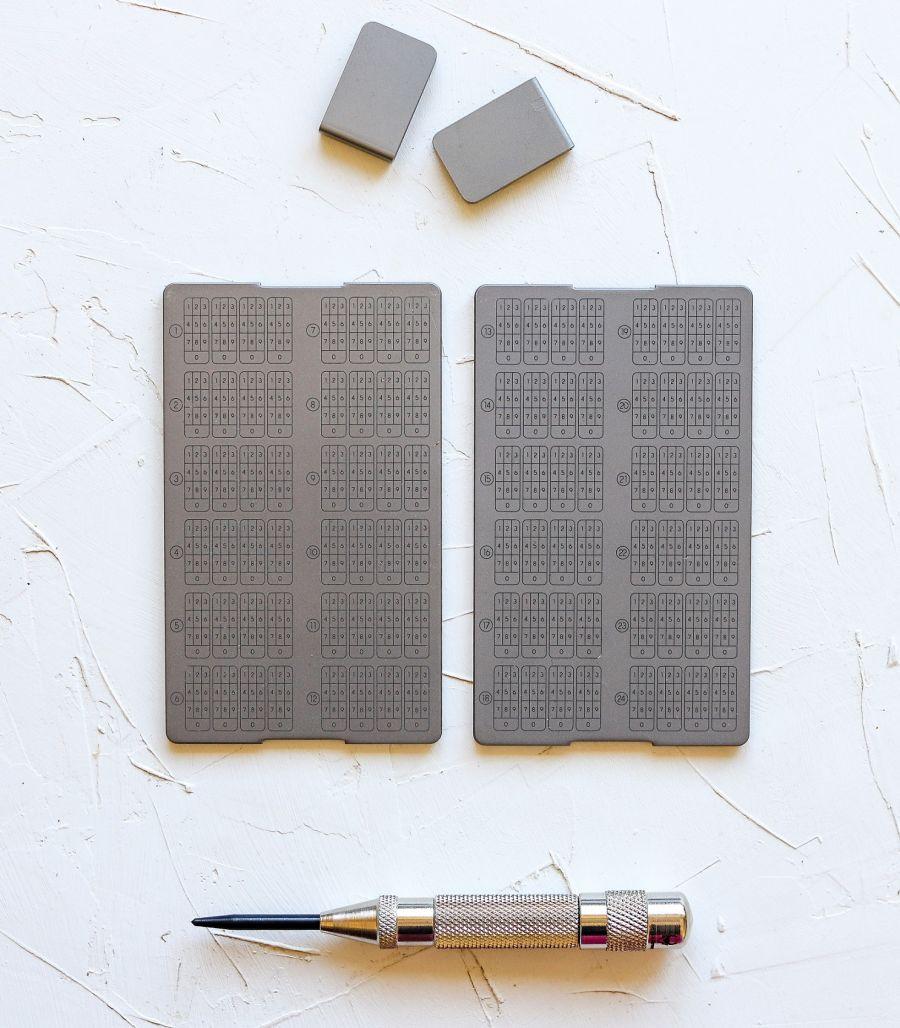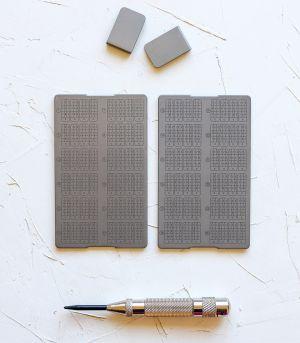 Cryptotag Zeus design and durability
The first thing you'll notice about the package is its weight and sturdy design. All tools that come with the package seem to have a nice extra touch to them, thus making it a wholesome experience. It even comes with ear plugs and a box of Cryptotag matches. The former is meant to protect the user's sensitive ears during the punching process, while the latter is meant to burn your old paper backup seed.
In case you get lost in the process, the Starter Guide is here to guide you through. It explains all the steps and includes the BIP-39 word list. Two plates in the Zeus kit enable you to store up to 24 recovery words, which amounts to 1 or 2 hardware wallets (based on your setup).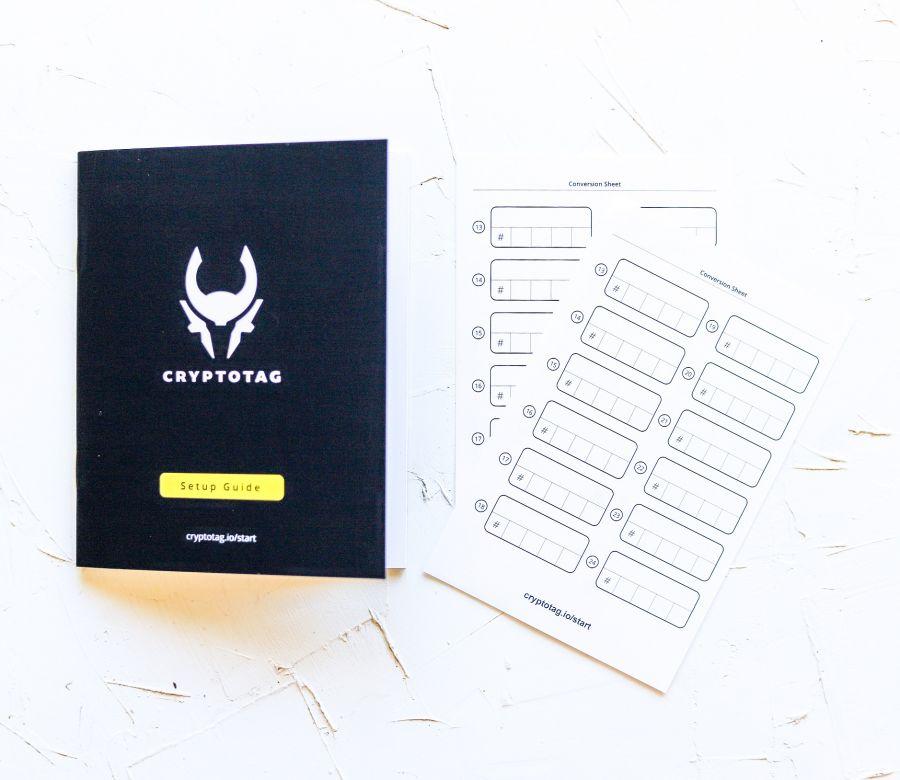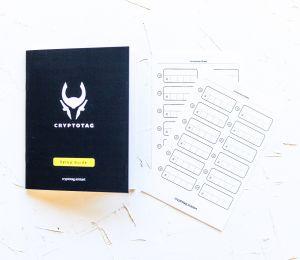 Besides, you can add a personal touch to each of the backup plates by adding a personalized title.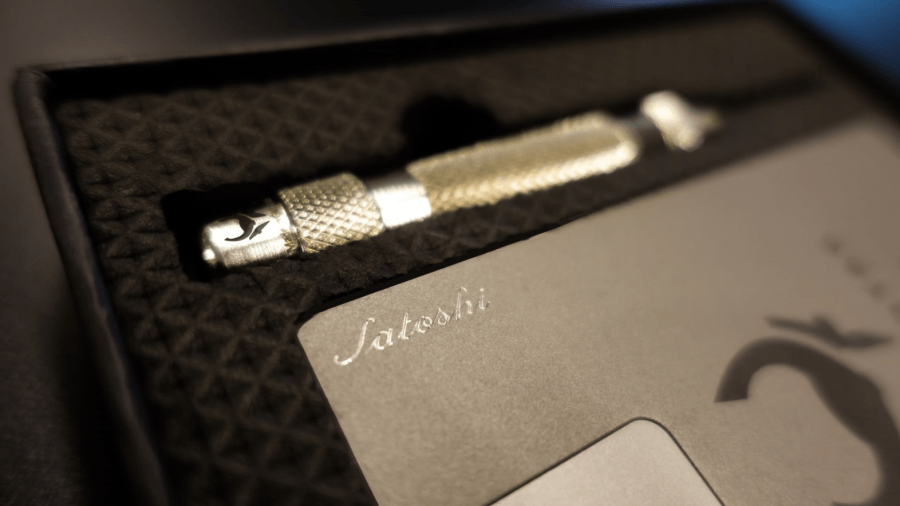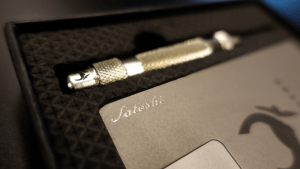 According to the product website, the kit boasts of substantial damage tolerance, including but not limited to:
Blocktorch
Blacksmith fire
Open fire
Closed fire
Pneumatic hammer
Profile bending
Metal roller
High-pressure testing
Beretta 9MM (shooting distance 10m)
Glock 9 MM (shooting distance 10m)
CZ Scorpion SMG (shooting distance 10m)
For more proof of the durability of the kit, see Cryptotag's testing facility page or observe various tests conducted by independent third parties.
How to set up Cryptotag Zeus?
The process of securing your wallet seed with Cryptotag Zeus generally involves four steps:
Write down your recovery words on the Conversion Sheet.
Find the correlating numbers in the BIP39 word list.
Write down the numbers on the Conversion Sheet.
Puch the numbers in the titanium plate.
Here is a quick setup explainer video by the Cryptotag team:
Cryptotag Zeus vs Cryptotag Thor
Cryptotag Zeus is a starter kit for anyone who seeks a reliable way to store their seed backup. Meanwhile, Cryptotag Thor is a more advanced toolkit that comes with its own items like a hammer, stamping kit, and the capacity to store two seed backups instead of one. Hence, Zeus is best suited for beginners who are making their first crypto security setup, while Thor is better suited for more advanced security setups that may include multiple wallets.
| Specification | Zeus | Thor |
| --- | --- | --- |
| Price | USD 139 / EUR 129 | USD 370 / EUR 350 |
| Setup time | ~5 minutes | ~ 15 minutes |
| Method | Automatic center punch | Custom stamping kit |
| Setup tutorial | Link | Link |
| Capacity | 24 seed words | 48 seed words |
| | 1x Ledger Nano, 2x Trezor | 2x Ledger Nano, 4x Trezor |
| Weight | 0.4 KG / 0.88 lbs | 3.6 KG / 7.9 lbs |
Read our full review of the Cryptotag Thor package here.
Cryptotag Zeus Review: Closing Thoughts
Cryptotag Zeus is a premium tier backup device that might offer the best value-for-money in the market right now. A nearly-indestructible titanium plate, set up tools, nice packaging, and clear setup instructions make it a must-have for every top-tier crypto security setup.
---
Other Cryptocurrency Guides