CRYPTOTAG Thor Review (2023) – The Ultimate Crypto Backup Toolkit
CRYPTOTAG Thor is a titanium plate made for engraving your hardware wallet's seed phrase. Designed by the Dutch namesake company located in Amsterdam, CRYPTOTAG introduces a whole new level of digital assets' security.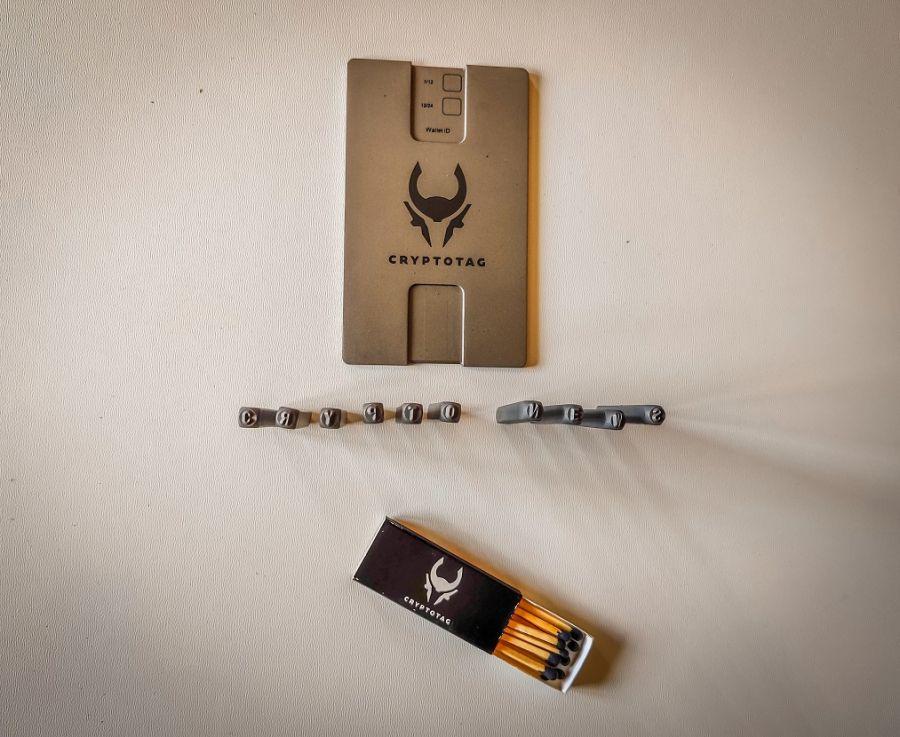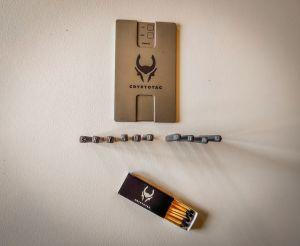 Are you concerned about the security of your crypto hardware wallet's seed phrase? Many people entering the cryptoverse under the promise of being your own bank freak out when they realize they have to take full responsibility for the security of their crypto assets.
Some suggest printing your seed phrase or laminating a piece of paper. But is it durable enough over the long haul? The last thing you want to experience is losing a substantial amount of cryptocurrency due to your seed phrase storage failure.
Worry not: extremely durable backup alternatives do exist, and CRYPTOTAG Thor is one of the best amongst those.
In this CRYPTOTAG Thor review, we will look at its qualities, usability, design, and whether it is worth your hard-earned money.
CRYPTOTAG Thor review summary
| Specification | Size |
| --- | --- |
| Dimensions (Starter Kit package) | 35 x 26 x 9 cm / 14 x 10 x 3.5 in |
| Dimensions (2x CRYPTOTAG) | 11.3 x 6.8 x 0.6 cm / 4.44 x 2.67 x 0.23 in |
| Weight (Starter Kit package) | 3.6 kg / 7.9 lb |
| Weight (2x CRYPTOTAG) | 210 gram / 7.4 oz |
| Number of plates | 2 |
| Backup words (Starter Kit) | 48 words (2 x 24 words) |
| Material | Titanium |
| Heat resistance | 1667 °C / 3032 °F |
| Compatible with | Hardware wallets supporting BIP39 standard: Ledger, Trezor, Keepkey, Exodus, and more |
Watch our video review for a more complete view of what CRYPTOTAG Thor is, what it all looks like, and how you can use it.
PROS and CONS of CRYPTOTAG Thor
PROS
A premium cold storage solution. CRYPTOTAG Thor lets you go beyond the technology and imprint your seed phrase on a nearly indestructible item. It's fireproof, waterproof, and resistant to corrosion, erosion, and physical damage. It is one of the most durable backup seed storage solutions out there. Peace of mind guaranteed.
Simple to use. Not everyone is a skillful engraver, but CRYPTOTAG ensures you will feel like one. The process of hammering your seed letters is made easy by the well-crafted plates and bits. Hence, the setup won't take long even if you have no similar prior experience
Great value for money. For EUR 350 (~ USD 370) you will get two titanium plates, 26 bits for engraving, an anvil, a hammer, earplugs, and a package of matches
Attention to detail. The entire package and product presentation just scream "quality." You'll be delighted to get CRYPTOTAG and unbox it for yourself.
CONS
Not suitable for everyone. CRYPTOTAG Thor is useful for advanced crypto enthusiasts who keep large stashes of bitcoin or other digital assets securely in their cold wallets. However, new investors might be more comfortable with keeping their cryptocurrency on exchange wallets, even though that is not recommended.
You still have to keep your CRYPTOTAG secure. As a cold storage solution, CRYPTOTAG may be unhackable over the web. However, someone who knows about cryptocurrencies might recognize and take it. Therefore, you should keep it safe and away from everyone. A pro tip, in this case, would be to enable the 25th-word using Trezor or set up an extra passphrase if you use a wallet by Ledger. If the thief steals your CRYPTOTAG, he or she still won't be able to access your funds.
Not reusable. Initially, you get a pair of plates only which fit 48 words. If you need to make changes, or simply want to move funds and reset your hardware wallet, you will have to order more plates later on. Essentially, CRYPTOTAG designers had to make a tradeoff between security and reusability and chose the former instead of the latter.
What is CRYPTOTAG Thor?
CRYPTOTAG Thor is a titanium plate made for engraving your hardware wallet's seed phrase. Designed by the Dutch namesake company located in Amsterdam, CRYPTOTAG introduces a whole new level of digital assets' security. So if you're keeping a significant portion of your crypto holdings in hardware wallets like Ledger or Trezor, a nearly indestructible storage method of backup phrases might be a thing of interest to you.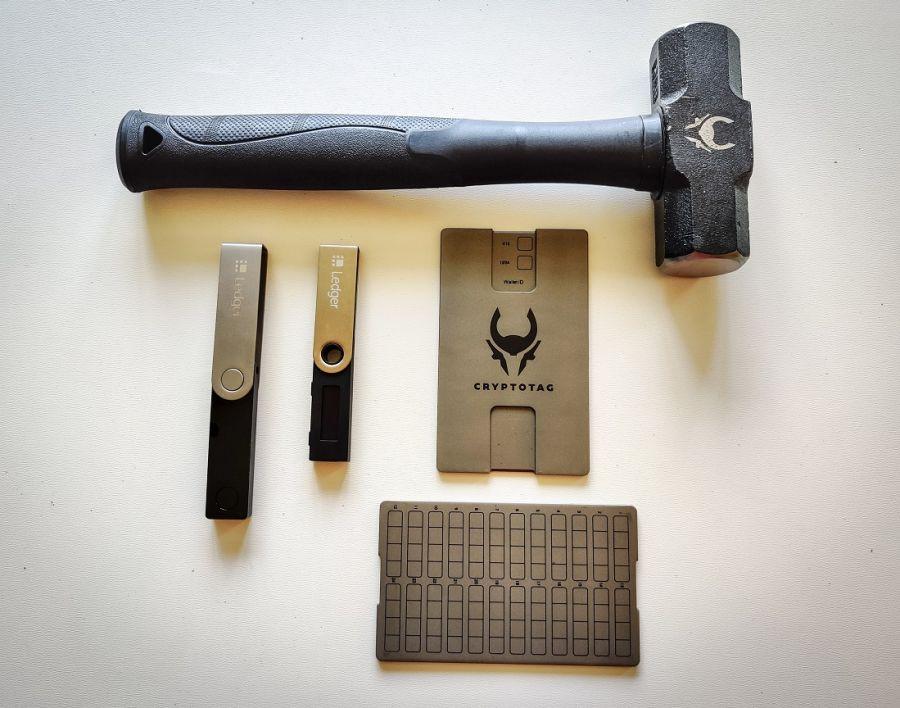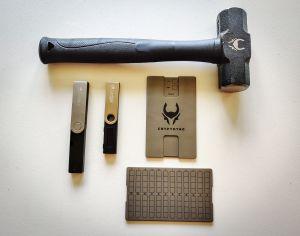 Essentially, Thor is a toolkit for engraving your seed phrase on titanium plates. It is designed following the BIP39 standard. As such, it lets you carve four letters of each seed word, which is enough to get the whole word and eventually the entire seed phrase.
The titanium plates are fireproof, waterproof, and bulletproof, and can withstand pneumatic hammers, profile bending, metal rollers, high pressure, and other stress. Your seed phrase will remain intact even if all hell breaks loose.
The Thor toolkit comes with a full set of tools to help you engrave your seed phrase. You will get an original CRYPTOTAG hammer and anvil, as well as other necessities required for the engraving process (even matches for burning your old paper seed). You get the instant feel of quality when you unpack it, and every tool is well-designed. The designed inspiration came from cryptographers, engineers, metal workers, designers, and aviation and racing industries.
CRYPTOTAG Thor unboxing
Once you order the CRYPTOTAG, don't be surprised to receive a large box of items. It includes:
The hammer
Two CRYPTOTAG plates
26 bits with letters
Anvil
Earplugs
Matches
The unboxing itself is a delightful experience. You can tell the CRYPTOTAG team pays special attention to all the small details.
The CRYPTOTAG setup process is made to be easy for anyone and can take up to 30 minutes. Here is a short video on how to do just that.
CRYPTOTAG Thor design
CRYPTOTAG Thor is a premium product with a premium design. Every piece, including bits, has either a CRYPTOTAG logo or name on it, which creates a truly premium look and feel.
Each titanium plate weighs around 94 grams and is rather pleasant to hold. On the front side, there is a CRYPTOTAG name and logo. On top of each plate is a WALLET ID checkbox where you can leave two signs to differentiate between the plates. A pro tip is to use half of each plate (1-12 or 13-24) for different wallets. This way, even if someone manages to obtain one of your CRYPTOTAG plates, he or she needs to get both of them to make up the entire seed phrase. Naturally, both plates should be kept in different locations.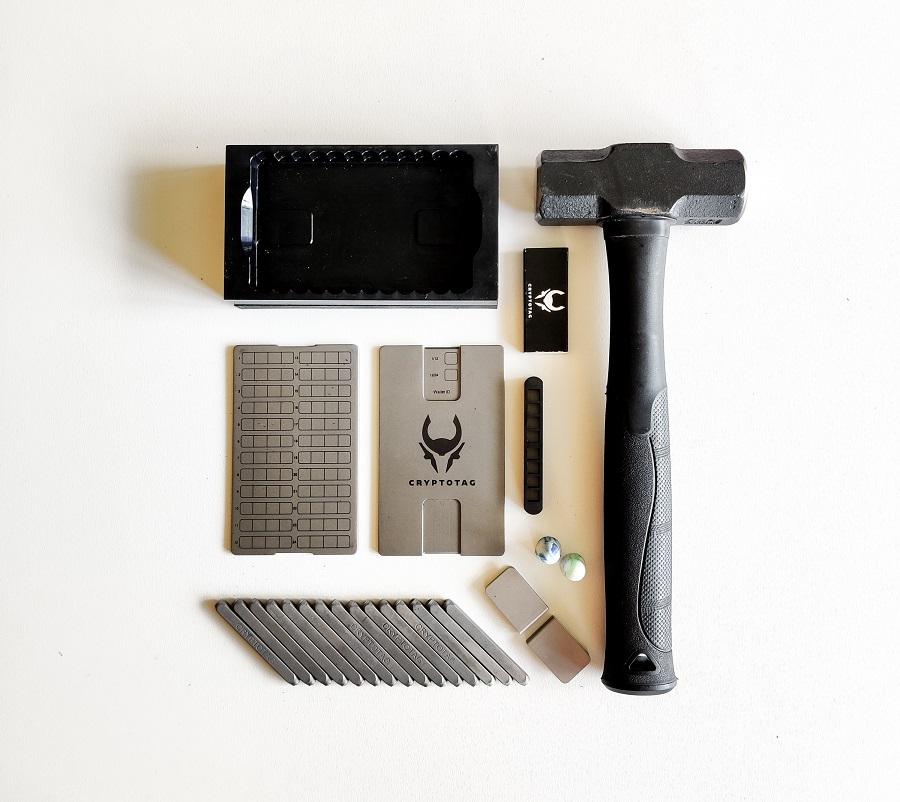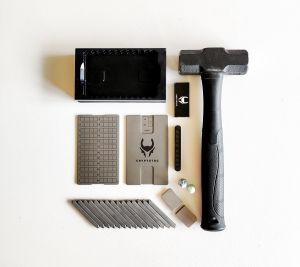 The anvil and the hammer are more massive and contribute the most weight to the 3.6-kilo package. The hammer fits perfectly in one's hand and is super pleasant to hold due to the rubber grip. Though it weighs 2 lbs (over 900 grams), it is useful even after the engraving is done (if you didn't have a hammer before). It's unlikely that you'll find any other use for the anvil – it is explicitly designed to fit the titanium plates and make the lettering as easy as possible.
Each letter bit also has the name CRYPTOTAG engraved on one side of it (out of four). When engraving, always make sure the title faces you. This way, you won't stamp the letter sideways or upside down.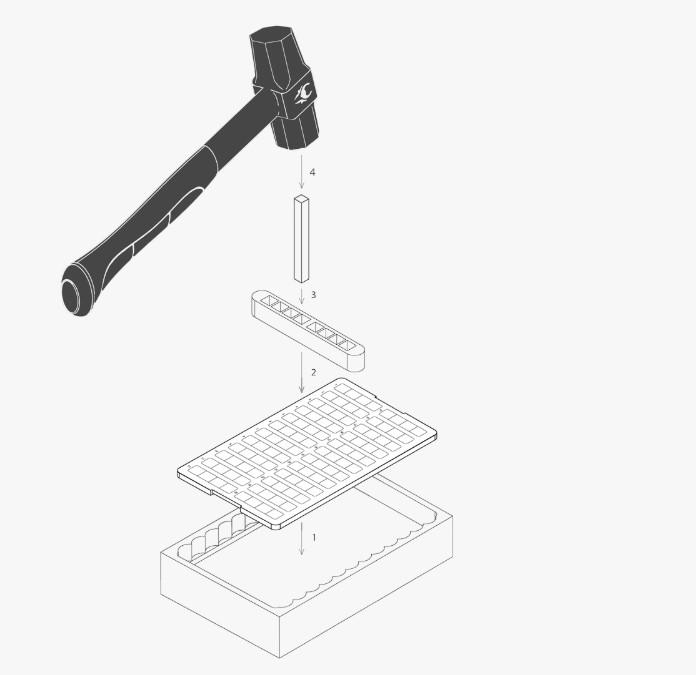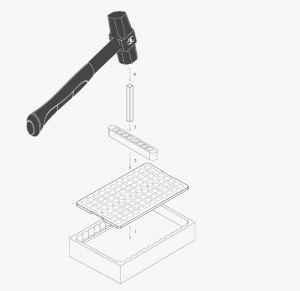 Source: Cryptotag.io
Here's a quick Thor setup video by the CRYPTOTAG team:
In the end, there are even matches for burning your paper seed copy. Of course, you don't have to burn it down, but it's at the essence of the CRYPTOTAG experience.
Even the cypherpunk, developer and outspoken Bitcoin advocate Jameson Lopp admires CRYPTOTAG Thor design:
"I was impressed by the heft the moment I picked up the box and my opinion kept increasing as I worked my way through it.''
All in all, CRYPTOTAG is the highest-grade security solution for your crypto seed words.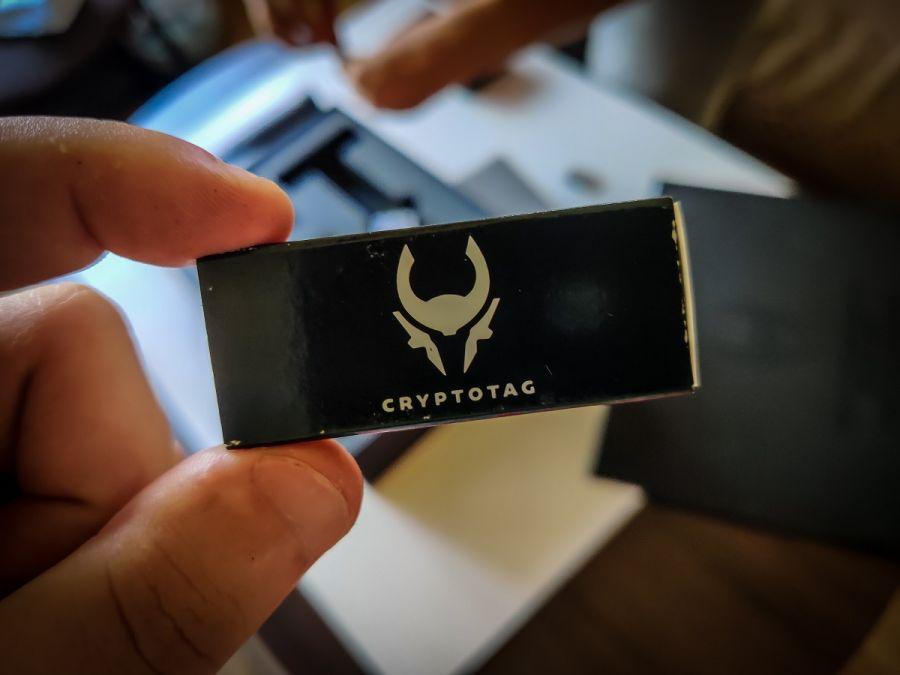 CRYPTOTAG matches.
CRYPTOTAG tests
One last thing on our mind when purchasing a seed backup solution (and the most important one) is how durable it is. It turns out to be the critical question that bothered the CRYPTOTAG designers, too. Hence, they prepared a testing facility page on their website where we can find out how enduring CRYPTOTAG can be.
CRYPTOTAG team shows that their device can endure the harshest conditions. These include:
Blowtorch
Blacksmith fire
Open fire
Closed fire
Temperatures up to 1665 °C or 3029 °F
Pneumatic hammer
Profile bending
Metal roller
High-pressure testing
Gunfire (shot from 10 meters with 9MM Barreta, Glock, and CZ Scorpion SMG).
In sum, you can be sure that your seed words will still be readable after 5, 10, or even 25 years.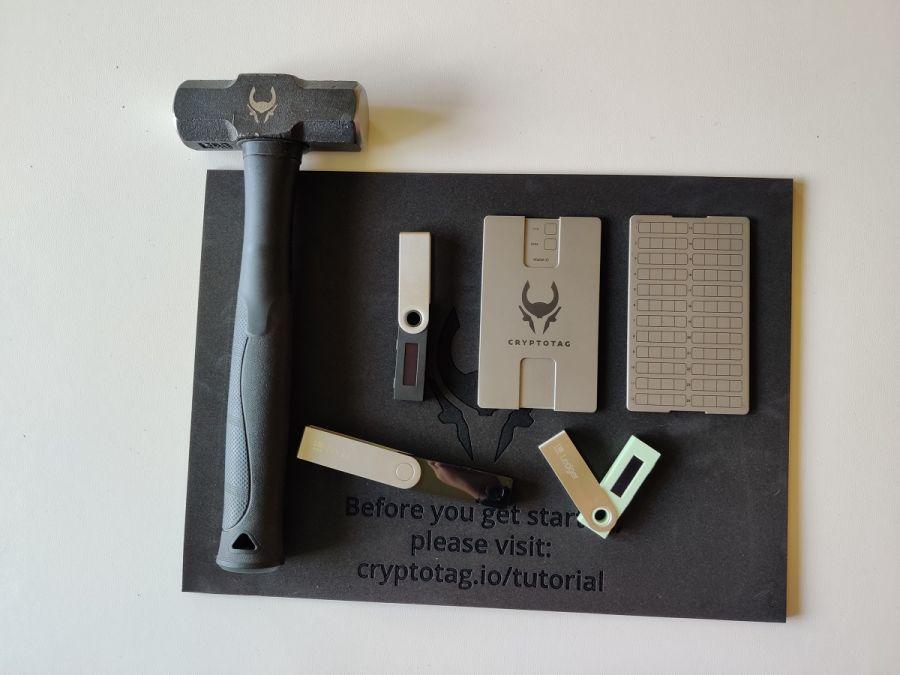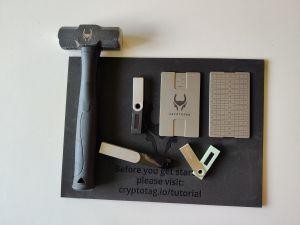 CRYPTOTAG Thor vs Zeus vs Odin
Cryptotag Odin is a backup tool dedicated specifically to Shamir SLIP-39 backup schemes. Meanwhile, Cryptotag Thor and Zeus toolkits are designed for BIP-39 seed phrase storage, and the sole difference between the two titanium plates is the price and the number of wallets and seed words than can be stored via each kit.
You can read our full reviews of Cryptotag Odin and Cryptotag Zeus kits here.
Zeus
Thor
Odin 3, 5 & 7
Price
EUR 129
EUR 350
EUR 199 – EUR 359
Type of seed
BIP39
BIP39
SLIP39
Number of seed words stored
24 seed words
48 seed words
20 words per share
Max number of wallets stored
1-2 wallets
2-4 wallets
1 wallet
Compatible wallets
Ledger, Trezor, Metamask and most other wallets
Ledger, Trezor, Metamask and most other wallets
Trezor Model T, Bluewallet, Electrum, Hermit and some others
Setup time
~ 5 minutes
~ 15 minutes
~ 10 – 30 minutes based on your number of shares
Material
Titanium
Titanium
Titanium
Lenght
11.3 cm / 4.4 in
11.3 cm / 4.4 in
12 cm / 4.7 in
Width
6.8 cm / 2.67 in
6.8 cm / 2.67 in
2.5 cm / 0.98 in
Thickness
0.6 cm / 0.23 in
0.6 cm / 0.23 in
2.2 cm / 0.87 in
Weight
210 grams / 7.4 oz
186 grams / 6.6 oz
186 grams / 6.6 oz
Heat ressistance
1667 °C / 3032 °F
1667 °C / 3032 °F
1667 °C / 3032 °F
Box weight
410 grams / 14.1 oz
3.6 kg / 7.9 lb
1 -2 kg / 35 – 71 oz
Box dimensions
14.5 x 12 x 3 cm /
5.7 x 4.7 x 1.2 in
35 x 26 x 9 cm /
14 x 10 x 3.5 in
16.5- 25.4 x 13 x 8.8 cm / 6.5 – 10 x 5.1 x 25 in
Is CRYPTOTAG Thor worth the money?
CRYPTOTAG Thor is a premium seed backup solution for everyone serious about their crypto security. Currently, the starter kit costs EUR 350, and it allows you to back up two 24-word seed phrases. If you need to back up more wallets, you can get two extra plates for an extra EUR 159.
Ultimately, CRYPTOTAG Thor offers decent value for money, especially if you store substantial amounts of money in crypto. It is always better to be safe than sorry, and CRYPTOTAG lets do you precisely that.
---
Other Cryptocurrency Guides