Cryptotag Odin Review (2023) – Shamir Backup Kit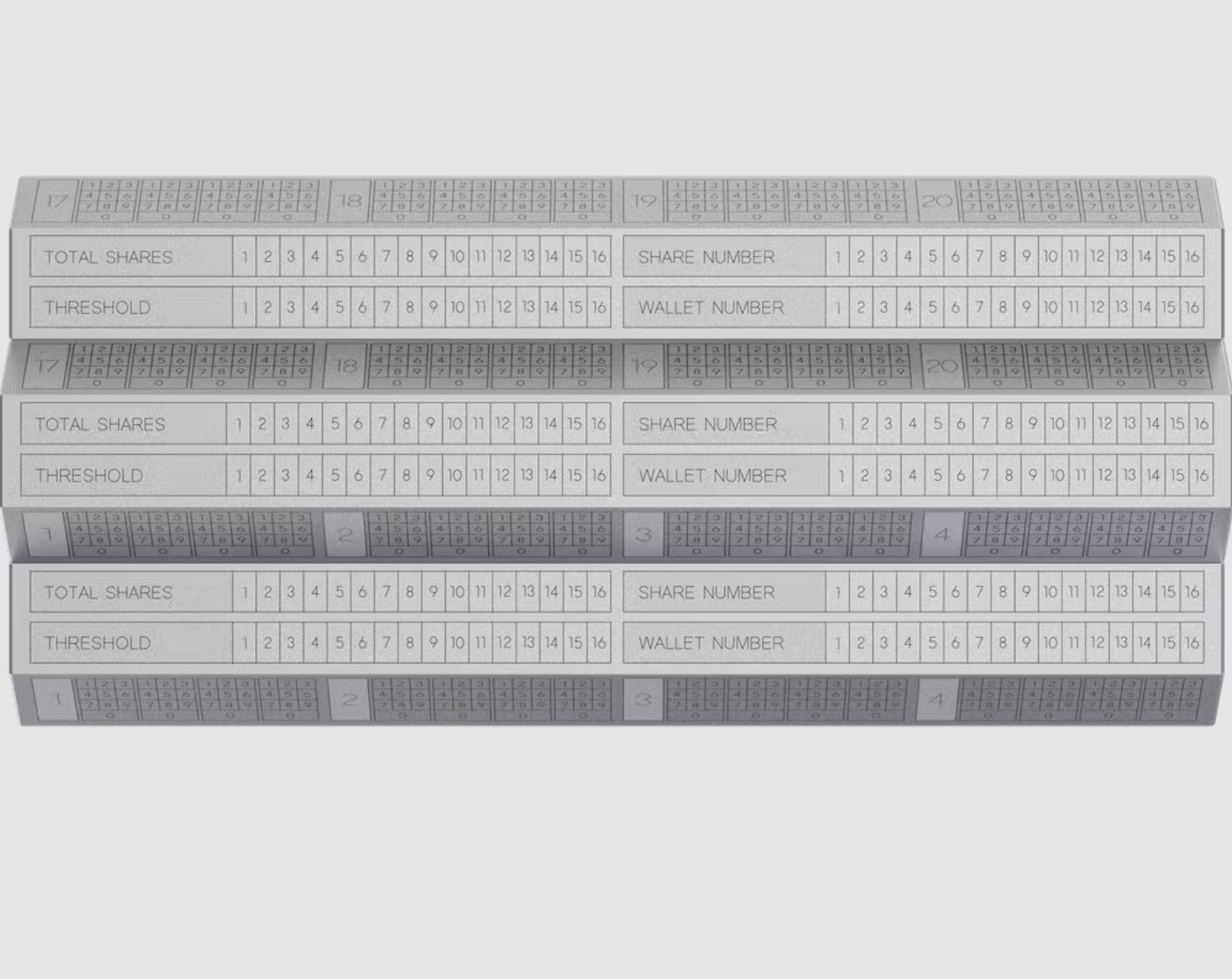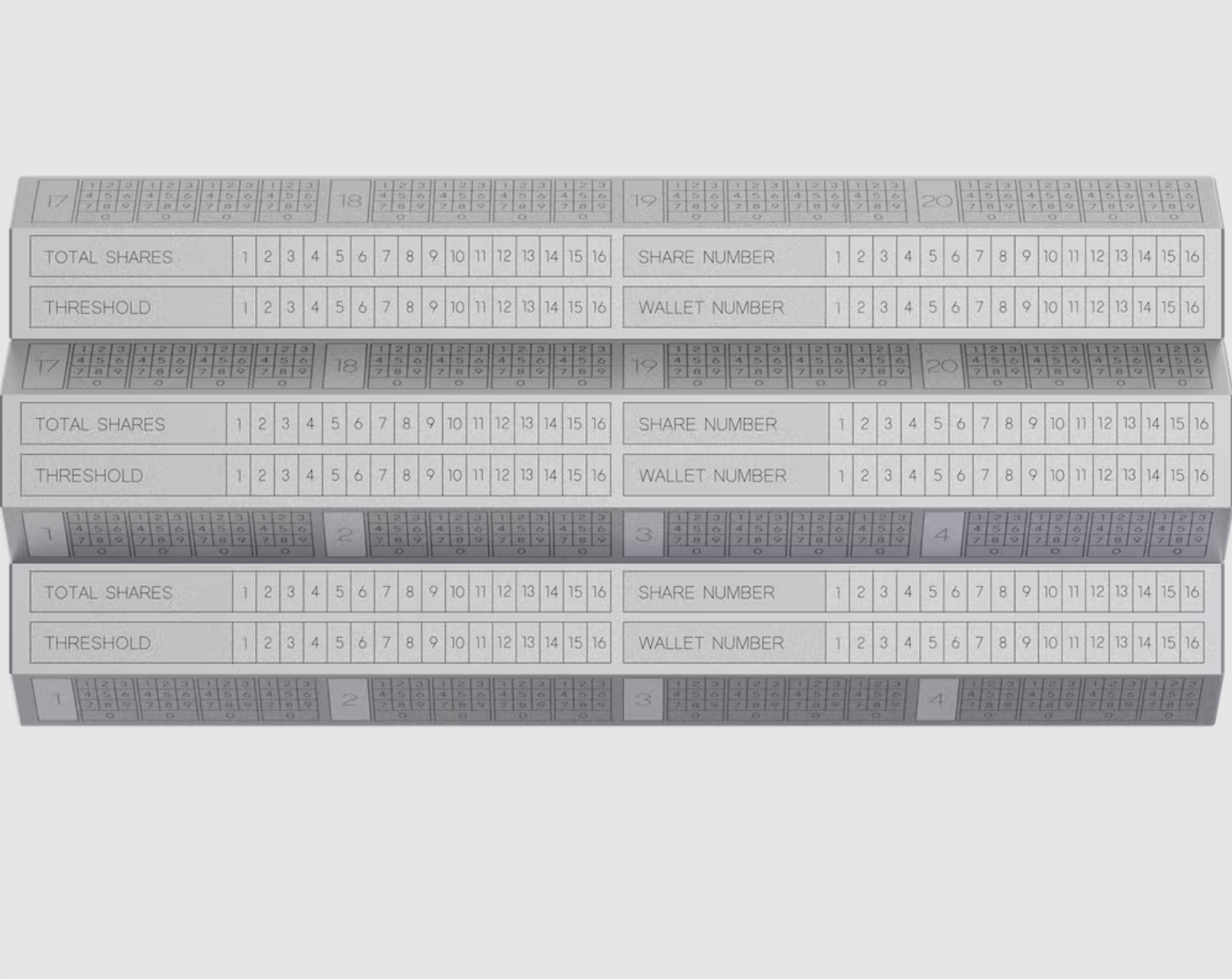 Cryptotag Odin is the latest crypto wallet recovery seed backup toolkit dedicated to Shamir backup (SLIP39) users. It lets you split your wallet recovery seed into multiple distributed shares and store them on secure, immutable, and damage-proof titanium hexagons. Although most crypto wallets do not yet support the SLIP39 standard, it is an excellent option for Trezor Model T users as it is the first major wallet to support and popularize it.
Likewise, Cryptotag is the first recovery seed product designer to offer a dedicated product for Shamir backups. As such, Cryptotag Odin is a must-have for everyone who finds the Shamir backup scheme valuable and essential for their crypto security.
Cryptotag Odin Review: Pros and Cons
Cryptotag Odin is a premium wallet backup toolkit designed for wallets that use the Shamir Secret Sharing (SLIP39) seed recovery scheme. Although not as popular as the standard BIP39 recovery seed used by most wallets, SLIP39 lets you eliminate a single point of failure in your seed recovery process, and Cryptotag Odin is the tool that will keep your recovery sheets readable and intact even in the harshest physical conditions.
Some of the key advantages of Cryptotag Odin include:
Extra security. If you find yourself thinking about how to improve your crypto security setup, adding an extra wallet or moving entirely to a Shamir backup scheme might be a great option. Add titanium hexagons into the mix, and you might finally grant yourself complete peace of mind.

Extreme durability. Much like its predecessors, Cryptotag Thor and Cryptotag Zeus kits, Odin's hexagons are made of high-grade titanium that is resistant to heat, water, and physical damage. It will make your Shamir backup shares capable of surviving even the most challenging physical conditions for lengthy periods.

Easy to set up. Odin uses a familiar setup process adapted for SLIP39 seeds. You'll still have to sweat to punch holes into titanium, but the Cryptotag team made this process easier than it sounds. The duration of the setup procedure also depends on the number of secret shares in your Shamir setup.

Quick delivery. Cryptotag team pays special attention to its service design, which includes fast delivery service to most corners of the world. You can expect your package to arrive within 1 to 3 days after placing your order. More specific delivery times can be found here.
When it comes to the drawbacks of Odin, this is what comes to mind:
Most major wallets do not yet support SLIP39. While Cryptotag Odin is designed explicitly with the Trezor Model T hardware wallet in mind, it is also compatible with other SLIP39 supporting wallets. Cryptotag also has Zeus and Thor backup options for most if not all BIP39-based wallets.

Each Odin hexagon is limited to 20 words. While some of the Shamir Secret Sharing wallets let you choose to generate 33 words per share instead of 20, it's worth keeping in mind that you'll only be able to store 20 words per share with Cryptotag Odin.

Criticisms of Shamir Secret Sharing. Some security experts claim that Shamir Secret Sharing introduces its own shortcomings into crypto security setups, while others highlight its benefits. Despite these differences in opinion, it is generally accepted that each crypto security scheme has its strengths and weaknesses. You should choose the option that fits your personal needs, wishes, and circumstances best.
What Is Shamir Backup?
In very simplified terms, Shamir backup can be deemed as a multi-signature scheme for your recovery seed. It splits your recovery seed into multiple seed shares that can later be used to recover your crypto wallet in case of its loss or device failure. But that's not the best part.
Unlike BIP39 wallets, which require you to have the exact amount of recovery words in a particular order, SLIP39 lets you recover your entire wallet using a predetermined threshold of shares, meaning that you don't have to have all of your shares for full wallet recovery.

For example, Shamir backups let you create:
3 seed shares with a recovery threshold of 2
5 seed shares with a recovery threshold of 3
7 seed shares with a recovery threshold of 4
Multiple other variations
The maximum number of seed shares is 16, while the recovery threshold can be set to anything from 1 to 16.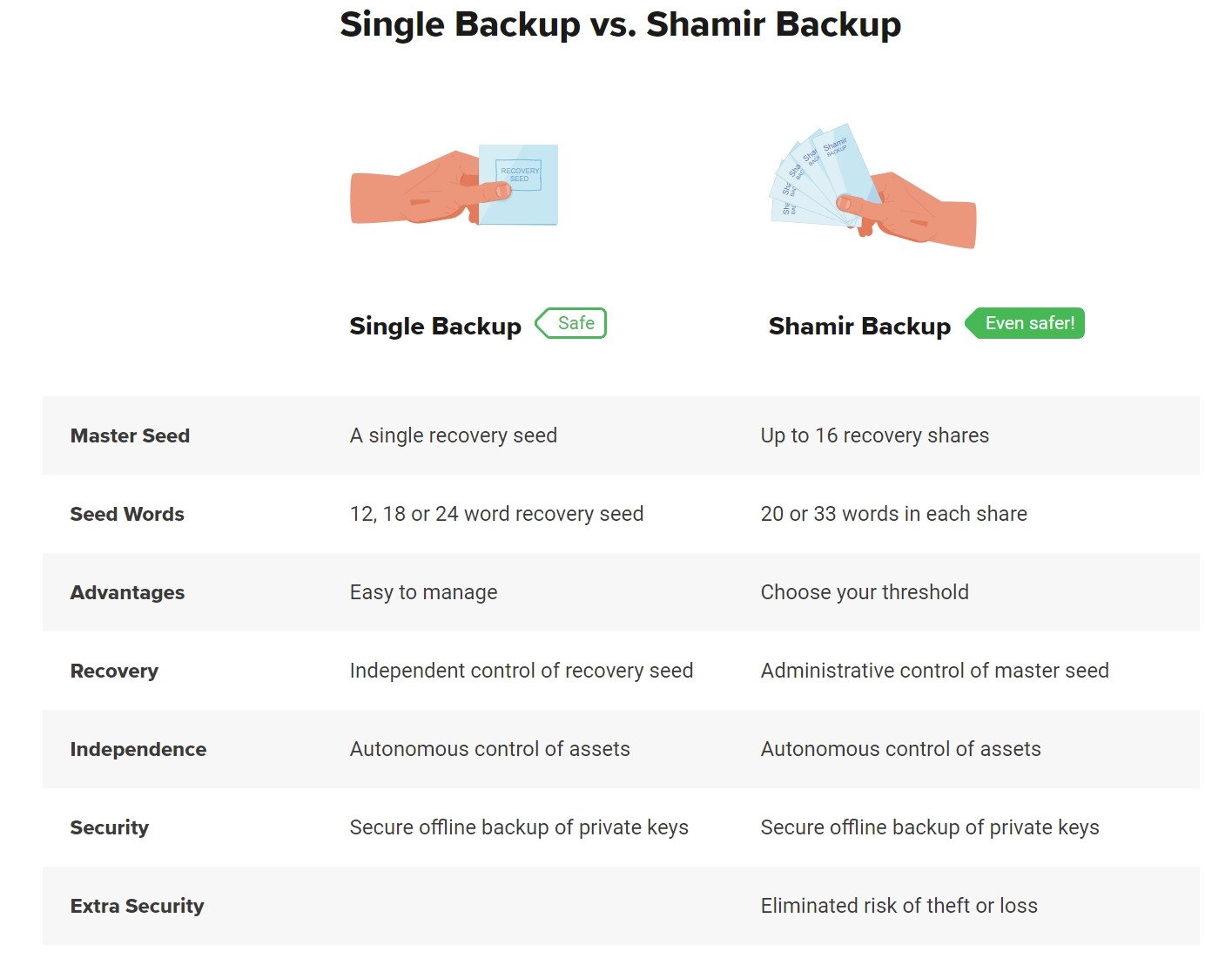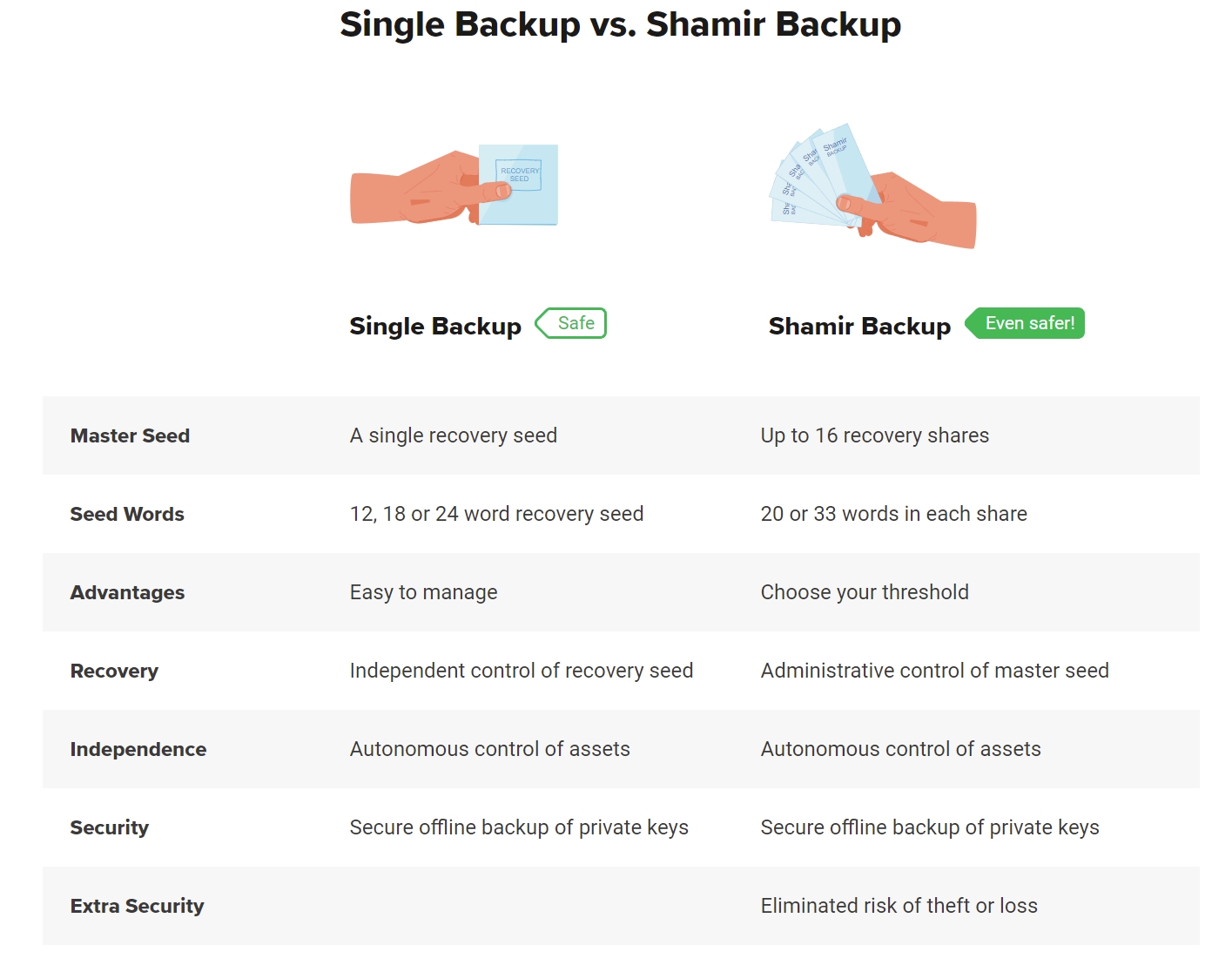 Such a method leaves extra room for error in case you lose access to certain parts of your recovery setup due to an accident or theft.
Here is a brief Shamir backup video explainer by Trezor:
What's In The Box?
You can order three variations of Cryptotag Odin – Odin 3, Odin 5, and Odin 7. The only two differences between these packages are the number of titanium hexagons you'll receive for your setup and their price.
Other than that, Cryptotag Odin shipment includes:
3, 5, or 7 titanium hexagons
3, 5, or 7 silicon sleeves for hexagons
Center punch toolkit
Cryptotag matches
Earplugs
A setup guide
Conversion sheets (paper)
SLIP39 word list
Package specifications
| | | | |
| --- | --- | --- | --- |
| | Odin 3 | Odin 5 | Odin 7 |
| Packgage dimensions | 16.5 x 13 x 8.8 cm / 6.5 x 5.1 x 3.5 in | 19.4 x 13 x 8.8 cm / 7.6 x 5.1 x 3.5 in | 25.4 x 13 x 8.8 cm / 10 x 5.1 x 25 in |
| Packgade weight | 1 kg / 35.2 oz | 1.5 kg / 53 oz | 2 kg / 71 oz |
| Number of hexagons | 3 | 5 | 7 |
| Storage capacity | 20 words per hexagon | 20 words per hexagon | 20 words per hexagon |
| Lenght | 12 cm / 4.7 in | 12 cm / 4.7 in | 12 cm / 4.7 in |
| Height | 2.2 cm / 0.87 in | 2.2 cm / 0.87 in | 2.2 cm / 0.87 in |
| Width | 2.5 cm / 0.98 in | 2.5 cm / 0.98 in | 2.5 cm / 0.98 in |
| Weight | 186 grams / 6.6 oz | 186 grams / 6.6 oz | 186 grams / 6.6 oz |
| Heat resistance | 1667 °C / 3032 °F | 1667 °C / 3032 °F | 1667 °C / 3032 °F |
Design and Durability
Unlike its predecessors Cryptotag Thor and Zeus, Cryptotag Odin is a unique hexagon shape. Each hexagon can store up to 20 SLIP39 words. However, you're not going to store SLIP39 words directly on the hexagon – you'll be using their corresponding list numbers instead.
The SLIP39 word list contains a total of 1024 words (unlike the BIP39 word list, which uses 2048 words), each of which has its order in the sequence. For example, the alphabetical list starts with the word 'abandon,' meaning that its corresponding number is 0001. Meanwhile, the last word in the list, 'zoo,' can be easily replaced with the number 1024 and vice versa.
As a result, instead of punching in the entire world, all you have to do is punch in a corresponding four-digit number of the word. According to Cryptotag, using numbers instead of words is an easier and more reliable way to store recovery seed information into a titanium plate.
A complete list of all SLIP39 words and their corresponding numbers that are punched on the hexagon and also can be found on the official Cryptotag website. Alternatively, Cryptotag dispatches a printed version of the SLIP39 word list for each Odin package.
When it comes to Odin's durability, it remains one of the most robust backup products out there. It is made of high-grade titanium that is resistant to water damage, rust, heat (up to 1665°C or 3029 °F), and all sorts of physical damage. According to Cryptotag's testing facility, it has been tested with:
Blocktorch
Blacksmith fire
Open fire
Closed fire
Pneumatic hammer
Profile bending
Metal roller
High-pressure
Beretta 9MM (shooting distance 10m)
Glock 9 MM (shooting distance 10m)
CZ Scorpion SMG (shooting distance 10m)
As such, you're virtually guaranteed to receive one of the highest grade cool storage tools available on the market today.
Compatible Wallets
Cryptotag Odin goes hand in hand with the Trezor Model T hardware wallet, which was the first major wallet to support the SLIP39 format.
Besides, it is also usable with other SLIP39 supporting software and hardware wallets, namely:
Keystone
Hermit
Electrum
Bluewallet
Some SLIP39 supporting wallets allow its users to select the number of recovery words required per share – either a 33-word or 20-word recovery sheets. Keep in mind that each of Odin's shares can store up to 20 words only, so shares that exceed this limit are incompatible with Cryptotag Odin.
Setting Up a Shamir Backup Wallet
Creating a Shamir backup on your compatible wallet is much like making a regular BIP39 setup, except that you have to write down more seed words, select a number of shares, and their corresponding threshold.
For instance, here is a short video guide by Trezor on how to create a Shamir backup:
In case you'd like to get further guidance on how to create a secure Shamir backup with your Trezor Model T, here is a detailed video explainer by Vlad Costea from BitcoinTakeover.com.
How To Set Up Cryptotag Odin Backup?
Setting up Cryptotag Odin is not so different from its BIP39 counterparts. You can upgrade your Shamir backup scheme from paper to titanium in six simple steps:
Get your recovery words. Bring all of your Shamir backup recovery sheets to a single place or set up a new Shamir wallet with a desired number of shares and write down their words (see the previous paragraph).

Convert your recovery words into their corresponding numbers. You can find them in a provided SLIP39 word list that came with your Odin package. Alternatively, you can find the digital version of the list on Cryptotag's website.

Important: if you're using a digital version of the wordlist, do not type in or mark your seed words on your browser or other search mechanisms – it might introduce an additional attack vector in case your computer is compromised. It's safer to use the analog version if possible in order to minimize risks.

Punch the numbers onto the titanium hexagons just as they appear on your paper recovery sheets.

Burn your paper recovery sheets as keeping additional paper copies may only introduce additional attack vectors. You can use Cryptotag's dedicated matches for a full Cryptotag experience.

Distribute and hide your titanium hexagons. Here you have it – your own secure Shamir backup. Take care and keep it safe!
In case this wasn'tCryptotag'sCryptotag's sufficiently clear, here is an original 5-minute setup instruction video by Cryptotag:
Cryptotag Odin vs Cryptotag Zeus vs Cryptotag Thor
Cryptotag Odin is a backup tool dedicated specifically to Shamir SLIP-39 backup schemes. Meanwhile, Cryptotag Thor and Zeus toolkits are designed for BIP-39 seed phrase storage, and the sole difference between the two titanium plates is the price and the number of wallets and seed words than can be stored via each kit.
You can read our full reviews of Cryptotag Thor and Cryptotag Zeus here.
Zeus
Thor
Odin 3, 5 & 7
Price
EUR 129
EUR 350
EUR 199 – EUR 359
Type of seed
BIP39
BIP39
SLIP39
Number of seed words stored
24 seed words
48 seed words
20 words per share
Max number of wallets stored
1-2 wallets
2-4 wallets
1 wallet
Compatible wallets
Ledger, Trezor, Metamask and most other wallets
Ledger, Trezor, Metamask and most other wallets
Trezor Model T, Bluewallet, Electrum, Hermit and some others
Setup time
~ 5 minutes
~ 15 minutes
~ 10 – 30 minutes based on your number of shares
Material
Titanium
Titanium
Titanium
Lenght
11.3 cm / 4.4 in
11.3 cm / 4.4 in
12 cm / 4.7 in
Width
6.8 cm / 2.67 in
6.8 cm / 2.67 in
2.5 cm / 0.98 in
Thickness
0.6 cm / 0.23 in
0.6 cm / 0.23 in
2.2 cm / 0.87 in
Weight
210 grams / 7.4 oz
186 grams / 6.6 oz
186 grams / 6.6 oz
Heat ressistance
1667 °C / 3032 °F
1667 °C / 3032 °F
1667 °C / 3032 °F
Box weight
410 grams / 14.1 oz
3.6 kg / 7.9 lb
1 -2 kg / 35 – 71 oz
Box dimensions
14.5 x 12 x 3 cm /
5.7 x 4.7 x 1.2 in
35 x 26 x 9 cm /
14 x 10 x 3.5 in
16.5- 25.4 x 13 x 8.8 cm / 6.5 – 10 x 5.1 x 25 in
Cryptotag Odin Review: Conclusion
Cyptotag Odin is the best Shamir backup option on the market today and is an excellent addition to Cryptotag's repertoire of quality backup products. If you're using or thinking of using Shamir recovery seed backup, upgrading your paper seeds into titanium hexagons is a no brainer.
---
Other Cryptocurrency Guides