CoinPoker Review (2023): Security & Privacy in Online Poker
CoinPoker is an online poker site that lets players use cryptocurrency to fund their accounts, leading to increased security and privacy. With no forced KYC and generous promotions and prize pools, CoinPoker is a good place for people looking to...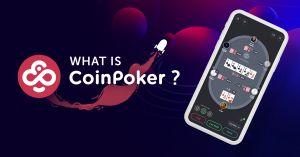 CoinPoker is an online poker site that lets players use cryptocurrency to fund their accounts, leading to increased security and privacy. With no forced KYC and generous promotions and prize pools, CoinPoker is a good place for people looking to play without stress.
CoinPoker Pros & Cons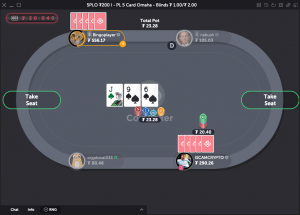 Read on for a list of advantages and drawbacks that can help you decide whether or not CoinPoker is the perfect online poker platform for you.
Pros
Decentralized shuffling: CoinPoker is dedicated to fair play, so they use a random number generator on their blockchain to shuffle for them by using feedback from every player at the table.
Generous referral program: once you meet all the requirements, you will receive 30% of your referrals' Community Contributions for as long as they use the platform.
Weekly prize pools: both pros and newcomers can compete for a chance to partake in a weekly prize pool that exceeds USDT 3,000.
Rakeback: you receive part of the amount raked by the platform back every Monday.
Low Community Contribution rates: ranging between 2% and 7%, the Community Contributions are used by the team to give back to their players in the form of other promotional activities.
Sportsbook: the platform has recently added sportsbook betting to its offer, with 15 sports included.
No deposit and withdrawal fees: outside of the usual fees charged by each blockchain network, you will not have to pay anything to the platform itself when depositing or withdrawing your money.
Cons
Relatively small community: there are currently not very many people playing at CoinPoker—but this means you may run into professional players for a unique opportunity to play against them.
Only Bitcoin Legacy addresses supported: while this is merely a small inconvenience, it is worth knowing that to withdraw money to your BTC address, you will need to have the old version that starts with 1, as the platform does not support anything else.
What Is CoinPoker?
CoinPoker is a cryptocurrency online poker site with its own native currency called CHP. The site launched in 2017 with play money and switched to real money in 2018. The platform is using blockchain to provide security, transparency, and randomness, which helps tackle any possible issues with unfair play.

The cryptocurrency poker niche itself is still relatively small, which CoinPoker considers an advantage: this means that the leaderboard is not inundated with professionals alone—even casual players can find their way up and win. However, that doesn't mean that only newbies and casuals play at CoinPoker: here, you can meet Viktor "Isildur1" Blom, TonyG, and Isabelle "No Mercy" Mercier for a unique opportunity to see how you'd hold up against the pros.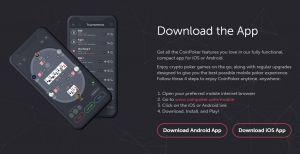 Generally speaking, the website is very clean and organized, and incredibly easy on the eyes, too. It can be accessed from all over the world — including the US — and since they only accept cryptocurrencies, there is no need to worry about problems with banks. CoinPoker also does not force any KYC checks, meaning their users don't have to worry about privacy infringements. Instead, cryptocurrencies that include USDT, ETH, and BTC along with the native CHF offer speed, security, and reliability.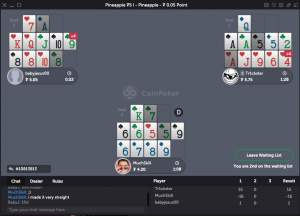 How to Get Started
Starting to play at CoinPoker is extremely simple: just follow the link to download and install the app, then choose a username and set up your account. Alternately, if you've already created an account and are now simply reinstalling, you can log in immediately. Once you've entered your basic information, you will get a verification email. There's an extra verification step: you can choose between a phone number verification, in which you receive a code through an SMS, or a third-party KYC app called Civic, which you install and then scan a barcode to finish setting up your account.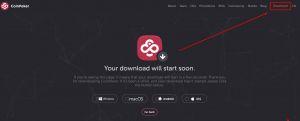 This is far from the traditional idea of KYC: instead of having to provide absolutely every detail of your private life—many providers insisting on KYC will ask you things like what your annual salary is or what you do with your money—you simply need to prove you're not a bot and have access to a phone.
With the verification out of the way, the only additional thing you need to do before hitting the tables is filling up your account (which we will cover in more detail in a separate section—meanwhile you can rest assured it is not complicated at all). In case you run into any issues, the platform urges you to feel free to contact their support team through an email or even join their Telegram channel, even if it's just to hang out with other players.
CoinPoker Games
Aside from poker, CoinPoker also offers a sportsbook. Since its beginning, their bookie covers 15 sports with both pre-match and in-play markets, competitive odds, and all major football and basketball leagues.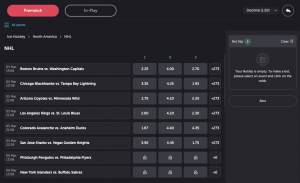 Of course, poker is still their main focus. Here, you will find Texas Hold 'Em, Short Deck, Pot-Limit Omaha and 5-Card Omaha. Fans of Texas Hold 'Em can also play Cosmic Spins, which can offer a prize pool worth up to a 1,000 times more than your initial buy-in. In the spirit of fairness and transparency, the platform also has a detailed blog post with the odds and rules for Cosmic Spin.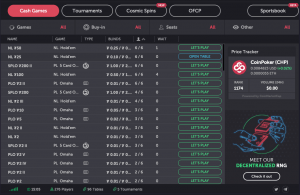 What Are Community Contributions?
Community Contributions (CC) are an important part of CoinPoker. Since the platform itself is commission-free, there are low community contribution rates that power it — instead of the usual table commission revenues employed by traditional brick and mortar shops. These funds are returned to the players, as they are the pool from which promotions come from, among other things.
CC rates range between 2% and 7%. Cash game contributions are 3%, while tournaments are 7%. However, the figures are not set in stone, as the team assures that they will take the community's feedback into consideration. While they can be paid in any currency accepted by the platform, paying in CHP is preferred and offers special treatment that we will cover below.
CoinPoker Bonuses
The vast majority of players will want to know whether a platform offers incentives for staying loyal to them. While CoinPoker doesn't have any traditional welcome bonuses that reward newcomers simply for signing up, they make up for it with other ways to boost your wallet.
Referral Program
One of their running promotions is a referral program. You start by logging in and navigating to the cashier menu on desktop or the account menu on mobile. Here you will find your referral link—simply share it with as many of your friends as you want, with a minimum of two before the rewards start rolling in, and receive 30% of the total amount of Community Contributions that they make. This, too, comes with strings attached: you can't receive anything before both your referrals acquire at least USDT 2 in Community Contributions.

Once the rewards become eligible for claiming, you will have to do that by hand—although there's nothing more to it than clicking a button that says "Transfer to balance." While not automatic, this is also not a gruesome process that will take up all your time. It is also far from a one-time thing: once all the requirements have been met, you will continue receiving your reward for as long as your referrals play at CoinPoker.
Weekly Prize Pool
A weekly prize pool of over USDT 3,000 is spread over three different leaderboards: No Limit Hold 'Em (NLHE), Multi Table Tournament (MTT), and Omaha poker (PLO). A total of 150 players get their share of the prize each week. The MTT leaderboard divides USDT 860 among themselves each week, while the Cash leaderboard—that includes NLHE and PLO both—gets a whopping USDT 2,300 total each week.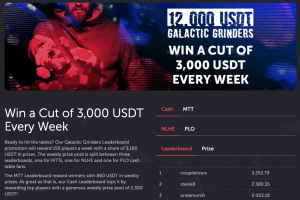 The calculations are pretty simple: for MTT, your points will depend on the number of buy-ins, the number of participants, and the place taken. The Cash leaderboard, meanwhile, calculates points based on the number of big blinds gone to the Community Contribution, effectively rewarding activity rather than stakes. Additionally, if you opt for CHP when paying Community Contributions, you'll get an extra 50% in points as an incentive for players to use the platform's native coin.
Bad Beat Jackpot & Rakeback
Newbies and veterans alike will agree that there are few things as frustrating as a bad beat. This is why CoinPoker has introduced the Bad Beat Jackpot, triggered when a very good hand is beaten by an even better one—and once it's triggered, everyone at the winning table will be rewarded, regardless of their hand. There's nothing quite like a reward to take the sting away.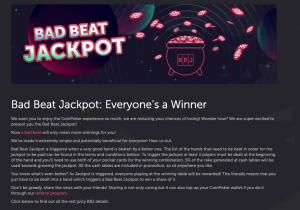 Additionally, CoinPoker also includes a concept called a rakeback: a small percentage of the pot is taken (raked) by CoinPoker every time a hand is played. The platform keeps a good track of this, and 20% of the total rake you pay in CHP is returned to you every Monday.
Deposits & Withdrawals
Before you start playing at CoinPoker, you'll need to fill up your account. To deposit, you simply need to send the desired amount of BTC, ETH, USDT, or CHP from your personal wallet to your CoinPoker account. The platform also warns you not to send directly from an exchange because that won't work, which means your funds will be lost. The platform doesn't charge any depositing fees. The deposits are instantaneous in all cases except for BTC, which can take a few hours before it reaches the required number of confirmations.
When you're first depositing, you'll have to provide your wallet number. This is permanently assigned to your account, meaning you will only be able to top up your CoinPoker account from that one wallet. This can be reset in case you change your wallet for whatever reason, but only by going through the necessary steps with their support team.
Withdrawing is even simpler: for ETH, USDT, and CHP the platform recommends using a MEW wallet since the fees for a swap are under 1%. The funds are sent to the same wallet you used for depositing.
BTC withdrawals, however, are a little different: first off, the minimum amount you can withdraw is set to CHP 1,000. You will have to pay a transaction fee for converting CHP to BTC as well. You will also have to provide an old BTC address that starts with 1; new formats are not supported. The withdrawal process also takes longer, but this is due to Bitcoin's requirements and not something the platform can affect.
CoinPoker Security
CoinPoker takes their users' security very seriously. First off, an unfortunately very common issue with online poker rooms is the cheating potential. CoinPoker tackles this by introducing a Random Number Generator on the blockchain, which is used as decentralized card shuffling software. All players at the table provide input that is used by the software to determine the final shake value, so the shuffle is as fair as can be. The platform also has a fair play and anti fraud system, which makes sure that nobody is using third-party software—unethical or automated play is eliminated.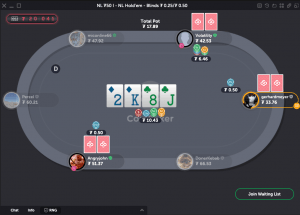 The site does not state, however, whether they keep funds in offline wallets or employ any other security measures. For personal accounts, security comes from the fact that you can only deposit and withdraw using a single personal wallet—this ensures that the funds are yours and yours alone.
CoinPoker Support
CoinPoker offers customer support through a dedicated email address, but also a Telegram channel where you can meet other players and chat with them as well. Users are encouraged to contact support in case they need any help, but also for things such as changing your account's wallet or running into any issues. There is no live chat feature integrated into the site, nor any phone numbers through which you could reach them.
Conclusion
CoinPoker is a sophisticated cryptocurrency poker platform that puts customer satisfaction at the forefront. With generous prize pools, promotions, and a great referral program, players will be able to fill their account in different ways—all the while playing poker through a secure platform without worrying about other players potentially cheating.
Cryptonews has a special freeroll tournament offer for their readers. Use Cryptonews's referral link to register and you will be entered into a special 1k USDT tournament on Sunday, March 28th at 8pm CET!