ChangeNOW Promo Code: Get Your Discount With This Code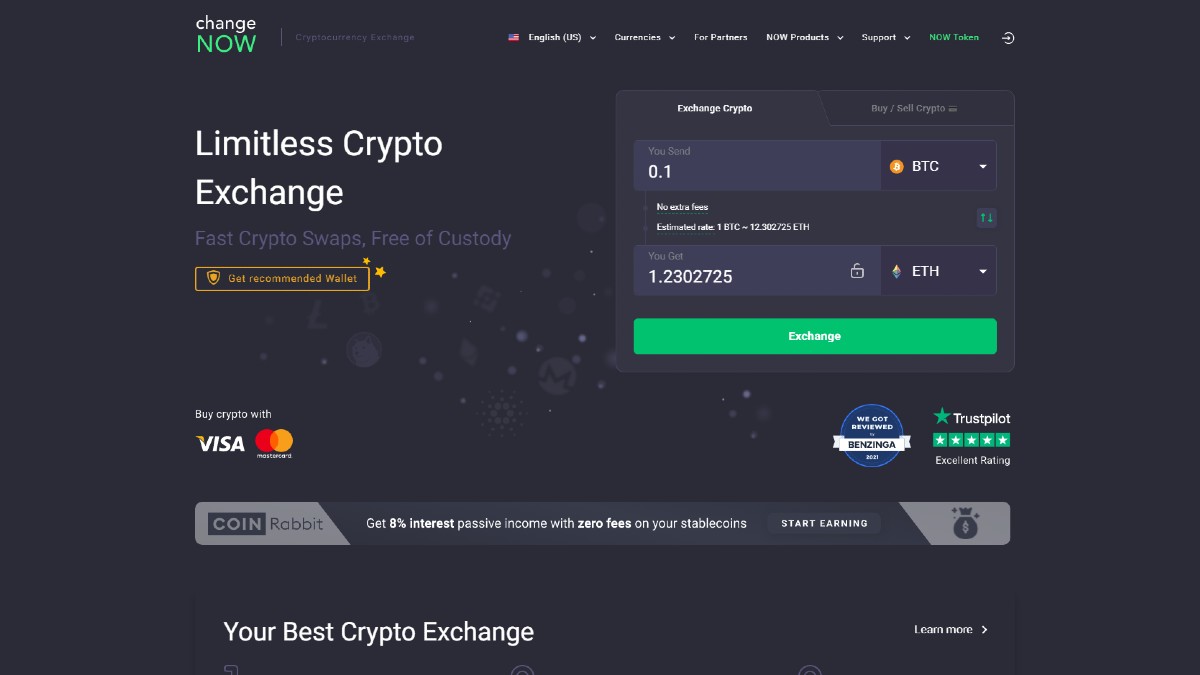 Crypto trading platform ChangeNOW has decided to treat Cryptonews.com readers with a special promotion just in time for the holiday season: with a special discount code, valid from now through the end of this year. You will be able to use the platform with a discount worth 0.2% until December 31st, 2021—just in time to get a head start on your New Year's resolutions (of trading more crypto, most likely).
Why Choose ChangeNOW
If you're on the lookout for a new instant exchange boasting a great number of altcoins, ChangeNOW is the place to be. With over 300 altcoins and 60 fiat currencies, chances are, you'll find what it is you're looking for—and more. The platform is custody-free, which means your tokens are never at a risk, as long as you take the usual, reasonable precautions. Transactions are instant, or near enough; even in the most extreme cases, it won't take you longer than two minutes, beginning to end, to finalize one.
However, it's not just crypto trading that ChangeNOW offers. As a very broad ecosystem, it encompasses more or less everything you might need in the crypto space: a secure wallet, mobile exchange apps, crypto loans, payments, price trackers, and a whole host of other, ever-growing services. With an ultimate goal of becoming a one-stop shop for all things crypto, ChangeNOW is an excellent choice for those users who prefer a simple, streamlined experience to separating everything.
Perhaps one of their biggest selling points is how privacy-centric they are. You don't even have to sign up if you don't want to. On the other hand, this doesn't mean that you shouldn't: the platform treats their loyal customers very well, with perks for those who do sign up, including crypto loans and a cashback program.
So What's the Promo Code?
Let's cut to the chase: the special promo code for ChangeNOW is AF7643FCE7DC and is already activated, meaning that all you have to do is follow our tracking link here. However, in case you run into issues following the link (or you simply want to take matters into your own hands) you can activate it by opening the Advanced Settings page on the exchange and copy-pasting this code into the space for codes.
Their Advanced Settings tab will also show you how much you're getting from each transaction with this code applied; this means that if you can't exactly calculate the discount yourself—or don't want to—the platform will do it for you.
And that's all there is to it! Happy trading and remember, never invest more than you're willing to lose!