What Google's Recent Move Means for Crypto?
Disclosure: Crypto is a high-risk asset class. This article is provided for informational purposes and does not constitute investment advice. By using this website, you agree to our terms and conditions. We may utilise affiliate links within our content, and receive commission.
Anyone can look for patterns on the blockchains of eight major cryptocurrencies. The move shows that suspicion towards blockchain has generally softened. "We also have to be really careful when we build dependencies to large data-collecting entities."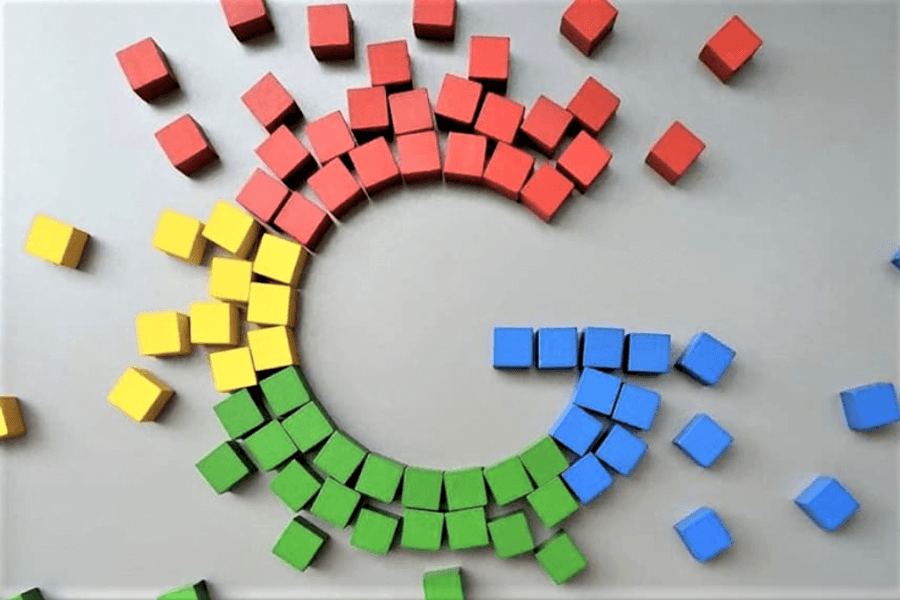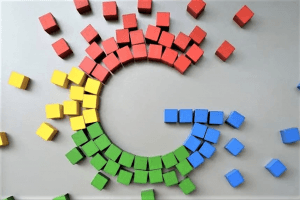 Google is opening up crypto. Just as the Californian search giant transformed the early internet in the late '90s from something strange and sprawling into something you could navigate at the click of a few buttons, it has turned to the no less sprawling world of cryptocurrencies.
On February 5, it launched a range of new search tools as part of its BigQuery Public Datasets program. Now, any developer, entrepreneur, journalist or anyone else can search and analyze the blockchains of eight major cryptocurrencies, enabling them to detect patterns in transactions and relationships between addresses, for example.
And aside from providing us with a powerful way of understanding how cryptocurrencies are actually being used, these tools also mark what may be the beginning of Google's further exploration of crypto. But while such involvement could bring crypto a few more big steps towards the mainstream, it raises the risk of centralization.
Now you can surf the blockchain(s)
At the most basic level, what Google has made available to developers (and to the general public) are datasets covering the entire transaction history of eight of some major cryptocurrencies. These are Bitcoin Cash, Dash, Zcash, Litecoin, Dogecoin, and Ethereum Classic, as well as Bitcoin and Ethereum, for which the datasets were released on the BigQuery platform last year.
Yet in addition to simply making the transaction histories of the above eight searchable, Google's new release also lets users take advantage of Blockchain ETL (extract, transform, load), a new tool built largely by independent developer Evgeny Medvedev. As stated above, this lets users analyze transactions patterns and the relationship between addresses, and while this might not sound especially monumental, the ability to define patterns means that you can identify pretty much any kind of crypto-related behavior.
For instance, one example mentioned in Google's blog is the detection of mining pools, based simply on checking transaction flows to and from addresses, while another could be the identification of trading bots that may be inflating the price of a cryptocurrency.
These are therefore powerful tools, and it's likely that they'll provide a growing stream of insights for anyone working on a new crypto project. This is the view taken by Dr. Mervyn G. Maistry, the CEO and co-founder of blockchain-services company Konfidio.
"Having a public database opens many opportunities for development," he says. "The data can be turned into highly advanced blockchain analytics: distribution of assets across addresses, defining ownership of multiple wallets, qualitative and quantitative analysis of transactions, network current state tracking and analysis and much more."
Another example provided by Google's blog backs up this prediction. Google used the new tools to measure the Gini Coefficients – which measure the (in)equality of wealth distribution – of the eight currencies included in the BigQuery database, finding that "Dash is remarkably well distributed relative to all other cryptocurrencies examined here."
Gini coeficient, top 10K balances
Values range between 0.0 and 1.0, with completely distributed wealth (all members have the same amount) mapping to a value of 0.0 and completely accumulated wealth (one member has everything) mapping to 1.0.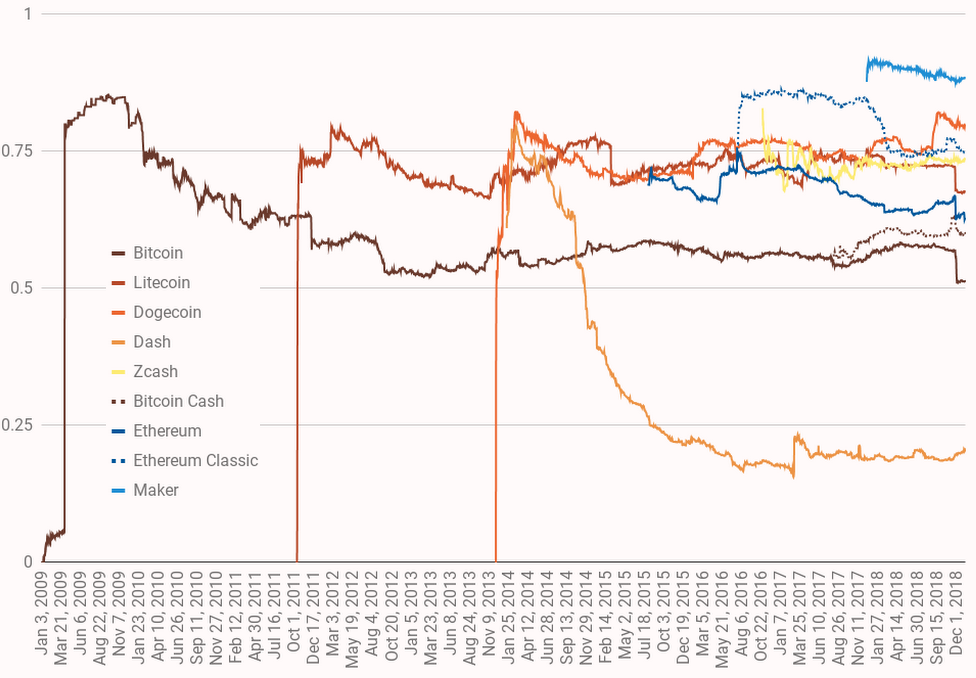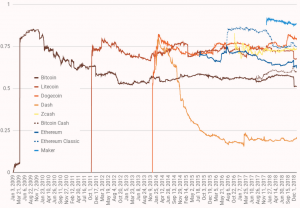 Such insights will go a long way if developers want to build a new cryptocurrency or platform that's more accessible to a wider audience. What's more, Maistry thinks they'll provide the perfect launchpad for Google to develop even more powerful tools, which will obviously have a positive knock-on effect on the quality of future crypto projects.
Wider Significance
So Google's new tools will no doubt have plenty of uses for developers of crypto- and blockchain-related projects. But what does the company's delving into crypto mean for the industry on a deeper level?
"Google's official emergence into the blockchain space reinforces the fact that tech giants have long realized the potential of blockchain tech," explains Sky Guo, the CEO of the enterprise-focused smart contract platform Cypherium.
"More subtly, though, this move also suggests that the risk and suspicion surrounding the technology has generally softened, as the technical benefits of blockchain start to poke through into mainstream narratives."
There is a belief among other industry figures that Google's move towards crypto could also encourage other big corporations to follow suit, as suggested to Cryptonews.com by Rutger van Zuidam, the founder and CEO of the blockchain-focused innovation program Odyssey.
"Google's official emergence into the blockchain world might also inspire banks, governments, and other traditional industry players to take a second look at the potential of open public blockchains, as well as their own privately owned infrastructure," he says.
Of course, while Google's increasing immersion in crypto might help bring about greater adoption and better platforms, there could be certain downsides, van Zuidam warns.
"We also have to be really careful when we build dependencies to large data-collecting entities. The whole point of working with blockchain is to decrease these kind of dependencies and to increase the sovereignty and privacy of the users."
The risk of centralization (or at least an overdependence on a centralized organization) is something that other commentators warn against, with crypto expert and B9Lab founder Xavier Lepretre pointing out in conclusion that Google's involvement will be a double-edged sword.
"Google's blockchain discovery tools come with Google's advantage: scale," he says. "No doubt, plenty of developers will find ways to use, or even monetise, them. However, the tools also come with Google's disadvantages, which are centralisation and the possibility of censorship."
And even though Lepretre acknowledges that centralization makes sense in this case (since huge amounts of data need to be extracted by a trustworthy entity), it could ultimately undermine the decentralized ethos on which crypto has sold itself up until now.
---