Wake Up on Black Friday and Smell the Crypto Deals
Thursday, November 26 is Thanksgiving in the United States, and right after it comes the Black Friday bonanza globally. On this day, retailers open wide and in great fashion the doors to Christmas shopping season, offering a myriad of '-X% offs' on pretty much any product in existence. And more of it each year can be bought with crypto.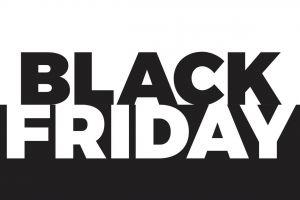 The day after Thanksgiving has been seen as the beginning of the United States Christmas shopping season since the 1950s, but the term "Black Friday" itself entered the vocabulary two-three decades later, when global retailers adopted both the date and the term to market their holiday sales.
But truth be told, in the increasingly virtual world, Black Friday is often no longer a day, but a full week, and occasionally even longer. This is particularly noticeable online and offline in much of the world outside the US, given that these places don't connect the event to the celebration of Thanksgiving.
Another great thing about it lasting for several days in combination with spending some of that sweet, sweet crypto is: no camping, no cold, no lines, no running, no trampling, no stampede, no virus. If you don't want your physical self present in a physical shop, be it due to your inclination to stay indoors and/or the ongoing state of the pandemic, all you need is your wish list, the internet, and your crypto wallet.
Looking forward to Black Friday?
Last year, the founder of the Bitcoin Black Friday event, Jon Holmquist, said that "after 7 years, and 6 successful events, I have fallen out of love with using bitcoin as a means of consumer payment," ending the popular event. However, it was announced in October that the event for 'bitcoin (BTC) only deals' is back.
The website is already up and running, with a number of categories to choose from, including bitcoin products, hardware, media & entertainment, art, apparel, gambling, etc, as well as donations to a number of causes across the world.
Among the currently active deals, you can get 10% on all Bitcoin Gear items, 30% off every Bit T-Shirts purchase, 21% Bitcoin Black Friday Discount on Mr Crypto Watches, 25% off fees at any CoinFlip ATM in the US, and 20% on your crypto tax report over at Accointing.com. If you're in for some cleanliness, which they say is close to satoshiness, then you can get 20% off on Original Bitsoaps Bars; or if you're a team, organization, gamer, streamer, and anybody else that needs logos and branding, you can get a 10% discount on Modurist designs. And these are, of course, far from all available options, with more Black Friday-specific deals coming in as the big event approaches.
Meanwhile, those feeling lucky can also enter a BTC 1 giveaway by getting on the waitlist for the Fold Bitcoin Rewards Card, or referring others to get on the waitlist.
Want a more diversified crypto Black Friday?
Bitcoin only events are not your thing? No worries, we've got plenty more for you to choose from. Major crypto payments provider BitPay has made a list of merchants offering deals to those who prefer to pay in one of several accepted crypto options. All interested shoppers can find the full list, in addition to a curated list of other places where you can spend your crypto this holiday season, on the BitPay Merchant Directory.
The deals include 20% off selected luxury watches and jewellery at Ace Jewelers; 10% off at ATHEIST Shoes; up to 60% discount on dedicated servers over at HOSTKEY; as well as a free BitPay Prepaid Mastercard through a code. You can also save on a Ballet Wallet, Cryptohopper automated crypto trading bot, fine wine, art, and a variety of other goodies at StaxDeal and Newegg (AU and HK).
Furthermore, there's as a myriad of offers await over at Crypto Black Friday. The website states it's a directory with online shops where you can pay in bitcoin (also via Lightning Network), litecoin (LTC), ethereum (ETH), dash (DASH), bitcoin cash (BCH), XRP, and binance coin (BNB). It offers deals on both this big-event day and throughout the year in electronics, travel, gift cards, and clothing category, while buyers can also explore shops by crypto they want to spend.
Among these, Playasia is offering up to 75% Black Friday/Cyber Monday discount on over 4,000 products, including PS4, XBOX, Nintendo, and other products, while saving on electronics and gaming is also offered at Overlockers UK, plus there are various Black Friday deals at Scan Computers if you're into gaming PCs, laptops, components, instruments, cameras, etc. Furthermore, to keep your feet warm while making all your purchases, you can get 40% off an all bitcoin socks over at MtSocks.
Need more diversification? Then look through the deals listed on AltcoinTrading.net's Black Friday section, where you can find both the live deals and those that are 'anticipated.' For example, you'll see here that TradingView offers an 'up to 60% off + 1 free month' deal on yearly plans, in addition to giving both the referrers and referees USD 30 each if the latter upgrade to a paid plan.
Need a private network?
Virtual private networks, or VPNs as they are commonly known, have been all the rage worldwide and for a good reason. Not only are they made to safeguard one's privacy by hiding users' IP addresses and physical locations, but many like to point out that some video streaming services might become borderless when using one. No more of those pesky 'not available in your country' notifications - is a major sales pitch for these products. In the world of crypto, they improve your crypto security from the privacy side of things.
One of the most popular VPNs is the NordVPN, and it's offering a 68% off on their 2-year plan + 3 extra free months deal for this Black Friday. There is a lot more choices out there, of course, like CyberGhost offering 83% off, ProtonVPN providing their service for up to 50% off, as well as 83% off on a 2-year deal + 3 extra months free at Surfshark VPN, which also wrote a piece on why VPN should be used when working with crypto.
Need a wallet?
Hardware wallets are certainly a Cryptoverse staple. And luckily for all interested, large discounts arrived this week. Major crypto wallet-maker Ledger has upped the stakes from last year, now offering 40% off Ledger Nano X or Ledger Nano S from November 23rd to November 30th with their promo code. Their competitor, Trezor, has gone a bit lower this time around, giving their products' buyers 20% off until November 29.
Meanwhile, ShapeShift, owner of the KeepKey hardware wallet, is about to go live with another round of USD 5 KeepKey as a special Black Friday/Cyber Monday offer. Besides that deal, the wallet is already on sale with a 38% discount. Additionally, on Black Friday only, for 24 hours, with coupon code 'BLKFRIDAY' at the checkout, the bluetooth-enabled CoolWallet S will offer 'a buy 1 get 1 free' limited deal.
Need some furniture?
If you're sick and tired of your surrounding by now, given that these past few months have been spent mostly indoors, then perhaps some interior refreshing is in order. Beliani, a web-only international seller of furniture and home accessories, started using services of BitPay in May this year, thus enabling their customers to pay in major crypto, including several stablecoins. As part of the Black Friday sale, Beliani is offering discounts on the living room, dining room, bedroom, garden, and other furniture items.
What if...
Last year, we suggested that it was an excellent time to buy some crypto during Black Friday, especially as the market had dropped a bit in late November. This time, we thought it'd be interesting to look back for a short what-if. What if you bought bitcoin on Black Friday, November 29, 2019? It was USD 7,635 then, and it's USD 19,308 today. How about ethereum? It was USD 156 then, standing at USD 601 now. However, as everyone knows, "past performance is no guarantee of future results."
____
Learn more:
Four Merchants Revealed How Bitcoin Payments Helped Their Businesses
OpenBazaar Temporarily Saved From Becoming ClosedBazaar
Coca-Cola Vending Machines in Australia & New Zealand Accept Bitcoin, Ether
---