To The Moon And Hopefully Not Back: 20 Crypto Jokes
With Bitcoin's price going above USD 8,000 and generating tremendous amounts of hype in the community, the internet has been a humor-generating machine lately. And then the market crashed on Friday, but jokes survived as everyone believes we're still in an uptrend. Anyway, since everyone is playing professional analyst (as always,) we've collected some of the funniest predictions, as well as some other great stuff we stumbled across, for your enjoyment.
The week started with Binance clients looking for compensation, Bitcoin jumped above USD 8,000, and eBay said they were notplanning to accept crypto. Bitfinex, apparently, raised USD 1 billion in a private sale, Microsoft announced the launch of an infrastructure on top of the Bitcoin network, and you can now shop using crypto much quicker. Samsung confirmed more blockchain-related services on upcoming phones, the industry is fighting against G20, and HTC Exodus added new functionalities to their phone. Binance resumed business, a crypto millionairewants you to trust in crypto - and so does legendary investor Mark Mobius, and the market crashed once again at the end of the working week.
________________
When you don't listen to your spouse, you get to reap the rewards.
My wife made me sleep on the sofa today.

She begged me to buy more Bitcoin @ $3,500.

Advice?

— Alby 🎧 (@voice0fcrypto) 14 May 2019
__
Everything is better when you mix in a little Matrix.
This meme rocks!!! pic.twitter.com/gG4HkxnxAt

— Crypto Feel-Good (@CryptoFeelGood) 12 May 2019
__
Have an exclusive sneak peek at Facebook's new token.
Amazing Zuck Bucks at #consensus2019 thanks @blockstack pic.twitter.com/A5dSlC4HL3

— Tom Shaughnessy🦉 (@Shaughnessy119) 13 May 2019
__
It's better to watch this without any context or commentary.
Crypto twitter when Bitcoin starts pumping pic.twitter.com/GSfJZcaT98

— F 🐉 (@Javyzy) 14 May 2019
__
Turn that frown upside down!
When you exchange fiat for sound money: pic.twitter.com/fzL81SnEaO

— Jameson Lopp (@lopp) 12 May 2019
__
Mati Greenspan is known for his accurate predictions, so we think he may be right on the money with this one as well.
Unchanged: Anywhere between $100 and $1 million. https://t.co/YAatCqrOz2

— Mati Greenspan (@MatiGreenspan) 13 May 2019
__
You won't be able to get this song out of your head.
__
When you bought in December 2017…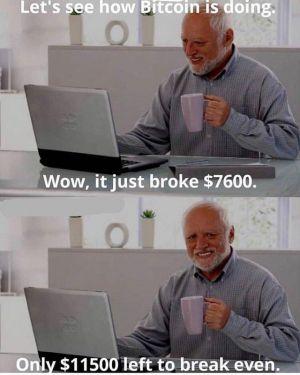 __
Yeah, the time to buy the dip seems to be past already…
Time to break out old gems from r/cryptocurrencymemes
__
Keep looking.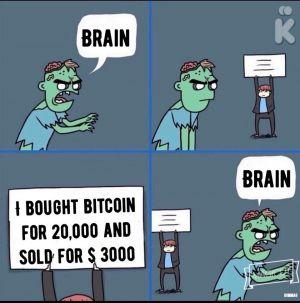 __
Gotta end it with "this is not financial advice though" to make it sound legit.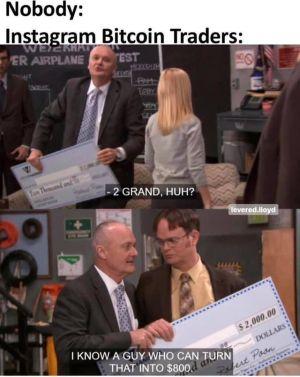 __
Figuring out when you should buy be like…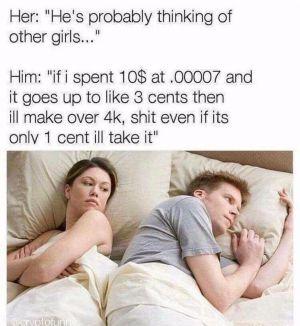 __
When FOMO kicks in.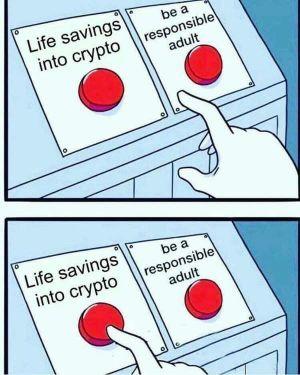 __
Rooting for that altcoin rally.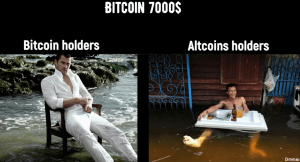 __
Let's rub some more salt into altcoiners' wounds…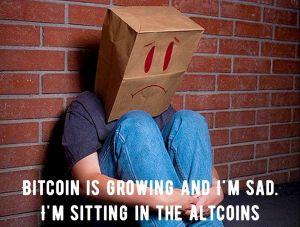 __
And it's going down in history.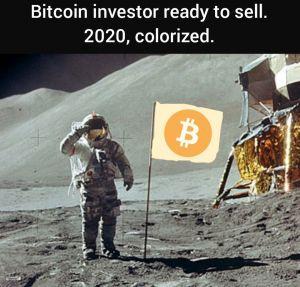 __
After all, being drunk is what spawned the HODL meme in the first place. Or was he drukn?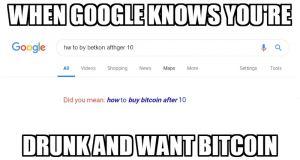 __
Realizing you're actually safe.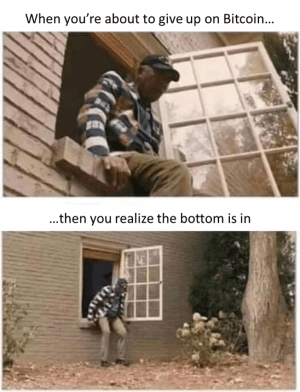 __
It's not a spoiler for Game of Thrones, not really.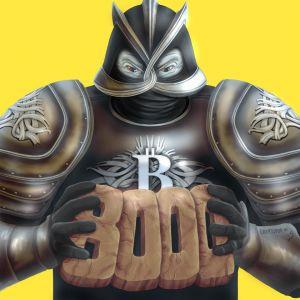 __
Listen to it with sound on for the best possible effect.
A A A A H H H . . . pic.twitter.com/JJ6KPujGym

— CryptoChimp (@Cryptanzee) 11 May 2019
__