Six Alternative Hardware Wallets to Check Out
Disclosure: Crypto is a high-risk asset class. This article is provided for informational purposes and does not constitute investment advice. By using this website, you agree to our terms and conditions. We may utilise affiliate links within our content, and receive commission.
It's well-known that the chances to lose your crypto are higher if your private keys to your coins are stored online and/or in an ill-protected environment. To keep crypto safe, a so-called "cold" storage, such as a hardware wallet, is vital. There's certainly a myriad of wallet options out there to choose from. We know that the major three hardware wallets – Ledger, Trezor, and Keepkey– are often written about as the best options. However, should you decide to try an alternative wallet, which one would that be? Cryptonews.com compiled a list of hardware wallets prospective users may want to take into consideration.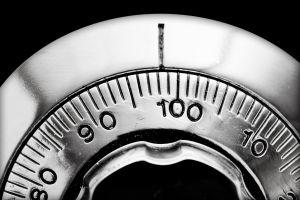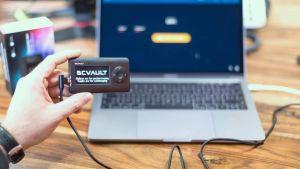 Provider: Real Security Inc.
Price: EUR 131.14 (USD c. 145) + VAT
Compatible with Windows, Mac and Linux, the BC Vault supports managing, sending, and receiving all funds via the one device and app. It supports multiple tokens, including Bitcoin, Ether, Litecoin, Bitcoin Cash, Dogecoin, and XRP, as well as all ERC-20 tokens. Furthermore, over 2,000 unique wallets can be stored on one device, while existing wallets can be imported. It encourages multiple back-ups, with QR codes or an SD card. A wallet pin and password are available, as well as global pin and password without which the device won't respond to public key requests. None of the four is stored on the device. BC Vault creates each wallet with a random number generator (RNG) – a random seed is created when users shake the device. Wallets on the same device aren't linked to each other, but each is encrypted with a combination of an application password entered on the computer and a PIN entered on BC Vault.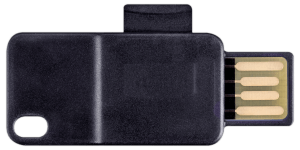 Provider: SHIFT Cryptosecurity
Price: EUR 44 (USD c.49)
This is an open-source hardware wallet for Bitcoin and Litecoin, though it supports ETH and ERC-20 tokens too, but over third party apps. Intended for storing and protecting private keys, the wallet has universal two-factor authentication (2FA) and seed storage, while the private keys never come in contact with the user's computer or internet. Also, offline backups are instantly made to microSD, and users can make as many backups as they want with multiple cards. If the device is lost/stolen, but the two-factor authentication is enabled, whoever takes it will also need the second factor device as well. If the wrong password is given 15 times, the device will erase all secrets and reset. You can also enable a hidden wallet, choose a hidden device password and a hidden recovery password, put a small of amount of BTC/LTC on it, open it with the secondary password if you are threatened by somebody, and trick them that way. The next version, BitBox02, is currently in beta stage.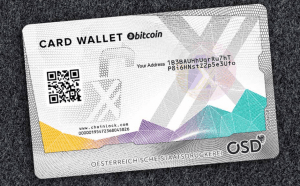 Provider: a co-production of Coinfinity and the Austrian State Printing House (via subsidiary YOUNIQX Identity)
Price: EUR 59.99 (c. USD 67), VAT included
This card wallet supports Bitcoin, Ethereum, and all tokens on the Ethereum blockchain. The water- and heat-resistant card is also "beginner-friendly". The Card Wallet is created in a "highly-secure room" in the Austrian State Printing House in an isolated offline system, using Coinfinity's Secure Entropy Technology, so that nobody can know the sealed private key but the owner. The card has a continuous color gradient, hologram, micro-printing on both sides, tactile texturing, UV and infrared-visible patterns, and it comes with a security seal. Card wallet is the business to consumer product, while there is also a business-to-business solution, Chainlock.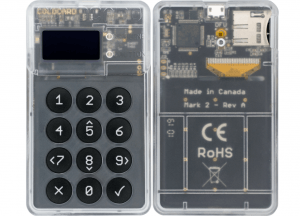 Provider: Coinkite
Price: USD 99.94
This is a Bitcoin hardware wallet that generates 24-word BIP39 seeds, but allows users to import 12, 18 and 24-word BIP39 seeds created by other wallets. There is a primary and secondary wallet, each with its own master key and its own dependent "duress/secondary" wallet, in which you can put some BTC to show in case you are under duress. More wallets can be unlocked by adding a BIP39 passphrase. Coldcard can back up the seed into an encrypted file, so it comes with a MicroSD slot. Among other things, the card can also be used to write public key data onto it, and users can import from it new transactions to be signed. Coldcard has a broad SegWit support. Furthermore, backups can be verified from the menu system. Coinkite also offers Opendime – a small USB stick that holders can use to spend Bitcoin, but it's not a hardware wallet.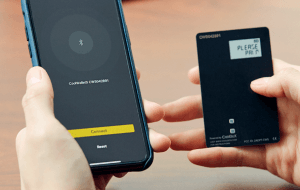 Provider: CoolBitX
Price: USD 99
This is a credit card-sized, Bluetooth hardware wallet for Bitcoin, Ethereum, Litecoin, XRP, Bitcoin Cash, and ERC20 Tokens. CoolWallet S works by connecting only via Bluetooth to the app on your iPhone (5 or later) or Android (6 or later). The wallet also has integrated Binance DEX and Changelly, enabling users to exchange crypto. It's water- and shock-proof, and it comes with a biometric and physical 2FA (two-factor authentication) checks, as well as an AES-256 (Advanced Encryption Standard) encryption for its Bluetooth connection, so to ensure communication with the authorized devices only. Should the wallet be lost or stolen, it wouldn't pair with an unauthorized phone, while users can recover the data and control over their assets within another CoolWallet S via the original backed-up seed.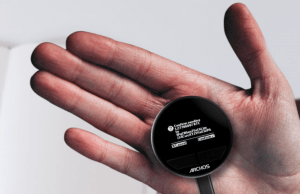 Provider: Archos
Price: USD 59.99
Safe-T Mini's software is based on the open software from Trezor, and it's compatible with numerous cryptocurrencies, including Bitcoin, Ethereum, Litecoin, Dash, ERC20 tokens, etc. It has the main features of other wallets: enables cold storage of private keys and a connection to a computer/phone with a micro USB cable, and it allows users to manage sending/receiving coins from other wallets; Transactions are displayed on the screen and each must be approved; Users can select a PIN code to access their wallet; If the PIN's incorrect, or if the device is lost/stolen, holders can use their 24-word recovery seed.
______
These are a few alternatives to major wallets. Meanwhile, if you are looking for a wallet for your car, one should be available soon. Daimler, the parent company of Mercedes Benz, partnered with blockchain company Riddle & Code to develop an open, tamper-resistant hardware wallet for automobiles, which can be integrated in a number of different vehicles. Car Wallet would give each vehicle a network, block-chain based identity and an ability to handle transactions automatically, paying for things like parking, fuel, maintenance, tolls, etc. It comes with a wide range of use cases, such as autonomous vehicles, car-sharing, real-time traffic data exchange, sending accident information to relevant parties, and connecting with smart city system, parking zones, and other charging solutions for payment and data exchange.
Let's see where this hardware wallet will bring us next. In the meantime, keep your coins safe.
---