Many Degrees Celsius, Three Arrows, Bitcoin Fed'ing, Ethereum Bombing, Very Peg Defenses and 20 Crypto Jokes
Disclosure: Crypto is a high-risk asset class. This article is provided for informational purposes and does not constitute investment advice. By using this website, you agree to our terms and conditions. We may utilise affiliate links within our content, and receive commission.

This week…was bonkers. BTC, ETH, and the rest of the market went for a further dive as Celsius added fuel to the US Fed fire, and they went further down as the market braced for bigger rate hikes from the US Fed, but then, as the Fed raised rates by 75 basis points, BTC and ETH moved up. A roller-coaster. Meanwhile, Ethereum developers once again delayed the "difficulty bomb", Tether condemned 3 'false rumors' about its exposure, the top NFT collections saw a price crash amid the crypto market panic followed by some very mixed results in terms of floor prices and sales, and we looked at the stocks that fell more than bitcoin since the year began. But to go back to Celsius – it made a whole lot of trouble this week, announcing that it paused withdrawals, transfers, and swaps, as its users faced liquidations. Then it added more collateral for a loan on MakerDAO to avoid liquidation, while it also faced a growing problem with staked ETH, and then the Celsius problems affected Nuri's Bitcoin interest accounts. That's not all – nay, nay. Celsius is reportedly hiring 'restructuring lawyers' as bankruptcy speculation keep mounting, and is, also reportedly, taking advice from Citigroup, but is unlikely to get bailout money.
And then we learned that Three Arrows Capital is rumored to be insolvent, with 8 Blocks Capital claiming the company 'ghosted' them after USD 1m went missing. Furthermore, the Tron DAO Reserve is set to deploy another USD 500m worth of USDC to defend the USDD peg to escape the Terra scenario. Like one pause wasn't enough, Binance paused Bitcoin withdrawals, resuming them after three hours and saying it was caused by a backlog. Meanwhile, the price to short TRX reached as high as 500% annually, Coinbase and BlockFi decided to lay off some of their employees amid the market turmoil, while Kraken unveiled a global hiring push with hundreds of available jobs across the world, and Ukraine's WhiteBIT exchange is reportedly close to having its name featured on an FC Barcelona shirt. In the NFT realm, OpenSea claimed that users can save 35% in gas costs following its migration to Seaport, and in the payment sphere, we found out that Visa launched its first crypto cards in the Latin America region.
Following the 'Terra incident', the new South Korean regulatory chief promised more 'fairness' for crypto investors, El Salvador's Finance Minister 'laughed off' international media claims of USD 40M bitcoin 'losses', Brazilian federal judges have been receiving training on crypto-related matters, an ECB official said that the use of digital euro as a form of investment can be prevented, the Coin Center sued the US Treasury Department and the IRS over 'unconstitutional' infrastructure act, and the US SEC reportedly launched inquiries into insider trading safeguards of numerous crypto exchanges. Meanwhile, Twitter's Head of Marketing denied claims by Yuga Labs co-founder about a social media attack, while MetaMask, Phantom, Brave, and XDefi wallets patched the 'Demonic critical vulnerability' before an attack occurred. Another report confirmed that criminal behavior keeps 'dropping as a percentage of overall crypto activity', crypto-related criminal cases went up by 40% year-on-year in Russia, and a survey found that one in seven wealthy people now owns 'digital assets'.
Also, the Russian central bank seems to be ready to make crypto regulation concession, while Elon Musk is eyeing digital payments on Twitter while facing a DOGE 'pyramid' legal wrap.
Now, let's go take a look at the bright side of the bear market!
__________
Heeeeeeeey, CT! What a weak, huh? What's up?
June 14, 2022
__
This just in:
BREAKING: everything in crypto

— Jason Choi (@mrjasonchoi) June 14, 2022
__
This is according to a number of leading analysts and experts on cheetahs, airplanes, speeds of light, and portfolios.
June 10, 2022
__
Let it go?
June 13, 2022
__
Brilliant! Make sure to include a Twitter thread tho.
New business idea: Promise users 10%+ for deposits, and then buy ourselves BTC and ETH with it until we can't keep going anymore. Then apologize and take some time off.

— t (@tcrypt25519) June 13, 2022
__
She. Knows.
Wife: You seemed stressed over your internet money. Let me get you a snack.

The snack: pic.twitter.com/aWMKZbVAje

— Brandon Moore (@bk_moore) June 13, 2022
__
Before every investment, always keep in mind: you will eventually have to go home.
Me irl pic.twitter.com/cqJ7ropjph

— xamanap (@xamanap) June 10, 2022
__
It was totally an accident.
Matt Damon to everyone he got into crypto last year: pic.twitter.com/k17bA02GUZ

— High Yield Harry (@HighyieldHarry) June 13, 2022
__
Oy!
$Btc #Bitcoin pic.twitter.com/YEUvk639HA

— Cryptonite⚡ (@Teaching_Crypto) June 15, 2022
__
Aaah, these damn onions….
RIP #Bitcoin pic.twitter.com/xIXgWFkHDK

— Ryan Watkins (@RyanWatkins_) June 14, 2022
__
Ahahahah! So funny. Bottomed…
https://www.twitter.com/TraderSkew/status/1537036062803075073
__
Bye.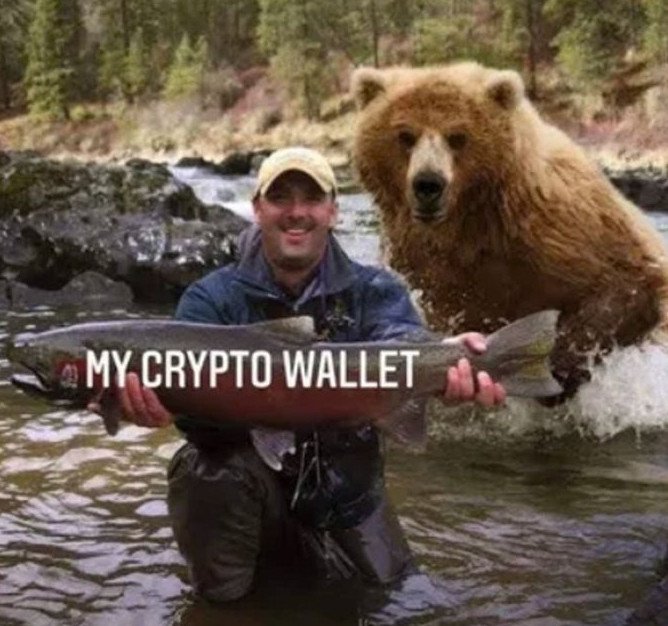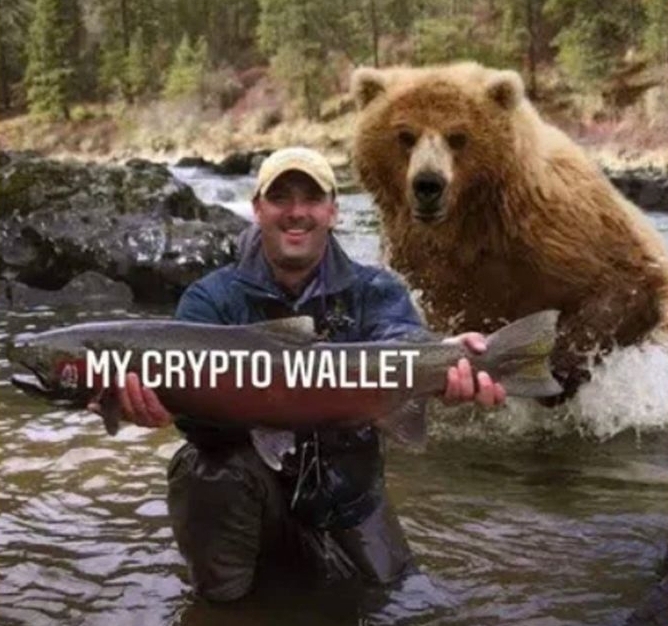 __
The problem you never knew you had is now fixed.
The perfect setup for crypto traders. pic.twitter.com/TXy3QKw98o

— Ben Sandofsky (@sandofsky) June 14, 2022
__
Let's use this opportunity to stack some sats!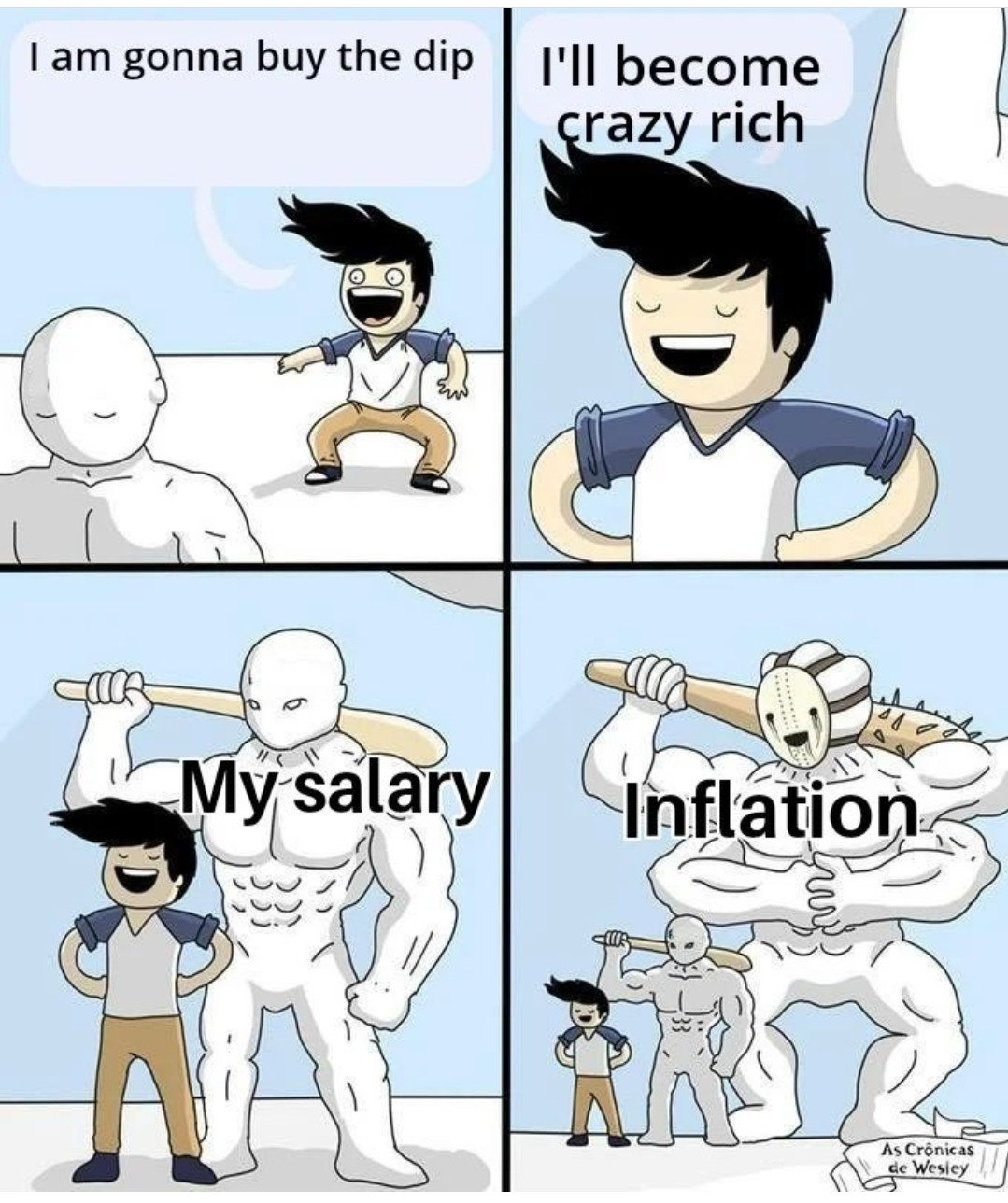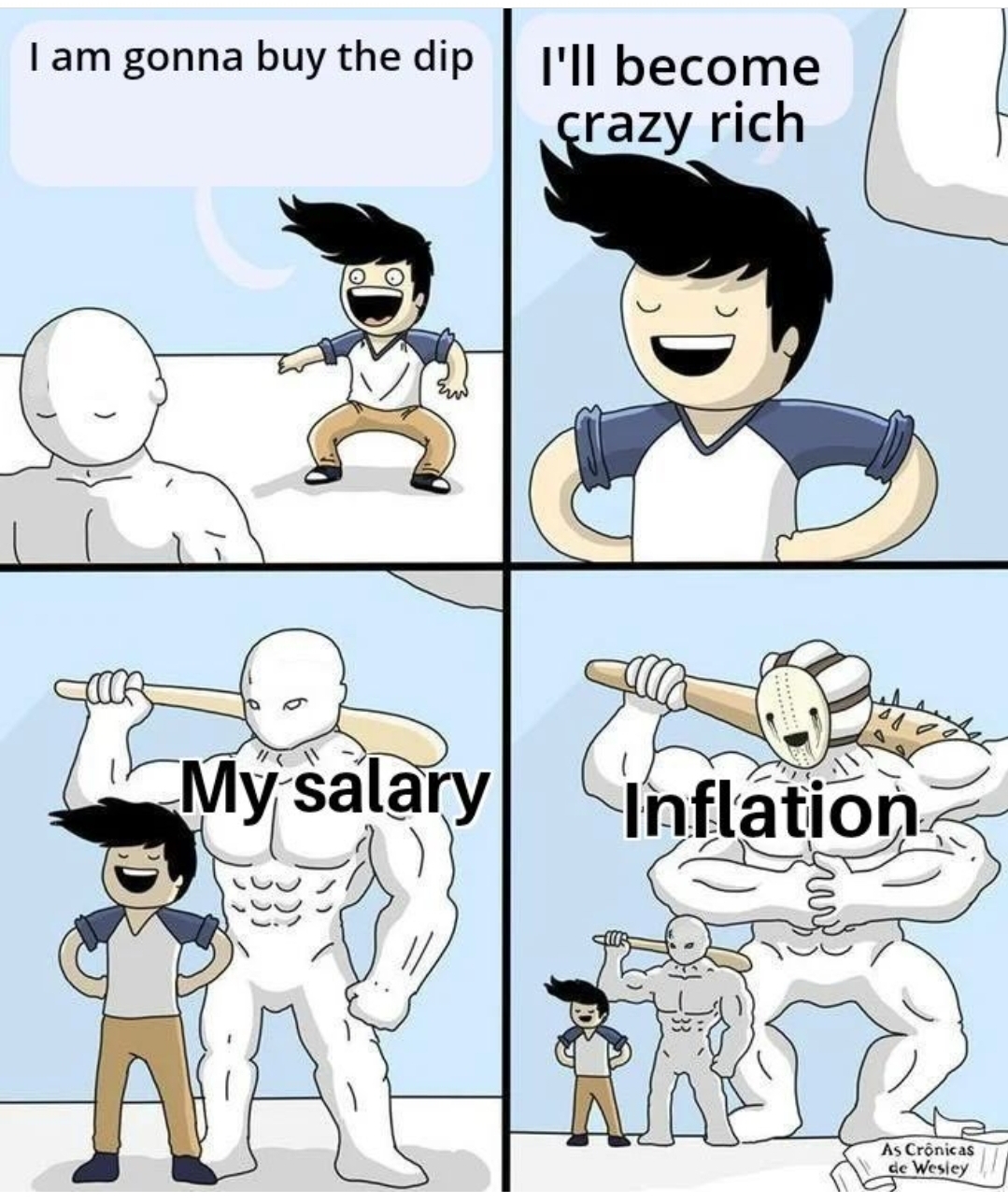 __
This one may be too optimistic.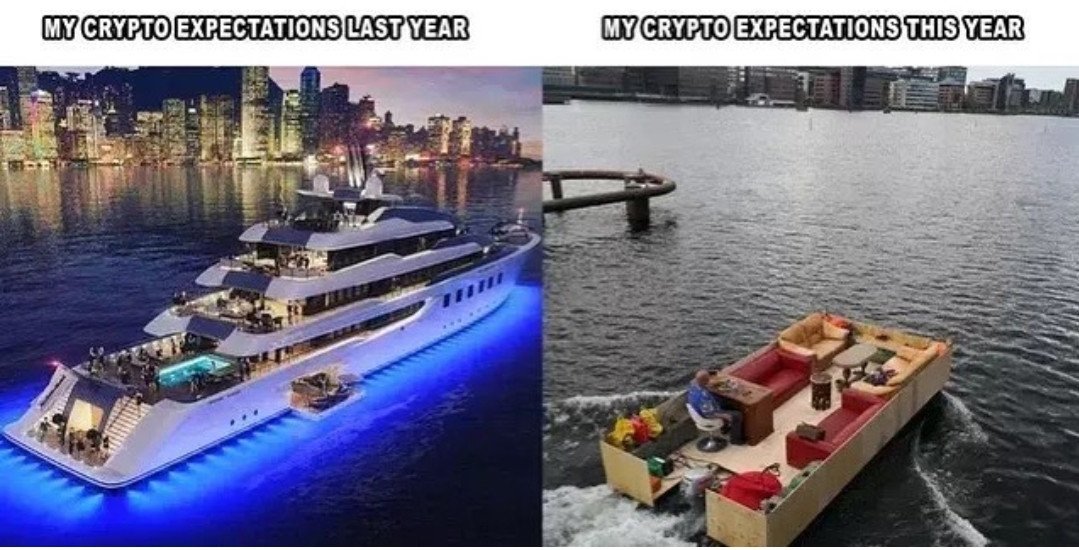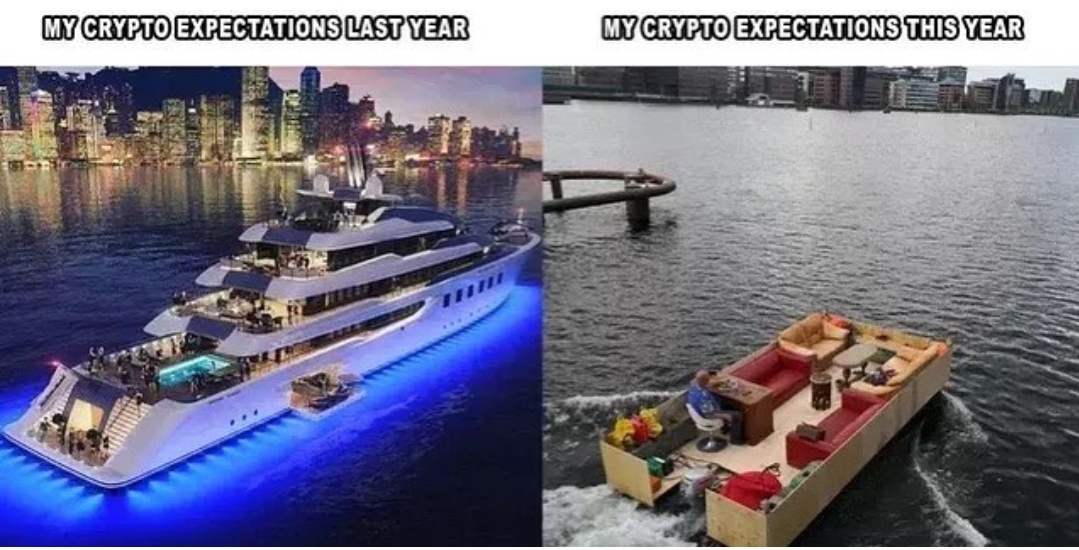 __
Expectations vs reality.
June 13, 2022
__
So, it's, like, economic crisis, you know… Inflation, man, I tell you, you wouldn't believe it…
June 11, 2022
__
Can a high-fiving-Brad be a sign? And if so – a sign of what?
> you log off twitter and close the charts because you can't watch it anymore

> ask yourself why you're still holding things like $XRP

> $BTC will come back but why so many shitcoins

>turn the game on to get your mind off of crypto

first thing you see: pic.twitter.com/l4gVeiy9Gh

— Luke Martin (@VentureCoinist) June 14, 2022
__
Here's a documentary on the crypto market in recent years with actual footage.
Crypto market be like pic.twitter.com/JzAibZThIZ

— Devchart 👨🏻‍💻 (@devchart) June 15, 2022
__
For the end, this is accidental but real footage of a crypto trader in the wild.
How we got here: pic.twitter.com/fQ0UG7CWwr

— greg (@greg16676935420) June 14, 2022
---