Jawad Ashraf, CEO of Virtua, on Different NFT Strategies Adopted by Brands and Creators | Ep. 201
Disclosure: Crypto is a high-risk asset class. This article is provided for informational purposes and does not constitute investment advice. By using this website, you agree to our terms and conditions. We may utilise affiliate links within our content, and receive commission.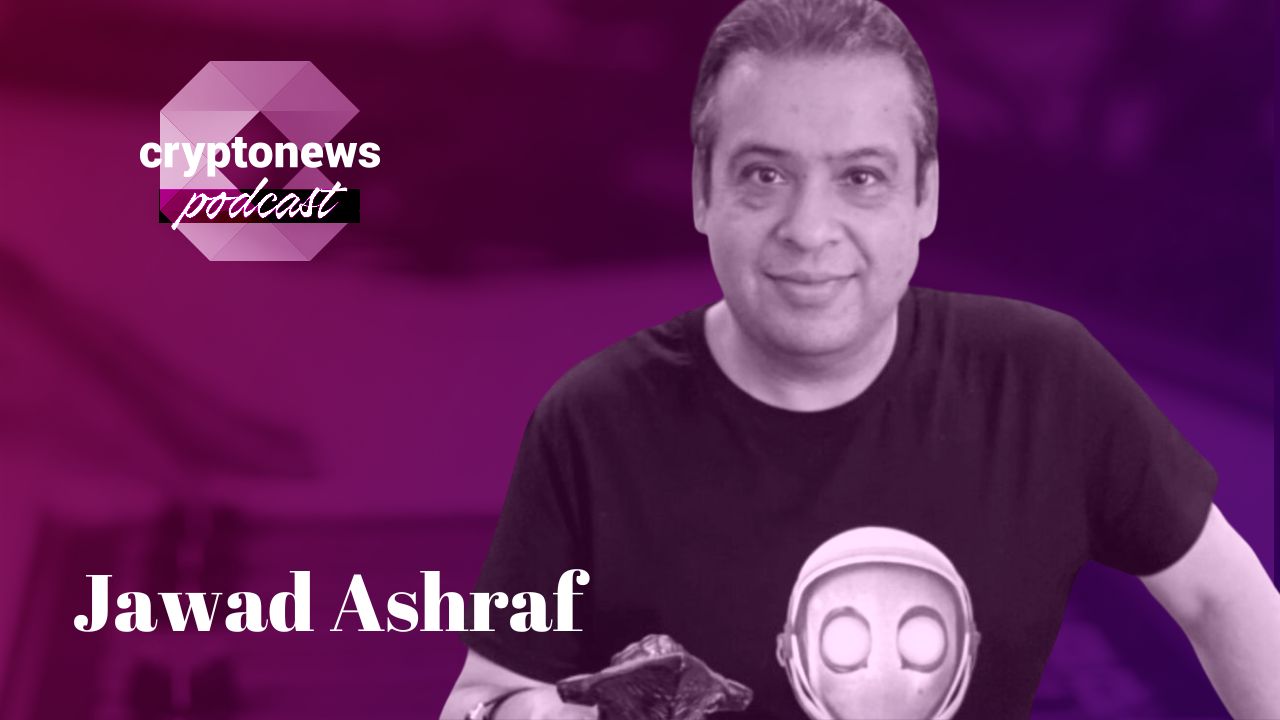 In an exclusive interview with cryptonews.com, Jawad Ashraf, CEO of Virtua, talks about the different NFT strategies adopted by brands and creators, and why he feels the metaverse is the next frontier for sports fan engagement.
About Jawad Ashraf
Jawad Ashraf is the CEO and Co-Founder of Virtua, a gamified metaverse that provides immersive social, web3 gaming, digital collectible, and interactive experiences. He is an entrepreneurial industry leader in blockchain technology, the metaverse, emerging tech, and innovation, as he's built a career-launching and leading multiple successful businesses.
Jawad Ashraf gave a wide-ranging exclusive interview which you can see below, and we are happy for you to use it for publication provided there is a credit to www.cryptonews.com.
Highlights Of The Interview
The Different NFT Strategies Adopted by Brands and Creators
Why he feels the metaverse is the next frontier for sports fan engagement
Metaverse partnerships Virtua has launched with the likes of Kevin Hart and Shelby America Inc.
Engaging with fans in virtual spaces and what the future of football fandom could look like
How complex is building a massive metaverse



Full Transcript Of The Interview
Matt Zahab
Ladies and gentlemen, welcome back to the Cryptonews Podcast. We are buzzing as always. Coming in hot from the Caribbean and today's guest is coming in hot from the one and only Dubai, where it seems that every crypto company has set up HQ right now. In the desert with Mars-like buildings. We'd love to see that today's guest is Jawad Ashraf, the CEO and Co-Founder of Virtua, the gamified Metaverse, which provides immersive social, Web3 Gaming, Digital Collectible and interactive experiences. Jawad is an entrepreneurial industry leader in Blockchain tech, the Metaverse emerging tech and innovation as he's built a career launching and leading multiple successful businesses. This guy is a true veteran with a proven track record. Jawad pumped to have you on man, how're you doing today?
Jawad Ashraf
I'm doing well. Thank you very much for having me.
Matt Zahab
It just been a hot minute. We've been trying to get this set up for a while and we do you guys have blown up. And it's for a good reason. I have so many questions super pumped to get into this. But I want to start with something sort of an overarching topic that is pretty trendy right now. And that is the different NFT strategies that can be adopted by brands and creators. There's tons of them, but you are an expert in this space, you've helped a bunch of them get in, you've also locked up some absolutely crazy partnerships with some huge names, which we will get into shortly. But walk me through how and what different NFT strategies can be adopted by brands and creators.
Jawad Ashraf
Well, basically, we believe from the beginning. So right at the beginning, we went for brands back in 2017. Because when you have a new technology platform, basically what you need is what you call the granite, the granny birches. So you need people who are basically buying something on the basis that they're familiar with it. So when you have got a new technology tends to be the brands initially become the familiar RTPs when now and then as the technology is more mature, you end up having things like brands want to do more innovative thing to actually start adding more return on investment for themselves. So if we look at early days of when we started, we went to Paramount Pictures, and we got Godfather and Top Gun and a bunch of other brands. And at that time, we were trying to explain to them what an NFT was no one had any idea what is a collectible was. So their understanding of what NFT was and how they could use it for any form of engagement was very different back that. And they will didn't really they understood the Digital Collectible. But it was just like the early days of movies, where everyone just wanted to have the old proprietary format and have the DVD experience for digital. So they all wanted walled gardens to start with, you know, they wanted an NFT, which wasn't NFT but couldn't be taken everywhere else and moved and sold. So that was one of the challenges of early days. But now if you look at brands, they're much more open to what they can do with their IPs. And so like, if you look at taking this on with Kevin Hart, so we did with a Kevin Hart, he did a drop, and he actually made many movies, which are like CGI movies. And the only way that you could view the movie for him as a brand was for someone to purchase the NFT show they have an wallet, and then they would have access to a Metaverse lounge room of the user zone where they couldn't watch the episode. So that's an interesting brand activation. What does that do? It gives something unique to his fans. It gives them a Metaverse experience and it also allows him to showcase something brand new. So that's like a brand activation. And when you do I love the mic so Ford Shelby, who were working with, it's like, if you've got there, here's the massive back catalog of cars. You could do something like have an NFT on a Shelby lucky unique trading set of cars, which are 3D models collect connected to call outs and then when you buy them, you can actually then go into use those cars in a game, right? Which is maybe driven by a lowball. You've got to do more than just stick to the here's the Metaverse, buy some land, because there's no active users go to platforms where you've got users, so Shelby will be NFTs, which would appeal to the fans and to crypto users, then link it into a mobile strategy where you can take those games and take those cards and use them in a game. And then ultimately take us through to a Metaverse garage where you can actually then have the trophies, your cars and your gamified pieces. So now all you're doing is you're stitching together three pieces that makes sense, which is dealing with mass market acquisition fan base, and the Metaverse. So that's our thinking, you know, like it's quite different to another Metaverse, companies that basically are just doing a lot of brand activations. But you got to deal with the users you're going to have utility you need to come into a Metaverse and want to do thousand things. And that's why Roblox has been insane the other night created Roblox experience, which are mini games, and they had millions of users come through and that's really what you need to do for brands now in crypto, a craze also need to think about while we're doing an NFT drop, what can we do which is exciting. You know, is there like access that can come with it? Is there a full membership that can come with it? Or is it just something really unique that's rare value. But what we've seen with a lot of, you know, the NFT market was like a lot of other markets that were new, even ecommerce, there was a lot of froth, there was a lot of garbage out there, there was a lot of people with no talent is buying and hoping for speculation. So craze now need to be good, and they need to be innovative. And they need to think outside the box, you know, think about how they're gonna use those Digital Assets to engage with their audience. Once they're engaged, they'll be with you forever, but just don't do a drop, and just hope is gonna sell is not going to. So those are a few angles to brands a craze and how at least I think that we should be able to work with them in this space.
Matt Zahab
I love the example you brought up with Shelby because they have such a vast and like historical IP collection. And it just sort of seems as backwards that we've launched so many NFTs as you know, crypto natives, where there's no IP, like, we're trying to create that IP, but it's like there are millions, maybe not millions, but there are thousands, tens of thousands of brands that have crazy IP collections. And it's just like, guys the party's here. All you got to do is jump in and make it happen.
Jawad Ashraf
Yeah, and cause its digital just, you know, back in the day, what did you do you bought like a car like a diecast model car and you collected it or you could just like race around with it. And then you had Skellig cribs kits where you can go and go ahead and play the cars and see a little trikes. Here we go. Everything's like the old digital now. Take your Shelby collect it, trade it but then reset. I learned once you've raced it burned something and then go to the Metaverse and use it to craft something like a paint job for your car. Or they craft it and bring it back to your game and make it something you can sell you create a look of engagement very much like we do with physical items that just doesn't exist right now in digital.
Matt Zahab
Another I guess you know, the Shelby example is somewhat intertwined a sports I guess you could say racing. I will. What am I saying somewhat racing is totally a sport. You in particular believe that the next sort of frontier for the Metaverse is sports fan engagement. You and I both sit in the same yacht in this regard. Sports teams are like they can ship and love that people have for sports teams are absolutely out of this world. Take myself for example, I'm a big hockey guy, the Toronto Maple Leafs right in Canada, we breathe and sleep live and bleed hockey. If Toronto Maple Leafs, our team, the biggest team in the NHL won the Stanley Cup, which is the championship the city would probably burn down like it would be mayhem. Like there's never been mayhem before. We haven't watched it in over 50 years. And sports fan engagement just absolutely crazy. Why do you feel like it is the next sort of pillar and next level of the Metaverse?
Jawad Ashraf
Because like, the engagement is there, the community is already rabid, you know, and, and when you talk about Metaverse, it actually opens up new forms of engagement with your fat, right? You've got community, which is a big part of what you're talking about, you know, its social community coming together. But you know, an eSports which that comes off the back of that, but you know, you can take your brand and you can do a lot more with it. So your sports you engage with a team? What if having an NFT give you certain access? Well, what if you are able to host five events, all of the things that are going on, you know, like Netflix to watch parties, but what if literally, as you scored a goal, you could like have NFTs or filters that are dropping in real time on for matches are happening, you know, there's all sorts of different opportunities based around the assets based on experiences, you know, why is sports so social, it's like, often it's like, you're getting your friends, you're getting with your family, you know, this stuff that you're doing, let's imagine if it was it was a match, and there was somebody scored a goal and you're there with your friends and you take a selfie, and that gets actually it becomes a photograph with some frame around it, whatever I like it's linked to the NFT. And then you go into that NFT, you go into collectibles, like 10 years from now and you're just typing with your finger or the photo comes up that why do you buy a t-shirt in a pop concert is because of the memory of being there. But now if you can bring in digital as well, and then you can have a much deeper experience but then you can do cooler things like you know bringing gaming opportunities with that, you know, I'm a fan but if I do this and this, I will own this which will allow me to engage with my brand better. It might provide me access or membership in ways I have, you know, there's so many wonderful things you can do with digital and you know, sports fans they were all about community engagement. And that's why we think it's really important. You know, trying to get someone who's a Shelby fan is going to be harder than getting someone who's a rabid sports fan to participate because they're already in it. Whereas a fan is very much or a product is very much an island on their own. They they've got an interest them I have some fellow people who are interested in it, but it's very much I think they do, you know, put them every minute on the water sports bands are talking about what happened. You can have hubs, you can replace the Metaverse when a match is happening and you got your avatars there, you're watching at the same time, different stuff is happening. NFTs are dropping, you're talking, you've got voice over IP. That's the exciting part. Because that community engagement drives you to come back for the next of it. But then if you bought an NFT, which is a collectible, would you want to, you wouldn't feel a rabid need to go and see the next match. But if you knew that experience of being there was there in the Metaverse, even if you're not there a person, you come back every time.
Matt Zahab
I think oh, it's very true. Speaking of sports and football, you guys sign Jesse Lingard, who is you know, not even up and coming. He's just he's an absolute stud he is a football star for our North American listeners a soccer star. But walk me through the conversations with him and his team like, what are their objections? What gets them going? Because like, it must have been, you know, it must have been a pretty gruesome process. And of course, there's tons of fud. There's tons of sort of, you know, shitty light that is shined on the Metaverse and NFT. So what does that conversation sound like and how do you get him and his team locked in for a partnership?
Jawad Ashraf
It's pretty similar with a lot of the other brands we talked about the ball, it's like, back in what happened initially, brands didn't already know what was going on. And they were not taking much money for their IP, then everything went batshit crazy. For the period of two years where people are paying insane money for brands. And what you'd find that a lot of really good brands, they were like, this isn't gonna work. But what are we going to do, we're going to take the $20 billion from these guys, and have it as an upfront, and it doesn't really matter about our fans, we've spent a chunk of money there are a lot of companies did that. But the likes of Jesse and his brand JLINGZ, it's like, they're about the fans. They're about eSports. They're an exciting young brand, they want to do cool stuff. And so when we talk to an IP, we don't say, oh, you know, we're gonna be this massive amount up front and we're going to do this and this, we say, look, the Metaverse this opportunity, let's this is a brand program we think we can do together, let's build, put some skin in the game, let's work on it, and let's make it happen. And if they think like that, they think he like us, in which case, we bought mobile. And that's a conversation is really love, like the 50 conversations that normally have, which are like, we'll give you this and we're going to offer you the world we don't know it's gonna be hard. We need to work together, we need you to work with us, let's come some really good stuff. But let's focus on what's gonna make your fans love what you're doing. Because if they love what you're doing, you're gonna get a gauge with that you will end up making exactly the experience you want. And that will lead in itself to more revenue, more incomes, more engagement, which is what they want. So up, our whole approach is relatively bolshie in that regard, and that we're going to how far we've done it, you that's not going to work for you. And if we're going to put time and effort into you, let's work together and you need to work with us and, and the people who get it are the people we love working with. I mean, Jesse's, like super cool is really up to his brand. He's really to the eSports you know, he's got an exciting, engaged fan base. And that's what we want to do. You know, I let why we've not done for multiple people in that space because we also want him to be the basis of a Metaverse Football League. You know, we will have Lindgardians as NFTs, we want to generate projects based around, we really want to go to town on what we can do in terms of creativity. And that's what we want with us when we talk about my brands. It's not about listing IP dropped based on your footballs this agenda, footballs. Let's have generative avatars, little mini games released on App Stores, which tie into the Metaverse stuff and let's have a Lingard district in our city, will the fans come hang out? You know, that's the sort of thing that we do. And if they get enough, you know of that excitement that the one that go ahead and do something like that, then we're on it. And it means that they're on it. And that's the conversation that we'd have.
Matt Zahab
And I'm sure the whole you know your brand plus our expertise, like, again, even the videos you've asked you guys have created the teaser videos. The Metaverse itself like your team is absolutely bananas. Like you guys have a rockstar team. I hate the term rockstar but you guys have a truly good team and when they see when they see the content that you guys put out, they're probably a okay, this is probably going to be a good fit for us because the possibilities are almost infinite. You know what I mean.
Jawad Ashraf
Yeah, I'm not just that, you know, it's a tech, it's a team, it's a graphics, a whole lot of experience, you know, we're going to lower people who have a lot experience working with sports brands work with IPS. Even my Co-Founder, Gary Bracey, you know, he was a guy who was used to license all the video games, for movies. So he will have the first video game that sold over a million units based upon a movie IP Robocop . You know, we've done generations of this sort of stuff. And that helps as well, because experience is important. And you know, like you talked about fired and you talk to our froth, you know, that, again, helps us because we're like, look, we've done this here. And you know, if we talk about mobile activations, that the company I had, before I did with Virtua, we went from zero to 24 million downloads within nine months, or for mobile games. So we know how to market to mobile. So a lot of those things.
Matt Zahab
Jawad, you can't just bring that up and not tell the story. How did you make that happen?
Jawad Ashraf
It's not that, mobile, him soon must have a timing. And at the bottom, a lot of the role of the mobile thing was about cross taking your audience from one mobile game to another mobile game. So we did that in a very short amount of time. But if we look to our past experiences, lots of colorful ones without that was once before Virtua. And what I did stream after that, I actually set up a VR company in parallel for a year to try to get market data. Because VR is a big piece of where we want to go. But we start in the markets ready for VR we haven't ever released a VR pieces. But we actually set up a VR company just to look at how people use VR. And what the market size actually is. Because you weren't getting information from the browse. You know, you'd Facebook would never give you anything. So or Google or see them with a Samsung had their stuff on the phone. So yeah, I mean, there's a lot of things that led up to virtual you know, we were big in VR. We did a whole bunch of VR games. We did tons of mobile games and all of that slab feeding acquisition strategy, then a brand strategy now for our Metaverse because I'm a firm believer that Virtua is like Web2.5 Metaverse. You know, I want to bring into every mobile game, but every Web2 game and give them an advantage as Web3, and then giving Web3 companies, the audience that they don't have, you know, your bringing the users from this side, and then you get audience to this side. But when you talk to a game that's being integrated, that will participate in the Lingard activation. You've got great football game, bring it in, don't worry about the NFTs and Metaverse. It's a persistent virtual world and it's DLCs and then you speak the language the other side. But it's a key part of our strategy bring people in from Web2 make virtual the Web2.5 gaming Metaverse and gaming is bigger than movies and music combined that's where you start.
Matt Zahab
Crazy. Jawad, you're on a roll. We're gonna take a quick break and when we get back we are going to talk about Virtua's founding story which is an absolute treat and rituals plans for 2023 and beyond. But before we do that, we got to have a huge shout out to our sponsor the show and that is PrimeXBT. We love PrimeXBT at Cryptonews. We have been longtime friends with their team, as they offer a robust trading system for both beginners and professional traders. It doesn't matter if you're a rookie or event you can easily design and customize your layouts and widgets to best fit your trading style. PrimeXBT is also running an exclusive promo for listeners of the Cryptonews Podcast. After making your first deposit, you get 50% of that first deposit credited to your trading account. The promo code is CRYPTONEWS50, again, that's CRYPTONEWS50, all one word to receive 50% of your deposit credited to your trading account. And now back to the show with Jawad. Mate, the founding story. It's a good one. You got it to yourself.
Jawad Ashraf
Okay, yeah. So basically what happened was that the other VR company, the mobile company, and basically I was trying to figure out exactly what was going to be the next day I was interested in crypto. And then what I tried to do was tie everything together. And as I was doing that, I went ahead and got Gary Bracey involved. Gary was like a guy who was absolutely brilliant in video gaming. And then, essentially, I managed to catch him for a coffee, leaving Dubai, and just done a brain dump on what I thought Virtua could be. And then all of a sudden, we had it, you know, within a week, we had a Virtua week gone so well. And when we've started building our running the business, getting the right people on board, it really was one of those things we used to meet a co-founder and you really click and then all of a sudden happened.
Matt Zahab
What are some of the qualities or again, it's tough to talk about like vibes, I'm sure the vibes are off the charts and your gut was just telling you, this was the guy, this is the man. But like if you could sort of depict that in a couple of qualities, perhaps even quantitative, if you could, what is in your eyes, what is a good founder, founding team was that sound like was that look like.
Jawad Ashraf
You get a lot, they've got to get all, they've got to have fun. Yeah. And they've got to have grit. And understand that it's not about the initial idea, but they need to see through, it's about 10% inspiration and 90% perspiration was absolutely, exactly what it's all about. So that's really what we focused on. And I think if you've got a failure, you're gonna have a lot of fun. And they've altered the qualities and the track record, and you're gonna build something good. But, you know, we went through that the first year where we were basically barely, we weren't paying ourselves at all, you know, not, and we just worked, you know, so you have to have that sort of mentality. How you can just get through it.
Matt Zahab
Was setting up camp in Dubai just an absolute no brainer?
Jawad Ashraf
Well, thing is I was already here. I've been there for 17 years. So I moved out a long time ago. So it really is a UK based company, we based camp center in Dubai, but it's a UK company. And a lot of our staff were from the UK.
Matt Zahab
So you've seen the whole city just explode in the last two decades.
Jawad Ashraf
Early has exploded, it's been wonderful to be here. And all the way through is to be crazy.
Matt Zahab
Do you ever think it would get to where it is today?
Jawad Ashraf
Yeah, well, yes. You know, if a police had to buy puts a mind to it, they'll just get it out, you know, they decided they want to send someone to Mars, they'll do it, you know, they want to build the biggest building in the world, they'll do it, they want to be the leaders in crypto and have regulation happen overnight, they'll find a way to do it. So I've seen enough times for them just to put their mind to it. Literally say we want to get here. We don't have we're gonna do it, but we're gonna do it, or at least put all the resources in to make it happen. It's insane. That's how that works.
Matt Zahab
They move like a startup like literally they break things quickly and move at lightning speed. It's crazy. I was there for I want to say two weeks back in 2021. And I saw three floors of a building go up. And in North America, that would take three months.
Jawad Ashraf
Probably the biggest thing was when they decided to build a metro system. Within two, three years that built entire metro system for the entire city with over 30 different metro stops underground, we're going to live it out. In two years, I've had it running. And it's one of the best in the world. I mean, they want to get things done their world. And I think they're really putting everything behind getting regulation or making sure the regulations tight. And that framework is exportable to other countries in the world at 30. And again to lead in regulation to have it done, make it a comfortable place to make crypto work, not be frightened of the opportunities or not be afraid of what he takes away from other businesses but more about what he can bring to everybody else. And that is sort of the mantra here. It's a young city, there's a great vibe and like everyone's here, I mean, everyone said I mean CEOs of so many other crypto companies. And even where we are here in Dubai right there. It's a beautiful view by the ocean. And you know, half the crypto companies has come to us and we talk all the time.
Matt Zahab
That is a treat. I got to get down there again. Jawad. This has been an absolute pleasure, man. Couple more questions, and we will wrap up here. Your Metaverse is crazy. It is complex. But the thing that baffles me and this is perhaps my lack of, you know, currently just crazy creativity. But where do you even get started? Like, how do you design? How do you start it? How do you finish it? Like walk me through the process? How complex is a building a massive Metaverse like yours?
Jawad Ashraf
It's insane. I mean, like, if I look if I give you an example, like 2023, we've got like seven main pillars of development that we're going to be doing is skirt like what are the things that we're going to work on as projects to run things in parallel. So the games API's that will allow games developers to come in that's one thread, then there's creating multiple games in the house mobile, that's another thread. Then there's all the Metaverse, cribs and spaces that you're going to have evolving what we've done already, that's another thread. Then you've got another one, which might be the RTS view, you'd like to look at it like command and conquer from above to navigate, and then jump into 3D spaces. That's another one. So you work out what you start with a strategic thing, what are the five things we want to achieve for the year, then what tech is going to feed that and experiencing the feeder for the users? And then we've drilled it down to the multiple channels of what you need to do. And we sort of done that from the beginning. How are we going to get from here to the first verse of the Metaverse when we need to bring in users we need to get rid of wallets we need to go ahead and just make it really seamless and use clear credit cards. So we had that from day one when we launched all the way to the point where NFT is when craziness Okay, now we want to do this. No, we're not going to sell something for like a million dollars, we're going to keep on selling $10, $20 items for the mass market, because that's what we want to do acquire users for the next phase. So we had a very much a 3-4 year plan mapped out and every year you course correct, but like we've always thought often is an exponential sort of growth business, as opposed to because it's much better Metaverse gonna be one of the biggest things in the entire world. You know, it's going to be the next place you hang out and it's going to be more than just an NFT. And NFT is going to be part of it. The way that it was arriving is Metaverse is your house and your NFT is all the stuff in it to you that regularly uses that. And that's what we do. We map it all out. And it's complex. But you know, it's so much fun. We enjoy it so much. And we got some great people. And the management team so tight, we've known each other for years. And it's really much a family environment. And we have a lot of fun with it. And that's really key to it. Everyone brings something to the table, and we sort of steer in pushing them out. But it has to be really laser focused on user acquisition, engagement, growth, we target to the end of each year, because that's what a lot of companies didn't have in this space. They just were very opportunistic. And that didn't help them at all.
Matt Zahab
Jawad why this is again, treat man. Couple of rapid-fire questions here. You're a seasoned exec. You founded multiple companies, what's your favorite interview question? You gotta have one that you love thrown at the candidate.
Jawad Ashraf
My favorite interview question? Well, I tend to do a lot of interviews with me tends to be a lot of gap. But generally, there tends to be, you know, what excites you the most about what you're going to bring into the company. How are you going to make some change for us? Because everyone who comes in should bring in some pizzazz. So what can you do for it? What do you think was screwing up, there was some sort of a kind of come up with.
Matt Zahab
That takes us out of Kahunas to answer that question properly. The hot take what's something that Jawad believes in most other people don't. Doesn't have to be crypto or business, can be sports, politics, food, you name it, space VR, AR, give me a hot take, or a couple. I'm sure you got a bunch locked and loaded.
Jawad Ashraf
I mean, like, what do I think is very cool. I mean, for me, what I think is really important is impact on what we do. It's all threaded into all our business. And like a lot of people already focused on, you know, yeah, it's like an aside on what you're trying to achieve in the company. But like, for example, with, even though we don't talk about it, we're doing like a lot of Metaverse stuff based around education, which is very dear to me. So like, we've already done a thing with one of the schools here. So basically, a lot of schools pair with other places like the poor or the places that contribute towards anyone like, you know, like a charity basket every year. But what if those schools that in the Metaverse had access to the same teachers and could have some of the same classes for free? So that's sort of the you know, and we got another thing based around therapy and mental health in the Metaverse and motronic plugin psychiatrists and therapists do. So another the stuff that I think is important is stuff that isn't that important to our people, which is impact for the sake of impact. But I think we can do really wonderful things with Metaverse till I level up the playing field. And that's something that's quite dear to me and a lot of our company, which may not be necessarily the thing that other people care about, you know, the decision about how much they can make for the next thing, and especially in new markets like this charity, and the impact of the what the Metaverse is going to do for mental health people to get and for me, that's something very dear. And it's somebody that very quietly we're doing a lot of work on. But it's totally business won't talk about it.
Matt Zahab
When you think the Metaverse is going to pop off what year 2023. Right now, obviously, how far away we are 2024 2025 later than that?
Jawad Ashraf
Are they 2024 is going to pop as soon as you find a company that can show that can drive users to it, then everything's going to change and that's what we're trying to do this year. The second you can show you can have more than 10 million people see the Metaverse actively engaged. Everything will change. Everyone will move.
Matt Zahab
Floodgates will open.
Jawad Ashraf
Well, it's like Tesla. Yeah, look at Tesla, the second day prove the model. It changed entire market and I think that's exactly what's gonna happen with Metaverse the but I think a lot of stuff is gonna fall to the wayside because they're gonna realize that 10,000 DIU is not going to cut it.
Matt Zahab
Yeah, you need it's like any other game you need. You need the mass market in there. Gaming is for the people not for the individuals but Joe out what a treat man. This was truly a treat. I learned a ton and I'm sure our listeners are going to love this before you go can you please let our listeners know where they can find you and Virtua online and on socials.
Jawad Ashraf
Just go to virtua.com and go check all the links down there. Join us on our Discord and Telegram that's what you need to do.
Matt Zahab
What about you got to plug yourself.
Jawad Ashraf
Oh, I'm there you know it's funny in Discord you can just DM me, you know nothing's blocked come into Discord you wanna chat, come on over and chat.
Matt Zahab
Love that. Jawad what a treat man, appreciate it, very pumped for you in the team, can't wait for round two. But until then all the best and we will talk soon my friend. Folks what an episode with Jawad, he brought the noise a seasoned exec very pumped for what happened the team at Virtua, up for tour if you haven't checked them out please do check them out. I will include everything in the show notes as always, and to the listeners thank you as always appreciate you more than you know. To the team love you guys. Justas my amazing sound editor, appreciate you and to the listeners. Again. Keep growing those bags. Keep on staying healthy, wealthy and happy. Keep on doing your thing. We'll chat soon all the best bye for now.
---