Is It Too Late to Buy Terra Luna Classic? Crypto Experts Give Their LUNC Predictions
Disclosure: Crypto is a high-risk asset class. This article is provided for informational purposes and does not constitute investment advice. By using this website, you agree to our terms and conditions. We may utilise affiliate links within our content, and receive commission.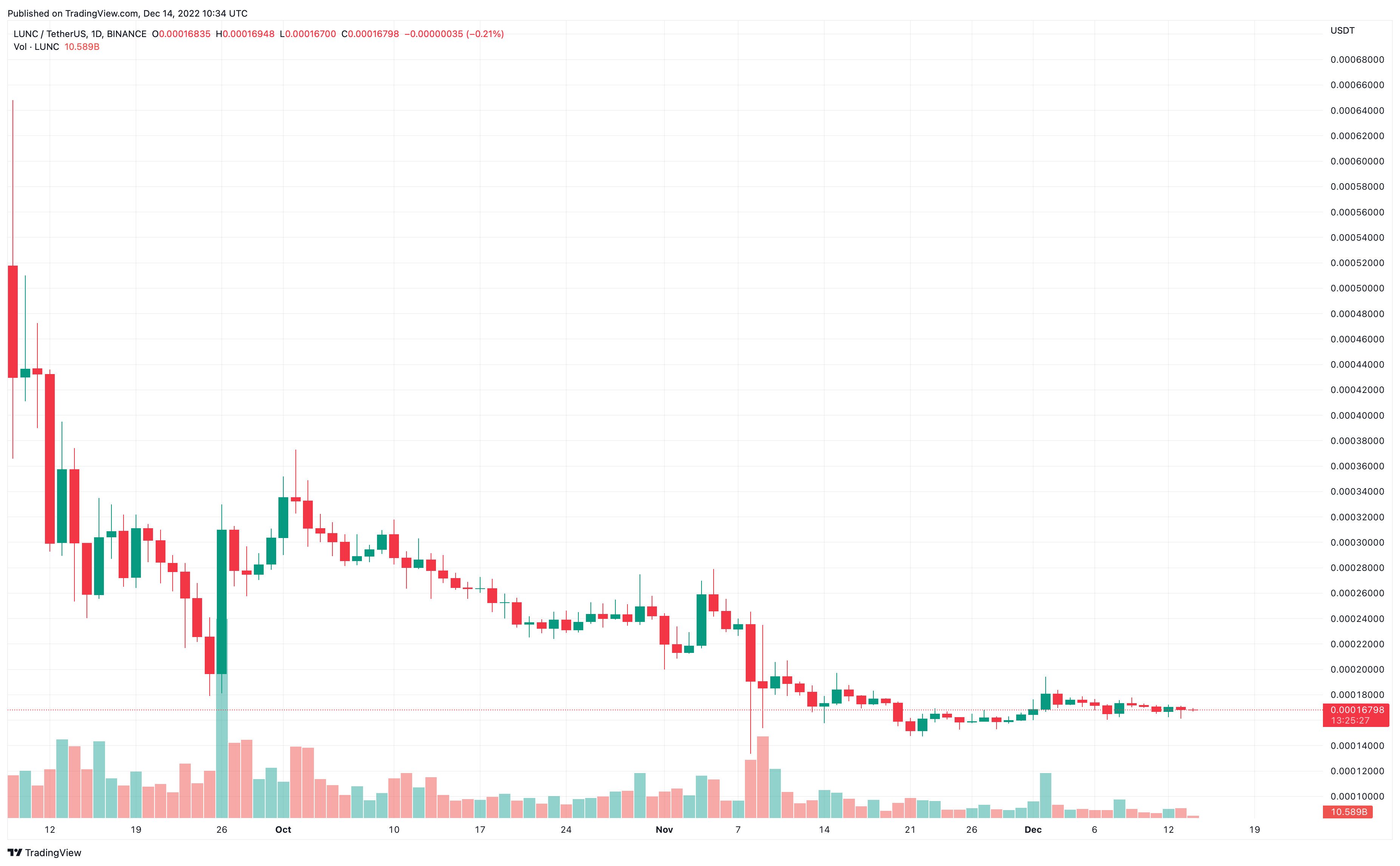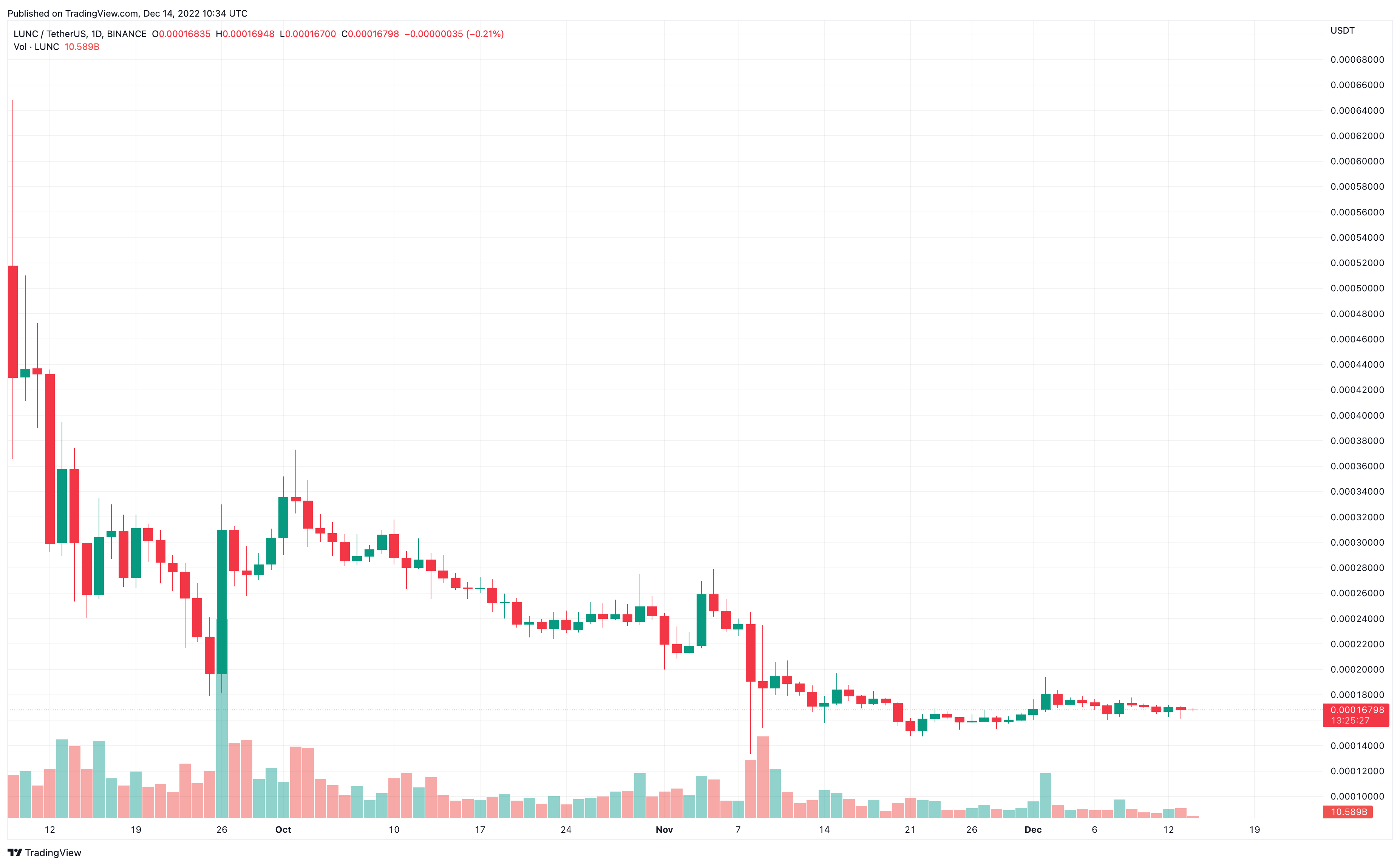 The LUNC price has risen by 1% in the past 24 hours, reaching $0.00016802 as the wider cryptocurrency market enjoys a 3% bounce after several days of negativity. Its current price represents a 2% decline in a week, but a 5% gain in the last 14 days.
LUNC's recent price action follows a period of relative turbulence for the Terra Luna Classic community, which has debated a variety of changes and updates aimed at growing its ecosystem, which suffered massively following the Terra collapse in May. However, assuming that approved changes can help to kickstart development and attract new users, there remains a probability that LUNC will enjoy some substantial gains in the not-too-distant future.
Is It Too Late to Buy Terra Luna Classic? Crypto Experts Give Their LUNC Predictions
LUNC's indicators don't paint an entirely bullish picture at the moment, with its relative strength index (purple) dropping below 50 in the past few hours, suggesting an increase in selling pressure. Likewise, its 30-day moving average (red) has fallen below its 200-day average (blue) in the past couple of days, something which indicates a negative reversal.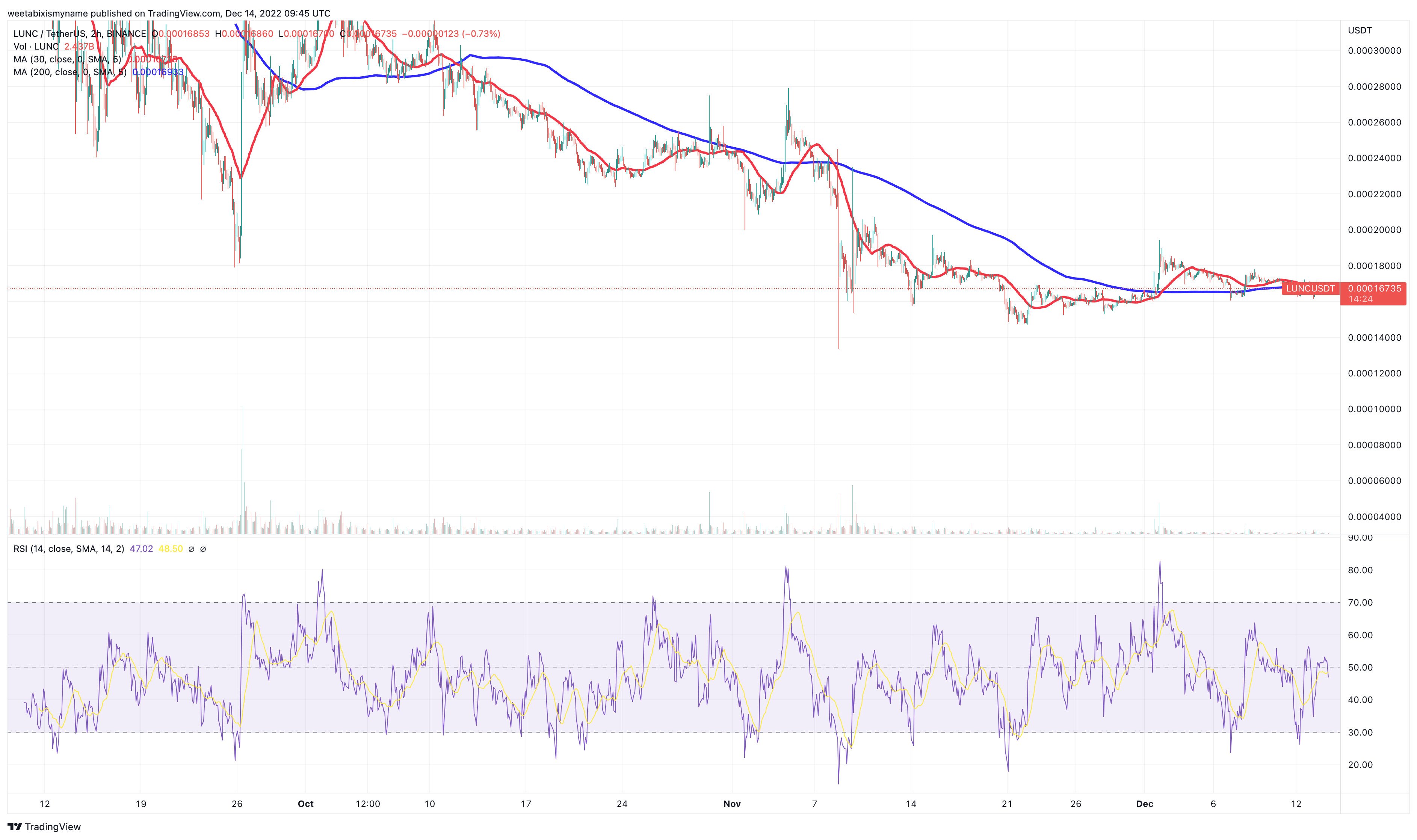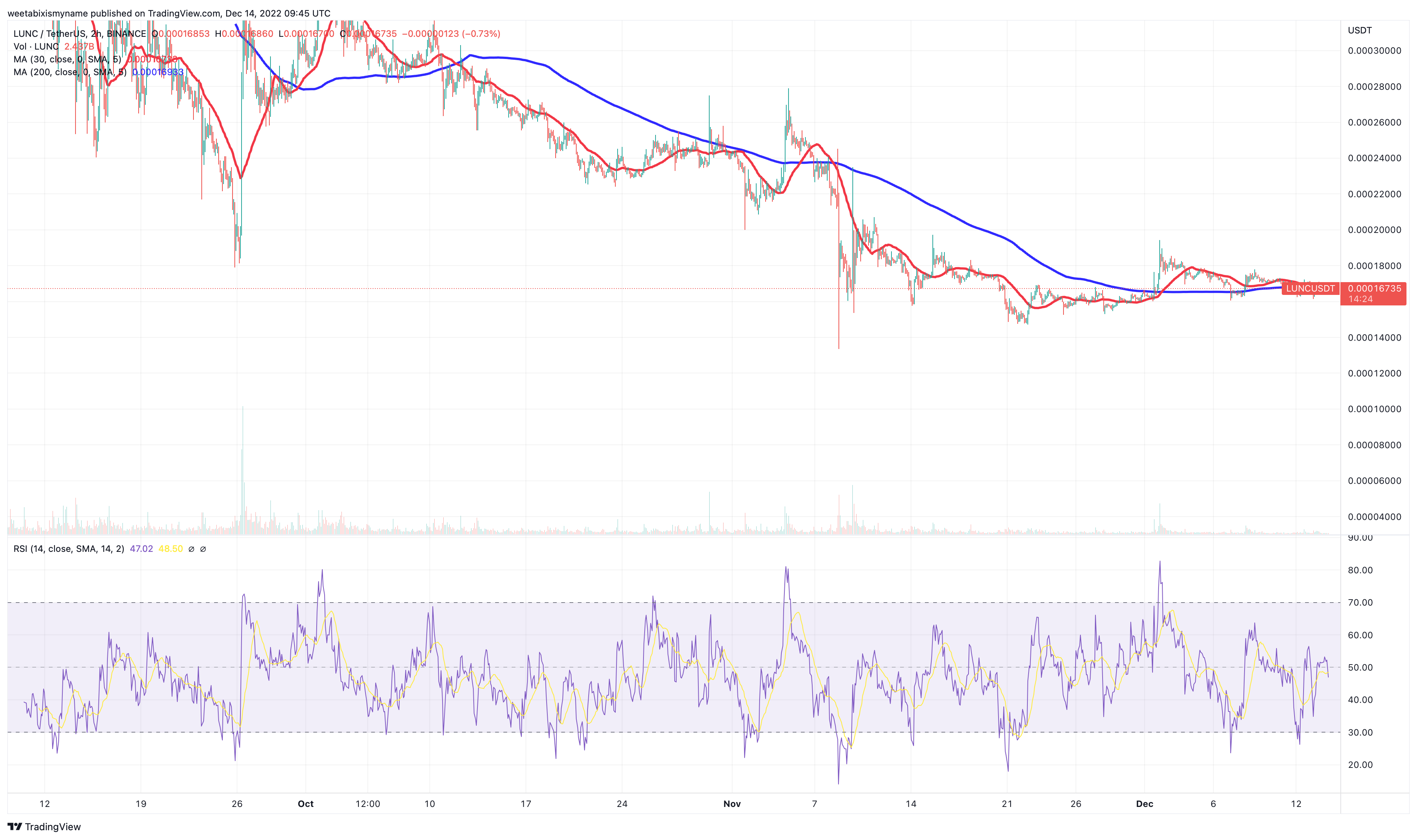 In other words, LUNC is currently in the middle of a short-term dip. Nonetheless, this dip may bottom soon, heralding a return to growth.
Looking at the bigger picture, more than a few people within the Terra Luna Classic (and wider crypto) community believe that LUNC has significant price increases in store. And as far as LUNC holders themselves go, one particular price target they tend to rally around is $1.
$LUNC will hit $1 because we are backed by the #1 exchange in the world.

Shoutout to #Binance pic.twitter.com/DqqYsq1KNN

— 🔥LUNC Classic 🔥🔥🌓 (@Nft_market101) December 11, 2022
Other members of the Terra Luna Classic community have put forward less ambitious predictions, given that LUNC remains at $0.000168. Luna Classic HQ, for example, proposed a target for the end of the year of $0.0045, something which would imply a 2,500% gain in the next couple of weeks.
$0.0045

— LunaClassic HQ 🌕 ™ (@LunaClassicHQ) September 8, 2022
As for actual experts who aren't wedded to any one particular coin, Crypto Twitter and Telegram analyst Il Capo Of Crypto has repeatedly warned over the past few months that LUNC is headed for a collapse, having had a brief (but ultimately unsustainable) flurry in September.
And probably just starting. You were warned.$LUNC https://t.co/CeGDrUuPUU pic.twitter.com/9oVwLwWa4U

— il Capo Of Crypto (@CryptoCapo_) September 12, 2022
Needless to say, LUNC supporters will dispute such a claim, even if it is 69.5% down from $0.00055183, the high it recorded in early September. They will point to ongoing token burns, with Binance revealing that it burned 6.4 billion LUNC in the past month alone, with the overall burn count now standing at 35.8 billion.
It's worth pointing out that the total circulating supply of LUNC remains as high as 6.87 trillion, meaning the Terra Luna Classic community has a very, very long way to go if it wants to support the altcoin's price in any meaningful way. Given its huge supply, some people have begun calling for a massive token burn of almost 6 trillion LUNC.
$LUNC could be $1 tomorrow, all we have to do is burn 5.9 trillions coins.

Devs fix $LUNC to $1.

— Levi (@LeviRietveld) December 12, 2022
However, based on recent governance issues, it's unlikely that a consensus will quickly emerge for such large-scale burning of LUNC tokens.
For example, a recent proposal to send half of the 0.2% on-chain burn to a community pool for developers attracted plenty of disagreement and disapproval. The idea behind the update was to fund more Terra Luna Classic network development so that LUNC could offer growing utility as well as a gradually shrinking supply.
Despite the proposal's underlying logic, some community members believe this change will merely keep more LUNC in circulation, thereby undermining the effort to reduce supply and boost the altcoin's price.
What I expect if proposal 10983 goes through is some groups will say now that the community pool is so large let's find a way to spend it.

Groups will jump to 'claim how desperate they need it', with promises of massive change.

This proposal is creating a spend /claim need.

— Rexyz (@RexYellerBelly) December 4, 2022
This conflict underlines the big differences that exist within the Terra Luna Classic community. Much the same also applied to an earlier proposal regarding a 'merge' with Terra 2.0, which set out to enable LUNC holders to swap the coin for the newer LUNA.
" $LUNC and $LUNA merge is bad!"

Said the rat as he crawled into his sewer and ate moldy cheese.

— Levi (@LeviRietveld) December 12, 2022
Regardless of specific outcomes on governance votes, the disagreement over recent proposals reveals the extent to which the Terra Luna Classic community is divided over how best to reboot the network and support LUNC's price. As such, it certainly isn't a given that LUNC will ever return to $1, let alone $10 or $100 (as some have publicly hoped for).
Even with a rally to $1, this would require an increase of close to 600,000% over LUNC's current price. As for $10, this would mean a surge of about 5,800,000%.
The improbability of such gains is underscored by the fact that, at the peak of its rally in early September (when the tax burn was first announced), LUNC improved on its all-time low by 'only' 51,000%. It's now only 16,700% up from this low, signaling just how ambitious a gain of 600,000% is.
More Promising Altcoins
Given that LUNC holders may be waiting a very long time for the altcoin to return to something approaching its former level, traders may prefer to consider newer altcoins with better short-term prospects.
In particular, presale coins have had a very strong 2022, despite the bear market. For instance, Tamadoge (TAMA) rose by as much as 1,800% after listing on OKX in October, while Lucky Block (LBLOCK) and Battle Infinity (IBAT) witnessed increases as high as 6,000% and 3000% earlier this year, compared to initial presale prices of $0.00015.
The opportunity to buy these three coins at the earliest possible juncture has now passed, yet the three coins below are still holding their respective presales. They each boast solid fundamentals and experienced teams, providing them with the core ingredients necessary to be successful once they list and beyond.
Dash 2 Trade (D2T) – Presale enters final stage
Running on the Ethereum blockchain, Dash 2 Trade is a trading intelligence platform that offers investors real-time analytics and social trading data, helping them make more informed trading decisions. It will go live in early 2023, with its D2T token being used to pay for the monthly subscription fees to its platform.
Dash 2 Trade's presale has already raised more than $9.7 million and is now in its fourth — and final — stage. This gives early investors a limited window of opportunity to grab some D2T before it lists on Uniswap, BitMart and LBANK Exchange, with more trading platforms set to confirm support in the coming weeks.
Calvaria (RIA)
Calvaria (RIA) is a blockchain-based game in which players can collect, trade and do battle with NFT-based cards. In addition to its play-to-earn features, it will also enable users to play it without holding any cryptocurrency, something which could make it accessible to a wide audience.
RIA will be used within its ecosystem for purchasing in-game items and for staking, giving it a strong use case. The presale for the token has raised a little over $2.4 million and is currently in its fifth stage, with 1 USDT buying 30.77 RIA.

Visit Calvaria Now
RobotEra (TARO)
Also running on Ethereum, RobotEra (TARO) is a Sandbox-style Metaverse that will enable gamers to play as robots and help create its virtual world. This will include creating NFT-based land, buildings, and other in-game items, while the game also has the aim of letting players link up with other metaverses and create an interoperable multi-verse.
1 TARO is currently selling for 0.020 USDT (it can be bought using either USDT or ETH), although this price will rise to $0.025 in the second stage of its presale. It has already raised over half a million dollars.

Visit RobotEra Now
---