How Crypto Philanthropists are Helping Themselves and the Cryptoverse
Such philanthropy has the long-term aim of installing the framework for crypto to be used on a more permanent basis. Organizations are aiming to create a "holistic" system for using cryptocurrency.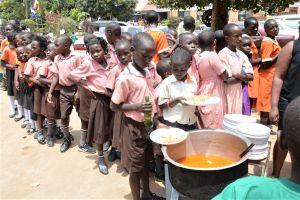 From crypto exchanges Binance and Coinbase to blockchain startup Ripple and cryptocurrency Zcoin, numerous actors within crypto have recently been turning to charity. More importantly, they've been finding that cryptocurrency is an ideal vehicle for philanthropy, given that it cuts out the administrative costs (and occasional corruption) that can drain away at funds.
But while charity is already proving to be a promising means of driving adoption of cryptocurrency, it's also clear that more general adoption will be needed before the full potential of crypto-philanthropy can be unleashed.
A sustainable and holistic system
Last July, Binance established its very own Binance Charity Foundation (BCF). And in February, the new Foundation launched a "Lunch for Children Program" in Uganda, which will provide two daily meals for school children in the city of Kampala until the end of 2019.
Funding for these meals comes via cryptocurrency donations sent to the cryptocurrency wallets of the pupils' parents, who then transfer the necessary crypto to the suppliers of the meals. In the particular case of the Uganda program, this donation (worth USD 24,000) has been supplied by Zcoin, which tells Cryptonews.com that such philanthropy has the long-term aim of installing the framework for crypto to be used on a more permanent basis.
"BCF's program is not just about a one-off donation but rather, about providing a sustainable and holistic system for the funds to be used," says Zcoin Chief Operating Officer Reuben Yap. "For guardians of each student, this means that they'll have an easy-to-use digital wallet to help them receive and spend funds on lunches. For merchants, this means that they'll have an easy way to accept the funds and convert them on Binance's exchange."
As Yap adds, the program teaches locals how to set up and use their own wallets, thereby creating a "full loop that incentivises the next generation to stay in school and get educated while benefiting the surrounding community."
Another player that wants to develop the links between crypto and charity is Coinbase Chief Executive Officer Brian Armstrong. Armstrong launched GiveCrypto in July 2018, creating a charity fund that would donate directly to needy individuals, and that has so far donated cryptocurrency worth USD 4,851 to 567 Venezuelans, for example.
There's also Ripple, which has set up two separate funds: Rippleworks and Ripple for Good. Rippleworks is focused more on funding entrepreneurs and startups, yet Ripple for Good – launched in September – is focused on expanding financial inclusion.
Banking and corruption
By focusing on the un- and underbanked populations of the world, organizations like Ripple for Good and BCF are hoping to bring these populations into crypto by providing them with their first chance to actually have some kind of banking account.
"According to the WorldBank, more than 2 billion people worldwide are unbanked and most of them come from developing countries due to inability to opening and maintaining bank accounts," BCF's Trang Trang explains to Cryptonews.com.
"With the advantages of blockchain technology, crypto charity brings people in emerging countries access to the financial system with zero fees. Also, it helps distribute money to people in need in emerging markets, sparks economic growth in those regions and creates local crypto economies."
In other words, charity is a way for crypto to install itself within emerging markets, where people are more likely to be receptive to the help being offered. And while it could be supposed that people in the developing world might not be in the best position to learn about a new form of money like cryptocurrency, Zcoin and BCF both affirm that people in Uganda have been more than willing to educate themselves about crypto.
"Most of them showed understanding and gratitude when we tried to explain how the use of cryptocurrency with the application of blockchain technology can improve the transparency of money flow and avoid corruption," says BCF's Trang Trang. "Those who have heard of cryptocurrencies before showed interest in learning more about it."
According to Zcoin's Reuben Yap, one of the main reasons why recipients in Uganda and elsewhere are open to crypto donations is that they appreciate one of crypto's main strengths: the ability to sidestep middlemen and to provide transparency.
"In reality, however, the form in which help comes in is less important than the fact that funds aren't being siphoned off by middlemen. In the usual donation process - which uses fiat currencies and goes through the traditional financial system - this is the biggest problem," he says.
"The way BCF is setup mandates the use of cryptocurrencies and ensures that the funds are getting to those who need it most and we believe that's what will pique the community's interest."
Modest beginnings
While the funds and campaigns above are all encouraging first steps, it's clear that they remain a relative drop in the ocean compared to what will be needed to create widespread adoption. Donating crypto to schoolchildren and their families in Uganda, for example, isn't going to have much of an effect on the wider use of crypto if the only thing donations can be spent on is school meals.
That said, the Lunch for Children Program and initiatives like it a good first starts, and what's encouraging to note is that BCF and other organizations are aiming to create a "holistic" system for using cryptocurrency, rather than simply concentrating on sending single donations.
---