High Jumps, (Self)Hacks, Heated Competitions and 20 Crypto Jokes
This week in the Cryptoverse, BTC mining difficulty made the highest jump in two years, the sender of USD 5.28 million Ethereum (ETH) transactions was revealed, and stablecoin volume became 5x ETH volume on Ethereum. Hackers stole a bitcoin with a "brute force" attack, while Bancor discovered a vulerability and hacked itself. The number of BTC whales was rising, but their wealth 'declined', the competition between BTC mining ASIC manufacturers is heating up, and Vitalik Buterin criticized the S2F model again. Compound's COMP became the most valuable token in DeFi, but there's a 'but', Revolut made major crypto changes, and Ledger confirmed its crypto selling feature is coming soon. Furthermore, Reddit asked ETH community for a scaling solution, Tencent registered a series of new blockchain patents, and Binance China's influence is "growing" in the Middle Kingdom.
Meanwhile, as British money printer went BRRR, Trump allegedly told Treasury Secretary to crack down on BTC, and South Korean crypto tax legislation is set for a July rollout. Banks in Spain are reportedly closing accounts of cryptocurrency traders as the Spanish parliament is set to vote on a new crypto exchange regulation law. Furthermore, Japan's Nomura launched digital token-related business activities, and some of Japan's most prominent crypto industry players and legal experts spent their weekend debating crypto-related lexicon. Lastly, Bitcoin defenders debunked six arguments against BTC, and analysts say BTC price is linked to big US tech stocks, as well as 'largely uncorrelated' & 'not uncorrelated' with S&P 500.
Enough news. On to the jokes!
__________
Let's see how's Bitcoin been doing. I see... carry on.
__
And good morning to you too, alts!
__
"Listen here, young Padawan."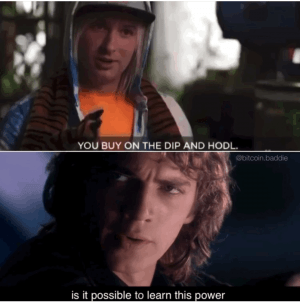 __
Look, it's called 'organized mess'. It just needs to be functional.
__
Ooooooof!! Oof!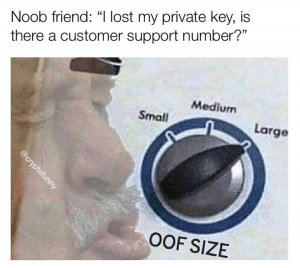 __
Bu..wha... b'whyyy?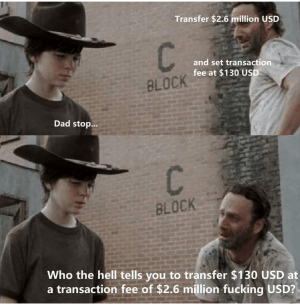 __
Taking responsibility and being responsible...
__
It was both good fortune and love at first sight.
__
Bonds! Get your bonds!
__
You see. There's plenty of money for them bonds.
__
Bitcoiners too.
Bitcoin is ready from r/bitcoinmemes
__
A prime example of cryptotragicomedy.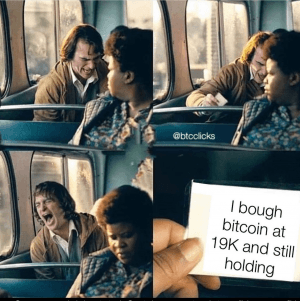 __
Saved!
__
It's art, really.
__
Yeah, you see. We're missing WHA 2039gbe01 rectangle right here.
__
Seriously... Fine.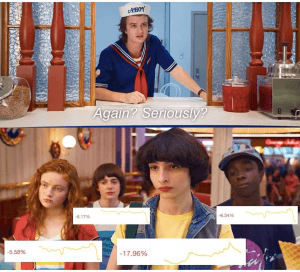 __
One anxiety coming right up!
__
One simple goal.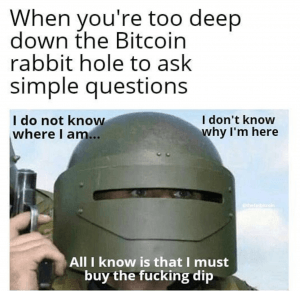 __
Speaking of that goal.
__
And for the end, your weekend movie.
---