FATF Decides to Tighten Crypto Regulation (UPDATED)
The Financial Action Task Force (FATF), a multi-government body, agreed to implement their previous recommendations that would force governments to tighten oversight of the crypto business. (Updated on 18:04 UTC: updates throughout the entire text.)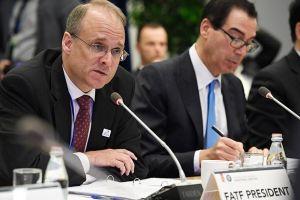 Also, countries will be compelled to register and supervise all crypto-related businesses, including hedge funds, exchanges, custodian services, which will have to check their customers and report suspicious transactions. The FATF will monitor implementation of the new requirements by countries and service providers and conduct a 12-month review in June 2020.
As reported, cryptoworld has already braced for impact and deemed the recommendations as 'draconian'.
Some of the key things from the confirmed FATF recommendations:
Financial institutions, virtual asset service providers (VASPs) included, will need to undertake "Customer Due Diligence (CDD) measures" in such scenarios as carrying out occasional transactions above the designated threshold os USD/EUR 1,000.
Also, from now, VASPs are obliged to have in place CDD procedures that they effectively implement and use to identify and verify on a risk basis the identity of a customer.
Typically, required customer identification information includes information on the customer's name and further identifiers such as physical address, date of birth, and a unique national identifier number (e.g., national identity number or passport number). However, VASPs are also encouraged to collect additional information such as an IP address with an associated time stamp, geo-location data, device identifiers, wallet addresses, and transaction hashes.
VASPs should be able to prepare a customer risk profile in appropriate cases.
If a VASP finds a suspicious "virtual asset address", it "should consider making" available its list of "blacklisted wallet addresses" to the local authorities. Moreover, a VASP should screen its customer's and counterparty's wallet addresses against such available blacklisted wallet addresses as part of its ongoing monitoring.
VASPs should scrutinize transactions to determine whether those transactions are consistent with the VASP's information about the customer. Monitoring transactions also involves identifying changes to the customer profile.
____
"By adopting the standards and guidelines agreed to this week, the FATF will make sure that virtual asset service providers do not operate in the dark shadows. This will enable the emerging FinTech sector to stay one-step ahead of rogue regimes and sympathizers of illicit causes searching for avenues to raise and transfer funds without detection," the U.S. Treasury Secretary Steven Mnuchin said after the 2019 Orlando Plenary of the Financial Action Task Force on Friday.
"In the U.S., I have convened a working group with the Federal Reserve and other regulators to make sure we keep the use of digital assets for legitimate use only," he added.
Global Digital Finance, an industry body that represents crypto-related companies worldwide, said it welcomed the FATF rules, according to Reuters. However, Teana Baker-Taylor, its executive director, said FATF recommendations to compel firms to include in cryptocurrency transactions details of senders and beneficiaries could be difficult to meet. Meanwhile, Megan Gordon, a partner at Clifford Chance law firm, told Reuters that the rules could spark consolidation in the cryptocurrency sector because of the high cost of implementing anti-money laundering checks for smaller firms.
___________________________________
___________________________________
However, as reported, executives from major crypto companies such as Circle, Coinbase, bitFlyer, Kraken and Huobi are among those going to meet representatives of the Group of 20 (G20) major economies in order to defend their trading business from a new data gathering rule.
As a reminder, FATF is a multi-government body with 38 members and various observers, founded in 1989 by the Ministers of its Member jurisdictions. They came up with a set of detailed measures for combating money laundering, terrorist financing, and the proliferation of weapons of mass destruction. The FATF recommendations are followed by two hundred countries.
---